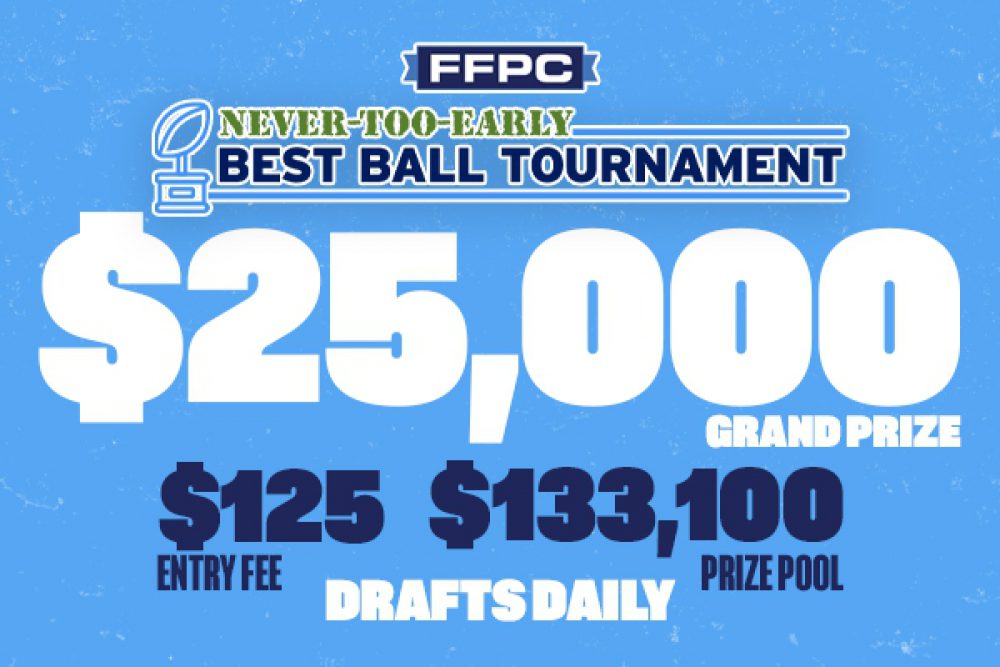 Think it's too early to start drafting in 2022? No way! That's why we are proud to tell you that the FFPC 'Never-Too-Early' Best Ball Tournament is here! This tournament will follow best ball slim rules (no kickers or defenses) with a 14-week regular season and single week elimination playoffs from Weeks 15-17 before a champion is crowned at the end of week 17. For just $125 per team, a maximum of 1,152 teams will battle for the $25,000 grand prize with a $133,100 prize pool!

This tournament is running now until April 28th, which is the start of the NFL Draft. However, all rookies are already loaded into the player pool and are ready to be drafted by you!
The main details of the tourney are listed below:
Entry fee: $125 per team
Contest capped at a maximum of 1,152 entries
$25,000 Grand Prize
$133,100 in guaranteed prizes
20-Round Best Ball Slim Format
2-hour, 6-hour, 30-second and 60-second draft options available
Draft until April 28th
For more details, see the full rules and payout structure on the contest page linked right here.
LEAGUE
OPENINGS
ENTRY
PRIZES
DRAFT
TIMER
TYPE
RDS
Sit & Go #40169
12 of 12
$125
$133,100
When Full
30 sec
BBS
20
Slow #40167
4 of 12
$125
$133,100
When Full
2 hrs
BBS
20
Slow #40342
8 of 12
$125
$133,100
When Full
6 hrs
BBS
20
Live #40194
12 of 12
$125
$133,100
TONIGHT 9p E
60 sec
BBS
20
Some FFPC drafters have already complete(d) their first 2022 drafts of the year, and now you can, too! Join in the fun now with redraft best ball slow draft leagues at entry fees of $5, $35, $77 and $250 open for entry. And don't forget that the 2022 rookie class is included in the draft pool as well.

Slow drafts are filling and launching as soon as they are full, so you can be drafting in minutes. Drafts with 60-second, two-hour and six-hour clocks are available. And be sure to download the FFPC iOS and Android apps for a more streamlined draft experience. The links are below:
Drafts have already begun, so any of you that love early drafting can jump in now and draft your first 2022 Best Ball team today!
(Photo - TurfShowTimes.com)
The 2021-22 World Famous Playoff Challenge is down to the pro football championship to determine its next $500,000 champion. Sam Hosokawa's SampT2Playoff entry, remains the team to beat after Cooper Kupp's 37 and Patrick Mahomes' 25.65 on conference championship weekend. He holds a 2.9-point lead over Shawn Jones' Jason 200 with both teams having only Kupp and Ja'Marr Chase remaining for the double-pointed Super Bowl.

Buff Chickn--owned by Chuck Root--sits 3.4 points off the lead and in third place with Kupp and Joe Mixon left on his roster. The Problem is Choice owned by Max Bosse is sitting in fourth place with Kevin Birck moving his squad up to fifth place with one game to go.

For a look at the top-20 teams in the Playoff Challenge after conference championship weekend, check out the list below:
SamPT2Playoffs SamPT 508.05
Jason 200 Jones Zone 505.15
Buff Chicken ChuckRoo 504.65
The Problem is Choice defmaxb 500.05
KB1 Kbirck 499.05
Nice Blanco Lounge Chair Tejas.B 498.15
DumbChuck ChuckVai 494.45
Chasing Lucky I DavidGar 494.35
Lost Generation Opto AmItheRealBlair 494.25
Fat Frankie Inc PC4 johnpierce80 494.05
Bmore4life22(1) Bmore4life22 492.45
VinegerStrokes FantasyBeast2 492.05
TOOL strep 491.75
Fall Guy rpc0pge 491.35
Mandy Rules RichardGre 491.25
VROSE IO 11 @FFLINX 490.95
FAMB1 JeremyWien 490.65
Air Muller - 1 michaelcmuller 490.05
Lambeau Leap bobchini 489.95
LandsharkFC3 JD14 489.65
(Photo: NewYorkPost.com)
The competition is heating up in the 2021-22 Footballguys Playoff Challenge right now. After big scores from Kupp and Travis Kelce (30.5), Matthew Mandile ascended to the top of the leaderboard. Christopher Ballard has his Night Owls roster 2.8 points behind Mandile in second place right now in the chase for a $100,000 grand prize.

While Mandile has both Kupp and Chase left, Ballard features both Kupp and Mixon on his roster. Meanwhile, Derek Sedo has positioned his Sweetsters lineup into third with Chris Piccinini's Pech close behind in fourth. Completing the top five squads in this competition going into Super Bowl Weekend is Mehrdad St. Louis' team, 6.5 points behind the leader.

For a look at the top-40 teams in the Footballguys Playoff Challenge after the Divisional Playoff weekend, check out the list below:
RKD 18 mattdile3 501.35
Night Owls PC29 ChristopherBal 498.55
Sweetsters 3 dksedo 495.85
Pech Pech7460 495.35
Mike St. Mehrdadstlouis 494.85
McPhersonMVP KrazyK9622 494.75
DCandBO DIRT_8 494.65
Yankers Davandon 494.55
yosemite Yosemite 494.15
JJCal jondean 493.75
Night Owls PC15 ChristopherBal 493.75
$BALL 7 Frank 493.65
The Riverside Gambler LeoJK77 493.55
Chopp Chopp 493.35
Red Pine Razors Timmayers15 493.25
plumbobfl1 plumbob 492.95
ISHY Rambo 492.45
SIXPOUNDER KoOC 492.25
Mortar Forkers Tres Mortar 492.25
Prayer Yards Jeffreysublett 491.55
Monopoly Ron rpc0pge 491.35
Loonie Toonies V Shaun Z 491.05
Prestige Worldwide 4 magnusrg29 491.05
Vegas Vipers 1 VegasSharps 490.95
Dilly Dilly JB39 490.75
Shaunsmithttu2 shaunsmithttu 490.75
GeraltofRivia Todd Walker 490.65
Bigblue1 Bigblue1 490.55
Top Heavy stueast13 490.25
Recast T'Challa2 fljones8 490.05
Storyteller Jfallahi21 490.05
Dragons 4 tralfaz 489.75
JK47 JK47 489.75
LandsharkFC3 JD14 489.65
Hooke Team Phillyparkwally 489.25
COB KoOC 488.95
BLEED GREEN BleedGreen 488.75
Cherries brid1986 488.75
JT and MO 17 Jtandmo 488.75
cb35 1 cb35 488.75
(Photo: NinersNation.com)
The 2021-22 FFPC Playoff Challenge #2 is drawing to a close, and the Kindjays, run by Jason Geringer, was able to move up one spot to first place overall. Led by Kupp, Kelce and Deebo Samuel's 19.8, Geringer will take a 3.2-point-lead over four teams, including former $500,000 World Famous FFPC Playoff Challenge winners Seth Kahler and Austin Martin, Sam Donovan, the Draft King and Joe Kyriakoza.

Geringer has Kupp and Mixon left while all four second-place entries have Kupp and Chase left in their lineup. For a look at the top-20 teams in the Playoff Challenge #2 heading into the pro football championship, check out the list of teams chasing $50,000 below:
Kindjays3 jasongeringer 319.65
Kahler Martin 1 Skahler 316.45
2 FFPC 3 DRAFTKING 316.45
JKDetroit jkdetroit 316.45
DonnyWs Donnyxc 316.45
CC Playoff II 3 cjcamp2 315.55
The Champs John Rozek 313.85
Laces Out 2 DannyGipx 311.65
ald2 Lenny D 311.65
ChuckD Chuckd1313 311.65
John Terry in Doylestown Bipcoin 310.55
Draft Sharks Dos JaredSmo 304.55
Jabbers aiki0002 304.55
Scooby HughGre 303.45
Adamski 2 ThomasAdamski 302.95
Valar Morghulis VegasDino 302.45
playoffs8 FantasyRehab 302.45
Kahler Martin 20 Skahler 302.4
Zebra 30 GiuseppeLia 301.25
29ers-5 Woody29 300.85
(Photo: PFF.com)
Isn't it fitting that in the third annual 2021-22 Footballguys Playoff Challenge #2, we have three teams tied for the $25,000 grand prize with one game remaining. Sheldon Grant's LDSP, Pierre Remy's Remo1766 and Sean Reardon's SeanDon&GMac squads all hold a 0.9-point lead over the fourth-place squads right now in this competition with just Kupp and Chase remaining. In addition to Kupp, Kelce and Samuel, Chase also tallied 17.7 for them this past weekend.

Sitting in fourth place is another three-way tie featuring Igor Gorbenko's PokeMoncrief, Shannon Oshields' StumpJumper1B and Maciej Wojcik's teams. Each of those squads will bring both Kupp and Tee Higgins into the Super Bowl where this competition will be decided via double-pints for all players.

For a look at the top-40 teams in the Footballguys Playoff Challenge #2 after the conference championships, here is the list:
LDSP Sheldon 316.45
SeanDon&GMac1 SReardon0828 316.45
Remo1766 - 2 Noname17 316.45
Maciek maciek1995 315.55
StumpJumper1B shannonosh 315.55
PokeMoncrief pfighter 315.55
DarrelleRevis ZP100 313.85
GT2 -Div Rd nickz 313.85
K1LL3R36RD2 Kill3r36 313.85
Zeldarules zelda 313.85
Rhino 19 Rhino 19 313.85
Steeler D # 8 MrD1956 313.85
Modsolut 11 Bad8 313.85
Night Owls DR3 ChristopherBal 313.85
The Godfather edallen71 312.55
Scrub Jays karlwaage 311.65
KADERADE 4 Golfkade@gmail.com 311.65
Matt Holden 3 Mattholden1231 311.65
PocketAces PocketAcesElite 311.65
Hussey 6 hussdog 311.65
2 FBG 1 DRAFTKING 311.65
#4 Mgully16 311.65
Kobeez Krew 2 Bassmann5 311.65
Da Crushers DaCrushers 311.65
scomacs FantasyBaller17 311.65
John Terry in Doylestown Bipcoin 311.65
Rocinate68 Rocinate68 311.65
Night Owls DR1 ChristopherBal 311.65
Dirty White Boy tjweathers 311.65
Ponta05 Ponta01 311.65
Tortugas DR4 mrd80210 310.55
ondoretui2 ondoretui 308.65
KevRocS1#2 Kp77 308.65
Lucky 3s Springokidd22 308.45
Churchill10 Rblake24 306.75
RED27 TEXSUN 306.75
Night Owls DR XXIII ChristopherBal 306.75
GalBrain42069 Jamarcus 304.55
Bandfield Bandfield13 304.55
Night Owls DR XXII ChristopherBal 304.55
If you're already at looking to add on some dynasty teams for 2022, numerous teams have already been posted right here. And if you're not sure if you want to jump headfirst right away, we have numerous orphaned teams for you that are in fantastic shape at both the $77 and $250 levels right now. Many others have just had their prices lowered, such as the one below:

$750 Superflex Best Ball Dynasty #41 DISCOUNTED TO $650

QB: L. Jackson (BAL), J. Winston (NO), J. Garoppolo (SF)
RB: J. Conner (ARI), D. Montgomery (CHI), C. Reynolds (DET), T. Jones (NO), J. Wilson (SF), C. Patterson (ATL)
WR: D. Moore (CAR), A. St. Brown (DET), J. Jeudy (DEN), M. Evans (TB), A. Brown (FA), B. Berrios (NYJ)
TE: D. Waller (LV), A. Firkser (TEN), D. Schultz (DAL)
PK: R. Gould (SF)
DF: IND

2022 Draft Picks: 1.7, 5.11, 6.4, 6.7, 7.7

2023 Draft Picks: R1, R2, R3, R4, R5, R6, R7

Simply click on the purchase button next to this team or the team you want to take over and start playing dynasty fantasy football at the FFPC today!
On the latest Rotoviz Radio's The High-Stakes Lowdown podcast, I talk with Dominic Roti, a 12-time Main Event, Footballguys Players Championship and FFPC league champion. In this episode, we discuss strategy in the 2022 'Never-Too-Early' Best Ball Tournament as well some of the early season ADP in FFPC best ball leagues and the best way to gain an edge in January drafting.

You can check out a new episode of The High-Stakes Lowdown every Thursday during the NFL season and on the first Thursday of the month in the offseason on Rotoviz.com or wherever you get your podcasts. I'd also encourage you to check out all of the other great podcasts that Rotoviz Radio has to offer, too.

Then, on Friday night at 10/9c, yours truly and Kentucky Fantasy Football State Championship (KFFSC) commish Ferrell Elliott speak with 2021 FFPC Bare Knuckle Challenge and 2021 FFPC $1,250 Live Best Ball League #2 champion Michael Zucca.as well as 2021 $10,000 FFPC Super Bracket challenge winner Zebb Kapp. We'll get into some conversations on both the 2022 Footballguys Players Championship and the 2022 Fantasy Football Players Championship (FFPC) Main Event along with some analysis on the 2022 'Never-Too-Early' Best Ball Tournament, 2022 FFPC Best Ball Drafts, 2022 FFPC Dynasty Leagues and a look ahead to the 2022 FFPC Best Ball Tournament. As always, we answer your calls, tweets, emails and more all on The High Stakes Fantasy Football Hour!

The High Stakes Fantasy Football Hour normally airs Friday nights at 10/9c, and the next episode can be heard here. You can hang out with the high stakes players in the show's chat room if you want to listen live. You can also access full on-demand streaming available for listening anytime via a variety of apps including the HSFF Hour website, Apple Podcasts, Spotify, Amazon Music, Audible, iHeartRadio, Google Podcasts, Amazon Alexa, Stitcher Radio, TuneIn Radio, Spreaker, Deezer, Vurbl, Podchaser, Audioburst, JioSaavn, Gaana, Breaker, Castbox, Overcast, PodBean, Pocket Casts, Radio Public, Podcast Addict and Anchor on your iPhone or Android device as well.
In case you have any questions or want to check something at a moment's notice, I am including this section of the email every week. While you are checking out all things FFPC for the 2022 season, consider this your guide:
Sincerely,
Eric Balkman
The Fantasy Football Players Championship
www.myFFPC.com