Our dedicated staff.
Running the FFPC isn't work. It's a labor of love for all of us. This isn't a corporation, it's a family. Helping our players, answering questions, solving problems, caring about everything you do. These are the core principles of our company.

I oversee all operations and day-to-day business activities.

Family is the meaning of life. If I am not working, I am skiing. Wrist watch collector. Love my Giants, Mets, Rangers and (sometimes) Knicks.

I am the director of games at the FFPC. I oversee all leagues and commish the dynasty leagues. I coordinate with Alex on marketing and overall business strategy.

I love spending time with my wife and two daughters. I also enjoy reading, weight training, Peloton, Marco Island, Las Vegas, and dynasty fantasy football.
If you are sending an email or calling the FFPC, you will probably get me first. I help with registration and technical issues, help coordinate the live events in Vegas, process all awards and handle the accounting books for the company.

I have been in the fantasy industry since 2003. I co-founded caseytotherescue.com which transports rescue dogs. I have two daughters, Courtney, a nurse, who helps with live events in Vegas and Aimee, a teacher, who is married and has my twin granddaughters. I love hanging out with my girlfriends, traveling to running races and walking our dogs on trails.

I supervise and make all FFPC media-related appearances including in-person, television, radio and web occurrences. I am also the head draft commissioner for all hybrid live/online events in Las Vegas as well as online contests. I produce and manage all releases, newsletters and announcements to our clients, to the industry and to the media.
In addition to hosting and producing "The High Stakes Fantasy Football Hour" and "The RotoViz High-Stakes Lowdown" podcasts, I also host The High Stakes Fantasy Football Show on the Bettor Sports Network and host and produce "The Show With Leo & Balky" and "The Appleton Trophy Fantasy Football Show" on 95.3 & 99.1 WSCO "The Score" in Appleton and Oshkosh, Wisconsin.

I ensure that the FFPC meets and exceeds all regulatory requirements, file state operator licenses and spearhead all other compliance and regulatory related items.

I am an avid fantasy football player and the co-founder of brotofantasy.com and the Fantasy Football by Broto app. I love to play sports, I am a huge fan of the Mets, Jets and Knicks (unfortunately), and I love to travel.

I am responsible for FFPC social media management, marketing and advertising campaigns and both graphic and video content.

If I am not watching my beloved Kentucky Wildcats, you can find me at the movies or binge-watching TV shows. Some would say I am overly competitive at board games and trivia. Most of my happiness is derived from the success of the Yankees, Capitals, Wizards or Tottenham.

I am one of the Head Commissioners for the FFPC live online drafts, overseeing almost a thousand per year. I also handle hiring and training of new commissioners, and am their point of contact for issues that arise during drafts.
I have been in the fantasy industry for a decade, and playing fantasy football for almost two. I am an avid Detroit Lions fan, consumer of all things Sci-Fi and D&D, have too many tattoos, and spend the majority of my time exploring the world, and seeing live music with my wife and son.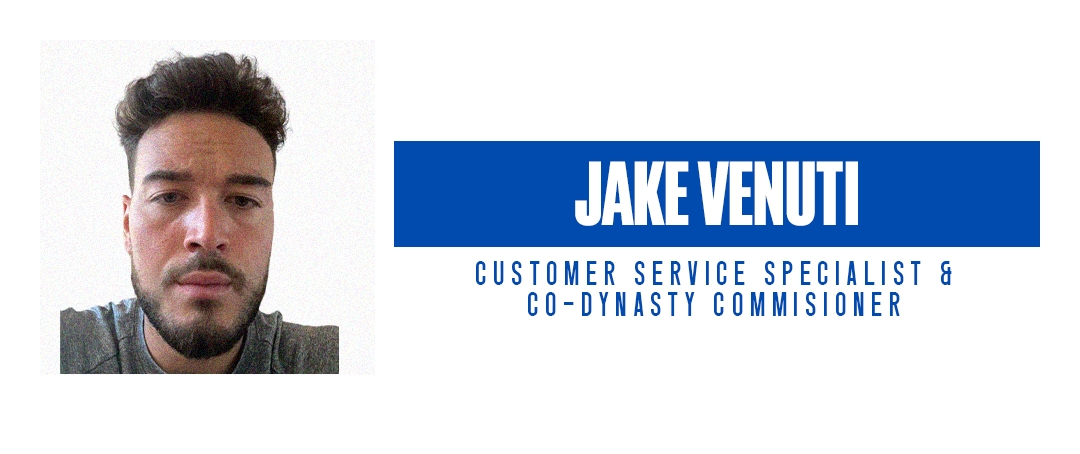 I handle everything to do with FFPC dynasty leagues, assist with the sales of dynasty teams and assist customers with any problem they may encounter.
I've been playing fantasy football since I was 14. I love going to the gym and playing on a competitive travel men's softball team