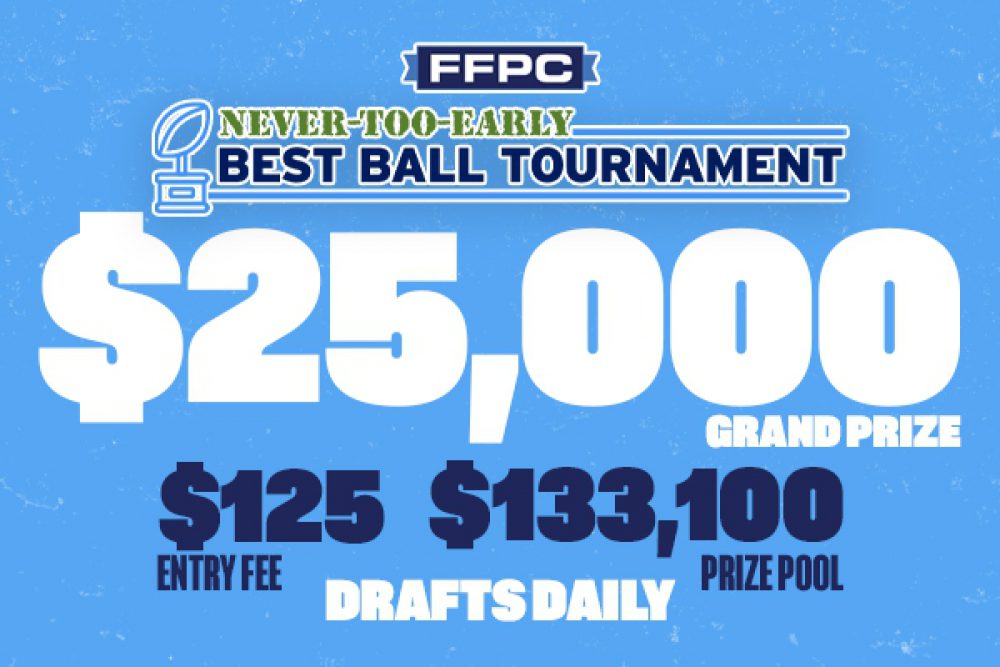 Some players may think it's too early to start drafting in 2022. We respectfully disagree and know so many of you do, too! That's why we are proud to tell you that the FFPC 'Never-Too-Early' Best Ball Tournament is here! This tournament will follow best ball slim rules (no kickers or defenses) with a 14-week regular season and single week elimination playoffs from Weeks 15-17 before a champion is crowned at the end of week 17. For just $125 per team, a maximum of 1,152 teams will battle for the $25,000 grand prize with a $133,100 prize pool!

This tournament is running now until April 28th, which is the start of the NFL Draft. However, all rookies are already loaded into the player pool and are ready to be drafted by you!
The main details of the tourney are listed below:
Entry fee: $125 per team
Contest capped at a maximum of 1,152 entries
$25,000 Grand Prize
$133,100 in guaranteed prizes
20-Round Best Ball Slim Format
2-hour, 6-hour, 30-second and 60-second draft options available
Draft until April 28th
For more details, see the full rules and payout structure on the contest page linked right here.
Some FFPC drafters have already complete(d) their first 2022 drafts of the year, and now you can, too! Join in the fun now with redraft best ball slow draft leagues at entry fees of $5, $35, $77 and $250 open for entry. And don't forget that the 2022 rookie class is included in the draft pool as well.

Slow drafts are filling and launching as soon as they are full, so you can be drafting in minutes. Drafts with 60-second, two-hour and six-hour clocks are available. And be sure to download the FFPC iOS and Android apps for a more streamlined draft experience. The links are below:
Drafts have already begun, so any of you that love early drafting can jump in now and draft your first 2022 Best Ball team today!
(Photo - Heavy.com)
The 2021-22 World Famous Playoff Challenge only has three games left before it crowns its newest $500,000 champion. In the driver's seat for that grand prize right now is Sam Hosokawa's SampT2Playoff entry, holding a 0.2-point lead over Chuck Root's Buff Chicken squad. Hosokawa was led by Josh Allen (41.25), Cooper Kupp (32.3), Tyreek Hill (31.8), Mike Evans (25.9), A.J. Brown (25.2), Joe Mixon (22.5) and the San Francisco 49ers defense (22) in the Divisional Round as his team goes hard after the half-million-dollar purse.

Sitting in third place is Shawn Jones' Jason 200, just 2.9 points off the pace and holding a 0.8-point lead over fourth-place Britt Cyr's's whysoserious. Rounding out the current top-five teams in this contest is The Problem is Choice owned by Max Bosse.

For a look at the top-20 teams in the Playoff Challenge after the Divisional Playoff weekend, check out the list below:
SamPT2Playoffs SamPT 403.05
Buff Chicken ChuckRoo 402.85
Jason 200 Jones Zone 400.15
whysoserious9 cyr 399.35
The Problem is Choice defmaxb 398.25
Leone SC 17 leonem 396.85
Nice Blanco Lounge Chair Tejas.B 396.35
ODB3 odabashian 394.25
KB1 Kbirck 394.05
PQT #3 sherm20 393.35
Chasing Lucky I DavidGar 392.55
DumbChuck ChuckVai 391.55
ChessLiam10 Bills420 391.15
@KramerCentric5 kramercentric 390.75
Bmore4life22(1) Bmore4life22 390.65
The Boys 9 FantasyPortfolio.win 390.65
Brister Boyz danclark74 390.15
TOOL strep 389.95
Fall Guy rpc0pge 389.55
Mandy Rules RichardGre 389.45
Nellie Dkoehnema 389.45
In addition to our World Famous FFPC Playoff Challenge, we once again featured the 2021-22 Footballguys Playoff Challenge as well. Thanks to big performances from Gabriel Davis (52.1), Patrick Mahomes (43.8), Kupp, Brown and Mixon, the War Paint team owned by Garrett Lorman (above) leads Essential, run by Evan Marando, by 2.6 points in the chase for a $100,000 grand prize.

Not to be outdone, Christopher Ballard has Night Owls roster lurking in third place, fewer than six points behind the leader. Plus, Matt Mandile's RKD entry sits in fourh place with Chris Piccinini's Pech lineup rounding out this week's top five teams as we get ready for Conference Championship Weekend.

For a look at the top-40 teams in the Footballguys Playoff Challenge after the Divisional Playoff weekend, check out the list below:
War Paint GaryWhale 402.45
Essential 1 Essential 398.85
Night Owls PC29 ChristopherBal 396.75
RKD 18 mattdile3 396.35
Pech Pech7460 393.55
Mike St. Mehrdadstlouis 393.05
DCandBO DIRT_8 392.85
Yankers Davandon 392.75
Hook'em Lou D 392.55
yosemite Yosemite 392.35
Night Owls PC15 ChristopherBal 391.95
JJCal jondean 391.95
Dominator Dominator1028 391.95
McPhersonMVP KrazyK9622 391.85
Red Pine Razors Timmayers15 391.45
Raidernation02 RaiderMike74 391.25
Higgy higgi5 391.25
Sweetsters 3 dksedo 390.85
Mortar Forkers Tres Mortar 390.45
SIXPOUNDER KoOC 390.45
Prayer Yards Jeffreysublett 389.75
Philly Miracles Stainless 389.7
Hulking Out4 donkurj 389.65
Monopoly Ron rpc0pge 389.55
Prestige Worldwide 4 magnusrg29 389.25
D-Crime1 tracemark 389.05
Dilly Dilly JB39 388.95
Shaunsmithttu2 shaunsmithttu 388.95
inthesea1 rynptts 388.9
Bigblue1 Bigblue1 388.75
Stupid Sexy Flanders 4 iamskiman 388.75
$BALL 7 Frank 388.65
The Riverside Gambler LeoJK77 388.55
Top Heavy stueast13 388.45
Chopp Chopp 388.35
Recast T'Challa2 fljones8 388.25
plumbobfl1 plumbob 387.95
Taste Me Chuckb888 387.7
Freddy Forest, Players Champion lucasbush 387.45
ISHY Rambo 387.45
Hooke Team Phillyparkwally 387.45
The 2021-22 FFPC Playoff Challenge #2 is off and running with the John Terry in Doylestown (run by Biplab Mandal, above) squad at the very top of the chase for $100,000 with a tightly bunched leaderboard after one week of action. Mandal utilized massive scores from Davis, Mahomes, Kupp and Leonard Fournette's 31.7 to help his cause, as he leads the second place entry Kindjays, run by Jason Geringer.

After that, you'll notice Giuseppe Liantonio's Zebra team in third with Thomas Adamski placing fourth currently. For a look at the top-20 teams in the Playoff Challenge #2 heading into the conference championships, check out the list below:
John Terry in Doylestown Bipcoin 218.5
Kindjays3 jasongeringer 217.85
Zebra 30 GiuseppeLia 217.25
Adamski 2 ThomasAdamski 217.15
2 FFPC 2 DRAFTKING 215.05
John Terry in Doylestown Bipcoin 215.05
Push em Arodder2003 215.05
The Champs John Rozek 212.05
CC Playoff II 3 cjcamp2 211.95
2 FFPC 3 DRAFTKING 211.45
Kahler Martin 1 Skahler 211.45
DonnyWs Donnyxc 211.45
JKDetroit jkdetroit 211.45
Draft Sharks Dos JaredSmo 210.85
Jabbers aiki0002 210.85
Laces Out 2 DannyGipx 209.85
ald2 Lenny D 209.85
ChuckD Chuckd1313 209.85
Football_Centaur Football Centaur 208.65
ZCR DIV POC 305 Amy and Mark 204.85
MoonShot 2.0 BadMoonRising 204.85
Fiker 1 Fikero 204.85
(Photo: CBSSports.com)
The third annual 2021-22 Footballguys Playoff Challenge #2 is off and running with Ed Allen's The Godfather franchise leading all other teams in the race for a $25,000 grand prize. While Allen, Kupp, Fournette, Brown and Mixon were huge for Allen, Travis Kelce's 27.6 and Aaron Jones' 26 were also difference-makers, as more than half of the challenge's games are now complete.

Mike Dell's Tortugas trail Allen by 0.35 points, but right after that, we have a five-way tie for third between Larry Field's Corruptions, Dan Thomas' Hammerheads, Trent Miller's au contraire, Christopher Ballard's Night Owls and Ed Allen (again) with another Godfather team. For a look at the top-40 teams in the Footballguys Playoff Challenge #2 after the Divisional Playoff weekend, here is the list:
The Godfather edallen71 218.85
Tortugas DR4 mrd80210 218.5
Corruptions ljfan 217.25
Night Owls DR GG ChristopherBal 217.25
Hammerheads DanThox 217.25
au contraire II LEGIONCOMMANDER 217.25
The Godfather edallen71 217.25
Team Lombardo Joeylombardo 217.15
Purple Rain Krob1646 217.15
KevRocS1#2 Kp77 216.65
ODB DIV12 odabashian 216.65
ondoretui2 ondoretui 216.65
Big Shimmy II Littlefonzie 216.65
Gobblers Dogs1318 216.65
GabaGhouls dang 216.4
Night Owls DR FF ChristopherBal 215.05
Mark Tha Shark III pfunk 215.05
yoey4 jsimich 215.05
Churchill12 Rblake24 215.05
Night Owls DR XXIII ChristopherBal 213.05
RED27 TEXSUN 213.05
Churchill10 Rblake24 213.05
Lucky 3s Springokidd22 212.95
Night Owls DR3 ChristopherBal 212.05
Rhino 19 Rhino 19 212.05
Modsolut 11 Bad8 212.05
Steeler D # 8 MrD1956 212.05
K1LL3R36RD2 Kill3r36 212.05
DarrelleRevis ZP100 212.05
Zeldarules zelda 212.05
GT2 -Div Rd nickz 212.05
PokeMoncrief pfighter 211.95
StumpJumper1B shannonosh 211.95
Maciek maciek1995 211.95
Remo1766 - 2 Noname17 211.45
SeanDon&GMac1 SReardon0828 211.45
LDSP Sheldon 211.45
Night Owls DR XXII ChristopherBal 210.85
Bandfield Bandfield13 210.85
GalBrain42069 Jamarcus 210.85
If you're already at looking to add on some dynasty teams for 2022, numerous teams have already been posted right here. And if you're not sure if you want to jump headfirst right away, we have numerous orphaned teams for you that are in fantastic shape at both the $77 and $250 levels right now. Many others have just had their prices lowered, such as the one below:

$500 Superflex Best Ball Dynasty #59 DISCOUNTED TO $249

QB: A. Rodgers (GB), D. Carr (LV), T. Huntley (BAL)
RB: A. Dillon (GB), D. Singletary (BUF), D. Foreman (TEN), Darrel Williams (KC), C. Carson (SEA), D. Booker (NYG), D. Johnson (CLE), D. Gore (KC)
WR: H. Renfrow (LV), B. Cooks (HOU), D. Harris (NO), J. Agnew (JAC), M. Thomas (NO), T. Hill (KC), R. Gage (ATL)
TE: M. Andrews (BAL), C. Brate (TB), J. O'Shaughnessy (JAC), J. Bates (WAS)
PK: J. Tucker (BAL), H. Butker (KC)
DF: PHI

2022 Draft Picks: 1.10, 3.10, 4.1, 4.10, 5.10, 6.10, 7.10, 8.10, 9.10, 10.10

2023 Draft Picks: R1, R2, R3, R4, R5, R6, R7, R8, R9, R10

Simply click on the purchase button next to this team or the team you want to take over and start playing dynasty fantasy football at the FFPC today!
On Friday night at 10/9c, yours truly and Kentucky Fantasy Football State Championship (KFFSC) commish Ferrell Elliott speak with 2021 FFPC Bare Knuckle Challenge and 2021 FFPC $1,250 Live Best Ball League #2 champion Michael Zucca. We'll get into some conversations on both the 2022 Footballguys Players Championship and the 2022 Fantasy Football Players Championship (FFPC) Main Event along with some analysis on the 2022 'Never-Too-Early' Best Ball Tournament, 2022 FFPC Best Ball Drafts, 2022 FFPC Dynasty Leagues and a look ahead to the 2022 FFPC Best Ball Tournament. As always, we answer your calls, tweets, emails and more all on The High Stakes Fantasy Football Hour!

The High Stakes Fantasy Football Hour normally airs Friday nights at 10/9c, and the next episode can be heard here. You can hang out with the high stakes players in the show's chat room if you want to listen live. You can also access full on-demand streaming available for listening anytime via a variety of apps including the HSFF Hour website, Apple Podcasts, Spotify, Amazon Music, Audible, iHeartRadio, Google Podcasts, Amazon Alexa, Stitcher Radio, TuneIn Radio, Spreaker, Deezer, Vurbl, Podchaser, Audioburst, JioSaavn, Gaana, Breaker, Castbox, Overcast, PodBean, Pocket Casts, Radio Public, Podcast Addict and Anchor on your iPhone or Android device as well.
In case you have any questions or want to check something at a moment's notice, I am including this section of the email every week. While you are checking out all things FFPC for the 2022 season, consider this your guide:
No reason to wait to draft for a big grand prize already in 2022, players! Get into the inaugural FFPC 'Never-Too-Early' Best Ball Tournament now! And you can always get into some of our other best ball leagues we have open for you right now, too. Plus, for something completely different, pick up one (or more) of the dynasty teams that are discounted right here!


Sincerely,

Eric Balkman
The Fantasy Football Players Championship
www.myFFPC.com