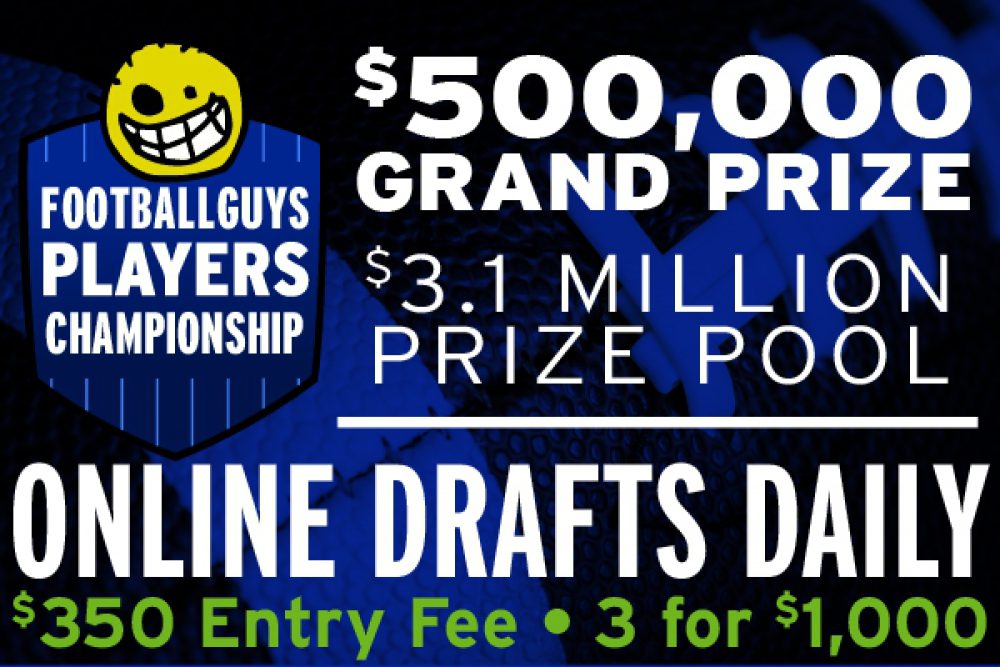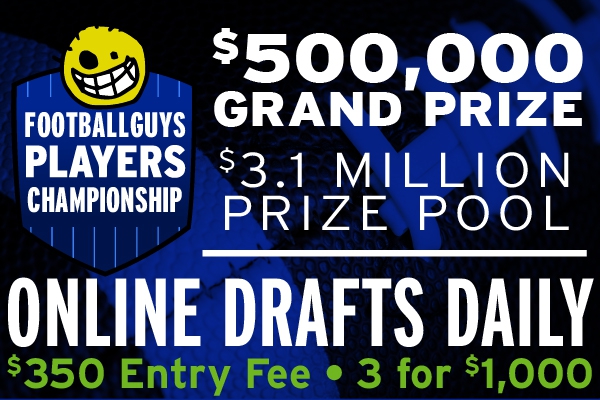 NFL players have arrived at training camps nationwide, players, so now's the time to get in on the 2020 Footballguys Players Championship that features a guaranteed $500,000 grand prize and over a $3,000,000 million total prize pool. That's right--we've doubled the grand prize to $500,000! The 2020 FPC contest is capped at 10,800 teams. All prizes are fully guaranteed.
Here are all the details on this year's competition:
Drafts have already begun and are going off every day
$3,100,000 prize pool (Up $800,000 from last year)
Teams are $350 each (or a three-pack of teams for $1000)
You now have the opportunity to draft for your chance to win $500,000 every day until the start of the NFL season.

We already have numerous leagues filled, so if you want to hop in on one, check out the schedule below and click the link at the bottom to register:

LEAGUE
OPENINGS
ENTRY
DRAFT
TIMER
Footballguys #25162
11 of 12
$350
Starts When Full
6 hrs
Footballguys #25112
11 of 12
$350
Starts When Full
2 hrs
Footballguys #19359
12 of 12
$350
TODAY 4:00pm ET
60 sec
Footballguys #19360
11 of 12
$350
TONIGHT 7:00pm ET
60 sec
Footballguys #19304
11 of 12
$350
TONIGHT 8:00pm ET
60 sec
Footballguys #19305
11 of 12
$350
TONIGHT 9:00pm ET
60 sec
Footballguys #19306
12 of 12
$350
TONIGHT 10:00pm ET
60 sec
Footballguys #19307
12 of 12
$350
TONIGHT 11:00pm ET
60 sec
Footballguys #18895
12 of 12
$350
TONIGHT 11:55pm ET
60 sec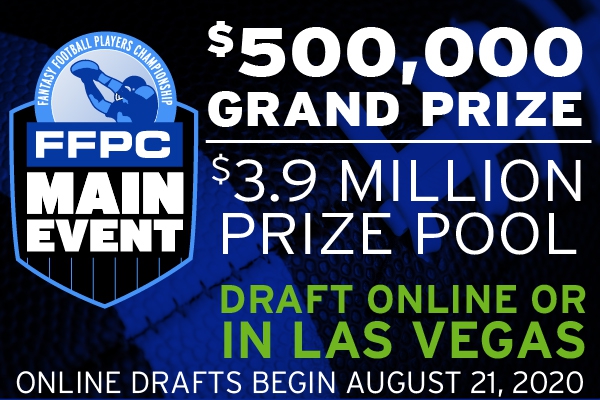 If you haven't already registered your Main Event teams yet, do so now! And remember you can add additional Main Event teams to save another $400 off each squad. Simply click on JOIN button on the registration page to receive the discounted pricing. Also, keep this in mind:
Early Draft Slot Announcement #2:
All teams which are fully paid by Monday, August 17th
will be eligible to receive their FFPC Main Event draft positions
on Wednesday, August 19th.
Here is a quick overview of this year's Main Event:
$500,000 grand prize
$3.9 Million total prize pool (UP $800,000 from last year)
$11,800 league prizes
Championship round payouts down to 125th place
A hard cap of 3,000 total entries
The FFPC is a licensed game operator
75 draft times to choose from (Up From 59 last year)

Don't want to wait for the live Main Events to start? We've got you covered! Join an FFPC Main Event slow draft today: Here are the open leagues we have below:


LEAGUE
OPENINGS
ENTRY
DRAFT
Main Event ONLINE - 2hr Slow #25049
8 of 12
$1,900
When Full
Main Event ONLINE - 6hr Slow #25076
7 of 12
$1,900
When Full
Planning on drafting live with us at Planet Hollywood? Make sure you're booking your room at the best rates possible today. Here's a comparison of what you'd pay without our group code (which are reduced further from our 2019 group rates):
With FFPC
Group Discount
Without FFPC
Group Discount
Tuesday
$69
$132-190
Wednesday
$69
$132-190
Thursday
$69
$132-190
Friday
$159
$244-286
Saturday
$159
$244-286
IMPORTANT BOOKING INFORMATION: Please click the link below to book your stay this year at Planet Hollywood below:
In addition, we once again have the services of our wonderful FFPC Live Event group host, Greg Sidoris who will help you with your stay and any other Vegas-related needs. Please contact Greg at (216) 299-5390. You can also email him at CasinoConnectionUSA@gmail.com.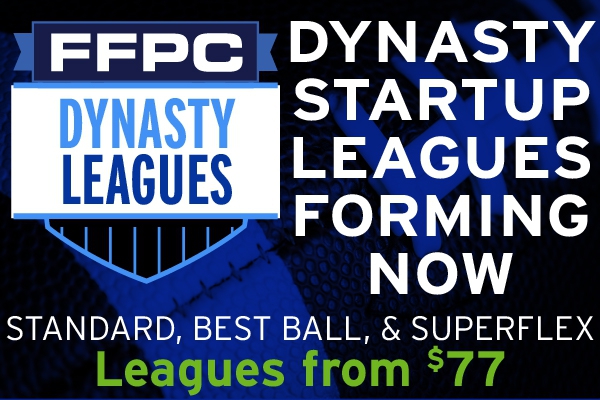 We still have plenty of dynasty options for you going forward this summer, players, but once Eeptember hits the options will be much fewer. Check out the standard, best ball and superflex versions of our dynasty product now. To get in on the action, you can register for 2020 FFPC Dynasty Start-Up Drafts right here, and hop in a new dynasty league today.

If you're looking at building a dynasty team from scratch, sign up at the link below: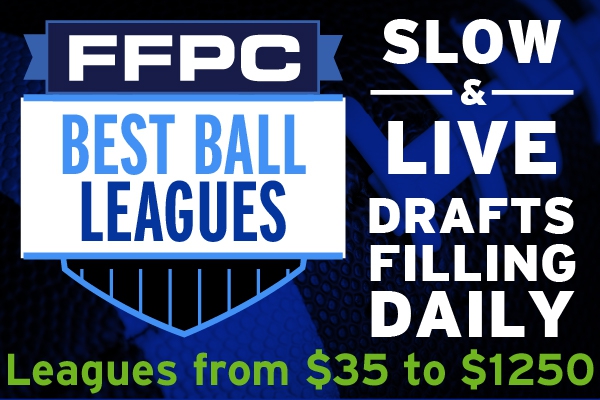 Redraft Best Ball slow draft leagues at entry fees of $35, $77 and $250 are open for entry and filling every single day! Whether you want to play a Slim, Double Up, Superflex or Terminator-style league, we've got them right now for you.

Slow drafts are filling and launching as soon as they are full, so you can be drafting in minutes. Drafts with two-hour and six-hour clocks are available. And be sure to download the FFPC iOS and Android apps for a more streamlined draft experience. The links are below:
Drafts are off and running, so any of you that love drafting can jump in now and draft your next 2020 Best Ball team today!

Our coverage of the 2020 Pros Vs. Joes competition has wrapped up (special thanks to Darren Armani from FantasyMojo.com for once again doing a fantastic job of putting together an extremely entertaining competition!), but that doesn't mean you can no longer check out what happened. For your convenience, I have links to all six full draft boards below. And as we get more content from the Pros about their drafts, we'll be sure to post them here as well!
Here are the links to the full draft boards from the drafts: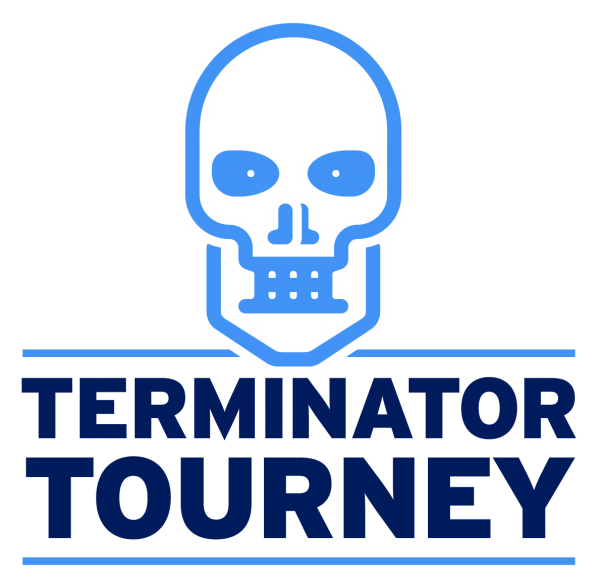 Thomas Edison invented the light bulb? So what! The FFPC invented the Terminator format! This is truly a unique way to play fantasy football and we're proud to call it an FFPC exclusive. Created in 2009, the FFPC Terminator is actually quite simple. By adding just a few tweaks to the standard Best Ball format, it completely alters it and creates this brand new format that has proven to be exciting and challenging. Did one of your players get injured or is under performing? Terminate him!

Here's the info on this year's edition:
$25,000 Grand Prize
$116,850 Prize Pool
384 team cap.
$350 entry
3-pack for $1,000 (save $50)
The drafts that are coming up soonest are listed below:

LEAGUE
OPENINGS
ENTRY
DRAFT
Terminator #18713
11 of 12
$350
Sun 8/09 10:00pm ET
Terminator #18714
11 of 12
$350
Wed 8/19 9:00pm ET
Terminator #18715
6 of 12
$350
Sun 8/23 7:00pm ET
Terminator #18716
9 of 12
$350
Sun 8/23 10:00pm ET
Terminator #18717
12 of 12
$350
Mon 8/24 7:00pm ET
Terminator #18718
12 of 12
$350
Mon 8/24 10:00pm ET
Want win your way into next year's Terminator Tournament? Click HERE to play the $35 Terminator leagues.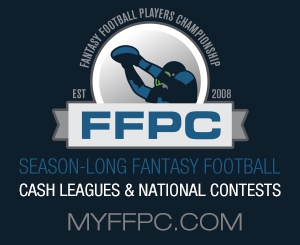 In case you have any questions or want to check something at a moment's notice, I am including this section of the email every week. While you are ramping up for the 2020 season, consider this your guide to all things FFPC:
Thanks for reading, players! Don't forget to get your early draft slot and save $400 off your 2020 Main Event teams to enjoy at Planet Hollywood or at home beginning this month. And if you haven't already, make sure you're booking your discounted room on the Strip now. Now go on and hop in some Footballguys drafts today!
Sincerely,

Eric Balkman
The Fantasy Football Players Championship
www.myFFPC.com