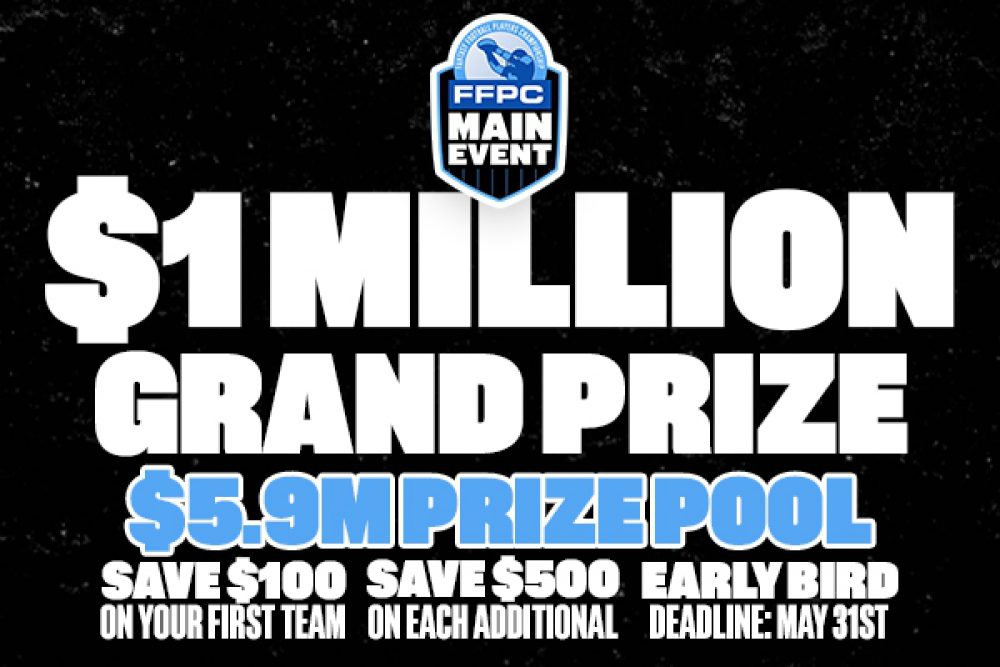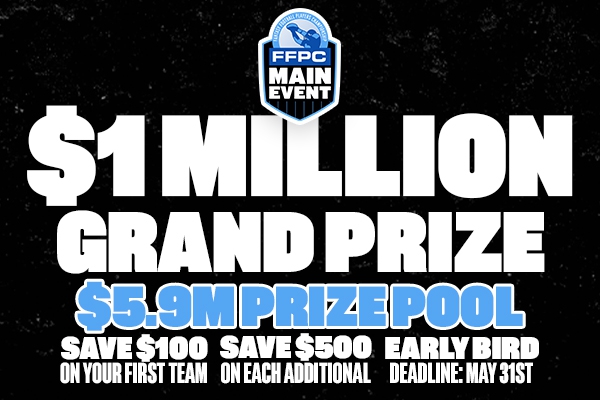 In celebration of Super Bowl week, we're bringing you one of our biggest announcements ever. For the first time in its history, the 2022 FFPC Main Event will feature a million dollar grand prize! Yes, you read that right--the FFPC will be crowning a millionaire in about 11 months.

The overall prize pool has been raised to just under $6,000,000 this year, too. In fact, both second and third place will each take home a six-figure grand prize in 2022, something that we have never done before. Check out the full prize structure for this season here.

Once again, you'll be able to draft online or live and in-person at Planet Hollywood Resort & Casino in Las Vegas. The Early Bird Deadline is set for Tuesday, May 31st. When you register before that date, you'll get $100 off of your first team. Early bird discount pricing is $1,900 for online squads and $2,025 for live, in-person drafts.

Remember that when you add more teams, you'll save $500 off each additional one. Multiple team discount pricing is $1,500 for online and $1,625 for live, in-person drafts.

Here are the major details for the 2022 FFPC Main Event:
Early bird entry fee: $1,900 for online squads and $2,025 for live, in-person drafts
Save $500 on each additional team purchased
Contest capped at 4,200 entries
$1,000,000 Grand Prize
More than $5,910,000 in guaranteed prizes
2-hour & 6-hour drafts begin July 4th
Online drafts with 60-second clocks begin August 12th
Draft live at Planet Hollywood from September 8th-10th
For more details, see the full rules and payout structure on the contest page linked right here.
Registration is open now, players, so get that early bird discount today and plot your path to $1,000,000!
Some FFPC drafters have already complete(d) their first 2022 drafts of the year, and now you can, too! Join in the fun now with redraft best ball slow draft leagues at entry fees of $5, $35, $77 and $250 open for entry. And don't forget that the 2022 rookie class is included in the draft pool as well.

Slow drafts are filling and launching as soon as they are full, so you can be drafting in minutes. Drafts with 60-second, two-hour and six-hour clocks are available. And be sure to download the FFPC iOS and Android apps for a more streamlined draft experience. The links are below:
Drafts have already begun, so any of you that love early drafting can jump in now and draft your first 2022 Best Ball team today!
Remember, players, that we do have a major 2022 tourney going on as we speak. The FFPC 'Never-Too-Early' Best Ball Tournament has drafts popping off now. This tournament will follow best ball slim rules (no kickers or defenses) with a 14-week regular season and single week elimination playoffs from Weeks 15-17 before a champion is crowned at the end of week 17. For just $125 per team, a maximum of 1,152 teams will battle for the $25,000 grand prize with a $133,100 prize pool!

This tournament is running now until April 28th, which is the start of the NFL Draft. However, all rookies are already loaded into the player pool and are ready to be drafted by you!
The main details of the tourney are listed below:
Entry fee: $125 per team
Contest capped at a maximum of 1,152 entries
$25,000 Grand Prize
$133,100 in guaranteed prizes
20-Round Best Ball Slim Format
2-hour, 6-hour, 30-second and 60-second draft options available
Draft until April 28th
For more details, see the full rules and payout structure on the contest page linked right here.
LEAGUE
OPENINGS
ENTRY
PRIZES
DRAFT
TIMER
TYPE
RDS
Sit & Go #40169
12 of 12
$125
$133,100
When Full
30 sec
BBS
20
Slow #40442
8 of 12
$125
$133,100
When Full
2 hrs
BBS
20
Slow #40445
11 of 12
$125
$133,100
When Full
6 hrs
BBS
20
Live #40399
12 of 12
$125
$133,100
TONIGHT 9:30p E
60 sec
BBS
20
If you were checking out your 2021-22 Footballguys Playoff Challenge teams, you may have noticed that a "STATS" dropdown menu has been added. Now, you can check out all of the players in the competition via their ownership and traditional fantasy stats as you try to calculate your odds of winning this year or trying to formulate the best strategy for next year's competition. This stats column is available in all four of our Playoff Challenge competitions.
If you're already at looking to add on some dynasty teams for 2022, numerous teams have already been posted right here. And if you're not sure if you want to jump headfirst right away, we have numerous orphaned teams for you that are in fantastic shape at both the $77 and $250 levels right now. Many others have just had their prices lowered, such as the one below:

$500 RotoViz TriFlex Superflex Best Ball Dynasty #71 DISCOUNTED TO $199

QB: T. Lance (SF), D. Carr (LV), T. Bridgewater (DEN), J. Garoppolo (SF), M. Mariota (LV)

RB: R. Penny (SEA), J. Jacobs (LV), J. Patterson (WAS), E. Mitchell (SF), J. Jefferson (DET), E. Benjamin (ARI), L. Rountree (LAC), K. Drake (LV), K. Nwangwu (MIN)

WR: T. Hilton (IND), V. Jefferson (LAR), D. Metcalf (SEA), C. Kirk (ARI), B. Edwards (LV), C. Davis (NYJ), J. Gordon (KC), D. Smith (PHI)

TE: D. Goedert (PHI), D. Parham (LAC), N. Gray (KC)

2022 Draft Picks: 1.3, 2.3, 2.4, 2.5, 3.3, 4.1, 5.3, 7.3, 8.3, 9.3, 10.3, 10.4

2023 Draft Picks: R1, R2, R3, R4, R5, R6, R7, R8, R9, R10

Simply click on the purchase button next to this team or the team you want to take over and start playing dynasty fantasy football at the FFPC today!
On a special Thursday night episode tomorrow at 10/9c, yours truly and Kentucky Fantasy Football State Championship (KFFSC) commissioner Ferrell Elliott talk to 2021 FFPC Best Ball Tournament $100,000 champion Conor O'Driscoll. We'll talk about the best ball strategy that got him the big cash and how he might adjust it for 20-round slim drafts this year. Plus, we'll get into some conversations on both the 2022 Footballguys Players Championship and the 2022 Fantasy Football Players Championship (FFPC) Main Event along with some analysis on the 2022 'Never-Too-Early' Best Ball Tournament, 2022 FFPC Best Ball Drafts, 2022 FFPC Dynasty Leagues and a look ahead to the 2022 FFPC Best Ball Tournament.

Then, FFPC co-founder Alex Kaganovsky (AKA The Propnosticator) joins us to talk about the Big Game props you'll want to target as well as stay away from and the new million-dollar grand prize in the 2022 FFPC Main Event As always, we answer your calls, tweets, emails and more all on The High Stakes Fantasy Football Hour!

The High Stakes Fantasy Football Hour normally airs Friday nights at 10/9c, and the next episode can be heard here. You can hang out with the high stakes players in the show's chat room if you want to listen live. You can also access full on-demand streaming available for listening anytime via a variety of apps including the HSFF Hour website, Apple Podcasts, Spotify, Amazon Music, Audible, iHeartRadio, Google Podcasts, Amazon Alexa, Stitcher Radio, TuneIn Radio, Spreaker, Deezer, Vurbl, Podchaser, Audioburst, JioSaavn, Gaana, Breaker, Castbox, Overcast, PodBean, Pocket Casts, Radio Public, Podcast Addict and Anchor on your iPhone or Android device as well.
In case you have any questions or want to check something at a moment's notice, I am including this section of the email every week. While you are checking out all things FFPC for the 2022 season, consider this your guide:
Sincerely,
Eric Balkman
The Fantasy Football Players Championship
www.myFFPC.com