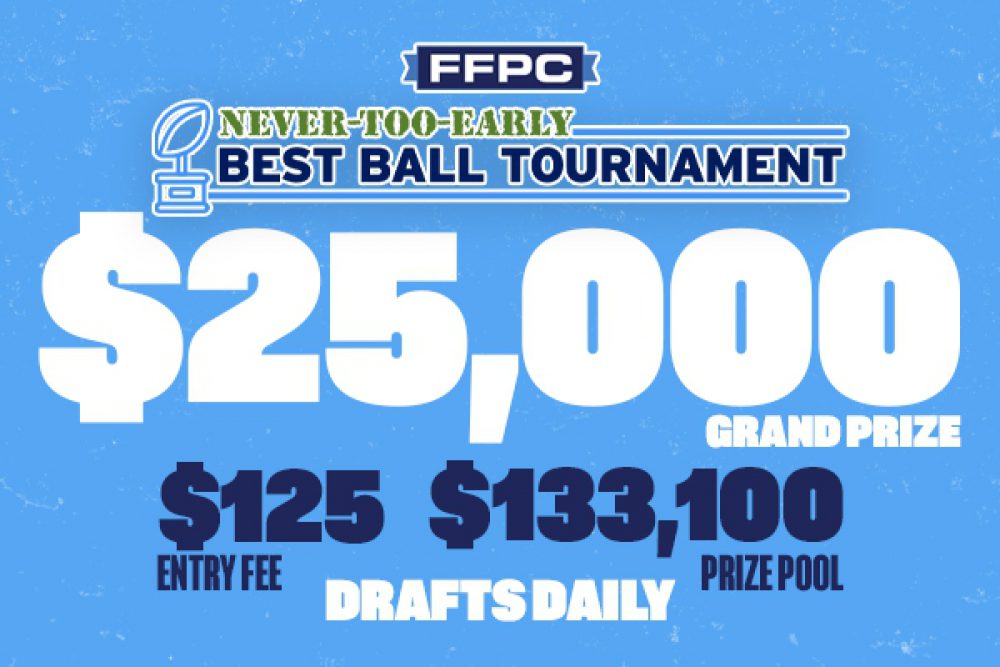 The FFPC 'Never-Too-Early' Best Ball Tournament is popping off with drafts every single days, players, so this is your perfect chance to check out ADP while competing for a huge prize. This tournament will follow best ball slim rules (no kickers or defenses) with a 14-week regular season and single week elimination playoffs from Weeks 15-17 before a champion is crowned at the end of week 17. For just $125 per team, a maximum of 1,152 teams will battle for the $25,000 grand prize with a $133,100 prize pool!

This tournament is running now until April 28th, which is the start of the NFL Draft. However, all rookies are already loaded into the player pool and are ready to be drafted by you!
The main details of the tourney are listed below:
Entry fee: $125 per team
Contest capped at a maximum of 1,152 entries
$25,000 Grand Prize
$133,100 in guaranteed prizes
20-Round Best Ball Slim Format
2-hour, 6-hour, 30-second and 60-second draft options available
Draft until April 28th
For more details, see the full rules and payout structure on the contest page linked right here.
LEAGUE
OPENINGS
ENTRY
PRIZES
DRAFT
TIMER
TYPE
RDS
Sit & Go #40169
12 of 12
$125
$133,100
When Full
30 sec
BBS
20
Slow #40654
8 of 12
$125
$133,100
When Full
2 hrs
BBS
20
Slow #40674
10 of 12
$125
$133,100
When Full
6 hrs
BBS
20
Live #40561
12 of 12
$125
$133,100
Tonight 9p E
60 sec
BBS
20
Here's your 365-day fantasy football challenge: Make 2022 the year you jump into year-round fun with some dynasty leagues. Numerous available teams have already been posted right here. And if you're not sure if you want to jump headfirst right away, we have numerous orphaned teams for you that are in fantastic shape at both the $77 and $250 levels right now. Many others have just had their prices lowered, such as the one below:

$1250 RotoViz TriFlex Superflex Dynasty #26 REDUCED TO $749

QB: J. Burrow (CIN), B. Roethlisberger (FA), J. Goff (DET), M. Rudolph (PIT)

RB: J. Williams (DEN), A. Kamara (NO), K. Gainwell (PHI), J. Dobbins (BAL), Z. Moss (BUF)

WR: D. Smith (PHI), R. Bateman (BAL), V. Jefferson (LAR), K. Golladay (NYG), Z. Pascal (IND), T. Hilton (IND), S. Shepard (NYG), J. Jones (TEN), N. Harry (NE), J. Jeudy (DEN)

TE: E. Engram (JAC), Z. Ertz (ARI), I. Smith (MIN)

2022 Draft Picks: 3.6, 4.6, 5.6, 6.6, 7.6

2023 Draft Picks: R1, R2, R3, R4, R5, R6, R7

Simply click on the purchase button next to this team or the team you want to take over and start playing dynasty fantasy football at the FFPC today!
From best ball and best ball slim leagues to victory point and Terminator formats, we have a league made just for you! Join in the fun now with redraft best ball slow draft leagues at entry fees of $5, $35, $77 and $250 open for entry. And don't forget that the 2022 rookie class is included in the draft pool as well.

We also added the FFPC Varsity format at lower entries, starting at just $35. For those not familiar with Varsity, the standard FFPC starting lineups (including a kicker and defense) are formed through 20-round snake drafts. Varsity leagues feature a 17-week regular season based on total points with no head-to-head action. This format has weekly lineup management and free agency as well.

Slow drafts are filling and launching as soon as they are full, so you can be drafting in minutes. Drafts with 60-second, two-hour and six-hour clocks are available. And be sure to download the FFPC iOS and Android apps for a more streamlined draft experience. The links are below:
Drafts have already begun, so any of you that love early drafting can jump in now and draft your first 2022 Best Ball team today!
Start your 2022 redraft season off right by getting a $35 credit now. As a reminder, when you register for the 2022 Footballguys Players Championship by June 30th and draft by July 15th, you'll receive a free FFPC $35 team credit.

As a reminder, for the second straight year in the Footballguys Players Championship, we will be awarding two separate six-figure prizes. Take your shot at the most lucrative grand prize in Footballguys history today, as the winner of the 2022 Footballguys Players Championship will take home a record $500,000 for his or her efforts, and the runner-up will pocket a cool $150,000 as well. The 2022 Footballguys Players Championship is open for registration, players! Here are the details:
Slow and live drafts begin May 1st and run through September 11th
$4,390,000 prize pool ($600,000 more than in 2021)
$500,000 grand prize
$150,000 runner-up prize ($50,000 more than in 2021)
Contest will pay down to 1,000th place (150 more places than in 2021)
When you register by June 30th and draft by July 15th, you'll receive a free FFPC $35 team credit.
Click here for the full details on the 2022 Footballguys Players Championship Early Bird Promotion
For all of you dynasty [players out there, remember to check out our friends at Dynasty Depot today. Dynasty Depot is the ONLY auction site to buy and sell FFPC dynasty teams. It's sold more than 700 teams to new owners in 2022 and its market will be open until the Sunday before the season opener.

Right now, they're offering you a free trial to FFPC members. Please use promo code "TRYDD" for your free 30-day rookie membership trial. Remember, all teams purchased on Dynasty Depot qualify for its in-season leaderboard where four FFPC Main Event entries will be awarded. Dynasty Depot: Bid-Buy-Sell-DOMINATE!
Tonight at 10/9c, yours truly and Kentucky Fantasy Football State Championship (KFFSC) commish Ferrell Elliott will go live to talk about the impact that NFL free agency has had and will have in both the 2022 Footballguys Players Championship and the 2022 Fantasy Football Players Championship (FFPC) Main Event. Our discussion will also get into strategy in the 2022 'Never-Too-Early' Best Ball Tournament, who to zero in on in 2022 FFPC Best Ball Drafts, the players get off your roster in 2022 FFPC Dynasty Leagues and we'll look ahead to the 2022 FFPC Best Ball Tournament. As always, we answer your tweets, emails and more all on The High Stakes Fantasy Football Hour!

The High Stakes Fantasy Football Hour airs live on the FFPC's YouTube channel normally on Friday nights at 10/9c. You can hang out with the high stakes players in the show's chat room if you want to watch live. You can also access full, on-demand streaming available for listening anytime via a variety of apps, streaming services, podcast networks and web sites including (but not limited to) the High Stakes Fantasy Football Hour website, Apple Podcasts, Spotify, Amazon Music, Audible, iHeartRadio, Google Podcasts, Amazon Alexa, Stitcher Radio, TuneIn Radio, Spreaker, Deezer, Vurbl, Podchaser, Audioburst, Blog Talk Radio, JioSaavn, Gaana, Breaker, Castbox, Overcast, PodBean, Pocket Casts, Radio Public, Podcast Addict and Anchor on your iPhone or Android device as well.
In case you have any questions or want to check something at a moment's notice, I am including this section of the email every week. While you are checking out all things FFPC for the 2022 season, consider this your guide:
Thanks for reading, all! Take a break from the bracket madness today to get yourself entered into the inaugural FFPC 'Never-Too-Early' Best Ball Tournament and draft some teams in our satellite leagues, too. Plus, the deals are scorching hot for the dynasty orphans teams located right here. See you live on YouTube with Ferrell Elliott tonight!


Sincerely,

Eric Balkman
The Fantasy Football Players Championship
www.myFFPC.com