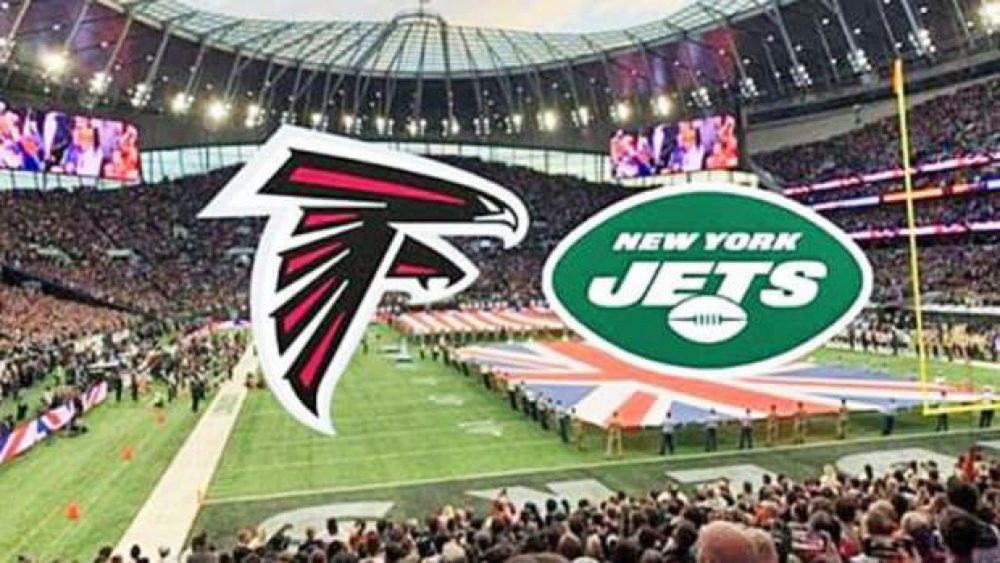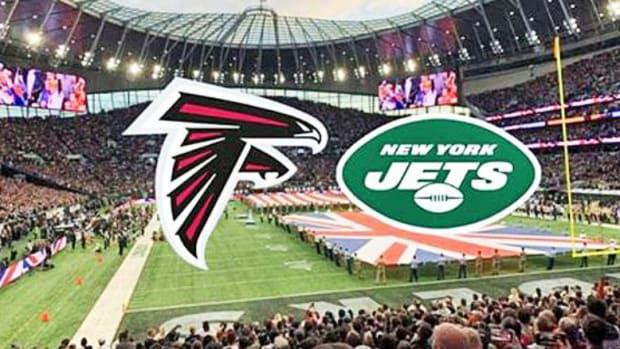 (Photo - SI.com)
As an important notice, players, free agents from the Sunday morning game in London between the Falcons and the Jets will ONLY be available in Wednesday's 10 pm ET waiver run (tonight). Atlanta and New York Jets players will NOT be available for pickup in the 10 am Sunday morning FAAB run. As usual, any rostered player not in your FFPC starting lineup can be dropped during any available FAAB process.

All FFPC Main Event, Footballguys Players Championship, Classic, Victory Point, Dynasty and other managed leagues have waivers tonight, Wednesday, October 6th at 10 pm ET. A second weekly waiver period processes on Sunday morning at 10 am ET.
IMPORTANT: You can only get one player per bid group. Once you get a player in that group, all other bids are voided. If you want to get multiple players, you will need multiple bid groups and multiple players to drop.
If you have multiple teams, please handle bidding with a single team in a single browser for now.
Every team has $1,000 bidding dollars to spend. This needs to last for the entire season.
There are no $0 bids, so please bid $1 or more.
To place bids:
From the league home page, click on TEAM. You will see the Bid Groups section on your Set Lineup page.
You can click on the 'Create Bid Group' button on the Set Lineup page to create a new group. From there you simply need to 1) add the player(s) to the group, 2) specify the bid amount for each player, 3) select the players to drop and 4) click Save.
Bid groups can be copied and then edited as a new group.
Bid amounts can be edited quickly and easily.
Players are default sorted by previous season stats and can be sorted by position.
Don't forget to include a player to drop in every bidding group.
Find a Free Agent Feature on MyTeams Page:
If you are looking for a certain free agent, you can use the player search feature on the MyTeams page and it will tell you if he is rostered or not and who owns him. This is helpful for owners that have multiple teams and are looking for a priority free agent.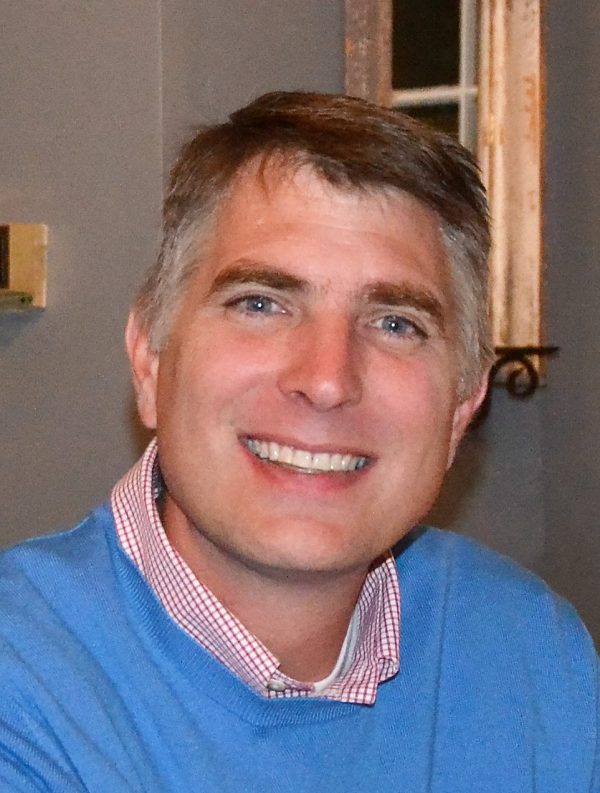 Jay Flake's only squad in the 2021 Footballguys Players Championship, stayed in first place for the second straight week with a 164.45 Week 4 tally. Thanks to Tyreek Hill's 47.6, Cordarelle Patterson's 34.6 and Najee Harris' 21.1, Tom Brady's 33, Cooper Kupp's 30.6 and Najee Harris' 28.2 led the way as Ageless now holds a 4.05-point lead over second-place MackNova, run by Mackenzie Kraemer.

Khaliff's Krew--managed by Jeff Antley--rose up two spots to third place, and Tyler Jackson saw his Frank Gore's Hog Squad ascend from 20th into fourth place heading into Week 5. Alex Harb's Jad05 completes this week's top five after four full sessions of NFL action.

Here is the list of the top-40 teams in the FPC at the moment:
Ageless FPC JayFla 738.8
MackNova 8.31 MackNova 734.75
Khaliff's Krew PAE33 734.55
Frank Gore's Hog Squad dropoutfilms 733.9
Jad05 jad01 733.75
Major League Infidel TigerandKyKy 730.7
F17 Skidellas Day Trading MikeFor 730.35
Dynamic Fantasy Duo #6 Oliverheim 723.6
Mazycakes Mazycakes 723.4
Blinkys Trampoline THoupt1221 721.4
Bipcoin is way overvalued JT_AJ 717
Bad Boys 350 fljones8 715.9
Sex Panther 8/31 jberry47 715.65
IRISH FPC 2 irishceo 711.6
Dak Dak Goose sherm20 711.35
Cesar Morales CesarMorales 707.75
P4P WayneFer 707.5
SCAT Daddy beesamuel 705.7
!LeedsCarajo¡Konanders 2 jmaguerreroc 705.65
Fat Frankie Inc FPC7 johnpierce80 705.45
J.S.2 All4liam 704.1
BB1 Dakmac10 703.85
The Nature Boy StanleyGoodspeed 703.3
Clever Whale II Cleverwhale 702.5
Bella Bombs GOHAWKS 702.15
Smokin' Joes joevangogh 701.3
Big Ern McCracken Jimmercans 701.1
Cavalli Storm VIII JavanKin 701.1
RebelFightingCocks SirTreyLancelot 699.75
Pinehurst Crew DrToboggan 699.1
Short the Bipcoin JT_AJ 698.5
Assassins FPC-4 Saints787 698.5
SEAC NoMercy77 698.2
We the North JarredOli 698.15
Gronky Kong DesaiNurEye 697.55
Frying Pan Inc 7 Foosball 697.2
Smash Bros. JOHNNYLFtbll 696.55
ZC Riley FPC0709b Amy and Mark 696.3
New York Patriotic Team Unlimited 695.85
Stonks and Donks #3 Burgie 694.1
(Photo - RotoViz.com)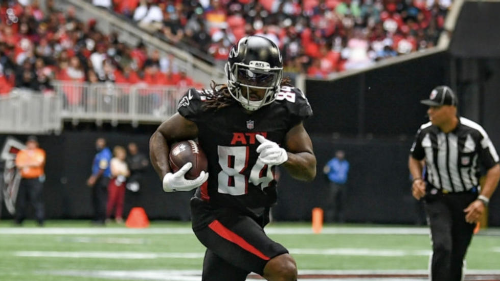 Giuseppe Liantonio's Amish Rake Fight squad continued to hold the top spot in the 2021 FFPC Main Event, this time by 30.9 points over the Average Joe tandem of Danny Mueller and Ron Meyer in second. Leading Liantonio in Week 4 was Patterson, Dalton Schultz (20.8) and the Bills defense (25).

We Dem Boyz x 3, run by Praveer Shrivastava, moved up from fifth place to third with defending FFPC Main Event champs Phil and Jerry Hooton's Bullseye shooting up to fourth. The reigning KFFSC Main Event winners Brad Petri and Darren Larson fell two spots to fifth overall.

For a look at the top 20 teams in the Main Event, check out the list below:
Amish Rake Fight 2 GiuseppeLia 739.6
Average Joe DannyMueller 708.7
We Dem Boyz x 3 Pshrivas87 699.75
Bullseye Redrambroncoskins 698.3
Frying Pan Inc 1 Foosball 694.95
Stole The Show wakeringer 693.8
Bipcoin Bipcoin 693.35
the boston dangler richardros 691.8
Go Bills 1 notoriousDAB 691.6
ClutchLikeTheOG ME 9.6.2021 Gremminger 690.25
Ducks Dynasty II WC DDuck 689.3
Dinsdale Online RBWebber 688.3
Juice mdestrada7 685.95
Spartan Dawgs Norm09 685.2
Bipcoin Bipcoin 685.1
Triple H 15 LonDog20 684.7
Dudeplatinum DudePlatinum 684.6
Lamar Diggs Edmonds DegenerateWreckingCrew 681.65
Step Brozzo's Mcozzo54 681.65
JRK jkole16 681.05
(Photo - USAToday.com)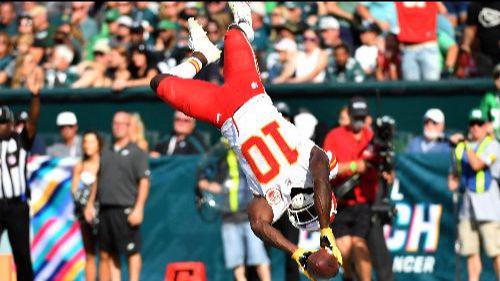 Dirk Jeschke has now positioned himself in the 2021 FFPC High Society #1 league with 12 total victory points heading into Week 5. His Risky Business squad featured big performances last weekend from Hill, Patterson, Saquon Barkley (29.6) and Dak Prescott (28.9) that led to his whopping 181.5 score.

Over in the 2021 FFPC High Society #2, Patrick Haley's RJAS team has 13 victory points, leading the other 11 teams after four weeks. Haley's massive 188.7 tally was thanks in part to Hill, Deebo Samuel (35.7), Dawson Knox (23.2), Matthew Stafford (23.1) and Ezekiel Elliott (20.3).

Both of these drafts were held live at Planet Hollywood in Las Vegas at the FFPC Live Events in September. Each champion in these two 12-team leagues will pocket $50,000 at the end of the year.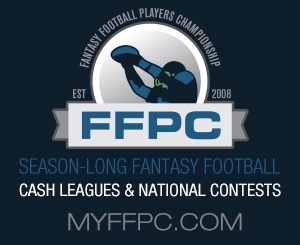 In case you have any questions or want to check something at a moment's notice, I am including this section of the email every week. While you are checking out all things FFPC for the 2021 season, consider this your guide to all things FFPC:

Good luck in all of those waiver bids before tonight's 10 pm ET deadline. I'll see you in the chat room Friday night, and don't forget to acquire your Jets and Falcons tonight, because they will "fly away" before Sunday's waiver run!


Sincerely,

Eric Balkman
The Fantasy Football Players Championship
www.myFFPC.com