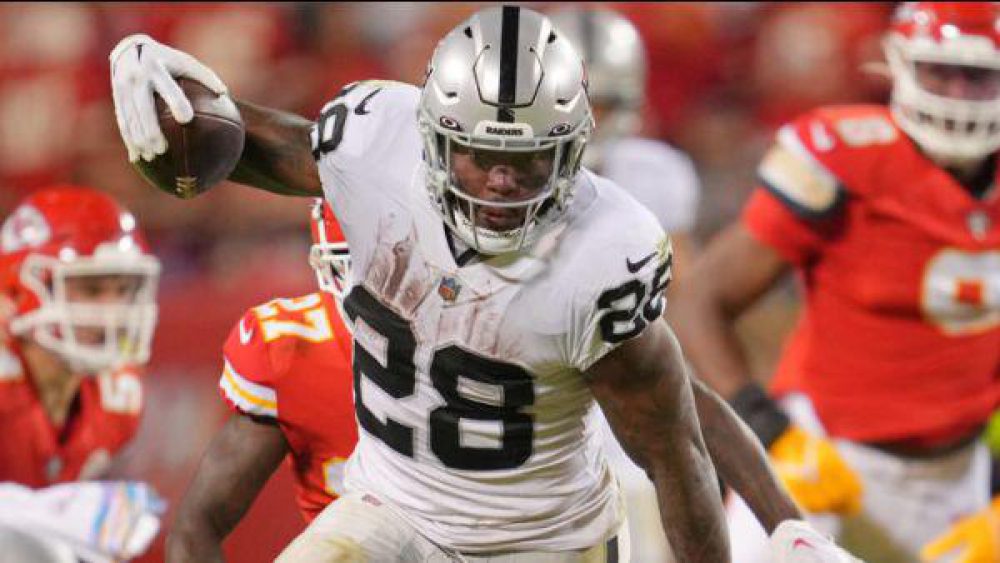 (Photo: Fantasy Pros)
Vaulting up four spots into the lead in the 2022 FFPC Main Event going into Week 6 was Phil Squatrito, thanks to great scores from Josh Jacobs (30.3), Mark Andrews (26.9) and Nick Chubb (25.4). Squatrito is ahead of last week's leader--Brandon Smittcamp's Funky--by a single point.

The Week 4 second-place team owner, Jeff Antley, saw his team fall one spot into third place, while Steve Rizas' My Giraffe Is Better Than Yours stayed in fourth for a second straight week. Rounding out the top five is Al Aspen's Asian Merchants, fewer than seven points off the overall lead.
For a look at the top 20 teams in the Main Event, check out the list below:
Hey Mr. Kraft, WATSONder My Towel? IntotheROAR 863.05
Funky fresbros 862.05
JMA 33 PAE33 859.45
My Giraffe Is Better Than Yours StevenRiz 857.65
Asian Merchants albcool 856.15
RTS & S2 RobertTom 848.55
TenaciousLamar TenaciousAF 847.45
Fantasy Mainiacs R3 rogergif 846.25
La Omnia tsampfam 844.15
M11.2 RV16 843.30
Victory (ME #1) Ralph Barba 838.75
VROSE IO MAIN 1 @FFLINX 837.05
SSGardens sxs 834.75
¡LeedsCarajo!M2 LeedsCarajo 833.80
Dingers FGar 833.80
Lions djwingsfan00 833.25
Saintsations III Saintsations 832.45
BG BradInTheGreenZone 831.95
DlkPjk21 MajorK 830.70
Lombardi Time (J) DannyMueller 830.40
(Photo: Pro Football Talk)
With his lone entry into the 2022 Footballguys Players Championship, Mohammed Farunia's Gulag's Finest tallied a 215.7 in Week 5 to move up into first place heading into Week 6. Farunia's score was boosted by Josh Allen's 40.4, Austin Ekeler's 35.9, Tyler Lockett's 27.4, Mark Andrews 26.9 and Nick Chubb's 25.4.

Ron Snyder's rwsnyd2 is fewer than five points off the pace in second place with Jake Valeich's The Machine (26er) sitting in third. Adam Abrahamowiz is in fourth place, fewer than seven points ahead of SXSS--owned by Barry-Sher--who completes this week's top five teams.
Here is the list of the top-40 teams in the FPC after five weeks of play:
Gulag's Finest GulagsFinest 893.7
rwsnyd2 rwsnyd2 889.25
The Machine (26er) Cactus Jake 884.25
Big dik Daddy from the Natti MMATAMDREDEMPTION 883.7
SXSS sxs 877.05
Wadesworld.. Mark Todd 871.05
Mike St. Mehrdadstlouis 870.2
Marty's Dance Quintet efeeneyx 867.9
lambo or bust 31 Steve SC 865.95
Slingblade 2 Slingblade 862.75
Duncan, No Sleepies! KyleLeith 862.7
Biplab's abs of flab JT_AJ 861.4
Pour one out for Mahomes Slygrin 860.95
FPC 1 shawnesty23 860.45
Original Gangstas 5 jon1303 859.9
HammersPlace HammersPlace 858.35
WeGotShoesters ABrkic 857.95
Jurv 7 Jurvillain 857.6
Cool Hand Book III mjb7177 857.1
Blue Balls Tito3033 855.55
Foosball 21 Foosball 854.65
Medallion Hunter II ChrisHarx 854.65
froo fighters frooness 854.15
Out of Position rahraw 853.6
Big TD's keyguy17 853.05
Heinous Magus GoodFunk 852.25
Mean Gene Number 9 geofre44 851.5
Already Drunk wghammock 851.05
No Way Yes Sir 850.9
Sniper sghammer17 849
WARCRAFT W/\RCR/\FT 848.65
lost puppies a5nj20 848.3
Rush IV Rush2c 848.25
Stachybotrys Cheese mellis0124 848.2
Blizzard Tanzy31 847.95
blah TheCiscoKid 847.4
ChillBillies Deeclev69 846.35
Relax 06 Chris Holland 845.45
Foosball 14 Foosball 845.15
Rolling with My Mahomes SHOWMEYATDS 845
Week 6 is now upon us, players, and that means an all-play for all Main Event, Footballguys Players Championship and Super Bracket leagues. Since the FFPC has 12 regular season weeks, each team will still play every team in the league one time during the regular season. Week 6 is an all play week. This means that Week 6 will not have individual head-to-head matchups; rather it will be a full league total points battle. The top six scorers will get a win, and the bottom six scorers will get a loss. Any team(s) which are tied for sixth most points scored in Week 6, will each be awarded a win. Again, the Week 6 all play only affects Main Event, FPC and Super Bracket teams.

As a reminder, all FFPC Main Event, Footballguys Players Championship, Classic, Victory Point, Dynasty and other managed leagues have waivers tonight, Wednesday, October 12th at 10 pm ET. A second weekly waiver period processes on Sunday morning at 10 am ET.
IMPORTANT: You can only get one player per bid group. Once you get a player in that group, all other bids are voided. If you want to get multiple players, you will need multiple bid groups and multiple players to drop.
If you have multiple teams, please handle bidding with a single team in a single browser for now.
Every team has $1,000 bidding dollars to spend. This needs to last for the entire season.
There are no $0 bids, so please bid $1 or more.
To place bids:
From the league home page, click on TEAM. You will see the Bid Groups section on your Set Lineup page.
You can click on the 'Create Bid Group' button on the Set Lineup page to create a new group. From there you simply need to 1) add the player(s) to the group, 2) specify the bid amount for each player, 3) select the players to drop and 4) click Save.
Bid groups can be copied and then edited as a new group.
Bid amounts can be edited quickly and easily.
Players are default sorted by previous season stats and can be sorted by position.
Don't forget to include a player to drop in every bidding group.
Find a Free Agent Feature on MyTeams Page:
If you are looking for a certain free agent, you can use the player search feature on the MyTeams page and it will tell you if he is rostered or not and who owns him. This is helpful for owners that have multiple teams and are looking for a priority free agent.
Check out The High Stakes Fantasy Football Show on the Bettor Sports Network tonight at 10/9c. Yours truly and a rotating guest host chop it up each and every Wednesday from 10pm until midnight, taking you through all the issues high stakes players are facing, as well as your first look at the waiver wire results each season.

Tonight, I'm joined by he the "Rotobuzzguy" Howard Bender from Fantasy Alarm, and while you can watch us live on both YouTube, Twitter and Facebook, I would STRONGLY encourage you to download the app so you can participate in the show and--most importantly--take advantage of all the great giveaways we've offered to viewers so far, including--but not limited to--signed jerseys from both retired and current NFL superstars.
Download the Bettor Sports Network Apps Below:
If you love our World Famous Playoff Challenge format, you'll also love the FFPC Weekly Challenge. There's no draft or salary cap: Just choose 10 or 12 players by Sunday's kickoff and watch them ride all the way through the weekend's games. But remember, you can only pick ONE player per NFL team!

Want to get your 2023 fantasy season off to a great start? Then play the $200 FFPC Weekly Challenge (10 teams) in both classic and/or slim versions. These are 'winner-take-all' 10-team contests with the winner receiving a 2023 FFPC Main Event credit!

The cost is $35 or $200 to enter in these 30- and 100-team contests. Play the classic format with kickers and defenses or the slim format that does not have them. You may enter up to three times in each 30-team contest or five times in each 100-team contest. Here's what's available this week:
| LEAGUE | OPENINGS | ENTRY | PRIZES | RDS | DEADLINE | |
| --- | --- | --- | --- | --- | --- | --- |
| Weekly Challenge #48822 | 12 of 30 | $35 | $910 | 12 | Sunday 1:00pm ET | |
| Weekly Challenge Slim #48827 | 30 of 30 | $35 | $910 | 10 | Sunday 1:00pm ET | |
| Weekly Challenge Slim #48825 | 73 of 100 | $35 | $3,035 | 10 | Sunday 1:00pm ET | |
| Weekly Challenge Slim #48826 | 9 of 10 | $200 | $2,000 | 10 | Sunday 1:00pm ET | |
In case you have any questions or want to check something at a moment's notice, I am including this section of the email every week. While you are checking out all things FFPC for the 2022 season, consider this your guide:
(Photo: National Football Post)
Chris Birchby's and Adam Rilott's SPF 1000 entry ran up a 145.3 score this past weekend in the 2022 FFPC Bare Knuckle Challenge, and now holds a 14.95-point lead over the second-place VSBM team run by Biplab Mandal and Vince Staffilino. SPF 1000 saw Justin Jefferson (30.55), Jalen Hurts (30.05) and Hayden Hurst (20.3) lead the way with big games.

This draft took place live after the opening game in Las Vegas on Thursday night at Planet Hollywood. Players were not allowed to use any device, cheat sheets or any other draft aid as all 336 picks needed to be selected strictly from memory. The champ will take home a $4,500 prize in this 12-team league.
Thanks for reading, everyone! Don't forget to join the Week 6 FFPC Weekly Challenge now!

See you on The High Stakes Fantasy Football Show on the Bettor Sports Network with Fantasy Alarm's Howard Bender and yours truly tonight!


Sincerely,

Eric Balkman
The Fantasy Football Players Championship
www.myFFPC.com