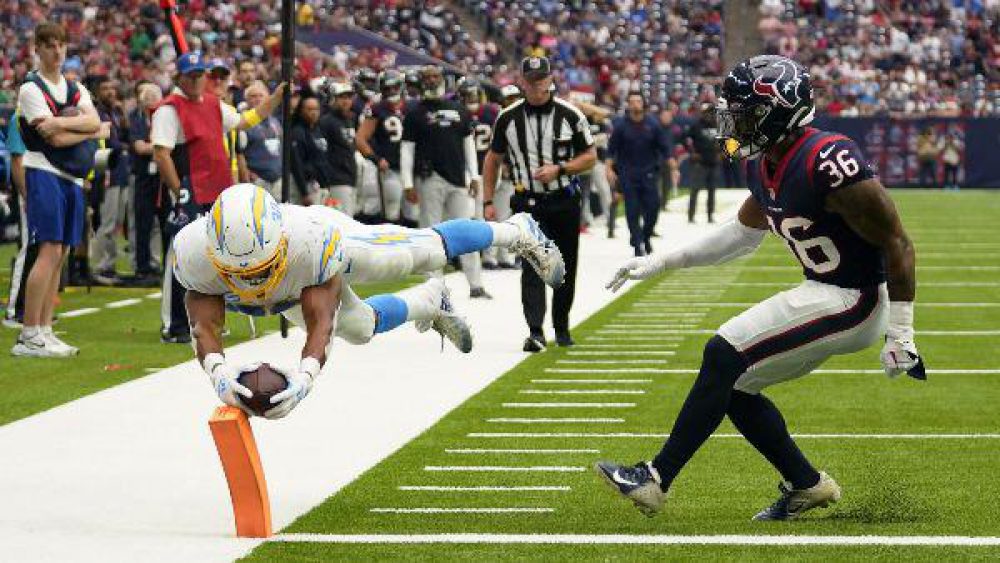 (Photo: LA Times)
Funky--owned by Brandon Smittcamp--ascended from fifth to first place in the 2022 FFPC Main Event going into Week 5. Thanks to solid performances from Austin Ekeler (34.9), Miles Sanders (29.6), Josh Allen (26.65) and Clyde Edwards-Helaire (22.4), Smittcamp leads second-place PAE33 (run by Jeff Antley) by 1.4 points.

Biplab Mandal and Todd Hunter's Diggs & Balls entry remains in third after four weeks of play with Steve Rizas' My Giraffe Is Better Than Yours less than five points behind them in fifth. Phil Squatito--in fifth place--is nearly within 10 points behind the overall leader Smittcamp.
For a look at the top 20 teams in the Main Event, check out the list below:
Funky fresbros 699.85
JMA 33 PAE33 698.45
Diggs & Balls Bipcoin 694.95
My Giraffe Is Better Than Yours StevenRiz 690.15
Hey Mr. Kraft, WATSONder My Towel? IntotheROAR 689.25
TenaciousLamar TenaciousAF 688.55
Odell Waller TheFootballAdvisor 688.35
Geep Jacobus 681.45
Asian Merchants albcool 681.05
Frying Pan Inc. 7 Foosball 679.75
Skinny Dawg ME 108 TodSca 678.55
Bip's Gabe Davis Fan club JT_AJ 678.2
Victory (ME #1) Team Victory 678.15
Dingers FGar 676
Papa Dox 3 coreydox 675.55
Full of BS 5 wshanahan17 674.8
BGB BGB12 674.8
Quickness BULL overbrook1515 674.5
Summer Pond Pudding Ham Sandwich 674.25
SKMT PaulSR 673.35
(Photo: MLive)
Alex Harb's Jad04 tallied a 202.7 in Week 4 to move up into first place in the 2022 Footballguys Players Championship heading into Week 5. Jad04's score was boosted by T.J. Hockenson's 43.9, Sanders, Mike Evans' 30.3, Cooper Kupp's 26.2 and Marquise Brown's 20.8.
Blizzard, managed by Steve Tansowny, is in second place, fewer than five points off the pace with Ron Snyder's rwsnyd2 moving up one spot into third place. Marc Hunn's Pour one out for Mahomes is 8.3 points behind Harb in fourth, and ADA3 MOON--run by Dan Fisher--is currently in fifth.
Here is the list of the top-40 teams in the FPC after four weeks of play:
Jad04 jad01 725.75
Blizzard Tanzy31 721.35
rwsnyd2 rwsnyd2 720.15
Pour one out for Mahomes Slygrin 717.45
ADA3 MOON 3WM 714.1
The Machine (26er) Cactus Jake 710.45
PPFB_Alpha MareonHym 702.35
Already Drunk wghammock 701.25
Killabzz killab2482 700.75
Full MOON Fever Bubbs1 700.65
WARCRAFT W/\RCR/\FT 699.6
WeGotShoesters ABrkic 697.65
White Castle Revenge pahlmeyer 695.75
Jimbo Covert BradKru 693.9
Canton Bro's Lux D 693.15
TMT NRhode24 692.85
HammersPlace HammersPlace 691.75
Mean Gene Number 9 geofre44 691.45
FPC 1 shawnesty23 691.35
Wasp luvs Dr. Oz JT_AJ 691.1
LOOT TAKERS 4 Duane1125 690.65
XXX PedroS 690.65
ChillBillies Deeclev69 690.15
MoreCowbell Frank LaPrade 688.95
Boats 'N Hoes JimmyC 687.35
fractal Hightower 686.3
Mr. Fantasy Mr Fantasy 686.25
Blue Balls Tito3033 685.9
F3 Ranch Hands MikeFor 684.5
TheSqaud dtaul 683.25
Rootenberg stueast13 682.7
Sniper sghammer17 680.8
Zebb's Ass party JT_AJ 680.75
froo fighters frooness 680.55
Foosball 21 Foosball 680.15
TheAftermath TheAftermath 679.1
Heinous Magus GoodFunk 679.05
Natty Bohs NattyBohs 678.65
Dreaming of Sundays PrimetimeAndyDalton 678.6
Tomchiefs tomchief 678.35
(Photo - CBS Sports)
Time to improve your rosters with potential difference-makers like new Denver Broncos running back Latavius Murray (above). This is your friendly reminder that all FFPC Main Event, Footballguys Players Championship, Classic, Victory Point, Dynasty and other managed leagues have waivers tonight with a 10pm deadline, but a second weekly waiver period processes on Sunday morning at 10 am ET.

As a reminder, just like last week with the Saints and Vikings players, the Giants and Packers players will ONLY be available in TONIGHT'S waiver run. Giants and Packers players will not be eligible to be bid upon for Sunday's waiver run.
IMPORTANT: You can only get one player per bid group. Once you get a player in that group, all other bids are voided. If you want to get multiple players, you will need multiple bid groups and multiple players to drop.
If you have multiple teams, please handle bidding with a single team in a single browser for now.
Every team has $1,000 bidding dollars to spend. This needs to last for the entire season.
There are no $0 bids, so please bid $1 or more.
To place bids:
From the league home page, click on TEAM. You will see the Bid Groups section on your Set Lineup page.
You can click on the 'Create Bid Group' button on the Set Lineup page to create a new group. From there you simply need to 1) add the player(s) to the group, 2) specify the bid amount for each player, 3) select the players to drop and 4) click Save.
Bid groups can be copied and then edited as a new group.
Bid amounts can be edited quickly and easily.
Players are default sorted by previous season stats and can be sorted by position.
Don't forget to include a player to drop in every bidding group.
Find a Free Agent Feature on MyTeams Page:
If you are looking for a certain free agent, you can use the player search feature on the MyTeams page and it will tell you if he is rostered or not and who owns him. This is helpful for owners that have multiple teams and are looking for a priority free agent.
In case you haven't caught the first few episodes, check out The High Stakes Fantasy Football Show on the Bettor Sports Network tonight. Yours truly and a rotating guest host chop it up each and every Wednesday from 10pm until midnight, taking you through all the issues high stakes players are facing, as well as your first look at the waiver wire results each season.

Tonight, I'm joined by he the fantasy football contrarian himself Shawn Siegele from RotoViz, and while you can watch us live on both YouTube and Twitter, I would STRONGLY encourage you to download the app so you can participate in the show and--most importantly--take advantage of all the great giveaways we've offered to viewers so far, including--but not limited to--signed jerseys from both retired and current NFL superstars.
Download the Bettor Sports Network Apps Below:
If you love our World Famous Playoff Challenge format, you'll also love the FFPC Weekly Challenge. There's no draft or salary cap: Just choose 10 or 12 players by Sunday's kickoff and watch them ride all the way through the weekend's games. But remember, you can only pick ONE player per NFL team!

Want to get your 2023 fantasy season off to a great start? Then play the $200 FFPC Weekly Challenge (10 teams) in both classic and/or slim versions. These are 'winner-take-all' 10-team contests with the winner receiving a 2023 FFPC Main Event credit!

The cost is $35 or $200 to enter in these 30- and 150-team contests. Play the classic format with kickers and defenses or the slim format that does not have them. You may enter up to three times in each 30-team contest or five times in each 150-team contest. Here's what's available this week:
LEAGUE
OPENINGS
ENTRY
PRIZES
RDS
DEADLINE
Weekly Challenge Slim #48811
84 of 100
$35
$3,035
10
Sunday 1:00pm ET
Weekly Challenge Slim #48808
5 of 10
$200
$2,000
10
Sunday 1:00pm E

On the latest Rotoviz Radio's The High-Stakes Lowdown podcast airing on the FFPC's YouTube channel live Thursday night at 7/6c, yours truly sits down with Austin Martin--a winner of more than 40 FFPC leagues in his career--as he discusses his teams in contention in the 2022 Footballguys Players Championship. Plus, he tells us who he thinks is in for a big Week 5 and his plan on not only winning $500K in the FPC, but a $1,000,000 grand prize in the 2022 FFPC Main Event as well.

In case you miss the live broadcast on the FFPC's YouTube channel, you can always check out the audio-only version of The High-Stakes Lowdown every Wednesday during the NFL season and on the first Wednesday of the month in the offseason on Rotoviz.com or wherever you get your podcasts. I'd also encourage you to check out all of the other great podcasts that Rotoviz Radio has to offer, too.
(Photo: Fox 19)
Chad Schroeder has now positioned himself in first place in the 2022 FFPC High Society #1 league with 14 total victory points heading into Week 5. His Cocktails & Dreams squad featured big performances last weekend from Ekeler, Joe Burrow (22.95), Tyler Higbee (22.3) and Brown that led to his 167.65 score.

Over in the 2022 FFPC High Society #2, David Hubbard and Billy Muzio's Bluffing Rivers team has 15 victory points, leading the other 11 teams after four weeks. Their massive 145.95 tally was thanks in part to Sanders, Allen and DK Metcalf (21.9)

Both of these drafts were held live at Planet Hollywood in Las Vegas at the FFPC Live Events in September. Each champion in these two 12-team leagues will pocket $50,000 at the end of the year.
In case you have any questions or want to check something at a moment's notice, I am including this section of the email every week. While you are checking out all things FFPC for the 2022 season, consider this your guide:
Thanks for reading, everyone! Don't forget to join the Week 5 FFPC Weekly Challenge now!

See you on The High Stakes Fantasy Football Show on the Bettor Sports Network with RotoViz's Shawn Siegele tonight!


Sincerely,

Eric Balkman
The Fantasy Football Players Championship
www.myFFPC.com