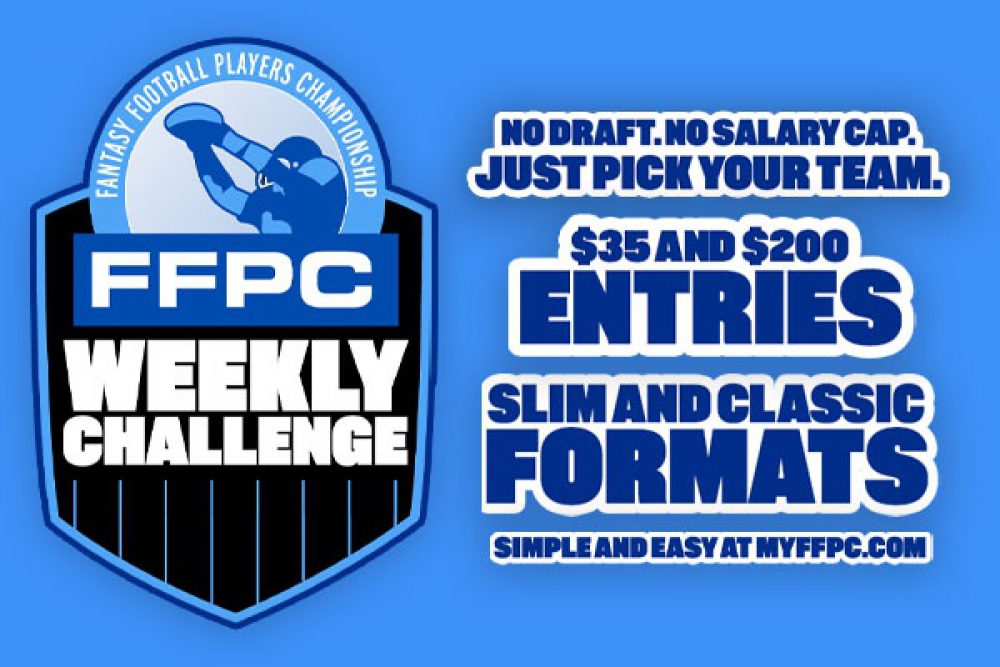 As a reminder, quarterbacks, running backs, wide receivers and tight ends that are cut during Week 11, Week 12 and Week 13 free agent bidding processes are now REMOVED from the free agent pool and may not be re-acquired by any team for the remainder of the season. Dropped defenses and kickers will still be available for acquisition. This is done to minimize the possibility of potential collusion.

And as a reminder, even if injuries or other issues derailed your 2022 season, make sure you are still setting your lineups! Please don't anger the fantasy gods, and keep karma on your side for 2021 by being competitive this weekend for the rest of the year. :)
(Photo: Audacy.com)
For the first time in more than a month in the 2022 FFPC Main Event, Jeff Antley's JMA 33 is no longer in first place. John Pierce's Fat Frankie Inc shot up ten spots thanks to its 178.85 Week 10 score. Pierce's squad was led by CeeDee Lamb's 38, Patrick Mahomes' 35.45, Justin Jefferson's 35.3 and Josh Jacobs' 22.6, as it now has less than a five-point lead over second-place Amish Rake Fight, owned by Giuseppe Liantonio.

Anthony Lupo's ACEHOLE moved up four spots into third with Antley's JMA 33 entry falling three spots to fourth place. Simon Leach's ¡LeedsCarajo! team vaulted up five spots this past weekend to round out this week's top five teams, as it is is fewer than 20 points off the overall lead.

For a look at the top 20 teams in the Main Event, check out the list below:
Fat Frankie Inc Main11 johnpierce80 1611.8
Amish Rake Fight X9 GiuseppeLia 1607.7
ACEHOLE blakeyb45 1607.25
JMA 33 PAE33 1601.15
¡LeedsCarajo!M2 LeedsCarajo 1593.95
Scared Money Elcero 1591.65
Dingers FGar 1590.1
MainO UrbanM 1585.7
DickenHead 2 whitmrersux 1581.75
M10.1 RV16 1581.05
RumHorse II robabb4 1579.55
Cocktails & Dreams Chadsch23 1573.75
Three Wise Men F1 3WM 1573.2
Fairways & Greens Main III Mcdavid97 1573.15
Asian Merchants albcool 1572.65
Wait For It.... #2 Older Budweiser 1565.6
To the Dr. TNTS 1560
BG BradInTheGreenZone 1559.9
DlkPjk21 MajorK 1558.1
Quantified Karma 2 algubi 1557.95
(Photo: Las Vegas Review-Journal)
It's now five weeks in a row in the 2022 Footballguys Players Championship for John Rahilly's Out of Position in the overall lead. This week, Davante Adams (27.6), Stefon Diggs (24.8) and Jacobs did the heavy lifting to keep Rahilly nearly 10 points ahead of Larry Wilkes' blah, as Wilkes stayed in the runner-up spot for the second straight week.

George Derzekos saw his team ascend four notches into third place after our tenth week of play while Dr WHOa--run by Stephen Ranaghan--slipped one spot into fourth. Completeling this week's top five entries in the FPC is Brian Jurvelin whose team moved down one spot from last week.

Here is the list of the top-40 teams in the FPC after 10 weeks of play:
Out of Position rahraw 1661.95
blah TheCiscoKid 1652.2
Derz6 DerzDarls 1649.6
Dr WHOa UrbanM 1634.9
Jurv 7 Jurvillain 1630.2
Kjc2 Sollions 1621.65
Hairball Hairball15 1614.8
theEllieLouCrew greggy 1611.75
ATAC 6 ATAC1 1610.65
Canton Bro's Lux D 1610.4
Toyota World Sales Rlevy1991 1609.55
skippy The Magnificent ChuckVai 1608.1
Line of Scrimmage lineofscrimmage 1608.05
The Dream Team IV Blazers848 1605.6
Space Cadets TomPfu 1604.4
Papa Dox 18 coreydox 1603.3
Slingblade 2 Slingblade 1602.95
A Swift Chubb Ertz (8) NCBEAST 1601.35
DCM Flowdy Pot DavidDeR 1600.4
Villains Eddieecheverria 1599.05
Marty's Dance Quintet efeeneyx 1598.75
Zero Zero 1597.7
TCP John Rozek 1597.45
Sniper sghammer17 1596.55
Mike St. Mehrdadstlouis 1596.55
timgod99 timgod99 1596.3
Foosball 21 Foosball 1595.5
Smokin' Joes joevangogh 1595.4
Where is Biplab??? JT_AJ 1594.85
ChiTownTruEve ChiTownTru 1592.95
JUST JOSH'n RHAMONDRE ChrisLej 1589.9
Who is Biplab?? JT_AJ 1588.5
3s Team 4.0 gtbrooks4 1588.35
Rallycap 1 Nick Chianese 1588.35
Two Derps Dgreco 1588
One Last Play Rlevy1991 1588
Code Monkey codemonkey 1586.2
Ludvig Von Seal likes to party! KyleLeith 1586.1
Eddie Vedder KingJeremy 1585.8
Pink Stripes Mr. Eric 1584.7
(Photo: USA Today)
The Joes are once again dominating the top of the overall leaderboard in the 2022 FFPC Pros Vs. Joes competition. Chad Schroeder's Cocktails & Dreams is holding a 39.65-point lead over fellow Joe Chris Birchby in second. This past week, Schroeder was led in scoring by Justin Fields' 42.05 and Travis Kelce's 23.1 points keep his lead in this 18-round best ball slim competition.

25.7 points behind Birchby is Pro Jared Smola from Draft Sharks in third place. Fantasy Guru's Jeff Mans is the next Pro in fourth place with Josh Durm's Durm and Durmer Joe squad sitting in fifth at the moment.

Those five teams all lead their respective leagues with FFPC Joe Steve Schaetzle and John Daniel, Theo Gremminger and Dan Williamson from the Goat District being the other two league-leaders. Each one of the league winners will take home a free 2023 FFPC Main Event team at the season's end. Here is a look at the top-10 overall in this contest below:
Cocktails & Dreams JOE 1602.25
MarvinGarden JOE 1562.6
DraftSharks.com PRO 1536.9
FantasyGuru.com PRO 1515.9
Durm and Durmer JOE 1506.6
Steve S JOE 1506
Goat District PRO 1504.35
Wax on Wax off JOE 1495.95
Rocknrolla12000 JOE 1492.35
EstablishTheRun.com PRO 1478.4
Check out The High Stakes Fantasy Football Show on the Bettor Sports Network tonight at 10/9c. Yours truly and a rotating guest host chop it up each and every Wednesday until midnight, taking you through all the issues high stakes players are facing, as well as your first look at the waiver wire results each season.

Tonight, I'm joined by Drew Davenport from Footballguys, and while you can watch us live on both YouTube, Twitter and Facebook, I would STRONGLY encourage you to download the app so you can participate in the show and--most importantly--take advantage of all the great giveaways we've offered to viewers so far, including--but not limited to--signed jerseys from both retired and current pro sports superstars.
Download the Bettor Sports Network Apps Below:
Don't miss out on winning this week in the FFPC Weekly Challenge, players! There's no draft or salary cap: Just choose 10 or 12 players by Sunday's kickoff and watch them ride all the way through the weekend's games. But remember, you can only pick ONE player per NFL team!

Want to get your 2023 fantasy season off to a great start? Then play the $200 FFPC Weekly Challenge (10 teams) in both classic and/or slim versions. These are 'winner-take-all' 10-team contests with the winner receiving a 2023 FFPC Main Event credit!

The cost is $35 or $200 to enter in these 30- and 100-team contests. Play the classic format with kickers and defenses or the slim format that does not have them. You may enter up to three times in each 30-team contest or five times in each 100-team contest. Here's what's available this week:
| LEAGUE | OPENINGS | ENTRY | PRIZES | RDS | DEADLINE | |
| --- | --- | --- | --- | --- | --- | --- |
| Weekly Challenge #48877 | 11 of 30 | $35 | $910 | 12 | Sunday 1:00pm ET | |
| Weekly Challenge Slim #48880 | 14 of 30 | $35 | $910 | 10 | Sunday 1:00pm ET | |
| Weekly Challenge Slim #48879 | 89 of 100 | $35 | $3,035 | 10 | Sunday 1:00pm ET | |
| Weekly Challenge Slim #48876 | 8 of 10 | $200 | $2,000 | 10 | Sunday 1:00pm ET | |
(Photo: Fansided)
Tyreek Hill and the rest of the Dolphins are peacing out in Week 11, players. Joining them will be the Buccaneers, Jaguars and Seahawks in enjoying their weekend off of work. Get the players from those teams out of your lineups for Week 11 Remember, you'll have the waiver wire run tonight and Sunday morning to fix those lineup holes. Good luck!
In case you have any questions or want to check something at a moment's notice, I am including this section of the email every week. While you are checking out all things FFPC for the 2022 season, consider this your guide:
Thanks for reading, everyone! Don't forget to join the Week 11 FFPC Weekly Challenge now!

See you on The High Stakes Fantasy Football Show on the Bettor Sports Network with Footballguys' Drew Davenport tonight!


Sincerely,

Eric Balkman
The Fantasy Football Players Championship
www.myFFPC.com