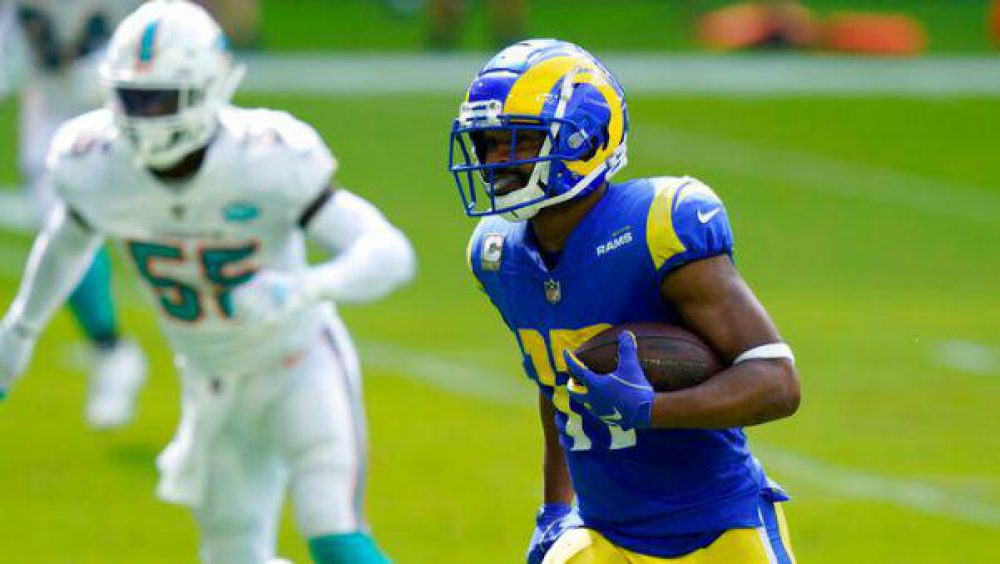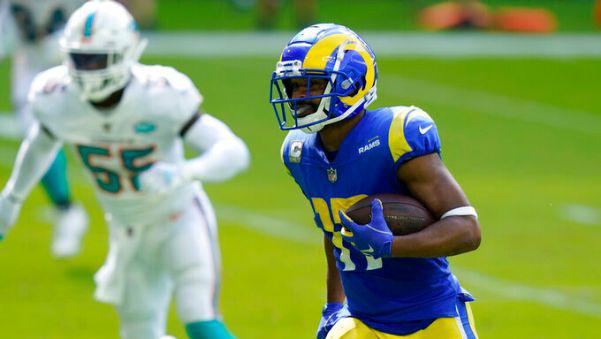 While he almost made the full ascension in Week 7, Henry Muto now has his Cobras in the driver's seat of the 2020 FFPC Main Event going into Week 9. Robert Woods (28.4), Tyreek Hill (25.8), Alvin Kamara (25.3) and Tom Brady (21.85) did the heavy lifting for the Cobras as they tallied a 166.65 Week 8 score.

Darren Hill's Country Gramma shot up two spots to second, well within striking distance of the Cobras. John Tenley deserves congrats for having not only the third-place team in the Main Event, but the fifth-place team as well. Yosemite--run by last week's leader Sky Eilers--slipped three notches into fourth place. You can check out the top 20 teams in the list below:
Cobras HenryMuto 1400.75
Country Gramma ChiefD 1392.7
Minnesota Football Team JohnTen 1385.6
Yosemite ABQ Yosemite 1365.25
Double Agent JohnTen 1362.6
Romosexuals 1 Ski & Barn Dawg 1358.85
Team Money MayerIsDead2Me 1352.8
PowerSpy jacosta2024 1348.6
EmporioAmato EmporioAmato 1339.8
Esquires(2) bo berman 1337.05
The Diesel Hugs 1335.8
Pop-Up Peekaboo RockMachine 1327.5
The Haven RFALVO 1325.85
Do It That Way Userrabble 1323.5
ATX Hustlers 2 ATX Hustlers 1321.25
MoreCowbellME4 DCFree 1319.25
RunHotSports RunHotSports 1319.15
wegonwinffpcMain3 skywalka2001 1316.05
arbiago gamma mulesplus 1313.95
@CrakRok CrakRok 1310.85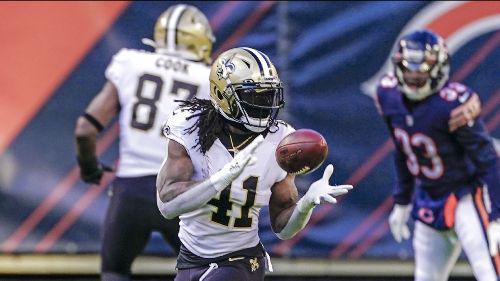 Sal's Spaghetti Revolution could not be overtaken for the third straight week in the 2020 Footballguys Players Championship.Chris Ondrus and Allen Martirossian's squad still holds a 2.85-point lead going into Week 9 over second-place Zak Lakhani. Alvin Kamara's 25.3 led the way for the Revolution, which despite a down week (136.4), still leads everyone else.

James Foster vaulted up 21 spots to third with Andrew Geller's Da Gildz Won Time!! remaining in fourth place. Lets'sFightingLove!!, managed by Christopher Huslak rounds out this week's top five teams. For a look at the top 40 teams in the competition, check out the post below:
Sal's Spaghetti Revolution condrus87 1420.35
Zak FGPC #9 Zak L 1417.5
#6 seattletothebigbowl 1403.3
Da Gildz Won Time!! 14 Uncle Leo 1391.4
Let'sFightingLove!! CHus 1385.4
Danny Dimes LuckyLucas 1377.9
Triple H Team Of Genius DH22 1375.75
NTFreight NateTheFreight 1375.45
Free Free MayerIsDead2Me 1374.25
wegonwinffpc26 skywalka2001 1367.45
Gucci Desperados A-Martin 1365.9
Da Gildz Won Time!! 18 Uncle Leo 1365.55
3503 jenckes.m@aol.com 1363.75
Da Gildz Won Time!! 13 Uncle Leo 1362.3
BigDeal FPC BigDeal8 1360.7
Junior The Tickler 1356.35
FPC2 RV16! 1355.2
doubledown joshfalcone 1354.2
The Center 14 TheCenter 1353.55
See What Happens 7 A-Martin 1353.25
Dr. Strange's Odds Waspguy 1353.2
Arge Boys 2 mack3288 1352.75
Gucci Bandana 8 A-Martin 1350.7
Hideous Hog CJH 1350.65
Inflatables RockMachine 1350.2
JmanFbgpc#5-7/9-pk3 jeantet50 1348.55
Fairways & Greens FPC XXV halliam1114 1348.45
Last Dance 11 A-Martin 1347.55
No Limit Squad 2020 Folesgold808 1347.4
falsehope falsehope 1346.45
Jad05 jad01 1345.95
Smokin' Aces joevangogh 1345.9
Philly Faithful fredpagi 1345.45
Ryan rcgyorkos 1343.8
CrakRok40 CrakRok 1341.75
Primetime Primetime 1338.2
Turner & Lang FBGPC 1 turner46 1336.15
Weiner's Winners mdw232 1335.9
dkappes dkappes 1335.45
Geckos Albert Chapman 1332.55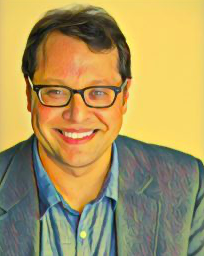 A trio of Pros sit atop the 2020 FFPC Pros Vs. Joes competition, led by Sigmund Bloom from Footballguys. He holds a healthy lead over Sharp Football Analysis' Rich Hribar of nearly 20 points. Matt Kelley from Player Profiler is just seven points behind Hribar in third.

The top-scoring FFPC Joes is the Biplab Mandal/Kern Reeve duo in fourth with Curtis Patrick and Ryan McDowell's RotoViz/Dynasty League Football effort rounding out the top five. Bloom, Hribar, Kelley, Patrick and McDowell all lead their respective divisions with FFPC Joes Kurt Kuekes and Brian Tumminello on top of their leagues as well. Evan Silve from Establish The Run is in tenth place overall, but also leads his league, too.

Each one of the league winners will take home a free 2021 FFPC Main Event team at the season's end. Here is a look at the top-10 overall in this contest below:
League 1 1257 PRO Sigmund Bloom – Footballguys.com
League 3 1238 PRO Rich Hribar – SharpFootballAnalysis.com
League 5 1231 PRO Matt Kelley – PlayerProfiler.com
League 5 1222 JOE Raining Wasps – Biplab Mandal / Kern Reeve
League 2 1220 PRO C. Patrick/R. McDowell – Rotoviz/DLF
League 5 1218 PRO Matt Schauf – DraftSharks.com
League 2 1203 JOE Chris Birchby
League 7 1198 JOE Kurt Kuekes
League 3 1196 JOE Scott Cobe
League 4 1191 PRO Evan Silva – EstablishTheRun.com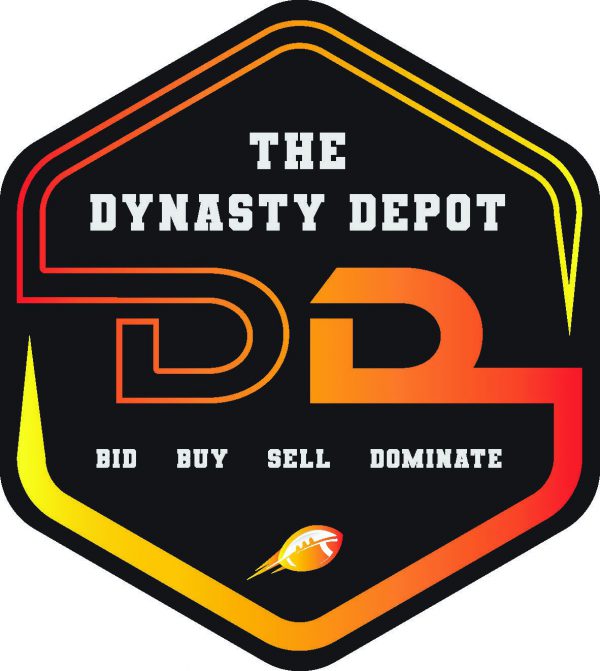 As a reminder, the FFPC has now become the exclusive partner for The Dynasty Depot, the first-ever auction site for dynasty fantasy football leagues. FFPC dynasty players will now have the ability to buy and sell dynasty teams via a live auction.

The Dynasty Depot will now be the central platform for pre-drafted teams to be purchased and sold. Live auctions will begin on January 4, 2021. For more information, check out DynastyDepot.com.

Also remember that memberships are now open! When you register, make sure you use the promo code CHARTER20 to get $40 off of an All-Pro membership, which includes text notifications every time a new dynasty team is listed for auction on the platform. Hurry! That code will expire in less than four weeks!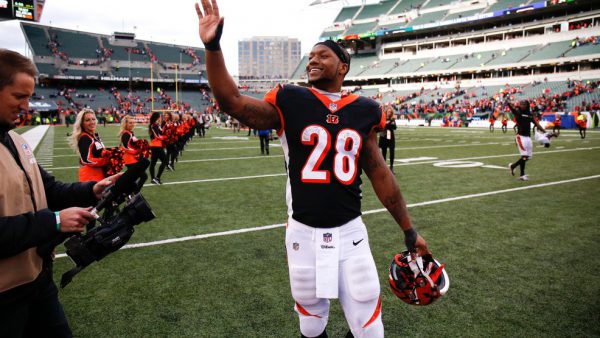 Joe Mixon bids us adieu (because of a bye) this week, as do all the players from the Browns, Eagles and Rams in Week 9. You'll be able to get replacements for them either from your bench or in the waiver wire runs tonight and Sunday morning.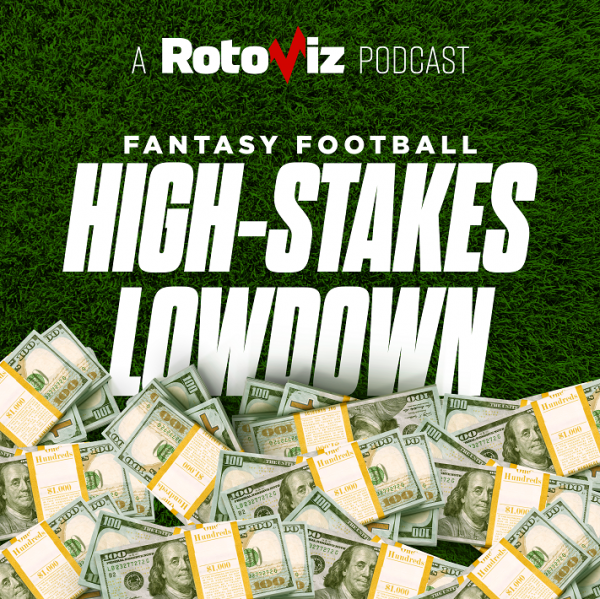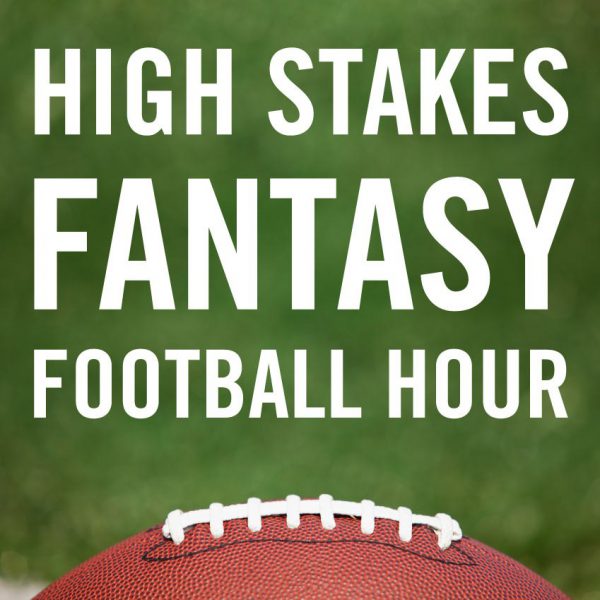 On the latest Rotoviz Radio's The High-Stakes Lowdown podcast, I speak with two-time six-figure prize-winner Stephen Ranaghan. In this episode, we break down the Patriots running backs,m the one player he was sure to avoid in 2020 drafts and much more.
You can check out a new episode of The High-Stakes Lowdown every Thursday during the NFL season on Rotoviz.com or wherever you get your podcasts. I'd also encourage you to check out all of the other great podcasts that Rotoviz Radio has to offer, too.

Then on Friday, yours truly and Ferrell Elliott talk to Bill Wanke, an owner of a top-10 team in both the 2020 Footballguys Players Championship, and the 2020 Fantasy Football Players Championship (FFPC) Main Event in just his second year of competing within the FFPC high stakes space. As always, we also answer your calls, tweets, emails and more all on The High Stakes Fantasy Football Hour!

The High Stakes Fantasy Football Hour normally airs Friday nights at 10/9c, and the next episode can be heard here. You can hang out with the high stakes players in the show's chat room if you want to listen live. You can also access full on-demand streaming available for listening anytime via a variety of apps including the HSFF Hour website, Apple Podcasts, Spotify, Google Podcasts, Amazon Alexa, Stitcher Radio, TuneIn Radio, Spreaker, Podchaser, Audioburst, Breaker, Castbox, Overcast, PodBean, Pocket Casts, Radio Public, Podcast Addict and Anchor on your iPhone or Android device as well.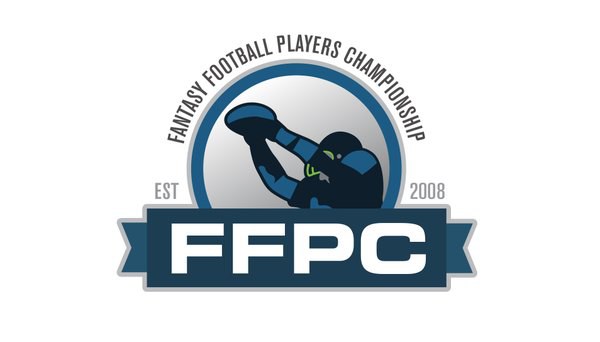 In case you have any questions or want to check something at a moment's notice, I am including this section of the email every week. While you are enjoying the 2020 season, consider this your guide to all things FFPC: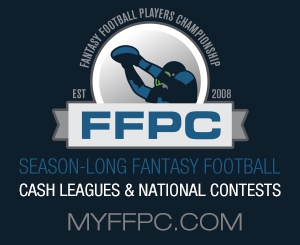 Sincerely,
Eric Balkman
The Fantasy Football Players Championship
www.myFFPC.com