(Photo - BleacherReport.com)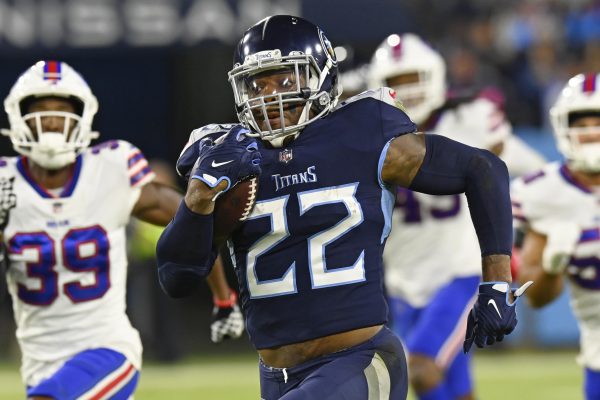 While they suffered a loss in Week 6, Danny Mueller and Ron Meyer made their 2021 FFPC Main Event even bigger over second-place Giuseppe Liantonio's Amish Rake Fight. Thanks to Derrick Henry (35.6), Antonio Brown (24.3), Tom Brady (21.95), Aaron Jones (21) and Mark Andrews (20.3), Mueller and Meyer will enjoy at least one more week with a room at the top of the world.

The Step Brozzo's--run by Matthew Cozzo--vaulted up 16 spots into third place overall with David Hubbard and Billy Muzio's Triple H 15 moving on up 12 spots into fourth place. Rounding out this week's top five squads is Go Bills, owned by Dominic Baranyi, 6.45 points out of fourth.

For a look at the top 20 teams in the Main Event, check out the list below:
Average Joe DannyMueller 1155
Amish Rake Fight 2 GiuseppeLia 1100.5
Step Brozzo's Mcozzo54 1081.2
Triple H 15 LonDog20 1079.5
Go Bills 1 notoriousDAB 1073.05
Ducks Dynasty II WC DDuck 1067.4
We Dem Boyz x 3 Pshrivas87 1061
Athos.3 nolalipps 1054.15
Bipcoin Bipcoin 1053.1
Nick_Thompson27 nrthompson 1051.55
FP Draft Guy 1 Draft Guy 1051.5
Stole The Show wakeringer 1048.15
the boston dangler richardros 1047.5
DJ ME 3 JN3 1047.4
Spartan Dawgs Norm09 1046.4
Cocktails & Dreams 24 royalfan 1044.4
Bullseye RedRamBroncoskins 1039.8
Baltimore Redskins erikwah 1038.3
Satoshi OldFashionedBitcoin 1036.25
Shamwow 2 bshamy 1034.9
(Photo: Heavy.com)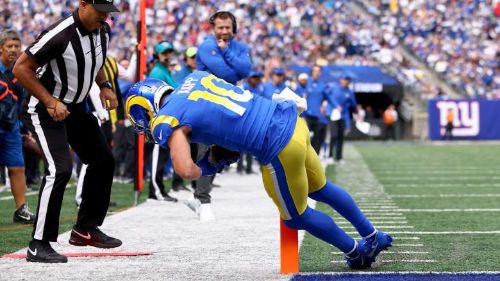 Jeff Antley saw his Khaliff's Krew squad tally a huge 230.95, good enough to move him up into first place heading into Week 7 in the 2021 Footballguys Players Championship. It was Henry, Cooper Kupp (34), Josh Allen (33.25), Jaylen Waddle (29), Brown, Stefon Diggs (23.9) and Mike Gesicki (23.5) leading the way for Antley, who now has a 16.55-point lead over Tyler Jackson and Mike Dozier's Frank Gore's Hog Squad.

The Major League Infidel entry, which is run by Sean McCorkle, now holds third place while Dave Strand's Agent Orange team has moved into fourth place. Jeff Blair also now sits in fifth place as his Mazycakes roster ascended up the leaderboard after Week 6.

Here is the list of the top-40 teams in the FPC at the moment:
Khaliff's Krew PAE33 1141.55
Frank Gore's Hog Squad dropoutfilms 1125
Major League Infidel TigerandKyKy 1110.35
Agent Orange Agent Orange 1109.7
Mazycakes Mazycakes 1106.55
Huggers (8) Tree Huggers 1105.1
IRISH FPC 2 irishceo 1097.85
SCAT Daddy beesamuel 1090.1
F17 Skidellas Day Trading MikeFor 1089.5
Snuggles' Accountant I carlvdh 1089
Dynamic Fantasy Duo #6 Oliverheim 1075.75
J.S.2 All4liam 1069.85
Ageless FPC JayFla 1069.3
K&K FPC 2 Dkrupski2 1068.7
RebelFightingCocks SirTreyLancelot 1067.2
Zebb Kapp enjoys golden showers JT_AJ 1065.65
The Cawmehameha's burrcaw 1064.5
Chris Vincent and Sylvia4eva JT_AJ 1061.65
Assassins FPC-4 Saints787 1060.75
Vince Staffalino is 50! JT_AJ 1060.3
The Dark Side Falcon420 1058
rwsnyd2 rwsnyd2 1056.45
Smokin' Joes joevangogh 1054.65
MJK4 rampage 1054.65
Jad05 jad01 1054.65
Kingpin 1.5 TRoll 1053.7
Al's Aces NoMercy77 1053.45
Kingpin 8 TRoll 1051.35
Sex Panther 8/31 jberry47 1051.1
St.Raider FPC1 St. Raider 1049.35
Muzi-oHHH (FBG 9) FFMuzio 1048.5
ALL IN JD2 ALLINJD 1048.25
Bella Bombs GOHAWKS 1047.7
Clever Whale II Cleverwhale 1047.15
#1 Soogea13 1046.6
I Lied! KORTAR 1045.7
Wegonwinffpc29 skywalka2001 1045.55
Murphy's law MonkeyWrench 1044.45
New York Patriotic Team Unlimited 1043.8
805 Ballers TM travscrub10 1041.65
(Photo - ProFootballTalk.com)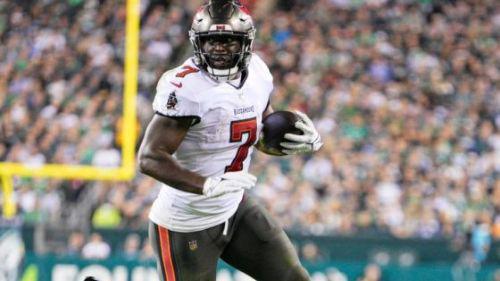 Thanks to Leonard Fournette's 30.7, Jalen Hurts' 27.15, Brown, Gesicki and Courtland Sutton's 23.4, Brody Brown moved into first place in the 2021 FFPC $2,500 Auction with 20 victory points, two points ahead of Drew and Josh Miceli's JAM squad. Each of the top two seeds in this league will get $2,500 for their regular season performances with the winner of this league will cashing a $12,500 check with the runner up getting $6,500 and third place getting $2,500.

The FFPC held this auction live at Planet Hollywood in Las Vegas at its live events in early September, along with four other auction leagues. Heading into Week 7, the leaders of those competitions are listed below:
$1,250 Auction #1: SPF 1000 - Chris Birchby & Adam Rilott
$1,250 Auction #2: JC SUPERSTAR - Alan Greenberg
$750 Auction #1: FIERCE! - Jeffrey Schmitz
$750 Auction #2: Bipcoin - Biplab Mandal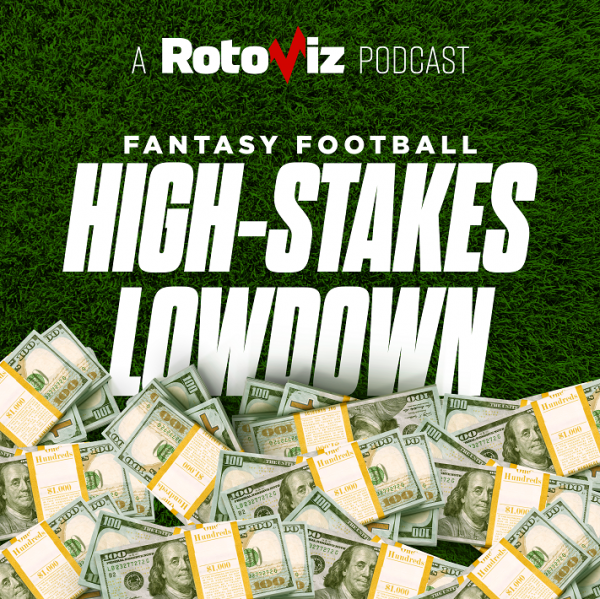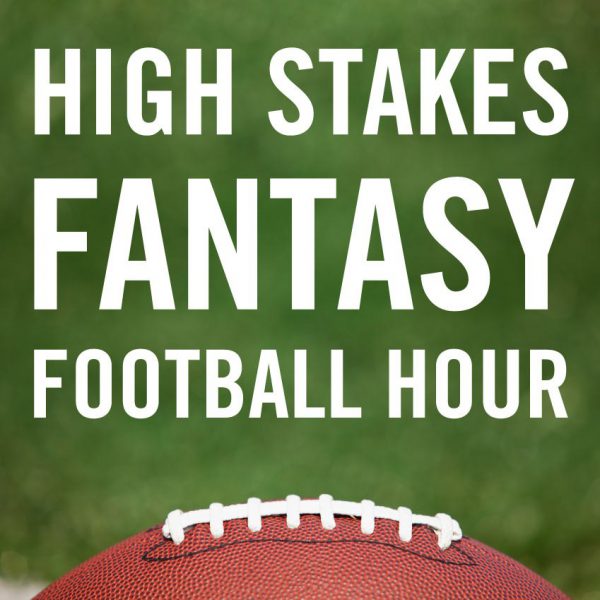 On the latest Rotoviz Radio's The High-Stakes Lowdown podcast, I speak with the owner of the ninth-place team in the 2021 Footballguys Players Championship Mike Foresta. In this episode, we talk about how to handle the Ravens and Browns running back situations on waivers this week and much more.
You can check out a new episode of The High-Stakes Lowdown every Thursday during the NFL season on Rotoviz.com and Apple Podcasts. I'd also encourage you to check out all of the other great podcasts that Rotoviz Radio has to offer, too.
Then live at 10/9c on Friday, yours truly and 2021 Kentucky Fantasy Football State Championship (KFFSC) commissioner Ferrell Elliott are joined by the 2021 Footballguys Players Championship fifth place team owner Jeff Blair. The guys will talk about the landscape of the 2021 Fantasy Football Players Championship (FFPC) Main Event and talk about how the Week 7 byes will affect the scores in both FFPC Best Ball Drafts and FFPC Dynasty Leagues. Plus, we take a look at some of the leaders in the 2021 FFPC Best Ball Tournament and answer your calls, tweets, emails and more all on The High Stakes Fantasy Football Hour!

The High Stakes Fantasy Football Hour normally airs Friday nights at 10/9c, and the next episode can be heard here. You can hang out with the high stakes players in the show's chat room if you want to listen live. You can also access full on-demand streaming available for listening anytime via a variety of apps including the HSFF Hour website, Apple Podcasts, Spotify, Amazon Music, Audible, iHeartRadio, Google Podcasts, Amazon Alexa, Stitcher Radio, TuneIn Radio, Spreaker, Deezer, Vurbl, Podchaser, Audioburst, JioSaavn, Gaana, Breaker, Castbox, Overcast, PodBean, Pocket Casts, Radio Public, Podcast Addict and Anchor on your iPhone or Android device as well.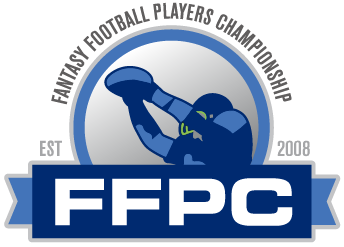 In case you have any questions or want to check something at a moment's notice, I am including this section of the email every week. While you are checking out all things FFPC for the 2021 season, consider this your guide: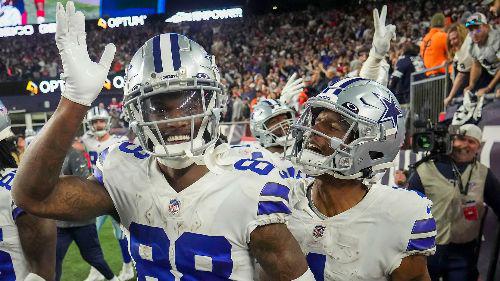 At least it's only one week, players. For the remainder of the 2021 season, we will not see a six-team by week. But this week we will, unfortunately. Get those Bills, Chargers, Cowboys, Jaguars, Steelers and Vikings out of your lineups. Remember, you'll have the waiver wire run tonight and Sunday morning to fix those lineup holes. Good luck!
Good luck in all of those waiver bids before tonight's 10 pm ET deadline. I'll see you in the chat room Friday night!


Sincerely,

Eric Balkman
The Fantasy Football Players Championship
www.myFFPC.com