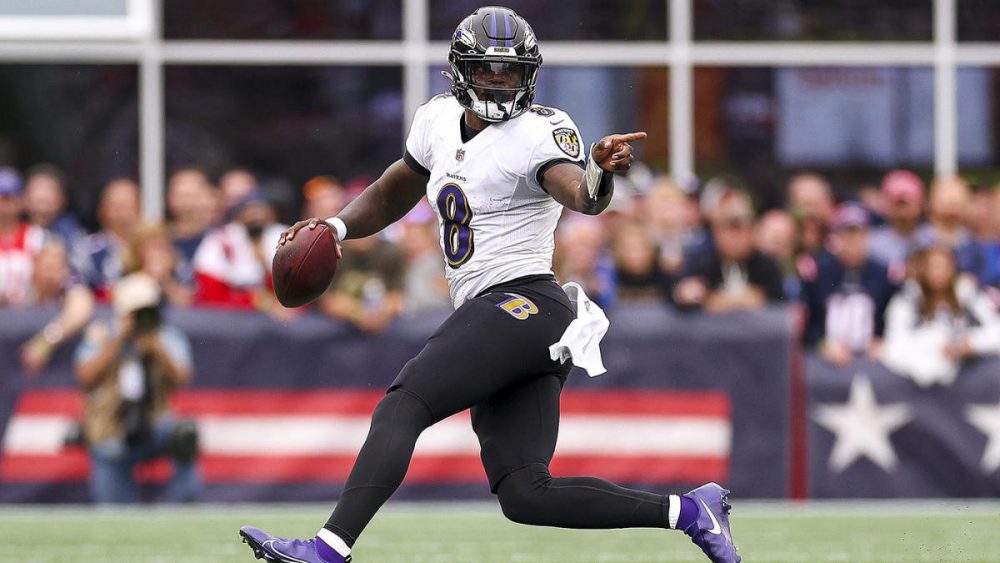 (Photo: CBS Sports)
Summer Pond Pudding--owned by Brad Liska--remained in first place in the 2022 FFPC Main Event going into Week 4. Thanks to really good outcomes from Lamar Jackson (42.6), Mark Andrews (32.9) and James Robinson (20.6), Liska leads second-place TenaciousLamar (run by Jeremiah Nemeth) by 11.7 points.

Biplab Mandal and Todd Hunter's Diggs & Balls entry places third after three weeks of play with Alex G.'s The Goose is Loose less than eight points behind him in fourth. Funky, which features Brandon Smittcamp as its owner--is nearly within 20 points behind the overall leader Liska.
For a look at the top 20 teams in the Main Event, check out the list below:
Summer Pond Pudding Ham Sandwich 585.15
TenaciousLamar TenaciousAF 573.45
Diggs & Balls Bipcoin 567.55
The Goose is Loose The Goose is Loose 559.75
Funky fresbros 541.9
Hey Mr. Kraft, WATSONder My Towel? IntotheROAR 541.55
Viper tronnn 538.25
303 OGs 2 KingCorn 528.65
Lose Everything CH4R1ZARD 525.25
Durm & Durmer JDurm 525.2
CancelThis69 CancelThis69 524.85
Wait For It.... #2 Older Budweiser 522.6
BGB BGB12 521
Odell Waller TheFootballAdvisor 520.75
THE PRANCING HORSE GROOOOOOOONK 520.2
Frying Pan Inc. 7 Foosball 519.85
Money 47 SuperDuper 517.2
My Giraffe Is Better Than Yours StevenRiz 516.6
Zimbinblatt LonZim 514.8
T2-Main tuff44 514.05
(Photo: YardBarker)
Frank LaPrade's MoreCowbell tallied a 170.4 in Week 3 to move up into first place in the 2022 Footballguys Players Championship heading into Week 4. MoreCowbell's score was boosted by Jackson and Andrews.
ADA3 MOON, managed by Dan Fisher, is in second place, fewer than 20 points off the pace with last week's overall leader Ryan Shaughnessy sitting in third. Ron Snyder's rwsnyd2 is fewer than 30 points off the pace in fourth, and Mean Machine--run by James Hoisington--is currently in fifth.
Here is the list of the top-40 teams in the FPC after two weeks of play:
MoreCowbell Frank LaPrade 586.95
ADA3 MOON 3WM 567.5
FPC 1 shawnesty23 566.5
rwsnyd2 rwsnyd2 561.9
Mean Machine Jimmercans 560.85
TopDawgs FPC VI jcox17 559.9
Foosball 21 Foosball 558.95
Bills Mafia 5 Billsmafia12120 555.25
June FPC DPetrie 554.1
The Machine (26er) Cactus Jake 553.55
Dreaming of Sundays PrimetimeAndyDalton 553.5
Pour one out for Mahomes Slygrin 552.8
CesarMorales1 CesarMorales 551.85
Level 3 Offender 6FBG M8King Moves 549.45
Kahler Martin nouseforffpc 548.15
Mean Gene Number 9 geofre44 547.7
Mustafa's Will AndrewMil 547.25
MASTRODAMUS 2 MASTRODAMUS 545.95
Full MOON Fever Bubbs1 545.8
LOOT TAKERS 4 Duane1125 544.95
Murphy's law MonkeyWrench 542.7
Wealthy Graveyards Rlevy1991 542.25
ChillBillies Deeclev69 541.35
WARCRAFT W/\RCR/\FT 539.2
THE SUN GOD Bubbs1 539.15
Grinders troyklauder 538.95
TheSqaud dtaul 538.95
TheDeej - FBG 1 TheDeej 538.45
Touch of Green 3 ArodgeGopackGo 536.9
Analytics Are For The Nerds 5 louiegatbs 536.6
Bird Brothers InLawBros 535.55
Blizzard Tanzy31 535.45
Concrete Cowboy ConcreteCowboy 533.8
Scully Bos HeyBo 533.15
The Hierarchy of Declan chrisruegg 533
zero days one Garys_teams 532.15
Deep End MS Cherries PiecesandStems 531.55
Killabzz killab2482 530.45
KidFromCarrollton Riaz_FFPC 529.8
Girl Scout Saunter fbalb 529.65
(Photo - 247 Sports)
Time to improve your rosters with potential difference-makers like Justice Hill (above). This is your friendly reminder that all FFPC Main Event, Footballguys Players Championship, Classic, Victory Point, Dynasty and other managed leagues have waivers tonight with a 10pm deadline, but a second weekly waiver period processes on Sunday morning at 10 am ET.
IMPORTANT: You can only get one player per bid group. Once you get a player in that group, all other bids are voided. If you want to get multiple players, you will need multiple bid groups and multiple players to drop.
If you have multiple teams, please handle bidding with a single team in a single browser for now.
Every team has $1,000 bidding dollars to spend. This needs to last for the entire season.
There are no $0 bids, so please bid $1 or more.
To place bids:
From the league home page, click on TEAM. You will see the Bid Groups section on your Set Lineup page.
You can click on the 'Create Bid Group' button on the Set Lineup page to create a new group. From there you simply need to 1) add the player(s) to the group, 2) specify the bid amount for each player, 3) select the players to drop and 4) click Save.
Bid groups can be copied and then edited as a new group.
Bid amounts can be edited quickly and easily.
Players are default sorted by previous season stats and can be sorted by position.
Don't forget to include a player to drop in every bidding group.
Find a Free Agent Feature on MyTeams Page:
If you are looking for a certain free agent, you can use the player search feature on the MyTeams page and it will tell you if he is rostered or not and who owns him. This is helpful for owners that have multiple teams and are looking for a priority free agent.
In case you haven't caught the first few episodes, check out The High Stakes Fantasy Football Show on the Bettor Sports Network today. Yours truly and a rotating guest host chop it up each and every Wednesday from 10pm until midnight, taking you through all the issues high stakes players are facing, as well as your first look at the waiver wire results each season.

Tonight, I'm joined by "Thunder" Dan Palyo from Rotoballer, and while you can watch us live on both YouTube and Twitter, I would STRONGLY encourage you to download the app so you can participate in the show and--most importantly--take advantage of all the great giveaways we've offered to viewers so far, including--but not limited to--signed jerseys from both retired and current NFL superstars.
Download the Bettor Sports Network Apps Below:
If you love our World Famous Playoff Challenge format, you'll also love this new contest that we call the FFPC Weekly Challenge. There's no draft or salary cap: Just choose 10 or 12 players by Sunday's kickoff and watch them ride all the way through the weekend's games. But remember, you can only pick ONE player per NFL team!

Also, we added this option for Week 4: The $200 FFPC Weekly Challenge (10 teams) in both classic and slim versions. This will be a 'winner-take-all' 10-team contest with the winner receiving a 2023 FFPC Main Event credit!

The cost is $35 or $200 to enter in these 30- and 150-team contests. Play the classic format with kickers and defenses or the slim format that does not have them. You may enter up to three times in each 30-team contest or five times in each 150-team contest. Here's what's available this week:
LEAGUE
OPENINGS
ENTRY
PRIZES
RDS
DEADLINE
Weekly Challenge Slim WK4 #48796
30 of 30
$35
$910
10
Sunday 1p ET
Weekly Challenge WK4 #48795
15 of 30
$35
$910
12
Sunday 1p ET
Weekly Challenge Slim WK4 #48791
110 of 150
$35
$4,600
10
Sunday 1p ET
Weekly Challenge WK4 #48798
10 of 10
$200
$2,000
12
Sunday 1p ET
Weekly Challenge Slim WK4 #48797
10 of 10
$200
$2,000
10
Sunday 1p ET
Weekly Challenge Slim WK4 #48792
26 of 30
$200
$5,200
10
Sunday 1p ET
On the latest Rotoviz Radio's The High-Stakes Lowdown podcast airing on the FFPC's YouTube channel live Thursday night at 7/6c, yours truly sits down with Frank LaPrade--the Week 3 leader in the 2022 Footballguys Players Championship--to discuss how he built his team, who to watch out for in Week 4 and his plan on not only winning $500K in the FPC, but a $1,000,000 grand prize in the 2022 FFPC Main Event as well.

In case you miss the live broadcast on the FFPC's YouTube channel, you can always check out the audio-only version of The High-Stakes Lowdown every Wednesday during the NFL season and on the first Wednesday of the month in the offseason on Rotoviz.com or wherever you get your podcasts. I'd also encourage you to check out all of the other great podcasts that Rotoviz Radio has to offer, too.
(Photo: Fox 19)
One Joe sits atop all other comers so far in the 2022 FFPC Pros Vs. Joes competition. Chad Schroeder's Cocktails & Dreams tallied a 169.95 Week 3 score with Andrews, Joe Burrow's 25.75, Zay Jones' 24.5 and Rhamondre Stevenson's 20.1 doing the heavy lifting. Schroeder maintains a 26-point lead over second-place and Pro Josh Larky from The 33rd Team. Larky's fellow pros and Fighting Chance Fantasy's own Brian Drake and Dwain McFarland are in third place with FFPC Joe Jeff Gill's FISH entry 2.15 points behind them in fourth place overall. Another Pro--Fantasy Mojo's Darren Armani--has his team in fifth place at the moment.

Schroeder, Larky, Drake, McFarland and Gill all lead their individual leagues with FFPC Joes leading the other three. Daniel Osorio's SVFFC, Brian Harris and Jon Hurd and Christian Hellmer's E11even have the inside track of winning their big prize at the end of the season after three weeks of play.

Each one of the league winners will take home a free 2022 FFPC Main Event team at the season's end. Here is a look at the top-10 overall in this contest below:
Cocktails & Dreams 544.6
The 33rd Team 518.6
FightingChanceFantasy.com 508.9
FISH 506.75
FantasyMojo.com 502.35
SVFFC - Pros vs Joes 496.05
Yahoo Sports 492.4
Rocknrolla12000 484
DraftSharks.com 481.8
Brian Harris 479.8
In case you have any questions or want to check something at a moment's notice, I am including this section of the email every week. While you are checking out all things FFPC for the 2022 season, consider this your guide:
Thanks for reading, everyone! Don't forget to join the Week 4 FFPC Weekly Challenge!

See you on The High Stakes Fantasy Football Show on the Bettor Sports Network with Rotoballer's "Thunder" Dan Palyo tonight!


Sincerely,

Eric Balkman
The Fantasy Football Players Championship
www.myFFPC.com