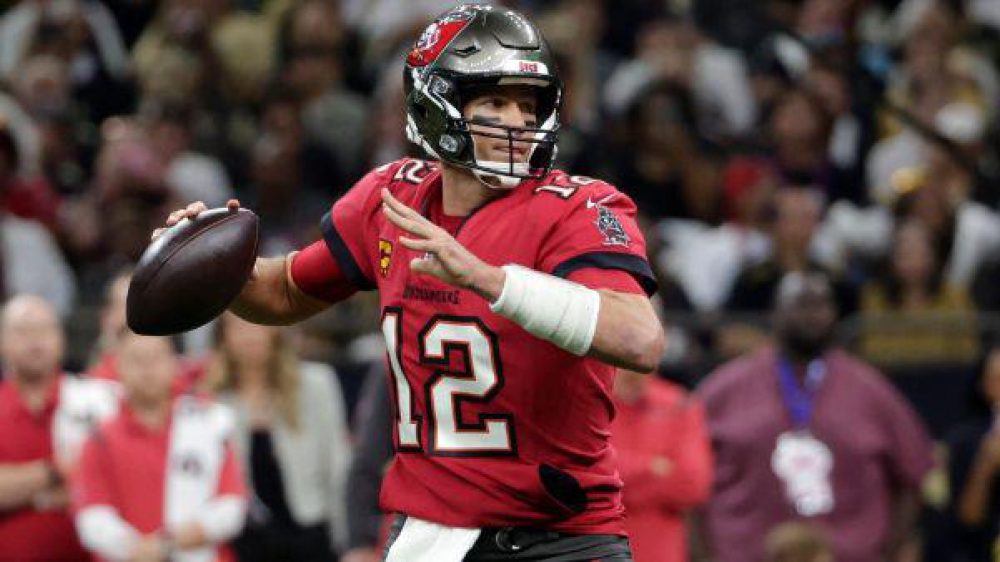 (Photo - USAToday.com)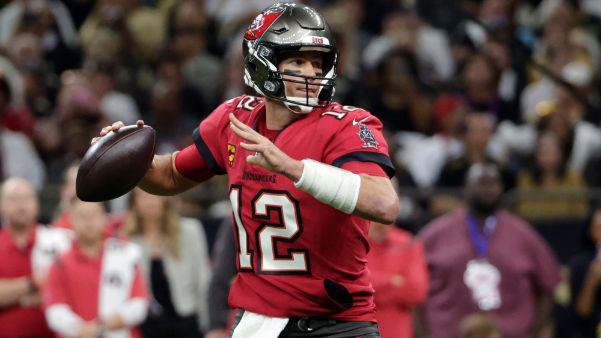 After a three-week reign in the top spot of the 2021 FFPC Main Event, Danny Mueller and Ron Meyer's Average Joe squad gave up the lead to the Amish Rake Fight, owned by Giuseppe Liantonio. The "ARF" now holds an 8.25-point lead over Average Joe thanks to a Week 8 tally of 175.85 points. Tom Brady (31.95), Chris Godwin (28), Cooper Kupp (24.5) and Melvin Gordon (20.2) led the way for Liantonio as we head into Week 9.

Make it two weeks in a row for last week's HSFF Hour guests Dom Baranyi, Sean Stutzman and Nick Costantino's Go Bills entry in third place with 2021 Main Event champ David Hubbard rising two spots in to fourth place. And in fifth, you'll see the inaugural FFPC Main Event winner Chad Schroeder lurking with his Cocktails & Dreams team.

For a look at the top 20 teams in the Main Event, check out the list below:
Amish Rake Fight 2 GiuseppeLia 1467.6
Average Joe DannyMueller 1459.35
Go Bills 1 notoriousDAB 1432.3
Triple H 15 LonDog20 1401.85
Cocktails & Dreams 24 royalfan 1396.7
We Dem Boyz x 3 Pshrivas87 1381.2
Ducks Dynasty II WC DDuck 1379.65
Spartan Dawgs Norm09 1366.55
Step Brozzo's Mcozzo54 1366.1
Wicked Game 1 NeilHas 1363.9
Ezzell Brothers II BillEzz 1360.4
LINKsanity rlinkowski 1358.75
Shy City Bros ShyCityBros 1355.05
FP Draft Guy 1 Draft Guy 1352.8
Bullseye RedRamBroncoskins 1349.25
the boston dangler richardros 1348.4
Boris LevN 1344.2
Nick_Thompson27 nrthompson 1340.65
Reverend Matt Jamison francoven 1337.45
The Creatures ME II ChrisValens 1337.05
(Photo: DemocratAndChronicle.com)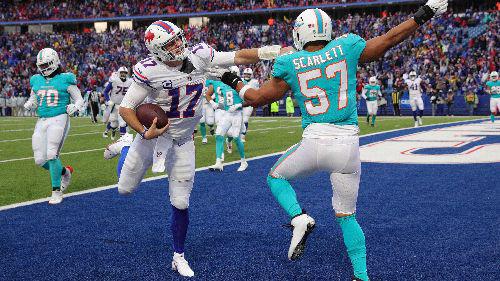 It wasn't necessarily a fantastic week for Jeff Antley and his Khaliff's Krew in the 2021 Footballguys Players Championship, but it was good enough for the squad to keep Todd Hunter's Tree Huggers away by 49.2 points for the overall lead. Josh Allen's 31.95, Kupp, Deebo Samuel's 23.1 and Gordon helped the Krew to a 137.45-point score.

Behind Hunter in third place is Frank Gore's Hog Squad--run by Tyler Jackson and Mike Dozier--as the top three teams this week remain unchanged from Week 7 games. Jay Flake--who at one point had the overall lead this season--got his Ageless team back up into fourth place while Jeffrey Dobies' ALL IN entry moved up six spots into fifth place this past weekend.

Here is the list of the top-40 teams in the FPC at the moment:
Khaliff's Krew PAE33 1488.9
Huggers (8) Tree Huggers 1439.7
Frank Gore's Hog Squad dropoutfilms 1436.35
Ageless FPC JayFla 1428.5
ALL IN JD2 ALLINJD 1418.05
Time is NOW Azzurri 1417.35
Clever Whale II Cleverwhale 1412.65
Bipcoin Bipcoin 1407.2
Dynamic Fantasy Duo #6 Oliverheim 1405.6
RebelFightingCocks SirTreyLancelot 1405.15
Snuggles' Accountant I carlvdh 1403.3
SEAC NoMercy77 1395.9
Major League Infidel TigerandKyKy 1392.6
Kingpin 8 TRoll 1388.7
Team Perez jperez4 1386.35
Wallys Ballers Wally0390 1385.8
Biplab eats big beef sausages JT_AJ 1379.1
I Lied! KORTAR 1378.85
F17 Skidellas Day Trading MikeFor 1375.9
My Guys JuiceGotLoose 1372.85
F1schness 7 f1schness 1372.3
Young Lions 3 justiceberry 1371.25
Agent Orange Agent Orange 1371.05
Tommy Island 350 #4 Therrin69 1369.85
Mazycakes Mazycakes 1369.2
Kingpin 1.5 TRoll 1367.75
CornPone ChuckVai 1367.65
FGPC#2 RedBirdDr06 1365.55
Al's Aces NoMercy77 1363.1
Bella Bombs GOHAWKS 1363.05
Fairways & Greens FPC Halliam 1362.05
COVID Killers #1 HenryBro 1359.75
Guy On The Couch Guy On The Couch 1359.65
Blinkys Trampoline THoupt1221 1359.25
Orange Hurricane Spearmint Rhinos 1359.2
Sex Panther 8/31 jberry47 1355.25
K&K FPC 2 Dkrupski2 1353.8
Smokin' Joes joevangogh 1353.65
New York Patriotic Team Unlimited 1353.15
Shit… I don't care JuiceGotLoose 1353.05
(Photo - BostonHerald.com)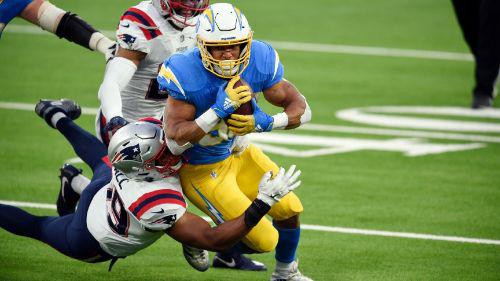 The FFPC's Terminator Tournament has reached its unofficial halfway point with Dan Kennedy's Happy Gilmore beating out the other 383 teams at the moment with big-time Week 8 performances like Kupp, Austin Ekeler's 24.4, and T.J. Hockenson's 23.9 leading him to a 180.3 weekend tally. FISH--managed by Jeff Gill--and Craig Campbell are in second and third, respectively, fewer than 50 points out of the lead.

Check out the top 10 teams in this contest at the list below:
Happy Gilmore Deeeks7 1549.05
FISH FISH14 1528.9
CC Terminator 3 cjcamp2 1503.15
bella-xx tommur 1490.5
Darth Termin8er DarthTater 1487.5
Mean Machine P.J.Gre 1483.35
Golden Tanks Sackdance57 1479.35
FIREBALL AaronLin 1477
bella-4 tommur 1465.9
Footballs R' Us Jbarnett23 1460.5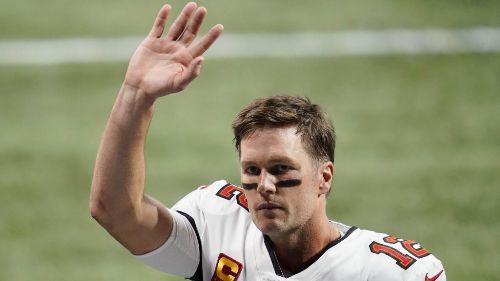 You won't have the services of Tom Brady or any of his Tampa teammates in Week 9 as they have the week off. Joining the Buccaneers for a football-less weekend are Detroit, Seattle and Washington as well. Remember, you'll have the waiver wire run tonight and Sunday morning to fix those lineup holes. Good luck!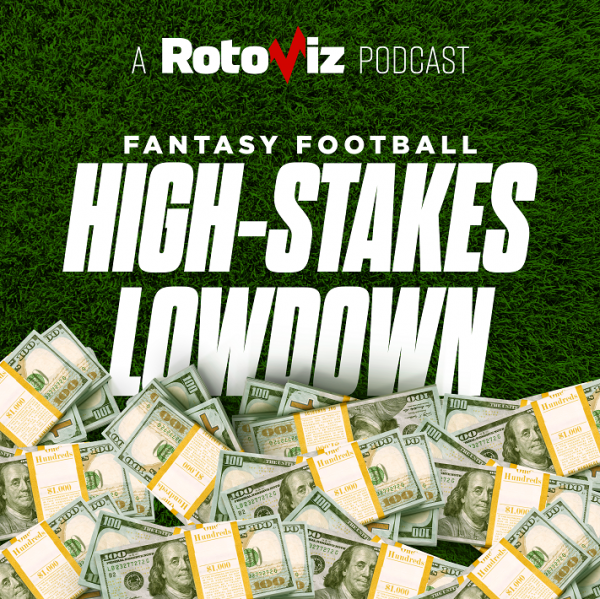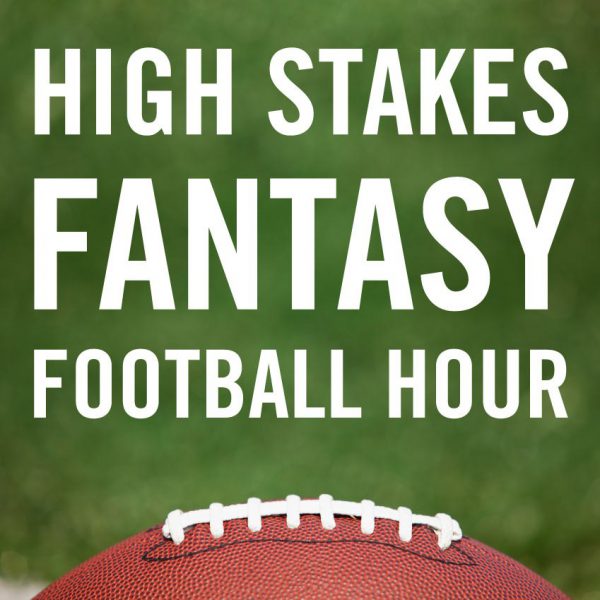 On the latest Rotoviz Radio's The High-Stakes Lowdown podcast, I talk with a player who has four teams in the top-100 in the 2021 Footballguys Players Championship, Billy Muzio. I this running back-heavy episode, we talk about the backups in San Francisco, why Khalil Herbert will still have value in Chicago when David Montgomery comes back, what to make of the rushers in Philly and much more.
You can check out a new episode of The High-Stakes Lowdown every Thursday during the NFL season on Rotoviz.com and Apple Podcasts. I'd also encourage you to check out all of the other great podcasts that Rotoviz Radio has to offer, too.
Then live at 10/9c on Friday, yours truly and 2021 Kentucky Fantasy Football State Championship (KFFSC) commissioner Ferrell Elliott talk 2021 Fantasy Football Players Championship (FFPC) Main Event and 2021 Footballguys Players Championship fantasy football. FFPC Best Ball Drafts and FFPC Dynasty Leagues conversations are sure to come up with the season halfway behind us. Plus, we take a look at some of the leaders in the 2021 FFPC Best Ball Tournament and answer your calls, tweets, emails and more all on The High Stakes Fantasy Football Hour!

The High Stakes Fantasy Football Hour normally airs Friday nights at 10/9c, and the next episode can be heard here. You can hang out with the high stakes players in the show's chat room if you want to listen live. You can also access full on-demand streaming available for listening anytime via a variety of apps including the HSFF Hour website, Apple Podcasts, Spotify, Amazon Music, Audible, iHeartRadio, Google Podcasts, Amazon Alexa, Stitcher Radio, TuneIn Radio, Spreaker, Deezer, Vurbl, Podchaser, Audioburst, JioSaavn, Gaana, Breaker, Castbox, Overcast, PodBean, Pocket Casts, Radio Public, Podcast Addict and Anchor on your iPhone or Android device as well.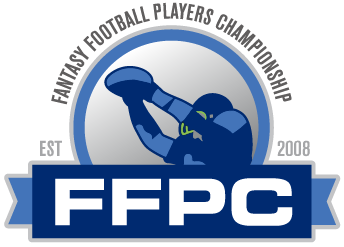 As a reminder, even if injuries or other issues derailed your 2021 season, make sure you are still setting your lineups! Please don't anger the fantasy gods, and keep karma on your side for 2022 by being competitive this weekend and for the rest of the season! 🙂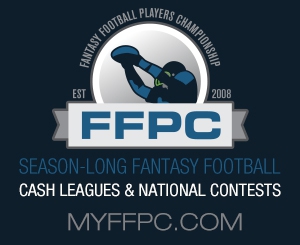 In case you have any questions or want to check something at a moment's notice, I am including this section of the email every week. While you are checking out all things FFPC for the 2021 season, consider this your guide:
Good luck in your bidding both tonight and again on Sunday morning, players. I'll see you in the show chat room with Ferrell Elliott Friday night!


Sincerely,

Eric Balkman
The Fantasy Football Players Championship
www.myFFPC.com