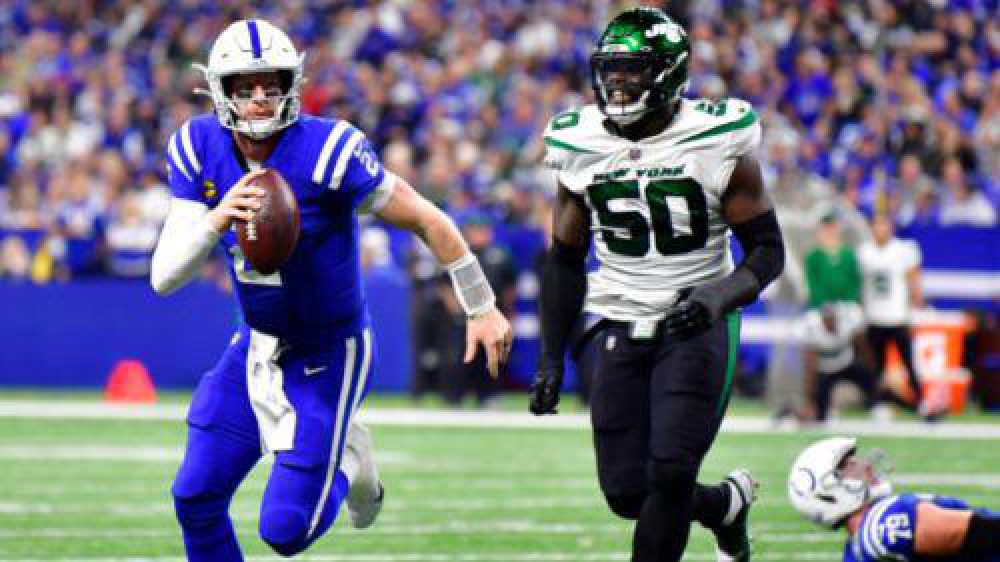 (Photo - The33rdTeam.com)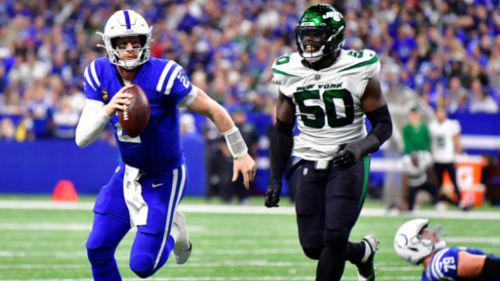 Giuseppe Liantonio's Amish Rake Fight took over the top spot in the 2021 FFPC Main Event, last week, and it extended its lead over Average Joe (co-owned by Danny Mueller and Ron Meyer) to 12.7 points after nine weeks of fantasy football action. Liantonio's team was led by Carson Wentz's 26.9 and Cooper Kupp's 20.5 to run up a 140-point score this past weekend.

Go Bills (run by Dom Baranyi, Sean Stutzman and Nick Costantino) remains in third place for the third straight week with 2008 Main Event champ Chad Schroeder's Cocktails & Dreams moving up to fourth place from fifth last week. Matt Cozzo also saw his Step Brozzo's entry also shot up four spots to round out this week's top five, fewer than five points out of fourth place.

For a look at the top 20 teams in the Main Event, check out the list below:
Amish Rake Fight 2 GiuseppeLia 1607.6
Average Joe DannyMueller 1594.9
Go Bills 1 notoriousDAB 1569.7
Cocktails & Dreams 24 royalfan 1543.6
Step Brozzo's Mcozzo54 1540.4
Triple H 15 LonDog20 1522.15
Ducks Dynasty II WC DDuck 1517.05
Wicked Game 1 NeilHas 1507.65
We Dem Boyz x 3 Pshrivas87 1502.6
Bullseye RedRamBroncoskins 1500.85
DJ ME 3 JN3 1500.1
LINKsanity rlinkowski 1486.95
Spartan Dawgs Norm09 1483.25
RomoSexuals II Ski & Barn Dawg 1475.75
Ezzell Brothers II BillEzz 1475.5
Wadesworld Mark Todd 1471.25
Threat Level Midnight 1 Draft Wonder 1470.2
Nick_Thompson27 nrthompson 1467.8
Mongooses Mongooses 1467.35
Shy City Bros ShyCityBros 1467.25
(Photo: Heavy.com)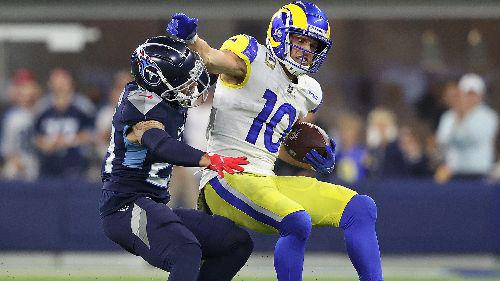 For the fourth straight week--and despite a less-than-tremendous score again--Jeff Antley's Khaliff's Krew remains atop all other teams in the 2021 Footballguys Players Championship, but it was still good enough to keep Todd Hunter's Tree Huggers 19.7 points off the overall lead. It was the potential 2021 fantasy MVP Kupp leading the way for the Krew to a 133-point score.

Last week's HSFF Hour guest Bill Potter was able to get his Clever Whale entry up from seventh into third place with Biplab Mandal's Bipcoin jumping up four spots into fourth place. Jay Flake saw his Ageless squad slip one spot to settle into fifth place at the moment.

Here is the list of the top-40 teams in the FPC going into this next week:
Khaliff's Krew PAE33 1621.9
Huggers (8) Tree Huggers 1602.2
Clever Whale II Cleverwhale 1580.25
Bipcoin Bipcoin 1572.15
Ageless FPC JayFla 1568.75
Time is NOW Azzurri 1552.95
RebelFightingCocks SirTreyLancelot 1551.95
Kingpin 8 TRoll 1549.1
Frank Gore's Hog Squad dropoutfilms 1548.35
Team Perez jperez4 1546.55
Snuggles' Accountant I carlvdh 1533.8
My Guys JuiceGotLoose 1533.55
ALL IN JD2 ALLINJD 1531.95
Smokin' Joes joevangogh 1531.25
F1schness 7 f1schness 1522.95
Major League Infidel TigerandKyKy 1521.9
Dynamic Fantasy Duo #6 Oliverheim 1518.15
SEAC NoMercy77 1516.25
F17 Skidellas Day Trading MikeFor 1516
Kingpin 1.5 TRoll 1513.85
Young Lions 3 justiceberry 1511.95
Tommy Island 350 #4 Therrin69 1510.95
Biplab is a podcast ho JT_AJ 1508.5
COVID Killers #1 HenryBro 1507
Air Muller michaelcmuller 1504.9
plumbobfl plumbob 1504.35
FGPC#2 RedBirdDr06 1503.15
Sex Panther 8/31 jberry47 1500.95
Rubin's Wrath hdr22 1500.75
d perry Tan shorts 04 1500.5
New York Patriotic Team Unlimited 1500.35
Thirty Three BillPidto 1498.95
konanders jmaguerreroc 1498.5
MJK4 rampage 1498.15
Deebodacious Tatas III ghaas19 1496.3
Cocktails & Dreams VIII royalfan 1495.1
Blinkys Trampoline THoupt1221 1495.1
CornPone ChuckVai 1492.9
K&K FPC 2 Dkrupski2 1492.3
Wen Moon MoonRaker 1490.25
(Photo - NBCSports.com)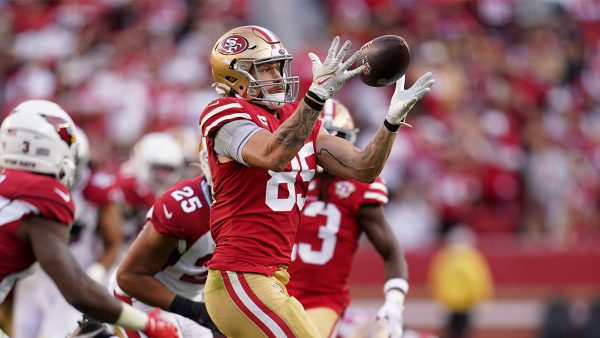 Continuing a familiar theme from Week 9, Kupp also led Adam Krautwurst's FP Draft Guy in scoring so that it could maintain its overall lead in the $3,000-entry Varsity #1 league. He currently leads the second-place Throwbacks owned by Kevin Proctor by 45.3 points.

Over in the Varsity #2 league, Gods recognize Gods (run by Michael Swantek) got a great scores from George Kittle (24.1) to get out in front of Steve Hutcherson's MUSTANGS. After nine weeks of play, Swantek leads second-place Hutcherson by 12.25 points.

Both of these leagues' drafts were held at Planet Hollywood in Las Vegas during the FFPC Live Events. The winners of each of these total points leagues will pocket separate $20,000 first-place prizes for their efforts.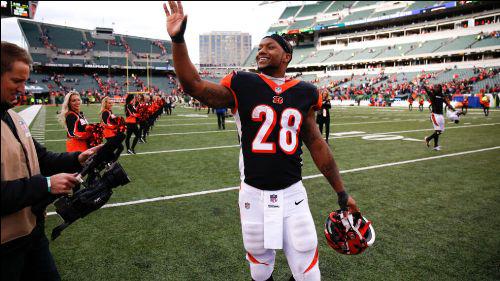 Say goodbye to Joe Mixon and the rest of the Bengals (for this week anyway) as they enjoy their bye week along with Chicago, Houston and the New York Giants. Remember, you'll have the waiver wire run tonight and Sunday morning to fix those lineup holes. Good luck in your bids!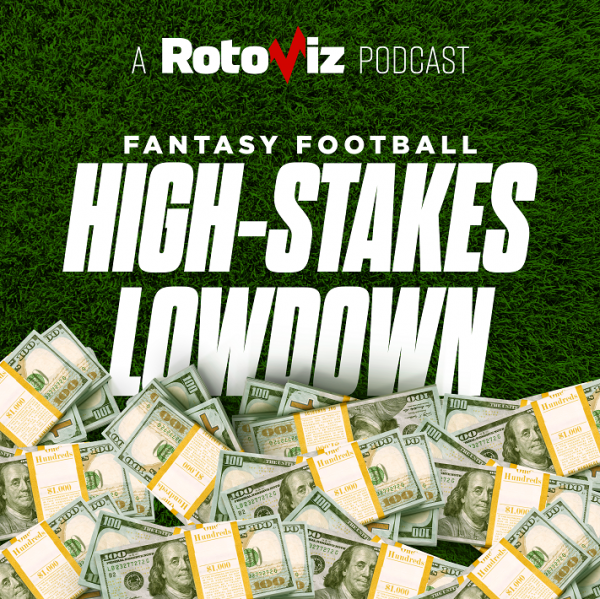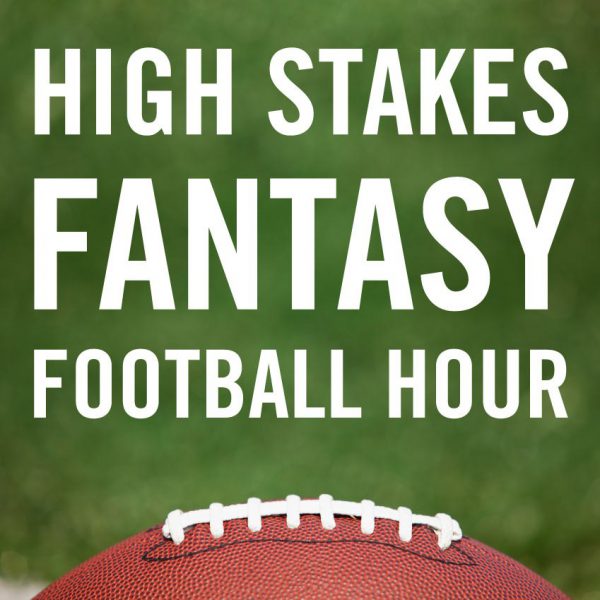 On the latest Rotoviz Radio's The High-Stakes Lowdown podcast, I talk with 2020 Fantasy Football Players Championship (FFPC) Main Event $500,000 champ and current 10th-place Main Event team owner Jerry Hooton. We'll discuss the backup running backs you'll want to get on your high stakes rosters as well as the philosophy of when to be conservative and when to play it safe in lineup-setting when you're trying to win a six-figure grand prize.
You can check out a new episode of The High-Stakes Lowdown every Thursday during the NFL season on Rotoviz.com and Apple Podcasts. I'd also encourage you to check out all of the other great podcasts that Rotoviz Radio has to offer, too.
Then live at 10/9c on Friday, yours truly and 2021 Kentucky Fantasy Football State Championship (KFFSC) commissioner Ferrell Elliott talk 2021 Fantasy Football Players Championship (FFPC) Main Event and 2021 Footballguys Players Championship fantasy football with the ninth-place team owner in the Main Event Praveer Shrivastava. We'll make sure to touch on some topics regarding FFPC Best Ball Drafts and FFPC Dynasty Leagues as well. Plus, we take a look at some of the strategies that are paying off in the 2021 FFPC Best Ball Tournament and answer your calls, tweets, emails and more all on The High Stakes Fantasy Football Hour!

The High Stakes Fantasy Football Hour normally airs Friday nights at 10/9c, and the next episode can be heard here. You can hang out with the high stakes players in the show's chat room if you want to listen live. You can also access full on-demand streaming available for listening anytime via a variety of apps including the HSFF Hour website, Apple Podcasts, Spotify, Amazon Music, Audible, iHeartRadio, Google Podcasts, Amazon Alexa, Stitcher Radio, TuneIn Radio, Spreaker, Deezer, Vurbl, Podchaser, Audioburst, JioSaavn, Gaana, Breaker, Castbox, Overcast, PodBean, Pocket Casts, Radio Public, Podcast Addict and Anchor on your iPhone or Android device as well.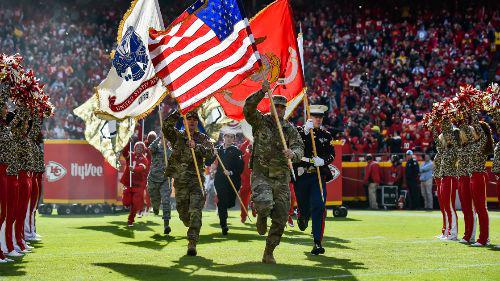 On behalf of Dave, Alex, Chris, Mike and all of us at the FFPC, I wanted to send a huge thank you to all of you veterans. No matter if you're in active duty or retired from the service, we really appreciate everything you do and have done for our country so that we can enjoy fantasy football and our lives in general.

I also encourage all of you to take a few minutes out of your day this week to shake a vet's hand and tell him or her how thankful you are for all the sacrifices they've made for us and for our country. Thanks again!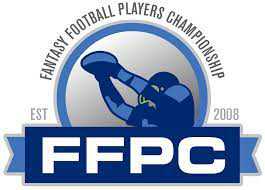 In case you have any questions or want to check something at a moment's notice, I am including this section of the email every week. While you are checking out all things FFPC for the 2021 season, consider this your guide:
Sincerely,

Eric Balkman
The Fantasy Football Players Championship
www.myFFPC.com