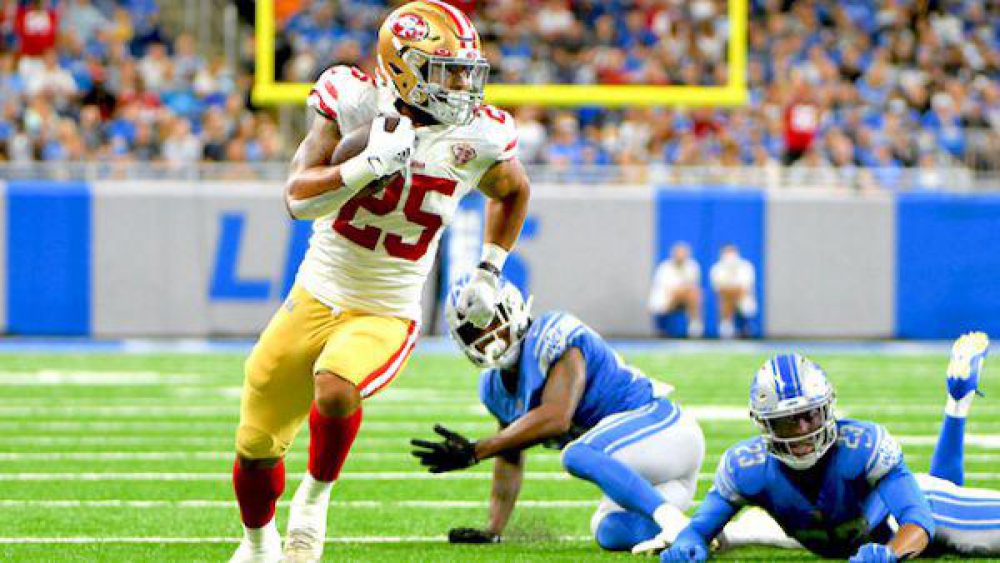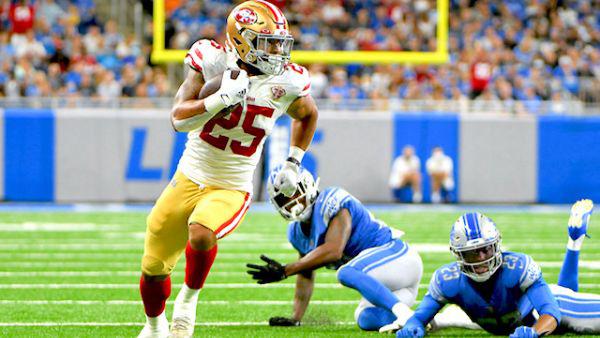 (Photo - RotoBaller.com)
What a wild Week 1 it was, players! Now it's time to improve your rosters with potential difference-makers like Elijah Mitchell. This is your friendly reminder that all FFPC Main Event, Footballguys Players Championship, Classic, Victory Point, Dynasty and other managed leagues have waivers tonight, Wednesday, September 15th at 10 pm ET. A second weekly waiver period processes on Sunday morning at 10 am ET.
IMPORTANT: You can only get one player per bid group. Once you get a player in that group, all other bids are voided. If you want to get multiple players, you will need multiple bid groups and multiple players to drop.
If you have multiple teams, please handle bidding with a single team in a single browser for now.
Every team has $1,000 bidding dollars to spend. This needs to last for the entire season.
There are no $0 bids, so please bid $1 or more.
To place bids:
From the league home page, click on TEAM. You will see the Bid Groups section on your Set Lineup page.
You can click on the 'Create Bid Group' button on the Set Lineup page to create a new group. From there you simply need to 1) add the player(s) to the group, 2) specify the bid amount for each player, 3) select the players to drop and 4) click Save.
Bid groups can be copied and then edited as a new group.
Bid amounts can be edited quickly and easily.
Players are default sorted by previous season stats and can be sorted by position.
Don't forget to include a player to drop in every bidding group.
Find a Free Agent Feature on MyTeams Page:
If you are looking for a certain free agent, you can use the player search feature on the MyTeams page and it will tell you if he is rostered or not and who owns him. This is helpful for owners that have multiple teams and are looking for a priority free agent.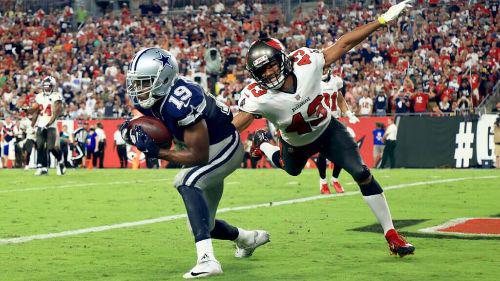 (Photo - The Athletic.com)
On top of 13,199 other teams heading into Week 2 of the 2021 Footballguys Players Championship is Andrew Miller's MOASS with a massive 243.05 Week 1 score. Leading the way for Miller were Amari Cooper's 38.9, Tom Brady's 32.95, Darren Waller's 31.5, Adam Thielen's 30.2, DeAndre Hopkins' 26.3, DeAndre Swift's 24.4, Antonio Brown's 23.7, and Melvin Gordon's 20.8.
Right Here, managed by Barry Finger, is in second place, just 1.4 points off the pace with Greg Kanter's @CrakRok sitting third. 4sup, which is owned by James Surdilla is fewer than 15 points off the pace at fourth, and Todd Shishido rounds out the opening week top five with a 230.05 tally.
Here is the list of the top-40 teams in the FPC after a week of play:
MOASS AndrewMil 243.05
Right Here 45 1 241.65
@CrakRok @CrakRok 234.55
4sup30 4sup 230.85
FPC1 HITodd 230.05
TMT isitcoffeytime 229.05
Gone Fishin' Louwebs16 227.85
Glorious Purpose fljones8 227.45
Thunder Snow II sa2150 226.25
Guy On The Couch Guy On The Couch 225.3
#SR iDocNupe 224.05
LastChanceBigDance AbeFromen 223.95
Wegonwinffpc4 skywalka2001 223.05
I_am_Ron_Burgundy? JumpShotEddie 222.85
Firm I No RBulldog 222.55
BWD V Big Wave Dave 222.55
Pinehurst Crew DrToboggan 221.85
Bipcoin Bipcoin 221.45
Da Gildz Won Time! 9 Hello Deah 220.45
F13 Skidellas Without Restrictions MikeFor 220.45
Guinness Stingers FPC1 Barrett666 220.05
Air Muller michaelcmuller 219.9
Labor Day Milk Money 219.75
Truffle Butker M Cobb 219.65
Son of Corn Pop The Tickler 219.55
Dynamic Fantasy Duo #6 Oliverheim 219.25
Fairways & Greens FPC V Halliam 219.05
Forgot About Drais Money Trees 218.8
ClutchLikeTheOG FPC 7.15.2021 AMSchellenberg 218.75
NFL Rough Draft 1 RayMencio 218.45
Blitz One Bigd83 218.45
Bionic Bob bobBio 218.35
TacoCorp TNTS 217.05
Chubbers PsychoticShrink 216.75
House of Orange (93) HouseofOrange 216.75
Vols16 NoMercy77 216.25
BSQD bryandabous 216.05
Scoundrel FBG 15 Scoundrel 215.45
SIMPLEMINDED ChristopherCar 215.25
LFG Yahtzee 215.15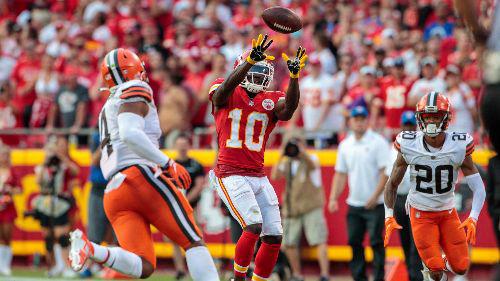 (Photo - NBCSports.com)
FatKidFromCanada--owned by Silas Dain--is ahead of the other 2,999 teams in the 2021 FFPC Main Event after one week of play. Thanks to huge performances by Tyreek Hill (37.1), Deebo Samuel (32.9), Dak Prescott (32.45), Thielen and T.J. Hockenson (29.7), Dain leads second-place Lucking Luck (run by Garrett Lorman) by 8.65 points.

Michael Thompson's Impaired Physicians entry places in third going into Week 2 with Jason Tavares' Zekenddakstroy less than one point behind in fourth. RECOVERY BOYS, which features Tom Yates as its owner--is nearly 10 points behind the overall leader Dain.
For a look at the top 20 teams in the Main Event, check out the list below:
FatKidFromCanada silasDai 228.85
Lucking Luck GaryWhale 220.2
Impaired Physicians Michael Thompson 219.1
Zekenddakstroy jaytavares7 218.55
RECOVERY BOYS TomYat 216.7
Ezzell Brothers III BillEzz 216.5
Chance2 Bigdogblue 216.25
Nellie Dkoehnema 216.15
Ooh La La DrEvil1996 215.95
Cocktails & Dreams LX royalfan 215.45
Bipcoin Bipcoin 214.95
ME 8.2 Bradfar 214.7
The Creatures ME II ChrisValens 213.5
Mr. Picklesworth JoKa 213
Pound4Pound WayneFer 210.65
Amish Rake Fight 2 GiuseppeLia 210.25
Dinsdale Online RBWebber 209.75
Bad Company EricKnu 209.05
Xiouzy's Pizziouzys Dirktime 208.95
Madkats 4 Amadani 208.6
Wicked Game 2 NeilHas 208.6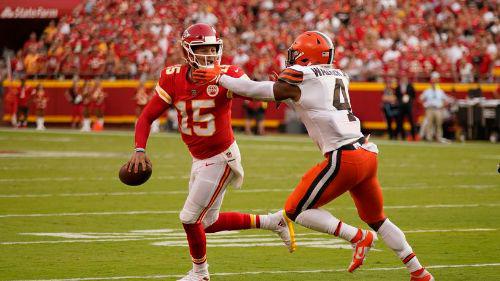 (Photo - DaytonDailyNews.com)
The FFPC's Terminator Tournament is off and running with Don Lacknett's TCxpress beating out the other 383 teams at the moment with big-time Week 1 performances like Patrick Mahomes' 36.65, Waller's, Thielen's, Tyler Lockett's 26, Sterling Shepard's 24.3, Nick Chubb's 23.1 and Mike Williams' 22.2 leading him to a 234.55 opening weekend tally. Ravenheart--managed by Jetshada Jaruboon and Scott Stauffer's Out of the Shadows are close behind in second and third place respectively.

Check out the top 10 teams in this contest at the list below:
TCxpress DonLac 234.55
Jet's Demons Ravenheart 233.15
Out of the Shadows ScottSta 225.95
FISH FISH14 224.7
The Terminator Blues PsychoticShrink 221
vernthecar 2 vernthecar 220.35
Golden Grahams TimothySka 218.6
Sherminator JohhnyBravo 217.85
You Got Chopped 5 Deeeks7 217.8
FIREBALL AaronLin 217.05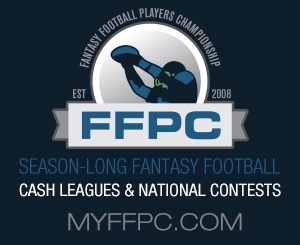 In case you have any questions or want to check something at a moment's notice, I am including this section of the email every week. While you are ramping up for the 2020 season, consider this your guide to all things FFPC:
I appreciate each of you reading, everyone! Now get those waiver bids in now before tonight's deadline and enjoy Week 2!


Sincerely,

Eric Balkman
The Fantasy Football Players Championship
www.myFFPC.com