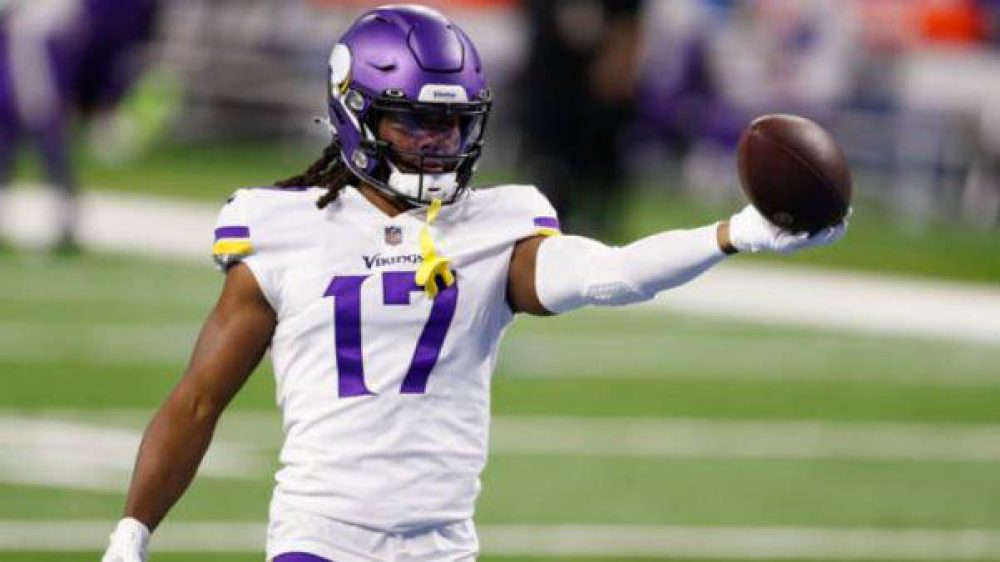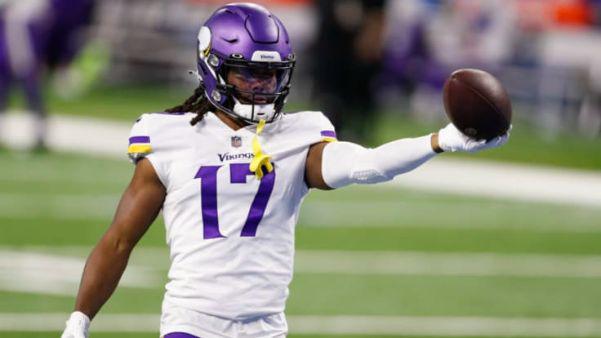 (Photo - DynastyNerds.com)
Welcome to Week 3, everyone! This is your friendly reminder that all FFPC Main Event, Footballguys Players Championship, Classic, Victory Point, Dynasty and other managed leagues have waivers tonight, Wednesday, September 22nd at 10 pm ET. A second weekly waiver period processes on Sunday morning at 10 am ET.
IMPORTANT: You can only get one player per bid group. Once you get a player in that group, all other bids are voided. If you want to get multiple players, you will need multiple bid groups and multiple players to drop.
If you have multiple teams, please handle bidding with a single team in a single browser for now.
Every team has $1,000 bidding dollars to spend. This needs to last for the entire season.
There are no $0 bids, so please bid $1 or more.
To place bids:
From the league home page, click on TEAM. You will see the Bid Groups section on your Set Lineup page.
You can click on the 'Create Bid Group' button on the Set Lineup page to create a new group. From there you simply need to 1) add the player(s) to the group, 2) specify the bid amount for each player, 3) select the players to drop and 4) click Save.
Bid groups can be copied and then edited as a new group.
Bid amounts can be edited quickly and easily.
Players are default sorted by previous season stats and can be sorted by position.
Don't forget to include a player to drop in every bidding group.
Find a Free Agent Feature on MyTeams Page:
If you are looking for a certain free agent, you can use the player search feature on the MyTeams page and it will tell you if he is rostered or not and who owns him. This is helpful for owners that have multiple teams and are looking for a priority free agent.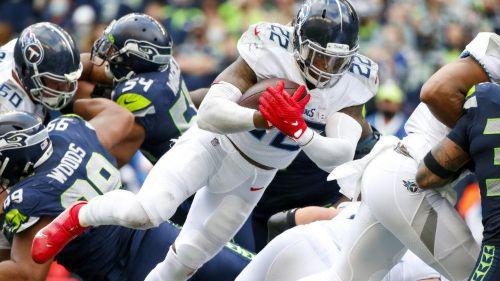 John Terry rode a pair of 40-plus-point performances from two of his running backs to vault all the way into first place in the 2021 Footballguys Players Championship as Waspguy's tiny codpiece tallied 220.9 in Week 2. Derrick Henry (47.4), Aaron Jones (41.5), Tom Brady (33.4), T.J. Hockenson (24.6) and Rob Gronkowski (21.9) all had hands in the massive score.

Jared White's Cootieflab ascended to second place this week with Coldykid--owned by Sean ColClough--moved up into third. Don Niekamp's Blitz One sits in fourth place heading into Week 3 with Bosh30, which is run by Collin Pritchard, rounding out this week's top five teams in the 2021 FPC.
Here is the list of the top-40 teams in the FPC at the moment:
Waspguy's tiny codpiece JT_AJ 420.95
Cootieflab cootieflab 411.25
Coldykid TomBradyLovah 410.75
Blitz One Bigd83 410.05
Bosh30 Seastonemedia 400.1
Wombats II RabidWombat 397.8
CTG Football CTGFootball 395.45
Fantasy Factory BrewTown 393.3
LGS: Tokyo Draft Cmefly80 393.2
Gronky Kong DesaiNurEye 392.85
Khaliff's Krew PAE33 391.95
Fat Frankie Inc FPC7 johnpierce80 391.9
Labor Day Milk Money 390.75
Juice Crew *7* Mr. Jello 390.15
@CrakRok/Bipcoin @CrakRok 389.65
F17 Skidellas Day Trading MikeFor 389.45
PNWtel PNWtel 388.95
BX Bombers #4 kfranky90 387.95
MackNova 8.31 MackNova 387.95
Minnow Beats Whale Blincoe 387.65
Jad05 jad01 387.05
-K-R-O-N-O-S- rampage 386.65
BiggysBigDawgs BiggyCox 385.95
BRoto Fantasy JayFantasy 385.25
I am the one who Knocks DangerousDom36 384.7
IRISH FPC 2 irishceo 384.2
Assassins FPC-4 Saints787 383.9
Aangry Llama Phat Yak 383.85
dkappes dkappes 383.55
Fear the Muskies Jowima 383.15
July Halliam 383
Wegonwinffpc4 skywalka2001 382.95
Skol 3 bigdaro88 382.85
Scoundrel FBG 2 Scoundrel 382.75
Fighting Hellfish3 Grymlocke99 382.25
Firm I No RBulldog 381.15
Ageless FPC JayFla 380.85
Sex Panther 8/31 jberry47 380.8
Be Like Water-S RichRos 380.8
Cincinnati Beer atbengals 379.85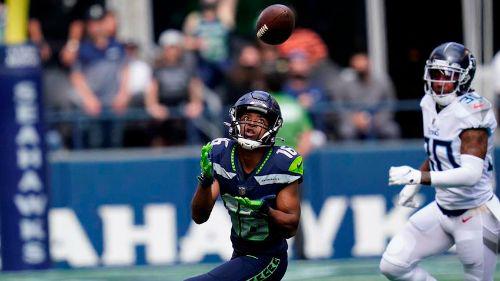 (Photo - TheRecord.com)
Jon Kain's Mr. Picklesworth squad celebrated Week 2's big score by shooting all the way up to the top of the 2021 FFPC Main Event this weekend. His 200.15 score was notched in part by Henry, Tyler Lockett's 31.8, Russell Wilson's 26.75, Gronkowski and the New England Patriots defense's 20.

Schmitt Faced--managed by Cary Schmitt--went all the way up to second place, a little more than 20 points off the pace, and Brett Enclade has positioned his da Fools entry into third. Practice Makes Perfect is Matt Gruberger's team that has found a home in fourth place after two weeks, and Matt Hunter's Fifty Shades of Grey completes this weekend's top five teams in the Main Event.

For a look at the top 20 teams in the Main Event, check out the list below:
Mr. Picklesworth JoKa 413.15
Schmitt Faced SchmittHappens 392.95
da Fools 2 enclade 392.55
Practice Makes Perfect MATTGRU 388.55
Fifty Shades of Grey Matt H 388.4
Average Joe DannyMueller 386.95
Bipcoin Bipcoin 385.15
Ooh La La DrEvil1996 384.95
Amish Rake Fight 2 GiuseppeLia 384.75
RC Techies JohnFou 382.4
Impaired Physicians Michael Thompson 381.75
Trunk Monkey GaryAllen 380.6
Xiouzy's Pizziouzys Dirktime 377.75
Treat's for Albie 810ofclubs 377.55
Chance2 Bigdogblue 376.65
Mad Dog Dkoehnema 376.6
Madkats 4 Amadani 375.9
Golden Sack 9 ActionJaxson18 375.75
Lamar Diggs Edmonds DegenerateWreckingCrew 375.5
Captain Hindsight TheFantasyChase 375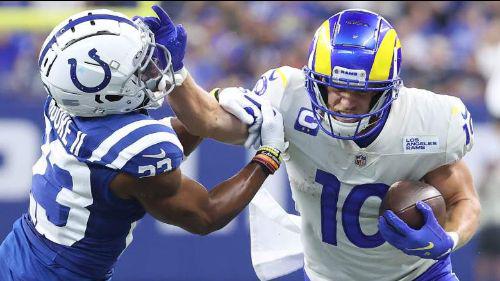 (Photo - Heavy.com)
Thanks to huge games from Cooper Kupp (36.8), Courtland Sutton (24.9) and the Buffalo Bills defense (22), Adam Krautwurst's FP Draft Guy is out to the early lead in the $3,000-entry Varsity #1 league. He currently leads second-place Geckos owned by Albert Chapman 335.05-324.5.

And in the Varsity #2 league, Kingmichael (run by Michael Swantek) got great scores from Christian McCaffrey (24.7 and the Bills to get out in front of Dave Fowler's Mystery Tramp. After two weeks of play, Swantek leads second-place Fowler by a score of 326.565-322.15.

Both of these leagues' drafts were held at Planet Hollywood in Las Vegas during the FFPC Live Events. The winners of each of these total points leagues will pocket separate $20,000 first-place prizes for their efforts.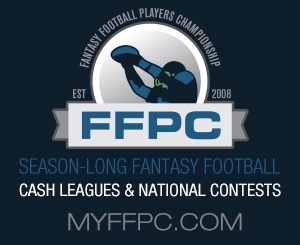 In case you have any questions or want to check something at a moment's notice, I am including this section of the email every week. While you are ramping up for the 2020 season, consider this your guide to all things FFPC: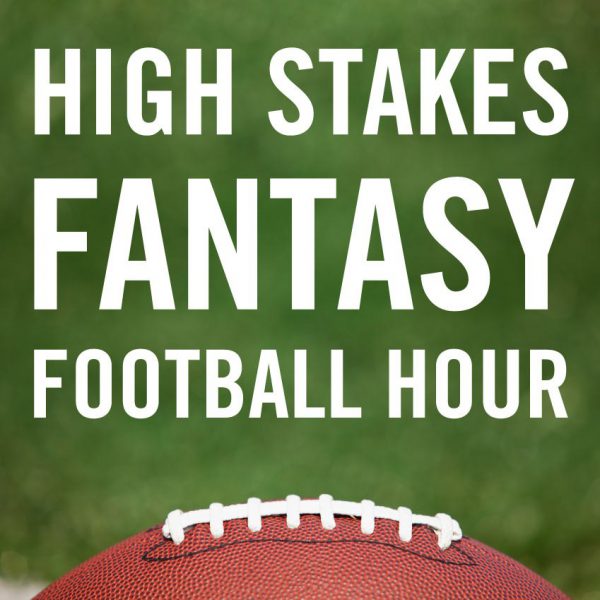 Join me and Kentucky Fantasy Football State Championship (KFFSC) commissioner Ferrell Elliot as we speak with four-time Footballguys Players Championship & FFPC league winner Jason Tavares this Friday night at 10/9c. Tavares will discuss his top-30 2021 Fantasy Football Players Championship (FFPC) Main Event team and much more. Plus, we'll delve into some of the polarizing draft picks in both FFPC Best Ball Drafts and FFPC Dynasty Leagues to see where they stand after two weeks of play. And we'll get into some discussion on the 2021 FFPC Best Ball Tournament and answer your calls, tweets, emails and more all on The High Stakes Fantasy Football Hour!

The High Stakes Fantasy Football Hour normally airs Friday nights at 10/9c, and the next episode can be heard here. You can hang out with the high stakes players in the show's chat room if you want to listen live. You can also access full on-demand streaming available for listening anytime via a variety of apps including the HSFF Hour website, Apple Podcasts, Spotify, Amazon Music, Audible, iHeartRadio, Google Podcasts, Amazon Alexa, Stitcher Radio, TuneIn Radio, Spreaker, Deezer, Vurbl, Podchaser, Audioburst, JioSaavn, Gaana, Breaker, Castbox, Overcast, PodBean, Pocket Casts, Radio Public, Podcast Addict and Anchor on your iPhone or Android device as well.
Thanks for reading! And good luck on all of those waiver bids before tonight's deadline. I'll see you in the chat room Friday night, and enjoy Week 3, everybody!

Sincerely,

Eric Balkman
The Fantasy Football Players Championship
www.myFFPC.com