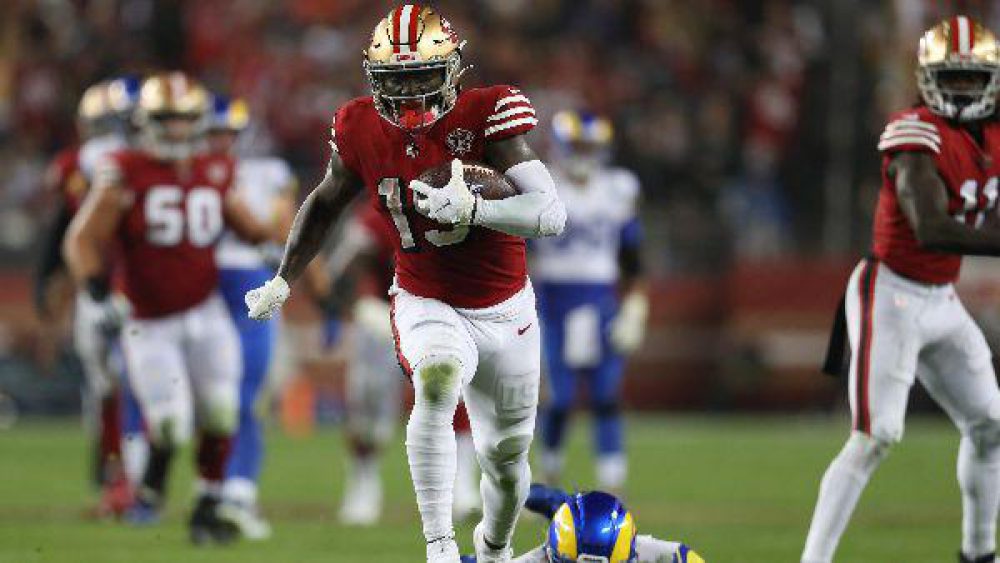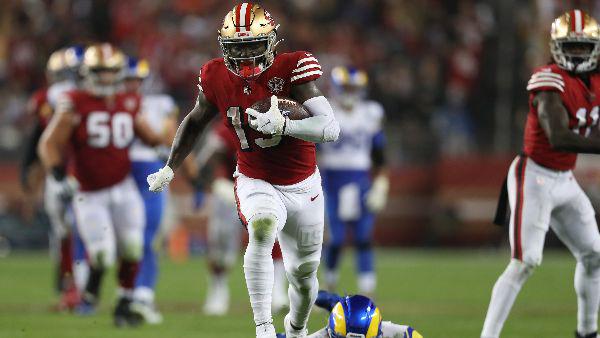 (Photo - USAToday.com)
It was another short stay at the top of the heap for Giuseppe Liantonio's Amish Rake Fight in the 2021 FFPC Main Event this past week, as the Go Bills squad run by Dom Baranyi, Sean Stutzman and Nick Costantino surged to the top of the heap thanks to a 177.15 performance. Go Bills got big scores from Deebo Samuel (30.3), Tyreek Hill (27.5), Jonathan Taylor (24.6), Cooper Kupp (23.2) and Mark Andres (21.3) en route to taking a 31.15-point over the Rake Fight heading into Week 11.

The Average Joe tandem of Danny Mueller and Ron Meyer fell one spot to third place with Matt Cozzo and his Step Brozzo's team rising a slot into fourth. Rounding out this week's top five squads is Chad Schroeder's Cocktails and Dreams team, slipping back to fifth after one week in fourth place.

For a look at the top 20 teams in the Main Event, check out the list below:
Go Bills 1 notoriousDAB 1746.85
Amish Rake Fight 2 GiuseppeLia 1715.7
Average Joe DannyMueller 1695.3
Step Brozzo's Mcozzo54 1679.8
Cocktails & Dreams 24 royalfan 1678.5
Bullseye RedRamBroncoskins 1662.5
Ducks Dynasty II WC DDuck 1654.6
Triple H 15 LonDog20 1648.9
Wicked Game 1 NeilHas 1643.35
We Dem Boyz x 3 Pshrivas87 1643.3
Ezzell Brothers II BillEzz 1635.6
LINKsanity rlinkowski 1634.4
FatKidFromCanada silasDai 1630.25
Cocktails & Dreams 13 royalfan 1630.2
Nick_Thompson27 nrthompson 1614.1
Fortunado CJH 1613.8
Fairways & Greens Main II Halliam 1613.15
DJ ME 3 JN3 1611.6
Threat Level Midnight 1 Draft Wonder 1611.25
Bipcoin Bipcoin 1610.2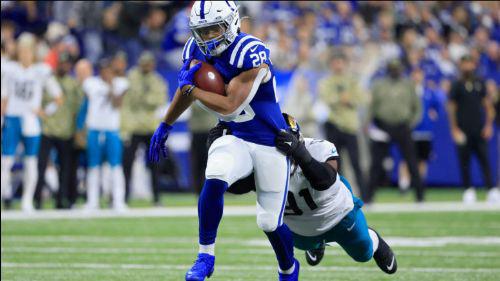 (Photo: TheSpun.com)
After four weeks of leading everyone, Jeff Antley's Khaliff's Krew finally was overtaken for the top spot in the 2021 Footballguys Players Championship, by Todd Hunter's Tree Huggers. Hunter saw his team tally a 201.8 Week 10 score, thanks in part to Samuel, Taylor, Kupp, D'Ernest Johnson's 22.7, Ezekiel Elliott's 21.8 and Andrews. Hunter now has a 32.1-point lead over Antley after 10 weeks of action.

Ageless--run by Jay Flake--moved up two spots into third place while Micheal Nagle's RebelFightingCocks vaulted from seventh into fourth place. Completing the top five teams in the FPC this past week is Bill Potter's Clever Whale entry, less than two points away from fourth place.

Here is the list of the top-40 teams in the FPC going into this next week:
Huggers (8) Tree Huggers 1804
Khaliff's Krew PAE33 1771.9
Ageless FPC JayFla 1721.45
RebelFightingCocks SirTreyLancelot 1711.75
Clever Whale II Cleverwhale 1710.15
Bipcoin Bipcoin 1706.35
Kingpin 8 TRoll 1702.7
Major League Infidel TigerandKyKy 1702.4
Kingpin 1.5 TRoll 1702.35
Snuggles' Accountant I carlvdh 1701.7
Time is NOW Azzurri 1699.65
My Guys JuiceGotLoose 1692.45
Team Perez jperez4 1692.45
Dynamic Fantasy Duo #6 Oliverheim 1691.75
Frank Gore's Hog Squad dropoutfilms 1687.45
F1schness 7 f1schness 1677.35
Smokin' Joes joevangogh 1675.7
Young Lions 3 justiceberry 1671.15
FGPC#2 RedBirdDr06 1665.25
Cocktails & Dreams VIII royalfan 1664.25
Lp Pops Compound 1661.3
Thirty Three BillPidto 1660.65
Tommy Island 350 #4 Therrin69 1657.4
Sex Panther 8/31 jberry47 1656.85
Al's Aces NoMercy77 1655.15
F17 Skidellas Day Trading MikeFor 1653.5
BiGLEAGUEBOYS2 HitStick99 1650.6
MJK4 rampage 1649.15
ALL IN JD2 ALLINJD 1646.65
konanders jmaguerreroc 1645.4
Fairways & Greens FPC XV Halliam 1643.4
Wallys Ballers Wally0390 1642.1
St. Stephen MayerIsDead2Me 1641.8
TopDawgs V jcox17 1641.5
Mazycakes Mazycakes 1640.7
Menobrown XVIII M Cobb 1640.3
Rubin's Wrath hdr22 1639.8
SEAC NoMercy77 1638.75
baby pigeon 5 frontline 1637.9
Frying Pan Inc 7 Foosball 1637.5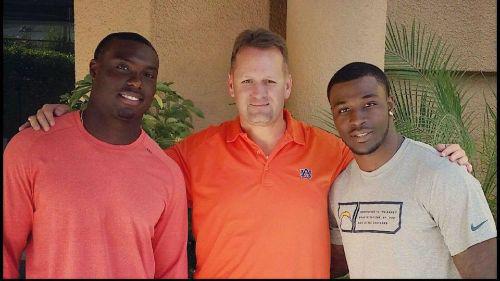 The Joes are once again dominating the top of the overall leaderboard in the 2021 FFPC Pros Vs. Joes competition. John Shaw (above, middle, between former Auburn stars Ronnie Brown and Chris Davis) is holding a 27.9-point lead over fellow Joe Nick Thompson in second. This past week, Shaw was led in scoring by Hill to keep his lead in this 18-round best ball slim competition.

Only 0.1 points behind Thompson is another Joe, Robert Coe, in third place. Establish the Run's Evan Silva is the top-scoring Pro in fourth place with JC Gifford's Joe squad sitting in fifth at the moment, Out of the top 10 spots in this competition, eight of them are currently occupied by FFPC Joes. Yo, Joe!

Those five teams all lead their respective leagues with Pro Tod Burros from Run To Daylight and Brad Petri and Darren Larson's Frying Pan Inc. being theor other two league-leaders. Each one of the league winners will take home a free 2022 FFPC Main Event team at the season's end. Here is a look at the top-10 overall in this contest below:
John Shaw - JOE - 1585.2
Nick Thompson - JOE - 1557.3
Robert Coe - JOE - 1557.2
Evan Silva - EstablishTheRun.com - PRO - 1550.9
JC Gifford - JOE - 1550.85
Curtis Hirsch - JOE - 1541.05
Jungle Catz - JOE - 1533.7
Tod Burros - @BestBallNFL - PRO - 1525.2
Robert Russell - JOE - 1514.1
Frying Pan Inc. - JOE - 1499.9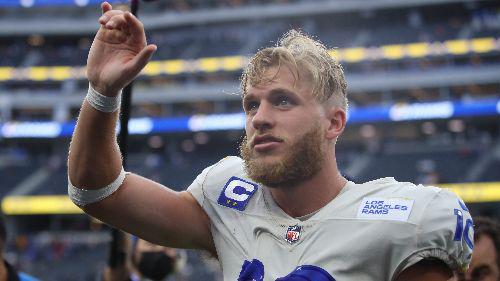 (Photo: Heavy.com)
You'll have to do without all-world receiver Cooper Kupp as well as the rest of the Rams and Broncos this weekend, players, as both squads are on a bye. Remember, you'll have the waiver wire run tonight and Sunday morning to fix those lineup holes. Good luck in your bids!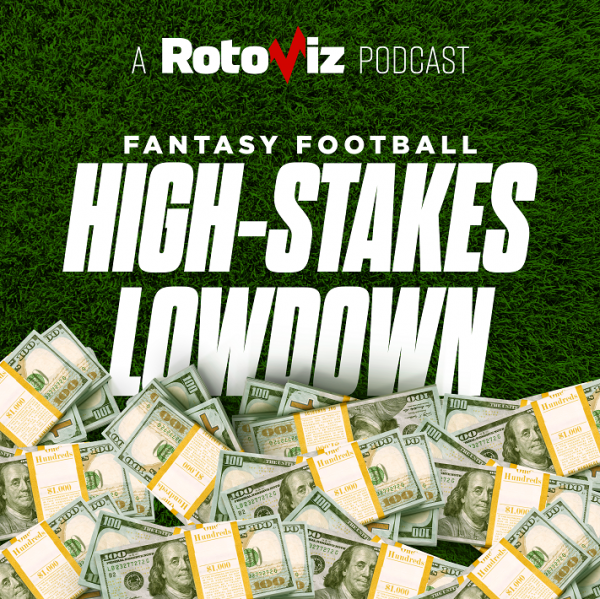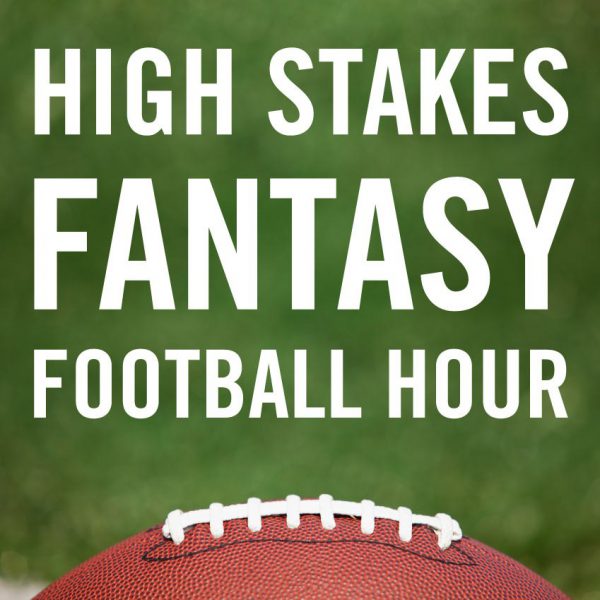 On the latest Rotoviz Radio's The High-Stakes Lowdown podcast, I broadcast the show with the 19th-place team owner in the 2021 Fantasy Football Players Championship (FFPC) Main Event Jerry Kaforski. In this episode, we talk about when it's OK for a desperation flex start, the position to most vigilantly monitor on the waiver wire and much more.
You can check out a new episode of The High-Stakes Lowdown every Thursday during the NFL season on Rotoviz.com and Apple Podcasts. I'd also encourage you to check out all of the other great podcasts that Rotoviz Radio has to offer, too.
Then live at 10/9c on Friday, yours truly and 2021 Kentucky Fantasy Football State Championship (KFFSC) boss Ferrell Elliott talk 2021 Fantasy Football Players Championship (FFPC) Main Event and 2021 Footballguys Players Championship fantasy football as both competitions head into Week 11. We'll make sure to touch on some topics regarding FFPC Best Ball Drafts and FFPC Dynasty Leagues as well. Plus, we take a look at some of the strategies that are paying off in the 2021 FFPC Best Ball Tournament and answer your calls, tweets, emails and more all on The High Stakes Fantasy Football Hour!

The High Stakes Fantasy Football Hour normally airs Friday nights at 10/9c, and the next episode can be heard here. You can hang out with the high stakes players in the show's chat room if you want to listen live. You can also access full on-demand streaming available for listening anytime via a variety of apps including the HSFF Hour website, Apple Podcasts, Spotify, Amazon Music, Audible, iHeartRadio, Google Podcasts, Amazon Alexa, Stitcher Radio, TuneIn Radio, Spreaker, Deezer, Vurbl, Podchaser, Audioburst, JioSaavn, Gaana, Breaker, Castbox, Overcast, PodBean, Pocket Casts, Radio Public, Podcast Addict and Anchor on your iPhone or Android device as well.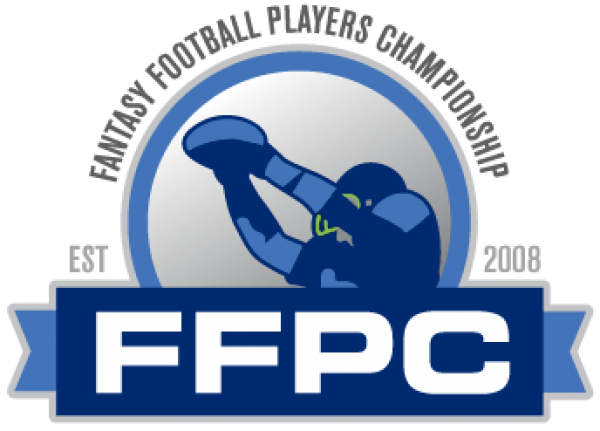 As a reminder, quarterbacks, running backs, wide receivers and tight ends that are cut during Week 11, Week 12 and Week 13 free agent bidding processes are now REMOVED from the free agent pool and may not be re-acquired by any team for the remainder of the season. Dropped defenses and kickers will still be available for acquisition. This is done to minimize the possibility of potential collusion.

And as a reminder, even if injuries or other issues derailed your 2021 season, make sure you are still setting your lineups! Please don't anger the fantasy gods, and keep karma on your side for 2022 by being competitive this weekend for the rest of the year. :)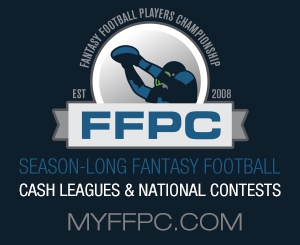 In case you have any questions or want to check something at a moment's notice, I am including this section of the email every week. While you are checking out all things FFPC for the 2021 season, consider this your guide: