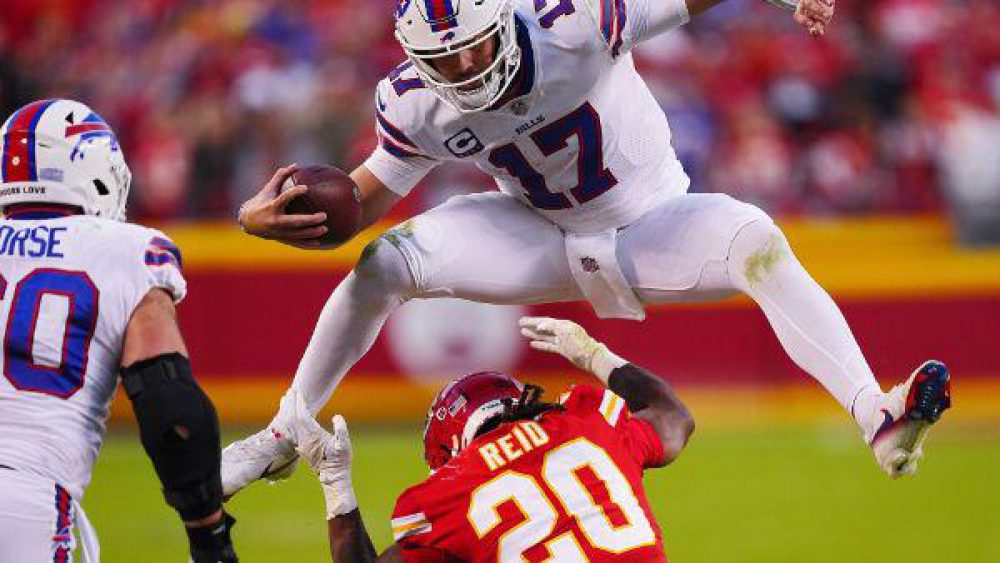 (Photo: USA Today)
Shooting up two spots into the lead in the 2022 FFPC Main Event going into Week 7 was Jeff Antley's JMA 33, thanks to great scores from Josh Allen (30.65), Tyreek Hill (29.7), Rhamondre Stevenson (25.1) and Robert Tonyan (24). Atnley is ahead of Brandon Smittcamp's Funky squad--who has spent the last two weeks in second place--by 20.3 points.

Ralph Barba's Victory ascended eight spots to move into third place while TenaciousLamar--run by Jeremiah Nemeth--shot up three spots into fourth place. Tuesday's night's RotoViz High-Stakes Lowdown's guest Ryan Santos moved up seven spots to settle into fifth place as well.
For a look at the top 20 teams in the Main Event, check out the list below:
JMA 33 PAE33 1026.4
Funky fresbros 1006.1
Victory (ME #1) Ralph Barba 1002.8
TenaciousLamar TenaciousAF 993.85
VROSE IO MAIN 1 @FFLINX 993.5
My Giraffe Is Better Than Yours StevenRiz 991.9
Dingers FGar 988
Hey Mr. Kraft, WATSONder My Towel? IntotheROAR 986.65
Bravo Goose Sand Phantom 986.4
Fantasy Mainiacs R3 rogergif 984.9
Lucky Pierre KurtAwe 983.45
#D'Naughty - Main JohnnyD32 981.8
Juiceboys JRUNMD 981.5
¡LeedsCarajo!M2 LeedsCarajo 980.9
Lombardi Time (J) DannyMueller 977.7
TheAftermath TheAftermath 975.55
Asian Merchants albcool 974.2
The Return of Ashley and Ally IV Shef77 973.9
RTS & S2 RobertTom 973.45
Urallfish1 Chase Andrews DegenerateWreckingCrew 973.4
(Photo: WLWT)
As we look at the top of the leader board in the 2022 Footballguys Players Championship, we see that John Rahilly's Out of Position's Week 7 193 score has caused him to assume the overall lead heading into Week 7. Rahilly's score was boosted by Joe Burrow's 35.5, Stefon Diggs' 30.8, Deon Jackson's 28.1 and Stevenson.

Last week's leaders Mo Farunia and Nick Vagi--who will be appearing live on The High Stakes Fantasy Football Hour this Friday night--slipped one spot to second with their Gulag's Finest squad, which is just 10.55 points off the pace. Jake Valeich's The Machine (26er) sits in third for the second straight week while Brad Petri's Foosball moved up 17 spots into fourth. Rounding out this week's top five teams is Ron Snyder's rwsnyd2 that is fewer than three points behind Petri.
Here is the list of the top-40 teams in the FPC after six weeks of play:
Out of Position rahraw 1046.6
Gulag's Finest GulagsFinest 1036.05
The Machine (26er) Cactus Jake 1024.95
Foosball 21 Foosball 1017.05
rwsnyd2 rwsnyd2 1014.7
Heinous Magus GoodFunk 1011.15
Mean Gene Number 9 geofre44 1009.3
Vince Staffilino AARP Team JT_AJ 1006.75
Villains Eddieecheverria 1006.3
Already Drunk wghammock 1005.1
Big dik Daddy from the Natti MMATAMDREDEMPTION 1004.85
FPC 1 shawnesty23 1004.2
Time to Shine again LanceShu 1001.8
Throwbacks 15 KevinPro 1001.2
Sniper sghammer17 1001.2
Jurv 7 Jurvillain 1001.2
I would Walker 500 Miles bradblackandgold 1000.9
lambo or bust 31 Steve SC 998.55
TheAftermath TheAftermath 997.95
Marty's Dance Quintet efeeneyx 997.8
Zebb's Ass party JT_AJ 997.5
JUST JOSH'n RHAMONDRE ChrisLej 997.2
Dreaming of Sundays PrimetimeAndyDalton 996.7
Yo Como Culo Moosehog 993.8
Tommy Island 350-12 Therrin69 993
Pour one out for Mahomes Slygrin 992.5
Drinks on HighGarden sghammer17 991.2
Medallion Hunter II ChrisHarx 990.8
Rolling with My Mahomes SHOWMEYATDS 990.8
Sushi Burrito kickinbass 990.4
Cool Hand Book III mjb7177 989.7
Duncan, No Sleepies! KyleLeith 989.15
Relax 06 Chris Holland 988.4
PPFB_Alpha MareonHym 988.3
DR WHOa UrbanM 987.7
Wadesworld.. Mark Todd 986.8
froo fighters frooness 986.05
Mike St. Mehrdadstlouis 985.1
Murphy's law MonkeyWrench 984.4
Big TD's keyguy17 984.2
(Photo: Sports Illustrated)
Thanks to Diggs, Stevenson and Patrick Mahomes' 25, Jacob Mathew's Kaisthelimit moved into first place in the 2022 FFPC $2,500 Auction with 18 victory points, tied with Brad Kruse's Fantasy Assassins, which is fewer than 20 points behind Kaisthelimit. Each of the top two seeds in this league will get $2,500 for their regular season performances with the winner of this league will cashing a $12,500 check with the runner up getting $6,500 and third place getting $2,500.

The FFPC held this auction live at Planet Hollywood in Las Vegas at its live events in early September, along with four other auction leagues. Heading into Week 7, the leaders of those competitions are listed below:
$1,250 Auction #1: FIERCE! - Jeffrey Schmitz
$1,250 Auction #2: JC SUPERSTAR - Alan Greenberg
$750 Auction #1: Connections and Attrition - Matt Marcou & Mike Stanowski
$750 Auction #2: Papagiorgio - Dawson & Robert Kruse
Check out The High Stakes Fantasy Football Show on the Bettor Sports Network tonight at 10/9c. Yours truly and a rotating guest host chop it up each and every Wednesday from 10pm until midnight, taking you through all the issues high stakes players are facing, as well as your first look at the waiver wire results each season.

Tonight, I'm joined by Josh Larky from The 33rd Team, and while you can watch us live on both YouTube, Twitter and Facebook, I would STRONGLY encourage you to download the app so you can participate in the show and--most importantly--take advantage of all the great giveaways we've offered to viewers so far, including--but not limited to--signed jerseys from both retired and current pro sports superstars.
Download the Bettor Sports Network Apps Below:
Don't miss out on winning this week in the FFPC Weekly Challenge, players! There's no draft or salary cap: Just choose 10 or 12 players by Sunday's kickoff and watch them ride all the way through the weekend's games. But remember, you can only pick ONE player per NFL team!

Want to get your 2023 fantasy season off to a great start? Then play the $200 FFPC Weekly Challenge (10 teams) in both classic and/or slim versions. These are 'winner-take-all' 10-team contests with the winner receiving a 2023 FFPC Main Event credit!

The cost is $35 or $200 to enter in these 30- and 100-team contests. Play the classic format with kickers and defenses or the slim format that does not have them. You may enter up to three times in each 30-team contest or five times in each 100-team contest. Here's what's available this week:
| LEAGUE | OPENINGS | ENTRY | PRIZES | RDS | DEADLINE | |
| --- | --- | --- | --- | --- | --- | --- |
| Weekly Challenge #48835 | 6 of 30 | $35 | $910 | 12 | Sunday 1:00pm ET | |
| Weekly Challenge Slim #48836 | 14 of 30 | $35 | $910 | 10 | Sunday 1:00pm ET | |
| Weekly Challenge Slim #48837 | 79 of 100 | $35 | $3,035 | 10 | Sunday 1:00pm ET | |
| Weekly Challenge Slim #48834 | 9 of 10 | $200 | $2,000 | 10 | Sunday 1:00pm ET | |
In case you have any questions or want to check something at a moment's notice, I am including this section of the email every week. While you are checking out all things FFPC for the 2022 season, consider this your guide:
Thanks for reading, everyone! Don't forget to join the Week 7 FFPC Weekly Challenge now!

See you on The High Stakes Fantasy Football Show on the Bettor Sports Network with The 33rd Team's Josh Larky and yours truly tonight!


Sincerely,

Eric Balkman
The Fantasy Football Players Championship
www.myFFPC.com