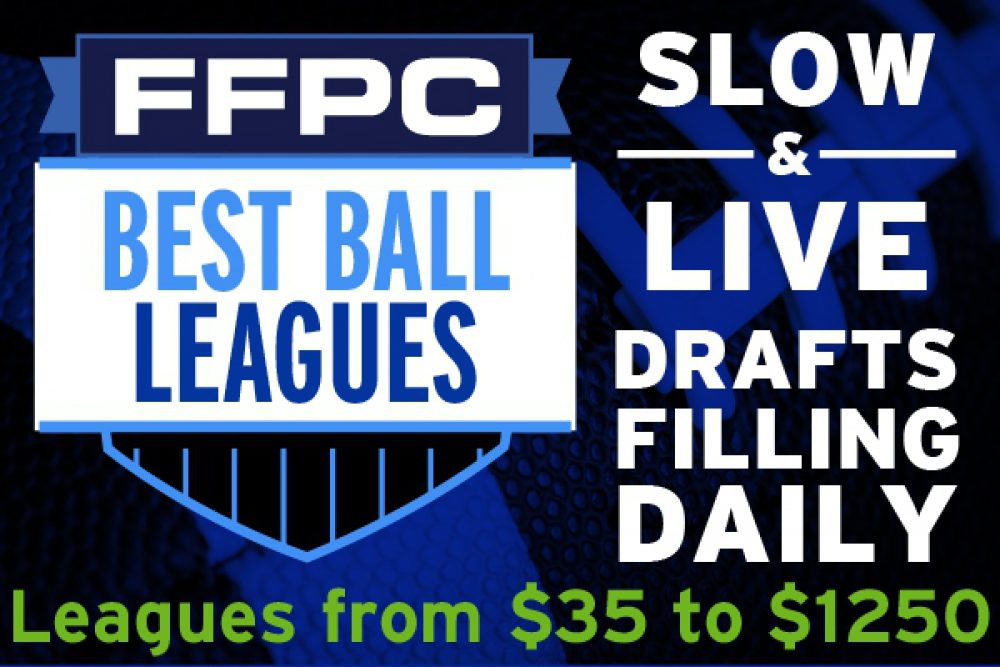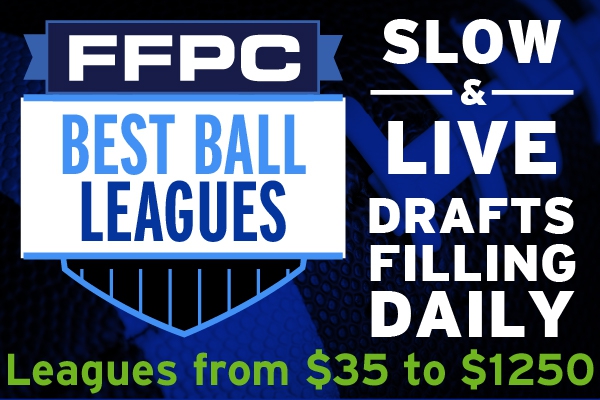 Were you waiting on getting in one of our slow six-hour slow best ball drafts? Wait no more, players, because we will be closing registration on those this Sunday, August 30th. We will still keep the slow drafts with the two-hour clocks and six-hour classic drafts open for now, but time is ticking on winding those down as well.
In addition to standard best ball drafts, we also have superflex, Terminators, classics, VP cash leagues and much more! With the Main Event slow drafts already off and running, now's the time to start getting ready to plot your course with a best ball league. Drafts with sixty-second, two-hour and six-hour clocks are available for our 2020 FFPC Redraft Best Ball leagues at entry fees of $35, $77 and $250 right now. You can pick whatever format you want to compete in as well.

Also, players, remember that you can use the FFPC mobile app for drafting directly as well. You can get these apps with the newest updates for your preferred mobile software provider at the links below:
As a reminder, if you've been searching for a "diet" version of our traditional Best Ball leagues, I invite you to hop into some of the new FFPC Best Ball Slim leagues we launched this season. Featuring 18-Round drafts with no kickers and defenses, these leagues will surely provide a new fun challenge to enjoy during drafting season. The starting lineup is as follows for this format:
1 Quarterback
2 Running Backs
2 Wide Receivers
1 Tight End
2 Flexes (RB, WR, TE)
To get into the drafting action, jump in now and draft a team or two today.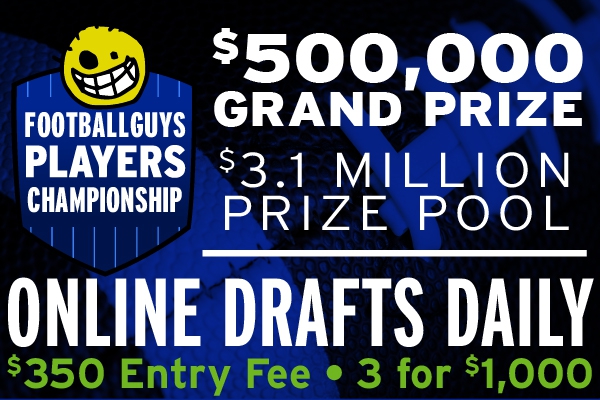 The 2020 Footballguys Players Championship continues to fill up faster than normal, players--don't miss out! This competition features a guaranteed prize pool with a $500,000 grand prize and over $3,000,000 million total prize pool. That's right--we've doubled the grand prize to $500,000! The 2020 FPC contest is capped at 10,800 teams. All prizes are fully guaranteed.
Here are all the details on this year's competition:
Drafts going off daily
$3,100,000 prize pool (Up $800,000 from last year)
Teams are $350 each (or a three-pack of teams for $1000)
Remember, you now have the opportunity to draft to win $500,000 every day from now until the start of the NFL season.
Another new feature we just rolled out is that switching or leaving drafts both in the FPC and the rest of our FFPC drafts just became a whole lot more user-friendly. If you need to bounce out of a league, you won't need to send an email to us anymore. All you have to do is click on the "EXIT LEAGUE" button on the league homepage. You then will remove yourself instantly as long as it is not less than 15 minutes before the start of your draft and fewer than 10 teams are registered.

We have numerous leagues filling up every day, so if you want to join, check out the schedule posted here, including several afternoon drafts today:

LEAGUE
OPENINGS
ENTRY
DRAFT
TIMER
FPC 6hr Slow #25766
11 of 12
$350
Starts When Full
6 hrs
FPC 2hr Slow #25764

5 of 12

$350

Starts When Full

2 hrs

Footballguys #19417
9 of 12
$350
TODAY 1:00p E
60 sec
Footballguys #19419
9 of 12
$350
TODAY 4:00p E
60 sec
Footballguys #19420
10 of 12
$350
TODAY 5:30p E
60 sec
Footballguys #25735
11 of 12
$350
TONIGHT 7:00p E
60 sec
Footballguys #19468
8 of 12
$350
TONIGHT 8:00p E
60 sec
Footballguys #25746
11 of 12
$350
TONIGHT 9:00p E
60 sec
Footballguys #19470
12 of 12
$350
TONIGHT 10:00p E
60 sec
Footballguys #19471
12 of 12
$350
TONIGHT 11:00p E
60 sec
Footballguys #18916
9 of 12
$350
TONIGHT 11:55p E
60 sec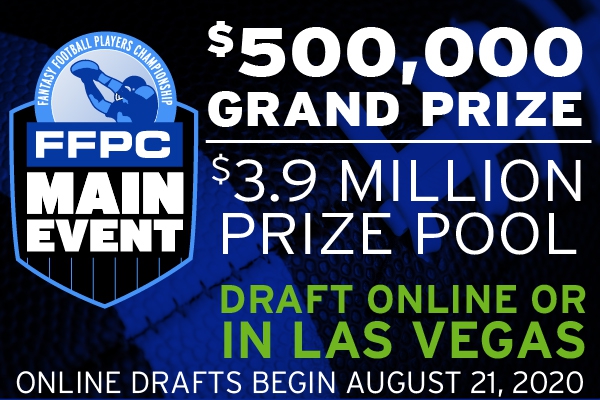 Wanna draft in a nearly $4,000,000 prize pool for a $500,000 grand prize tonight? There's only five spots left to do so at this moment, players! Register for the 2020 FFPC Main Event now right here! Here are the details:
75 live draft dates/times (Up from 59 last year)
$3,900,000 prize pool (Up $800,000 from last year)
After grabbing your first team, each additional team is $1500 online, $1625 live--a savings of $400 per each additional team.
Also remember that we're happy to be offering 2020 FFPC Main Event drafts with two- and six-hour clocks right now. You can register right here, and slow Main Event leagues will start drafting as soon as they fill. That means you won't have to block off two hours of time to dedicate purely to drafting. You can pop in and out and make your picks at your convenience.

Here's the upcoming Main Event draft schedule for the next couple of days. As a reminder, the live Main Event drafts are getting very limited right now. The openings you see are the final spots left for these draft times:

Main Event ONLINE #14
5 of 12
$1,900
TONIGHT 10p E
Main Event ONLINE #15
7 of 12
$1,900
Tomorrow 7p E
Main Event ONLINE #16

5 of 12

$1,900

Tomorrow 10p E

Main Event ONLINE - 2hr Slow #25683
9 of 12
$1,900
Starts When Full
Main Event ONLINE - 6hr Slow #25702
6 of 12
$1,900
Starts When Full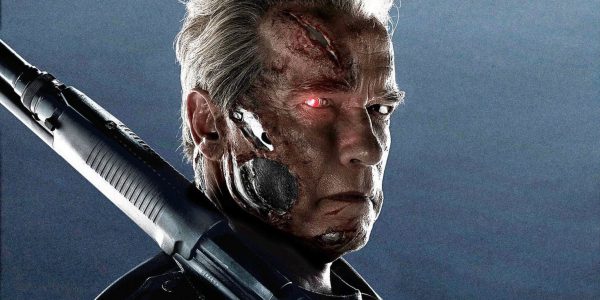 A slightly-tweaked version of the best ball draft, the Terminator forces you to drop one player each week until you're left with just ten players for the final week of the season. If you wanted to take on a new challenge, this is all you need to know (before you grab one of the last three spots available tonight).

Here are the details on this year's competition:
$25,000 Grand Prize
$116,850 Prize Pool
384 team cap
$350 entry
3-pack for $1,000 (save $50)
And here's the upcoming schedule for Terminator drafts:

LEAGUE
OPENINGS
ENTRY
DRAFT
Terminator Tournament #18721
3 of 12
$350
TONIGHT 7:00p ET
Terminator Tournament #18722
10 of 12
$350
TONIGHT 10:00p ET
Terminator Tournament #18723
6 of 12
$350
Tomorrow 7:00p ET
Terminator Tournament #18725
7 of 12
$350
Friday 7:00p ET
Want win your way into next year's Terminator Tournament? Click HERE to play the $35 Terminator leagues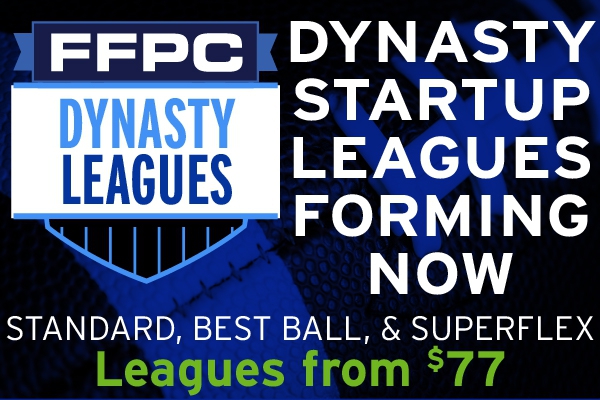 Start-up slow draft season is drawing to a close, players. In fact, after Sunday, your only option for dynasty start-up drafts will be ones with 60-second clocks, so hop in now before it's too late! If you're looking at building your next dynasty from the ground-up, join any of the new dynasty-start up drafts we have posted for 2020. You can register for any of them by clicking right here. Dynasty start-ups are filling up at the $77, $250, $500, $750, $1250 and $2500 levels, and you can join any of them at the link below: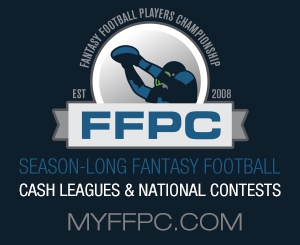 In case you have any questions or want to check something at a moment's notice, I am including this section of the email every week. While you are ramping up for the 2020 season, consider this your guide to all things FFPC:
Sincerely,
Eric Balkman
The Fantasy Football Players Championship
www.myFFPC.com