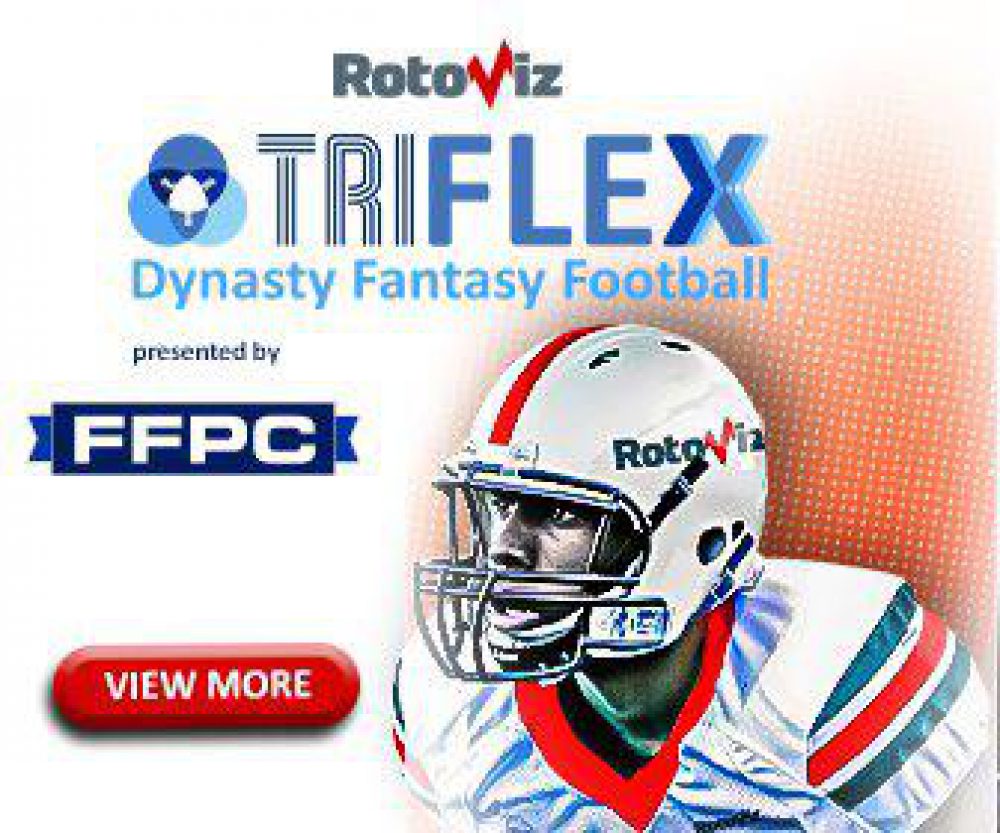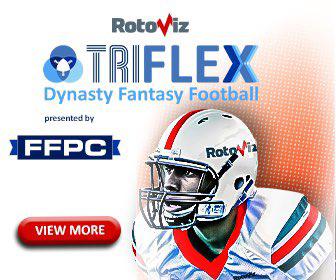 We're kicking off April with a brand new game for you to enjoy this year (and going forward), players! You can check out all the details on the new FFPC RotoViz TriFlex Dynasty Leagues here, but here's how they're different from our traditional FFPC dynasty start-up leagues:
The starting lineup consists of 1-QB, 2-RB, 3-WR, 1-TE, 1-SUPERFLEX, and 2-FLEX. Neither kickers nor defenses are used in this format.
QB can be used as a Flex, but only for the 1 Superflex position. The 2nd and 3rd Flex can be RB, WR or TE.
RotoViz Triflex QB passing scoring is 25 yards = 1 point. Interception are minus two points (-2).
For FFPC RotoViz Triflex Dynasty Drafts, teams can draft a maximum of three (3) QBs.
Last night, we soft launched these leagues, and a few of them filled right away. The feedback we got from the players involved was very positive, and several of them already expressed to us how much they love this format. These leagues start at $77, and here is what we have open right now:
LEAGUE
OPENINGS
ENTRY
DEPOSIT
PRIZES
DRAFT
TIMER
TYPE
$250 RV #210
12 of 12
$250
$100
$2,250
Tue 10a E
8 hrs
Std
$77 RV #366
11 of 12
$154
$0
$600
Wed 9a E
8 hrs
Std
$77 RV #364
10 of 12
$154
$0
$600
Thu 9a E
8 hrs
BB
$250 RV #211
12 of 12
$250
$100
$2,250
4/10 10a E
8 hrs
BB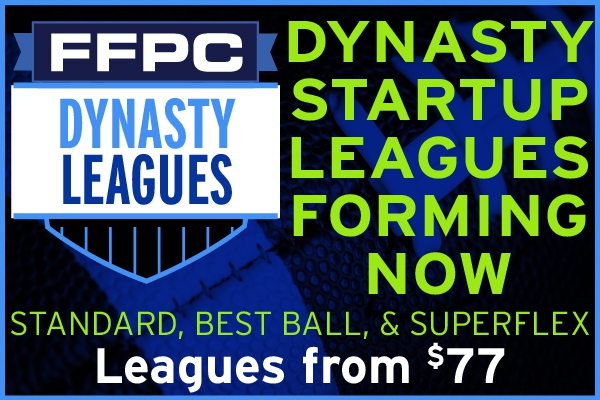 Don't forget, players, that our traditional dynasty start-ups are still going strong as well. You can register for them right here, and this weekend's options are posted below:
LEAGUE
OPENINGS
ENTRY
DEPOSIT
PRIZES
DRAFT
TIMER
TYPE
$77 #359
8 of 12
$154
$0
$600
Sat 9a E
8 hrs
BB
$77 #361
8 of 12
$154
$0
$600
Sat 9a E
8 hrs
Std
$1250 #24
7 of 12
$1,250
$625
$13,250
Sat 10a E
8 hrs
Std
$250 #192
9 of 12
$250
$100
$2,250
Sat 10a E
8 hrs
BB
$750 #52
8 of 12
$750
$350
$7,650
Sat 11a E
8 hrs
Std
If you're looking for some analysis on how a real, ongoing FFPC dynasty start-up draft is going, The Intersecting's Kevin Scott published an article on Fantasy Football Today which you can check out right here.

And as far as orphans go, we still have a few teams looking for homes here. If you've been watching some of the teams, we've recently lowered the entry fees for some of the orphans, too.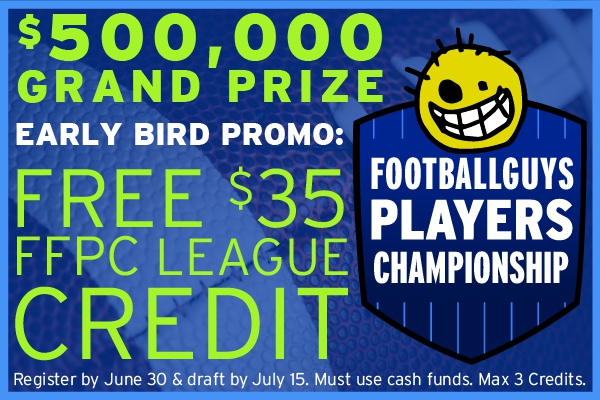 As a reminder, players, for the first time in the Footballguys Players Championship's history, we will be awarding two separate six-figure prizes. Take your shot at the most lucrative grand prize in Footballguys history today, as the winner of the 2021 Footballguys Players Championship will take home a record $500,000 for his or her efforts, and the runner-up will pocket a cool $100,000 as well. The 2021 Footballguys Players Championship is open for registration, players! Here are the details:
Drafts Begin May 2 and run through September 11
$3,700,000 prize pool
$500,000 grand prize
$100,000 runner-up prize
Contest will pay down to 850th place
EARLY BIRD DEAL FOR YOU: When you register by June 30th and draft by July 15th, you'll receive a free FFPC $35 team credit.
Click here for the full details on the 2021 Footballguys Players Championship Early Bird Promotion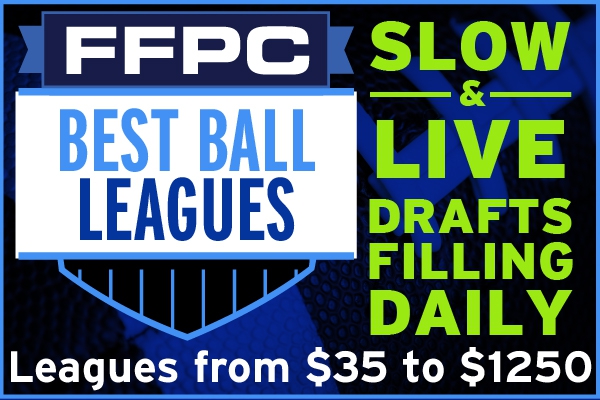 If you haven't jumped in the Best Ball party yet (especially the $5 Cinco de Best Ball), now's the time! Join in the fun now with Redraft Best Ball slow draft leagues at entry fees of $5, $35, $77 and $250 open for entry. And don't forget that the 2021 rookie class is included in the draft pool as well.

Slow drafts are filling and launching as soon as they are full (and we have live drafts scheduled each night, too), so you can be drafting in minutes. Drafts with two-hour and six-hour clocks are available. And be sure to download the FFPC iOS and Android apps for a more streamlined draft experience. The links are below:
Drafts are already well underway, so any of you that love Spring drafting can jump in now and draft an FFPC Best Ball team today!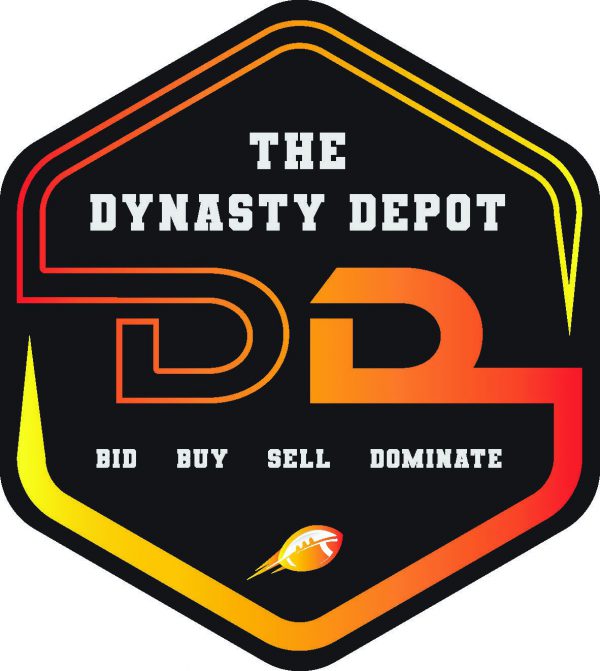 Spring into Dynasty Depot with a FREE membership to Dynasty Nerds! With more than 1,500 teams sold and teams for sale from $1- $5,000, there's still time to jump into the action at Dynasty Depot! The marketplace is still hot with new maiden teams being posted every day. The Dynasty Depot marketplace will remain open until Sunday, September 5.

And this month, when you register with Dynasty Depot, you'll get 50 percent off any annual membership. Plus, the first 50 Sign-ups in April will receive a Dynasty Nerds yearly membership along with the Nerds GM Bundle that recently integrated with the FFPC. Just use the promo code NERDS50.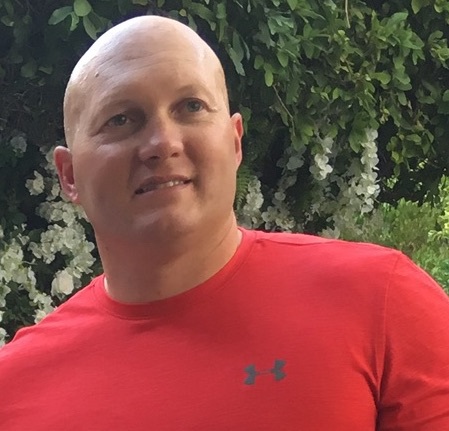 Hosts Eric Balkman and Ferrell Elliott fraternize with 2020 FFPC Dynasty $750 #7 league winner Andy Brown about how he took down his title and who some rookies are that he hopes to have on his squad in 2021. Plus, Brown will dish on some of the players he's targeting in his 2021 Footballguys Players Championship draft, as well as who he thinks will be some great draft picks for managers in the 2021 Fantasy Football Players Championship (FFPC) Main Event. The three players will delve into the latest ADP in 2021 FFPC Best Ball Leagues and 2021 FFPC Best Ball Slim Leagues and why now's the time to grab a couple of 2021 FFPC Dynasty league orphan teams for as low as a dollar or jump into some 2021 FFPC Dynasty Leagues, too! As always, your calls, tweets, emails and more are all answered on The High Stakes Fantasy Football Hour!

The High Stakes Fantasy Football Hour normally airs Friday nights at 10/9c, and the next episode can be heard here. You can hang out with the high stakes players in the show's chat room if you want to listen live. You can also access full on-demand streaming available for listening anytime via a variety of apps including the HSFF Hour website, Apple Podcasts, Spotify, Google Podcasts, Amazon Alexa, Stitcher Radio, TuneIn Radio, Spreaker, Vurbl, Podchaser, Audioburst, JioSaavn, Gaana, Breaker, Castbox, Overcast, PodBean, Pocket Casts, Radio Public, Podcast Addict and Anchor on your iPhone or Android device as well.
Thanks for reading, players! If you're looking to break up the holiday weekend festivities with some fantasy football, give a dynasty orphan a good home, sign up for a new dynasty start-up (like the brand new RotoViz TriFlexes) or even a best ball league. I'll see you in the chat room tonight!

Sincerely,

Eric Balkman
The Fantasy Football Players Championship
www.myFFPC.com