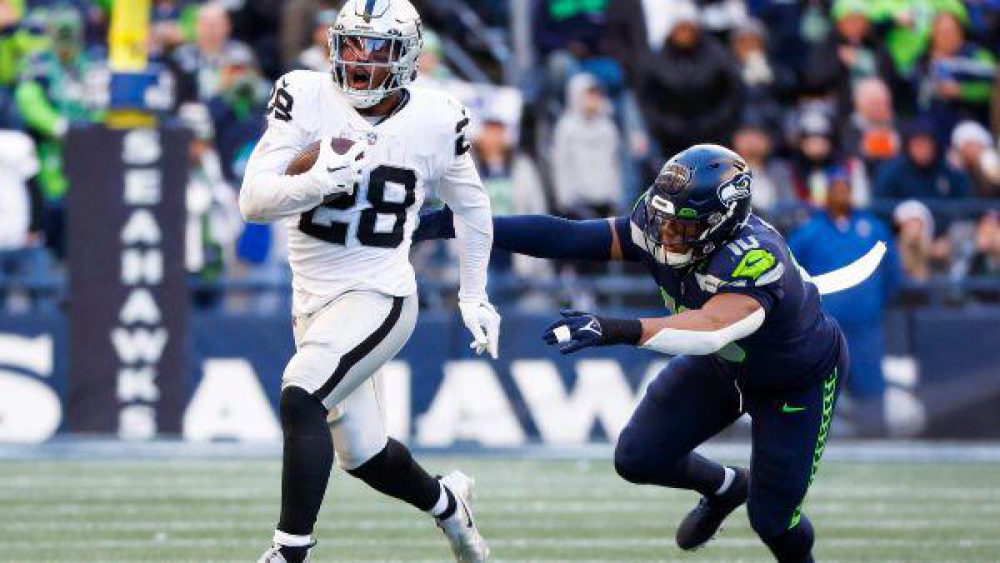 (Photo: Yardbarker)
The 2022 FFPC Main Event has crowned its regular season champ, and this year's $2,500 winner is Amish Rake Fight, owned by Giuseppe Liantonio. In Week 12, Liantonio's squad was led by Josh Jacobs' 48.3, Jalen Hurts' 31.35 and Miles Sanders 31. Anthony Lupo's ACEHOLE moved up one spot into second to win $2,000 with Jerimie Slick cashing $1,500 for his third-place Scared Money entry ascending three spots to third.

Mark Ruble won $1,000 for moving up five spots in taking fourth with Jeff Antley's JMA 33 slipping one spot to fifth and getting the $625 that came with it since he split it with fellow fifth-place team owner Praveer Shrivastava, a player you watched live on the RotoViz High-Stakes Lowdown on Tuesday night.

For a look at the top 20 teams in the Main Event going into the league playoffs along with their regular season winnings, check out the list below:
Amish Rake Fight X9 GiuseppeLia 1983.35 $2,500
ACEHOLE blakeyb45 1963.40 $2,000
Scared Money Elcero 1917.90 $1,500
DickenHead 2 whitmrersux 1915.10 $1,000
JMA 33 PAE33 1911.55 $625
We Dem Boyz x 11 Pshrivas87 1911.55 $625
BG BradInTheGreenZone 1909.05 $500
Fat Frankie Inc Main11 johnpierce80 1905.60 $500
RumHorse II robabb4 1898.10 $500
Lou & Brew Main Hitimewine.net 1897.40 $500
Pimpshafts todd 1896.50
Walter White 1 Draft Wonder 1894.00
Asian Merchants albcool 1890.95
Hey Mr. Kraft, WATSONder My Towel? IntotheROAR 1889.20
M10.1 RV16 1883.85
WagerEdge Sports bjasiak 1882.45
Lions djwingsfan00 1882.00
Goodfellas jerrypal 1878.70
¡LeedsCarajo!M2 LeedsCarajo 1877.50
Fairways & Greens* Main I Mcdavid97 1876.70
(Photo: ESPN)
John Rahilly's Out of Position was in the perfect position to win the regular season title in the 2022 Footballguys Players Championship this past week. His 186.9 tally was helped in part by Jacobs, Justin Herbert (31.5), Stefon Diggs (21.7) and Rhamondre Stevenson (20.2). Rahilly beat out George Derzekos for the crown by 9.5 points, but Derzerkos will take home $2,000 for being the runner-up.

Dr WHOa--run by Stephen Ranaghan-- moved up one spot to cash the $1,5000 third-place purse with Terry Maul's ATAC moving up five spots to finish in fourth place. Finishing off the top five in the regular season was Gregg Baruch's theEllieLouCrew, as it moved up three spots from Week 11.

Here is the list of the top-40 teams in the FPC after the regular season along with each squad's winnings.
Out of Position rahraw 2002.4 $3,000
Derz6 DerzDarls 1992.9 $2,000
Dr WHOa UMeyer 1973.05 $1,500
ATAC 6 ATAC1 1966.1 $1,000
theEllieLouCrew greggy 1945.6 $750
Sniper sghammer17 1944.9 $500
Two Derps Dgreco 1940.9 $500
skippy The Magnificent ChuckVai 1936.75 $500
Jurv 7 Jurvillain 1933.65 $500
Smokin' Joes joevangogh 1933.4 $500
Gametime3310 hotsauce 1931.5
I would Walker 500 Miles bradblackandgold 1930.9
SJS1890 sjs1890 1929.55
Medallion Hunter II ChrisHarx 1928.2
Gem City Raiders 4 TWindis 1927
lambo or bust 43 Steve SC 1925.35
Space Cadets TomPfu 1925
Papa Dox 18 coreydox 1923.75
GREEKLIGHTS 3 AJK3521 1922.4
Canton Bro's Lux D 1921.15
Turn-&-Kauf#1 TurnandKauf 1919
TrapNerd Hairball15 1918.65
Last Call for Alcohol SuperBowelMovement 1918.4
Eddie Vedder KingJeremy 1918.2
A Swift Chubb Ertz 1 NCBEAST 1917.9
Sushi Burrito kickinbass 1916.45
Bukake FBGC 7 Ludachris 1916.4
Eyetroll Eyetroll78 1915.8
SXSS sxs 1912.3
Kjc2 Sollions 1911.75
Rallycap 1 Nick Chianese 1911.4
The Irish Profit TheIrishProfit 1910.8
One Last Play Rlevy1991 1910.55
Slingblade 2 Slingblade 1910.25
Slurricane thielo21 1909.85
Zero Zero 1909.75
FBG MackNova 9.2 MackNova 1908.15
TCP John Rozek 1907.7
Can You Diggs It? SHOWMEYATDS 1906.85
Trojans curtquilleon 1906.2
(Photo: Packers Wire)
Chris Birchby and Adam Rilott's SPF 1000 entry ran up a 204.1 score this past weekend in the 2022 FFPC Bare Knuckle Challenge, and now holds a nearly 100-point lead over the second-place Hot Mess, run by Nate Meckes and Justin Smyly. SPF 1000 saw Hurts, Sanders and Justin Jefferson (29.45) lead the way with big games.

This draft took place live after the opening game in Las Vegas on Thursday night at Planet Hollywood. Players were not allowed to use any device, cheat sheets or any other draft aid as all 336 picks needed to be selected strictly from memory. The champ will take home a $4,500 prize in this 12-team league.
Congratulations to you if you qualified for your league playoffs!

Please remember that stats are not final until Friday, and the NFL may issue changes as they do weekly.

If this should occur, stat changes may impact head-to-head results and playoff seeds which will then be adjusted retroactively, even though Week 13 games will begin Thursday. We encourage everyone to set their lineups for Week 13, especially if you have been involved in a close head-to-head game or missed the playoffs by the slimmest of margins.

The four (4) qualifying league playoff teams will be able to continue free agency on Wednesday (TONIGHT) and Sunday in Weeks 13 & 14. All other teams no longer have access to free agency.

Any team which did not qualify for either the Championship Round or the Consolation Round will compete in the Toilet Bowl. The Toilet Bowl will run during NFL Weeks 13 through Weeks 17. Each team will start the Toilet Bowl with a zero score. Toilet Bowl winner(s) will be determined based on each team's total points scored during Weeks 13 through Weeks 17.
As a reminder, all FFPC dynasty and satellite teams, as well as all league playoff teams in the Main Event and Footballguys Players Championship can submit waivers for processing both Wednesday night and Sunday morning this week.

All regular season cash prizes will be deposited into your player profile accounts this weekend after the Week 12 stats become final. Withdrawals will become available upon completion of the league playoffs after Week 14.
Check out The High Stakes Fantasy Football Show on the Bettor Sports Network tonight at 10/9c. Yours truly and a rotating guest host chop it up each and every Wednesday until midnight, taking you through all the issues high stakes players are facing, as well as your first look at the waiver wire results each season.

Tonight, I'm joined by Matt Ward from Broto Fantasy Football, and while you can watch us live on both YouTube, Twitter and Facebook, I would STRONGLY encourage you to download the app so you can participate in the show and--most importantly--take advantage of all the great giveaways we've offered to viewers so far, including--but not limited to--signed jerseys from both retired and current pro sports superstars.
Download the Bettor Sports Network Apps Below:
Don't miss out on winning this week in the FFPC Weekly Challenge, players! There's no draft or salary cap: Just choose 10 or 12 players by Sunday's kickoff and watch them ride all the way through the weekend's games. But remember, you can only pick ONE player per NFL team!

Want to get your 2023 fantasy season off to a great start? Then play the $200 FFPC Weekly Challenge (10 teams) in both classic and/or slim versions. These are 'winner-take-all' 10-team contests with the winner receiving a 2023 FFPC Main Event credit!

The cost is $35 or $200 to enter in these 30- and 100-team contests. Play the classic format with kickers and defenses or the slim format that does not have them. You may enter up to three times in each 30-team contest or five times in each 100-team contest. Here's what's available this week:
| LEAGUE | OPENINGS | ENTRY | PRIZES | RDS | DEADLINE | |
| --- | --- | --- | --- | --- | --- | --- |
| Weekly Challenge #49036 | 18 of 30 | $35 | $910 | 12 | Sunday 1:00pm ET | |
| Weekly Challenge Slim #49037 | 20 of 30 | $35 | $910 | 10 | Sunday 1:00pm ET | |
| Weekly Challenge Slim #49038 | 80 of 100 | $35 | $3,035 | 10 | Sunday 1:00pm ET | |
| Weekly Challenge Slim #49039 | 6 of 10 | $200 | $2,000 | 10 | Sunday 1:00pm ET | |
(Photo: USA TODAY Sports)
No D.J. Moore, other Carolina Panthers or any Arizona Cardinals in Week 13, everyone. Remember to get the players from those teams out of your lineups for this weekend!
In case you have any questions or want to check something at a moment's notice, I am including this section of the email every week. While you are checking out all things FFPC for the 2022 season, consider this your guide:
Thanks for reading, everyone! Don't forget to join the Week 13 FFPC Weekly Challenge now!

See you on The High Stakes Fantasy Football Show on the Bettor Sports Network with Broto Fantasy's Matt Ward tonight!


Sincerely,

Eric Balkman
The Fantasy Football Players Championship
www.myFFPC.com