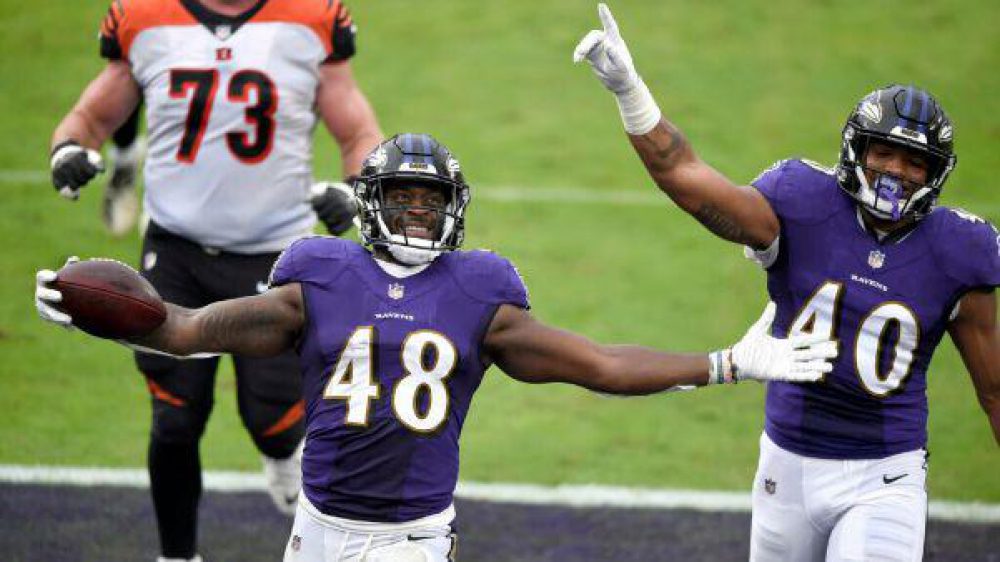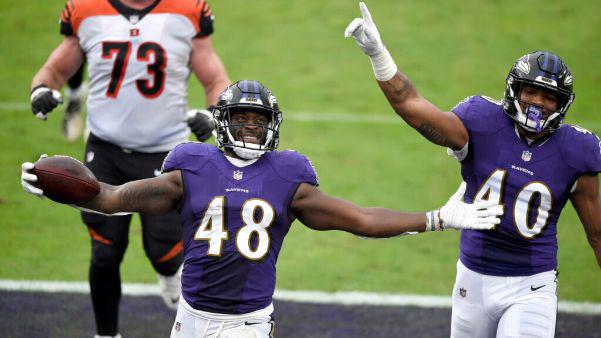 After a 179.65 Week 5 score, John Laskowski and Christian "Barney" Newkirk have taken over the top spot in the 2020 FFPC Main Event. Leading the way was the Ravens defense's 27 (thanks to Patrick Queen, pictured above, scoop'n'score), Teddy Bridgewater's 23.95, Jonnu Smith's 23.5, Calvin Ridley's 21.6 and CeeDee Lamb's 20.4. Oren Katz's RunHitSports entry has moved into second place, fewer than four points off the pace with Juan Acosta's PowerSpy slipping to third.

Against the Machine, run by Noah Ruddell, moved up one spot to fourth place after five weeks of action with Darren Hill's Country Gramma ascending to fifth place. The top 20 teams on the Main Event leader board are listed below:
Romosexuals 1 Ski & Barn Dawg 930.85
RunHotSports RunHotSports 926.9
PowerSpy jacosta2024 922.2
Against the Machine Arkangel 901.4
Country Gramma ChiefD 899.7
Super Powers HenryMuto 894.7
The Diesel Hugs 893.5
Vince Papale Ajsports 893.35
Pop-Up Peekaboo RockMachine 890.95
Powerball ABQ Yosemite 890.3
The Huskies BrianPak 888.35
Montezuma's Revenge XVX dson4224 887
Esquires(2) bo berman 884.8
Laces Out DannyGipx 880.3
Mikie Likes It 2 Ski & Barn Dawg 880.1
Beckett RBeckett12 878.4
Death Dealers Death_Dealers 876.45
Nowornever2 francoven 872.35
Skidellas On Fumes MikeFor 870.55
MarvinGarden RockMachine 870.05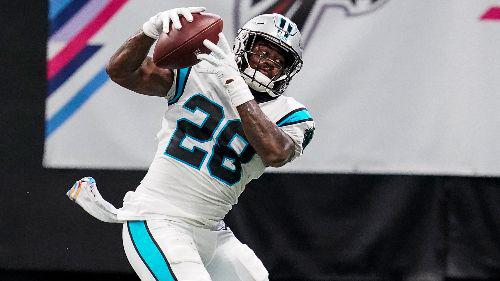 The Besiktas squad, managed by Adam Greenberg, now sits on top of more than 10,000 other teams in the 2020 Footballguys Players Championship. Mike Davis (29.9), the Ravens defense and Darius Slayton (20.9) were the heavy lifters for Greenberg as he now is in first place by 2.5 points over last week's leader, Ryan Gyorkos.

Kenny Griffin's KGZ04 shot up five spots to third with Sal's Spaghetti Revolution, owned by Christopher Condrus, moving three spots up into fourth. Rounding out the top five is Derek Magnusson's squad that fell one spot to fifth. Check out the top 40 teams in the competition going into Week 6 below:
Besiktas asgskin 948.8
Ryan rcgyorkos 946.3
KGZ04 Kg1584 936.4
Sal's Spaghetti Revolution condrus87 933.85
COVID COWBOY5 Magazuma 933.4
MR78 jblegget 931.7
#6 seattletothebigbowl 929.5
FPC2 RV16! 927.2
805 Ballers (12) travscrub10 924.5
Da Gildz Won Time!! 13 Uncle Leo 919.4
Blue Balls Tito3033 913.1
BigDeal FPC BigDeal8 912.8
GOATS JAZZ 911.1
falsehope falsehope 910.65
NC0904 newwave 907.45
NTFreight NateTheFreight 906.5
doubledown joshfalcone 905.65
Rule Football Team Andyrule 905.05
Hot lips Chitownbully 904.8
3503 jenckes.m@aol.com 902.85
Danny Dimes LuckyLucas 902.3
Triple H Team Of Genius DH22 901.65
Patriot Vincenzo 900.5
GUINNESS MAN 2 MyronK 900.2
Trigger Warning #2 Hmetsfan11 899.3
Diamond Miners Diamond Miners 899.25
7th Floor Crew-Shit Cowboys trojangrant 897.5
Big Ern McCracken Jimmercans 897.4
wegonwinffpc68 skywalka2001 897.35
Da Gildz Won Time!! 18 Uncle Leo 895.9
d/\/\c 1 DanielFra 894.6
dkappes dkappes 894.2
fuhransahis fuhransahis 894.2
Fairways & Greens FPC XXV halliam1114 893.6
Free Free MayerIsDead2Me 893.6
MOB GaryWhale 893.2
Da Gildz Won Time!! 22 Uncle Leo 892.4
JPA JPA 892.3
LETS DO IT RockMachine 892.3
Cam Newton Chi Town 891.6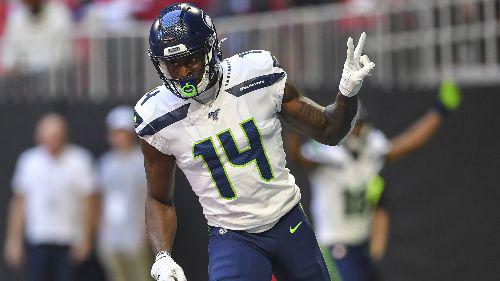 DK Metcalf and the rest of the Seahawks will peace out this week, and three other teams will join them on a week off. Remember to bench your Chargers, Raiders and Saints as well, and get replacements for them from your bench or in the waiver wire run tonight or Sunday morning.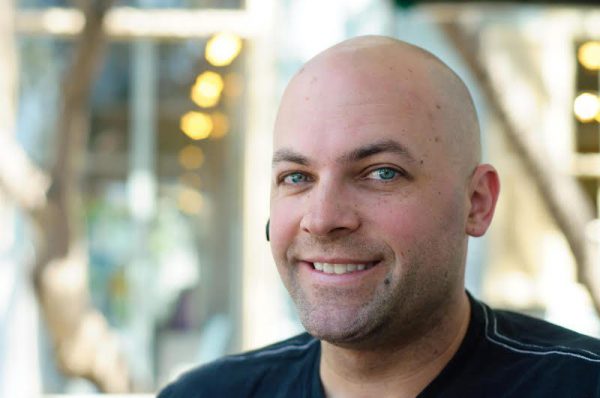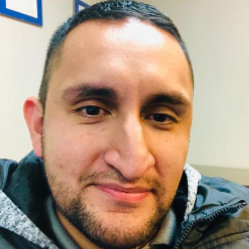 On the latest Rotoviz Radio's The High-Stakes Lowdown podcast, I speak with $40,000 FFPC high stakes career winner and 11th place Main Event team owner Brian Pakulla. In this episode, we break down the slow rise of Austin Hooper, the new-look Cowboys offense, Travis Fulghum's breakout and much more.
You can check out a new episode of The High-Stakes Lowdown every Thursday during the NFL season on Rotoviz.com and Apple Podcasts. I'd also encourage you to check out all of the other great podcasts that Rotoviz Radio has to offer, too.

Then on Friday, yours truly and Ferrell Elliott talk to the Week 5 third-place team owner in the 2020 Fantasy Football Players Championship (FFPC) Main Event Juan Acosta. Plus, we'll help you out with all of your tough start/sit decisions in the 2020 Footballguys Players Championship and much more. As always, we also answer your calls, tweets, emails and more all on The High Stakes Fantasy Football Hour!

The High Stakes Fantasy Football Hour normally airs Friday nights at 10/9c, and the next episode can be heard here. You can hang out with the high stakes players in the show's chat room if you want to listen live. You can also access full on-demand streaming available for listening anytime via a variety of apps including the HSFF Hour website, Apple Podcasts, Spotify, Google Podcasts, Amazon Alexa, Stitcher Radio, TuneIn Radio, Spreaker, Podchaser, Audioburst, Breaker, Castbox, Overcast, PodBean, Pocket Casts, Radio Public, Podcast Addict and Anchor on your iPhone or Android device as well.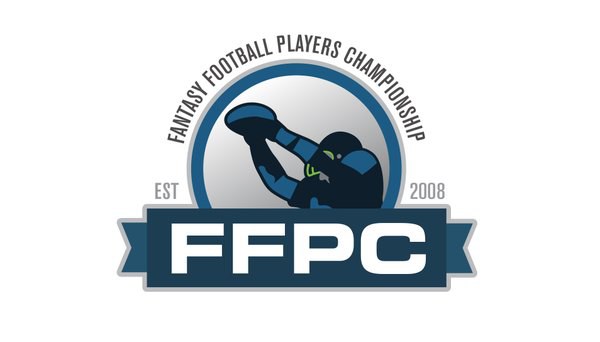 In case you have any questions or want to check something at a moment's notice, I am including this section of the email every week. While you are enjoying the 2020 season, consider this your guide to all things FFPC:
Best of luck in your bidding tonight and Sunday morning, players, and may the ball bounce your way this weekend! I'll see you in the show chat room with Ferrell Elliott on Friday night!

Sincerely,

Eric Balkman
The Fantasy Football Players Championship
www.myFFPC.com