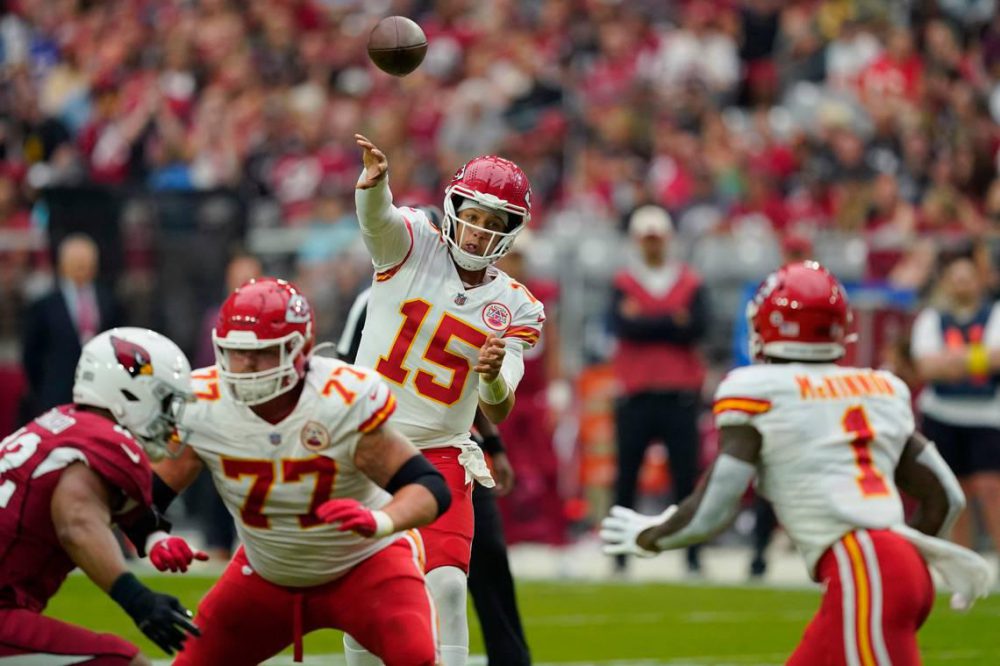 (Photo: Kansas City Star)
Dingers--owned by Gardner Parker--is ahead of nearly 4,000 other teams in the 2022 FFPC Main Event after one week of play. Thanks to huge performances by Patrick Mahomes (38.5), Saquon Barkley (33.4), Travis Kelce (30.1), Michael Thomas (22.7) and Cordarrelle Patterson (22.6), Parker leads second-place KB5 (run by Kevin Birck) by 6.85 points.

Jeremiah Nemeth's TenaciousJosh entry places third going into Week 2 with Steve Schuster's joker2305 less than seven points behind in fourth. SM5, which features Mike Tomlin as its owner--is nearly within 20 points behind the overall leader Parker.
For a look at the top 20 teams in the Main Event, check out the list below:
Dingers FGar 219
KB5 Kbirck 212.15
TenaciousJosh TenaciousAF 205.55
joker2305-ME2 BORDERLANDBOMBERS 199.2
SM5 MikeTom1 198.9
JBs MichaelWar 198.35
Many Men Louis1076 196.5
Kraft s Day Spa EmporioAmato 196.15
Taco Destroyer mschranz 194.6
¡LeedsCarajo!M2 LeedsCarajo 194.6
Fairways & Greens Main XX Mcdavid97 194.35
FightinGeorgies DubPword 193.2
No Mediocre ME #4 9/7 Pick 3 wmcmillar 193.05
Quantified Karma 2 algubi 193
Money 47 SuperDuper 192.75
Full of BS 11 wshanahan17 191.9
Ron Dayne Tchure 191.8
FALMMDB2 JeremyWien 190.75
Spicy Weissy 2 EWeiss 190.65
FALMMDB JeremyWien 190.1
(Photo: Penn Live)
On top of nearly 15,000 other teams heading into Week 2 of the 2022 Footballguys Players Championship is Marc Liberman's THE SUN GOD with a 214.45 Week 1 score. Leading the way for Liberman were Barkley, Stefon Diggs' 26.2, A.J. Brown's 25.5, Lamar Jackson's 23.35, Kareem Hunt's 23 and Patterson.
Why Not Us?, managed by gregg baruch, is in second place, just 1.1 points off the pace with David Petrie's Fantasy By Committee sitting in third. Sir Lingus, which is owned by Keanu Darby, is fewer than five points off the pace in fourth and Mark Charnot's John Madden's Godfather rounds out the opening week top five teams with a 206.3 tally.
Here is the list of the top-40 teams in the FPC after a week of play:
THE SUN GOD Bubbs1 214.45
Why Not Us? greggy 214.35
Fantasy By Committee2 DPetrie 212
Sir Lingus Darbs6 210.3
John Madden's Godfather Playmakers54 206.3
SaiGonz LEON23 205.95
MD mjd 204.95
Remedial Geek 8/31 Remedial Geek 204.45
TopDawgs FPC VI jcox17 204.35
Granny's Closet thielo21 203.9
Wasted Talent itsjustbasil 203.4
Steelers Rule Cvanson 203.3
Rocksteady Rastas Rocksteady Rastas 203.3
Brady Gaga kvmch05 202.75
Jad05 jad01 202.7
TheDeej - FBG 1 TheDeej 202.65
The Dream Team IV Blazers848 202
OCCUPY MARS T-Bone 201.5
Ticallion20 Ticallion20 201.4
Bear Market Rally - 2 Chi Town 201
Grinders troyklauder 200.75
Millborn FBG rmillitch 200
Jeff #2 PhillySpecial25 199.75
Straight Cash Homey! MatthewStex 199.1
Sex Panther 8/10 jberry47 199.1
Breakmaster: B DevDonDynasty 199.05
ADA3 MOON 3WM 199.05
Underdog #2 runderman 197.8
Dreaming of Sundays PrimetimeAndyDalton 197.45
Zero Zero 197.1
Jad12 jad01 197
Allentown II Lupe Fiasco 196.55
ClutchLikeSchelly FPC 8.5.2022 AMSchellenberg 196.35
BDTCMPBA3 TravisVegas09 196.3
Which Hour GoodFunk 196.1
Slurricane thielo21 196
Trolls Rules NorTroll 195.8
Da Gildz WonTime 13Time!!!!!!!!!!!!! Hello Deah 195.75
Revenge of Tony Soprano thielo21 195.6
Baba Yaga Viking_4_Life 195.45
(Photo: New York Times)
The FFPC's 2022 Terminator Tournament is off and running with Dave Asrani's Redshirted Terminator beating out the other 383 teams at the moment with big-time Week 1 performances like Josh Allen's 36.45, Davante Adams' 30.1, Diggs, Brown, the Pittsburgh Steelers' 23 and Dontrell Hilliard's 21.9 leading him to a 228.85 opening weekend tally. I--managed by Scott Schonewolf--and Vince Staffilino's VSBM are close behind in second and third place respectively.

Check out the top 10 teams in this contest at the list below:
Redshirted Terminator VII DAVEAsr 228.85
l drwolf50 216.1
VSBM (V-2) vcstaff 212.3
One Pride KurtisHom 211.1
Rachaar Trm1 Rachaar 210.65
Let's Go Aces kickinbass 208.9
Big Bear jd442211 206.05
VSBM (B-3) Bipcoin 205.65
Fish4$25KTT MHaddock 203.75
EndTimes2 EndTimes 203.25
Tomorrow night at 10/9c, yours truly and Kentucky Fantasy Football State Championship commissioner Ferrell Elliott return live on YouTube, Twitter and Facebook with analysis on the first week of the Fantasy Football Players Championship (FFPC) Main Event and Footballguys Players Championship. Plus, we'll let you know how things are starting off in 2022 FFPC Best Ball Drafts, 2022 FFPC Dynasty Leagues, the 2022 FFPC Best Ball Tournament and the three FFPC Superflex Best Ball Tournaments. As always, we answer your tweets, emails and more all on The High Stakes Fantasy Football Hour!
The High Stakes Fantasy Football Hour normally airs live on the FFPC's YouTube channel, Twitter and Facebook on Friday nights at 10/9c. You can hang out with the high stakes players in the show's chat room if you want to watch live. You can also access full, on-demand streaming available for listening anytime via a variety of apps, streaming services, podcast networks and web sites including (but not limited to) the High Stakes Fantasy Football Hour website, Apple Podcasts, Spotify, Amazon Music, Audible, iHeartRadio, Google Podcasts, Amazon Alexa, Stitcher Radio, TuneIn Radio, Spreaker, Deezer, Vurbl, Podchaser, Audioburst, Blog Talk Radio, JioSaavn, Gaana, Breaker, Castbox, Overcast, PodBean, Pocket Casts, Radio Public, Podcast Addict and Anchor on your iPhone or Android device as well.
(Photo - Fantasy Pros)
What a Week 1 it was, players! Now it's time to improve your rosters with potential difference-makers like Jeff Wilson. This is your friendly reminder that all FFPC Main Event, Footballguys Players Championship, Classic, Victory Point, Dynasty and other managed leagues had waivers last night, but a second weekly waiver period processes on Sunday morning at 10 am ET.
IMPORTANT: You can only get one player per bid group. Once you get a player in that group, all other bids are voided. If you want to get multiple players, you will need multiple bid groups and multiple players to drop.
If you have multiple teams, please handle bidding with a single team in a single browser for now.
Every team has $1,000 bidding dollars to spend. This needs to last for the entire season.
There are no $0 bids, so please bid $1 or more.
To place bids:
From the league home page, click on TEAM. You will see the Bid Groups section on your Set Lineup page.
You can click on the 'Create Bid Group' button on the Set Lineup page to create a new group. From there you simply need to 1) add the player(s) to the group, 2) specify the bid amount for each player, 3) select the players to drop and 4) click Save.
Bid groups can be copied and then edited as a new group.
Bid amounts can be edited quickly and easily.
Players are default sorted by previous season stats and can be sorted by position.
Don't forget to include a player to drop in every bidding group.
Find a Free Agent Feature on MyTeams Page:
If you are looking for a certain free agent, you can use the player search feature on the MyTeams page and it will tell you if he is rostered or not and who owns him. This is helpful for owners that have multiple teams and are looking for a priority free agent.
In case you have any questions or want to check something at a moment's notice, I am including this section of the email every week. While you are checking out all things FFPC for the 2022 season, consider this your guide:
Thanks for reading, everyone! Enjoy the game on Amazon Prime tonight, and I'll see you on YouTube tomorrow evening!


Sincerely,

Eric Balkman
The Fantasy Football Players Championship
www.myFFPC.com