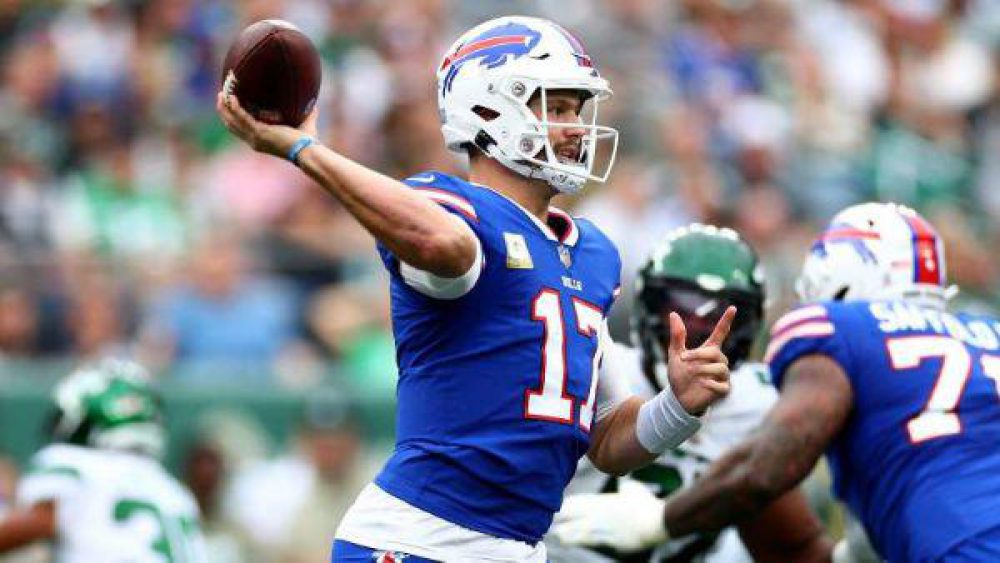 (Photo: Heavy.com)
For the fourth consecutive week in the 2022 FFPC Main Event, Jeff Antley's JMA 33 is in first place overall, thanks in part to great Week 9 scores from Josh Allen (28.85), Tyreek Hill (27.3), Cooper Kupp (26.8) and T.J. Hockenson (20.5). Antley is now ahead of Giuseppe Liantonio's Amish Rake Fight by 13.6 points.

Chad Schroeder's Cocktails & Dreams fell one spot to third place with Jerimie Slick's Scared Money shooting up four spots into the fourth slot. Rounding out this week's top five for the second week in a row is Alex Elkins and Gardner Parker's Dingers, which is within 50 points of the overall lead.

For a look at the top 20 teams in the Main Event, check out the list below:
JMA 33 PAE33 1496.15
Amish Rake Fight X9 GiuseppeLia 1482.55
Cocktails & Dreams Chadsch23 1460.45
Scared Money Elcero 1453.3
Dingers FGar 1452.85
M10.1 RV16 1437.95
ACEHOLE blakeyb45 1437.8
Bravo Goose Sand Phantom 1437.7
BG BradInTheGreenZone 1434.5
¡LeedsCarajo!M2 LeedsCarajo 1434.2
Fat Frankie Inc Main11 johnpierce80 1432.95
Bionic Bob bobBio 1432.75
Asian Merchants albcool 1432.65
RumHorse II robabb4 1431
#D'Naughty - Main JohnnyD32 1427.5
Fairways & Greens Main III Mcdavid97 1426.5
Victory (ME #1) Ralph Barba 1423.4
FXBOYS OTBANDIT222 1420.9
Lombardi Time (J) DannyMueller 1420.3
To the Cloud TNTS 1417.85
(Photo: Fox News)
For a fourth straight week in the 2022 Footballguys Players Championship, John Rahilly's Out of Position is in the overall lead because of his Week 8 166 score. Rahilly's score was enhanced by Davante Adams' 36.6 and Joe Burrow's 21.2.

Dr WHOa--run by Stephen Ranaghan (who you watched on the RotoViz High-Stakes Lowdown last night) moved up two spots into third with Brian Jurvelin shooting up eight slots into fourth place. Completing this week's top five squads is Rob Sussman's Slingblade that came out of nowhere to being within 40 points out of the overall lead.

Here is the list of the top-40 teams in the FPC after nine weeks of play:
Out of Position rahraw 1525.75
blah TheCiscoKid 1519.05
Dr WHOa UrbanM 1518.85
Jurv 7 Jurvillain 1488.65
Slingblade 2 Slingblade 1487.4
Canton Bro's Lux D 1487
Derz6 DerzDarls 1480.3
Line of Scrimmage lineofscrimmage 1478.9
Villains Eddieecheverria 1478.15
theEllieLouCrew greggy 1473.1
Marty's Dance Quintet efeeneyx 1470.9
ATAC 6 ATAC1 1469.7
Papa Dox 18 coreydox 1469.45
Mike St. Mehrdadstlouis 1467.9
Hills Hurt CG23 1466.5
Hairball Hairball15 1466.3
A Swift Chubb Ertz (8) NCBEAST 1465.9
skippy The Magnificent ChuckVai 1459.45
Inferno Infernokoi 1458.75
Foosball 21 Foosball 1458.5
Smokin' Joes joevangogh 1457.95
Rallycap 1 Nick Chianese 1457.5
timgod99 timgod99 1456.4
INVADER DevDonDynasty 1454.1
PPFB_Alpha MareonHym 1454.05
Sniper sghammer17 1453.1
JUST JOSH'n RHAMONDRE ChrisLej 1451.6
Pink Stripes Mr. Eric 1450.65
Gulag's Finest GulagsFinest 1450.5
Code Monkey codemonkey 1450.05
Serrano's got the discs TacosFTW 1449.55
The Dream Team IV Blazers848 1449.35
Big dik Daddy from the Natti MMATAMDREDEMPTION 1448.9
Ludvig Von Seal likes to party! KyleLeith 1445.5
DCM Flowdy Pot DavidDeR 1444.95
Two Derps Dgreco 1444.7
Toyota World Sales Rlevy1991 1444.4
4sup8WT6 4sup 1443.3
Cristiano Ronaldo ZP100 1442.95
Fore Right Foreright 1442.15
(Photo: Cincinnati City Beat)
Joe Mixon's 55.1 led Albert Chapman's Geckos in scoring in Week 9 so that it could maintain its overall lead in the $3,000-entry Varsity #1 league. Chapman also got 39.6 from Patrick Mahomes and 28 from Dallas Goedert as well. He currently leads the second-place Modo Hogo owned by Robert Hoog by 25.3 points.

Over in the Varsity #2 league, GVSU (run by Jack Haan) got great scores from Goedert, Kenneth Walker (27.9) and Jalen Hurts (23.45) to get out in front of David Corman's JarCo by 35 points.

And in Varsity #3, John Pierce's Fat Frankie Inc was led by Hill, Kupp and Hurts en route to a 152.55 score in Week 9. Pierce's squad now leads Oliver's Dawoud's Miss New Booty by 15.95 points heading into Week 10.

The winners of each of these total points leagues will pocket separate $20,000 first-place prizes for their efforts.
Check out The High Stakes Fantasy Football Show on the Bettor Sports Network tonight at 10/9c. Yours truly and a rotating guest host chop it up each and every Wednesday until midnight, taking you through all the issues high stakes players are facing, as well as your first look at the waiver wire results each season.

Tonight, I'm joined by Josh Hayes from Rotoballer, and while you can watch us live on both YouTube, Twitter and Facebook, I would STRONGLY encourage you to download the app so you can participate in the show and--most importantly--take advantage of all the great giveaways we've offered to viewers so far, including--but not limited to--signed jerseys from both retired and current pro sports superstars.
Download the Bettor Sports Network Apps Below:
Don't miss out on winning this week in the FFPC Weekly Challenge, players! There's no draft or salary cap: Just choose 10 or 12 players by Sunday's kickoff and watch them ride all the way through the weekend's games. But remember, you can only pick ONE player per NFL team!

Want to get your 2023 fantasy season off to a great start? Then play the $200 FFPC Weekly Challenge (10 teams) in both classic and/or slim versions. These are 'winner-take-all' 10-team contests with the winner receiving a 2023 FFPC Main Event credit!

The cost is $35 or $200 to enter in these 30- and 100-team contests. Play the classic format with kickers and defenses or the slim format that does not have them. You may enter up to three times in each 30-team contest or five times in each 100-team contest. Here's what's available this week:
| LEAGUE | OPENINGS | ENTRY | PRIZES | RDS | DEADLINE | |
| --- | --- | --- | --- | --- | --- | --- |
| Weekly Challenge #48871 | 18 of 30 | $35 | $910 | 12 | Sunday 1:00pm ET | |
| Weekly Challenge Slim #48870 | 16 of 30 | $35 | $910 | 10 | Sunday 1:00pm ET | |
| Weekly Challenge Slim #48869 | 80 of 100 | $35 | $3,035 | 10 | Sunday 1:00pm ET | |
| Weekly Challenge Slim #48868 | 9 of 10 | $200 | $2,000 | 10 | Sunday 1:00pm ET | |
(Photo: Baltimore Sun)
Say goodbye to Lamar Jackson, players (at least for Week 10 anyway). In addition to the Ravens, the Bengals, Patriots and Jets all get the week off. Get the players from those teams out of your lineups for Week 10. Remember, you'll have the waiver wire run tonight and Sunday morning to fix those lineup holes. Good luck!
In case you have any questions or want to check something at a moment's notice, I am including this section of the email every week. While you are checking out all things FFPC for the 2022 season, consider this your guide:
Thanks for reading, everyone! Don't forget to join the Week 10 FFPC Weekly Challenge now!

See you on The High Stakes Fantasy Football Show on the Bettor Sports Network with Rotoballer's Josh Hayes tonight!


Sincerely,

Eric Balkman
The Fantasy Football Players Championship
www.myFFPC.com