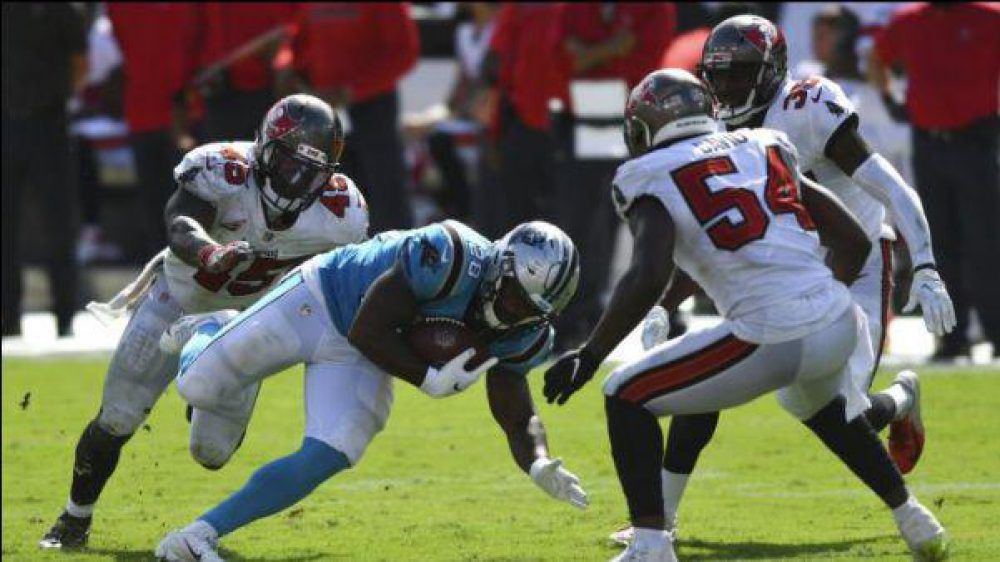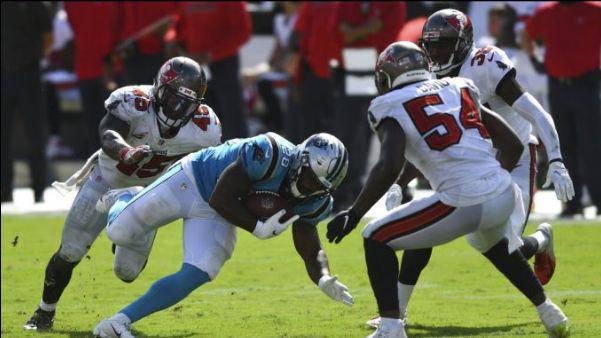 After a huge Week 2, remember to make those precious changes to your rosters, players! This is a friendly reminder that all FFPC Main Event, Footballguys Players Championship, Classic, Victory Point, Dynasty and other managed leagues have waivers tonight, Wednesday, September 23rd at 10 p.m. ET. A second weekly waiver period processes on Friday night at 10 p.m. ET.
IMPORTANT: You can only get one player per bid group. Once you get a player in that group, all other bids are voided. If you want to get multiple players, you will need multiple bid groups and multiple players to drop.
If you have multiple teams, please handle bidding with a single team in a single browser for now.
Every team has $1,000 bidding dollars to spend. This needs to last for the entire season.
There are no $0 bids, so please bid $1 or more.
To place bids:
From the league home page, click on TEAM. You will see the Bid Groups section on your Set Lineup page.
You can click on the 'Create Bid Group' button on the Set Lineup page to create a new group. From there you simply need to 1) add the player(s) to the group, 2) specify the bid amount for each player, 3) select the players to drop and 4) click Save.
Bid groups can be copied and then edited as a new group.
Bid amounts can be edited quickly and easily.
Players are default sorted by previous season stats and can be sorted by position.
Don't forget to include a player to drop in every bidding group.
Find a Free Agent Feature on MyTeams Page
If you are looking for a certain free agent, you can use the player search feature on the MyTeams page and it will tell you if he is rostered or not and who owns him. This is helpful for owners that have multiple teams and are looking for a priority free agent.
Waivers Open on Sundays at 9 a.m.
Players will be able to place waiver bids for the following week starting Sunday morning at 9 a.m. ET.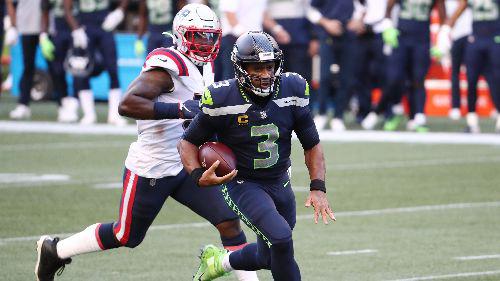 After two weeks of action in the 2020 Footballguys Players Championship, Michael Thomas' (no not THAT Michael Thomas) Number Crunchers sit atop everyone else after a huge 227.2 score. Aaron Jones (45.6), Alvin Kamara (38.4), Russell Wilson (37.3) and Calvin Ridley (29.9) led the way as Thomas now leads GUINNESS MAN--owned by Myron Kreitzer by 12.75 points.

Derek Magnusson's COVID COWBOYS sit in third place, less than two points behind Kreitzer. MarissChris, which is run by Dave Martino, places fourth currently with Andrew Geller's Da Gildz Won Time!! rounding out this week's top five squads.
Here is the list of the top-40 teams in the FPC heading into Week 3:
NC0904 newwave 432.8
GUINNESS MAN 2 MyronK 420.05
COVID COWBOY5 Magazuma 418.2
MarissChris OL19 DavidMar 415
Da Gildz Won Time!! 13 Uncle Leo 414.2
Ryan rcgyorkos 414.15
Diamond Miners Diamond Miners 412.65
Da Gildz Won Time!! 18 Uncle Leo 411.2
Be like Mike Tejas.B 410.85
VROSE IO FBG 6 @FFLINX 410.3
Pissed Off For Greatness vinuba 408.45
Big Blue Wrecking Crew II JohnJr 408.4
Sal's Spaghetti Revolution condrus87 407.85
Kamaracan Know-how MALLONS InVADERS 406.65
yosemite s. watkins Yosemite 406.6
Red Zone AJ Jones 5 BiggaFish 405.65
KGZ04 Kg1584 402.3
2020 LLL Rocky 400
Hurricane Shuffles I cgeeeeee 399.95
Gucci Desperados 5 armart 399.45
Ball Out 11 bshamy 399.4
Eldy & Sons 2 Yutronkov 399.15
odb22 odabashian 398.6
The Minotians LetterLickers 397
Rambling Runts 616 jrl2002 396.6
Modo Hogo III ModoHogo 396.45
MylesSmash21 soccer7mp 395.8
See What Happens 12 Skahler 394
Blue Balls Tito3033 393.8
1st RespondersLivesMatter VLPK3800 393
MJ the GOAT Tejas.B 392.95
See What Happens 7 armart 392.6
falsehope falsehope 392.2
Taylor last dancer 23 392.2
Sow Hair 9 armart 391.45
Hurricane Shuffles VI cgeeeeee 391.1
I Lockett A Lot ghaas19 389.9
JoeBuckYourself 1 ToddHop 389.75
Infinity DanWilx 389.7
Trojans69 Trojans69 388.85
19252 cjm954 388.85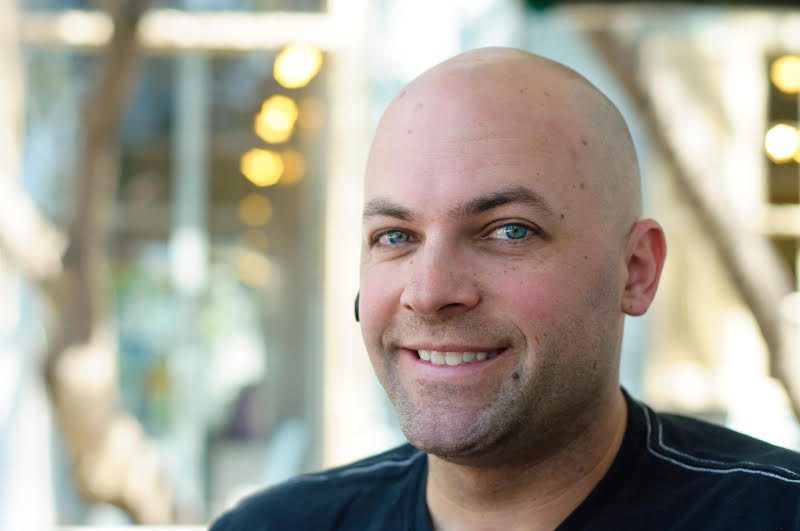 Brian Pakulla's Huskies Tallied a phenomenal 260.8 in Week 2 to shoot him to the top of the 2020 FFPC Main Event, more than 20 points ahead of Ryan Barker's CeceFrijoles squad. Dak Prescott's 46.3, Jones, Kamara, Tyler Higbee's 30.9, Ridley, and Mike Evans' 23.4 were huge in getting Pakulla to the top after two weeks of football.

Fat Frankie Inc, managed by John Pierce, ascended one spot to third with Noah Ruddell's Against the Machine moving up to fourth. John Laskowski's entry also moved up into the top five this week as we move to Week 3 in the FFPC season this weekend.
For a look at the top 20 teams in the Main Event, check out the list below:
The Huskies BrianPak 429.2
CeceFrijoles rbarker 407.5
Fat Frankie Inc Main2 johnpierce80 404.05
Against the Machine Arkangel 401.1
Romosexuals 1 JohnLas 394.85
Pop-Up Peekaboo RockMachine 392.95
Spartan Dawgs Norm09 392.15
Boomtown Dukers paramedic151 390.55
Blitzers 7 DannyMueller 388.8
Alternative Stats Albert Chapman 386.65
MFS Gotime623 386.4
DJ 2020 ME FFPC djeschke1 386.35
Smokin Trees joevangogh 385.35
EmporioAmato EmporioAmato 384.7
Blue on Black DanSei 382.6
wegonwinffpcMain6 skywalka2001 382.3
Do It That Way Userrabble 381.8
RunHotSports RunHotSports 381.7
Q Arodder2003 381.3
Redzone Too CraigMag 381.15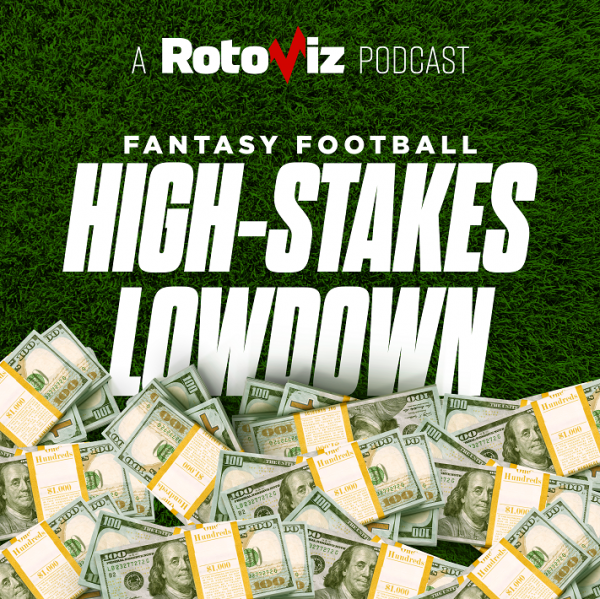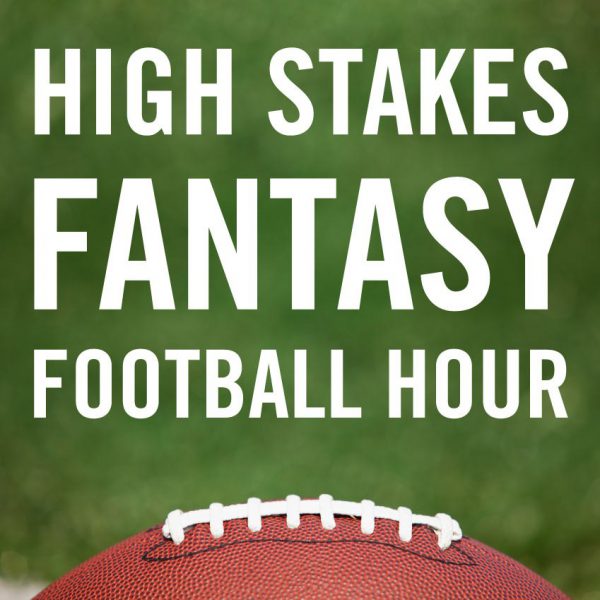 On the latest Rotoviz Radio's The High-Stakes Lowdown podcast, I speak with longtime FFPC high stakes veteran Mike Foresta. In this episode, we discuss the new backfields in New York and Carolina as well as who he will be targeting on the waiver wire to improve his squads this week.
You can check out a new episode of The High-Stakes Lowdown every Thursday morning during the NFL season on Rotoviz.com and Apple Podcasts. I'd also encourage you to check out all of the other great podcasts that Rotoviz Radio has to offer, too.

Then on Friday, yours truly and David A. Gerczak interview 2020 Footballguys Players Championship leader Michael Thomas about how he has managed his team to the top of nearly 11,000 other teams. We'll have some analysis on the Fantasy Football Players Championship (FFPC) Main Event and a huge announcement on the future of the show. As always, we also answer your calls, tweets, emails and more all on The High Stakes Fantasy Football Hour!

The High Stakes Fantasy Football Hour normally airs Friday nights at 10/9c, and the next episode can be heard here. You can hang out with the high stakes players in the show's chat room if you want to listen live. You can also access full on-demand streaming available for listening anytime via a variety of apps including the HSFF Hour website, Apple Podcasts, Spotify, Google Podcasts, Amazon Alexa, Stitcher Radio, TuneIn Radio, Spreaker, Podchaser, Audioburst, Breaker, Castbox, Overcast, PodBean, Pocket Casts, Radio Public, Podcast Addict and Anchor on your iPhone or Android device as well.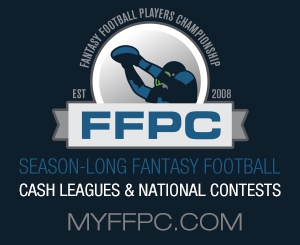 In case you have any questions or want to check something at a moment's notice, I am including this section of the email every week. While you are enjoying the 2020 season, consider this your guide to all things FFPC:
Sincerely,
Eric Balkman
The Fantasy Football Players Championship
www.myFFPC.com