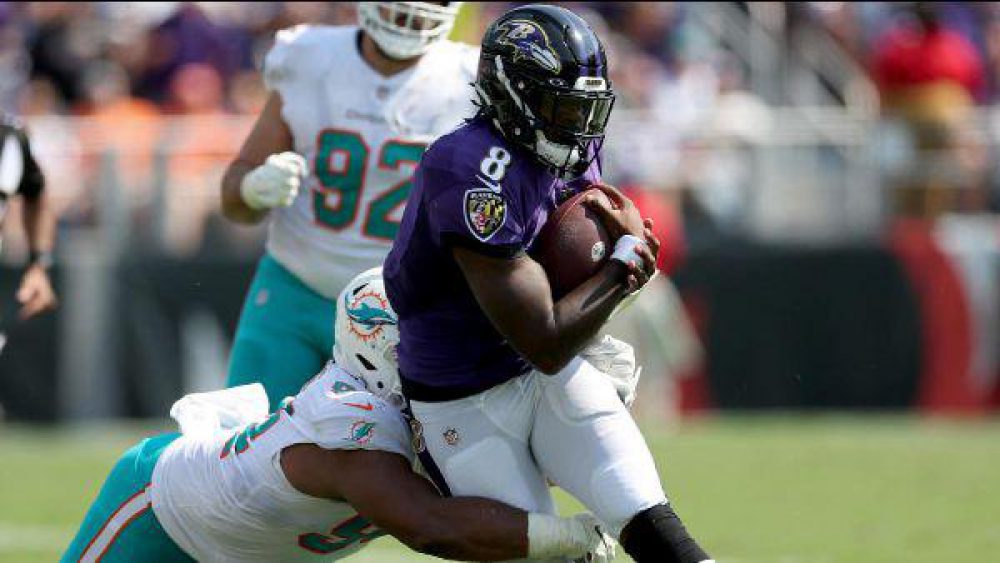 (Photo: Republic News USA)
Summer Pond Pudding--owned by Brad Liska--ascended into first place in the 2022 FFPC Main Event heading into Week 3. Thanks to massive performances by Lamar Jackson (45.8), Stefon Diggs (44.8), Jaylen Waddle (40.1), Amon-Ra St. Brown (39.4) and Mark Andrews (30.2), Liska leads second-place Diggs & Balls (run by Biplab Mandal) by 14.3 points.

Greg Link's Legion of Doom entry places third after two weeks of play with David Hubbard's Money 47 less than three points behind him in fourth. Booyakasha, which features Andre Bourque as its owner--is nearly within 25 points behind the overall leader Liska.
For a look at the top 20 teams in the Main Event, check out the list below:
Summer Pond Pudding Ham Sandwich 408.25
Diggs & Balls Bipcoin 393.95
Legion of Doom cobrakyan 391.85
Money 47 SuperDuper 389.2
Booyakasha3 booyakasha007 385.55
Gentlemen of Leisure CHus 382.05
Frying Pan Inc. 7 Foosball 379.85
Schlep Patrol Margrave 378.9
ME TM travscrub10 378.75
Alexandra the Great 9 Michael Gionet 377.7
Asian Merchants albcool 377.7
LORD KRATOS MrAnonymous 376.9
Team Destructo krobinson98 375.65
The Goose is Loose The Goose is Loose 375.05
Lucky 8's Michael Gionet 373.95
Wait For It.... #2 Older Budweiser 373.3
Ezzell Brothers 6 Bill Ezzell 372.55
THE ACCOUNTANT I The Accountant 372.4
TenaciousJosh TenaciousAF 372.1
Forza jbt828 372
(Photo: Sportsnaut)
Despite rolling the dice and coming up short with Gabe Davis being active in his lineup on Monday night, Ryan Shaugnessy still tallied a 235.55 in Week 2 to take first place in the 2022 Footballguys Players Championship heading into Week 3. Shaugnessy's score was boosted by Diggs, Waddle, St. Brown, Josh Allen's 32.85 and Andrews.
TopDawgs, managed by Jamey Cox, is in second place, just 3.5 points off the pace with Frank LaPrade's MoreCowbell sitting in third. The Deej, which is owned by Deej Wilson, is fewer than 15 points off the pace in fourth. Steve Tansowny's Blizzard and Scott Harrison's No Ragrets are currently tied for fifth.
Here is the list of the top-40 teams in the FPC after two weeks of play:
FPC 1 shawnesty23 420.4
TopDawgs FPC VI jcox17 416.9
MoreCowbell Frank LaPrade 416.55
TheDeej - FBG 1 TheDeej 407.15
No Ragrets shbama 404.65
Blizzard Tanzy31 404.65
Prize Money Bandit XVII WilliamLeo 404.45
Wealthy Graveyards Rlevy1991 401.55
Sniper sghammer17 401.15
rwsnyd2 rwsnyd2 401.1
Trump SUCKS Michael Gionet 400.6
Killabzz killab2482 396.65
Girl Scout Saunter fbalb 394.85
Full MOON Fever Bubbs1 393.7
GOATS JAZZ 393.55
Kahler Martin nouseforffpc 390.75
Tomchiefs tomchief 390.65
Level 3 Offender 6FBG M8King Moves 389.95
KidFromCarrollton Riaz_FFPC 389.5
I Draft RBS Favorable02 389.3
WARCRAFT W/\RCR/\FT 388.8
Bills Mafia 5 Billsmafia12120 386.95
Mustafa's Will AndrewMil 386.95
Fat Frankie Inc FPC9 johnpierce80 386.6
Boca Juniors ciphasound 385.95
SaiGonz LEON23 385.9
bObOs-3 joestl 384.9
MASTRODAMUS 2 MASTRODAMUS 384.75
Steelers Rule Cvanson 384.65
2 @CrakRok 384.4
THE SUN GOD Bubbs1 384.05
FBG 4th pick JT_AJ 383.7
The Baryon Bros garryr2662 383.65
aaa wombat44 383.2
sioux89 Sioux89 382.8
To The MOONey Bubbs1 382.75
ADA3 MOON 3WM 382.5
Chasing the Helmet 2 Eagles1fan5 382.35
B&B III Blazers848 381.9
Grinders troyklauder 381.45
Mean Machine Jimmercans 381.45
(Photo - Fantasy Alarm)
Time to improve your rosters with potential difference-makers like Darrel Williams (above). This is your friendly reminder that all FFPC Main Event, Footballguys Players Championship, Classic, Victory Point, Dynasty and other managed leagues have waivers tonight with a 10pm deadline, but a second weekly waiver period processes on Sunday morning at 10 am ET.
IMPORTANT: You can only get one player per bid group. Once you get a player in that group, all other bids are voided. If you want to get multiple players, you will need multiple bid groups and multiple players to drop.
If you have multiple teams, please handle bidding with a single team in a single browser for now.
Every team has $1,000 bidding dollars to spend. This needs to last for the entire season.
There are no $0 bids, so please bid $1 or more.
To place bids:
From the league home page, click on TEAM. You will see the Bid Groups section on your Set Lineup page.
You can click on the 'Create Bid Group' button on the Set Lineup page to create a new group. From there you simply need to 1) add the player(s) to the group, 2) specify the bid amount for each player, 3) select the players to drop and 4) click Save.
Bid groups can be copied and then edited as a new group.
Bid amounts can be edited quickly and easily.
Players are default sorted by previous season stats and can be sorted by position.
Don't forget to include a player to drop in every bidding group.
Find a Free Agent Feature on MyTeams Page:
If you are looking for a certain free agent, you can use the player search feature on the MyTeams page and it will tell you if he is rostered or not and who owns him. This is helpful for owners that have multiple teams and are looking for a priority free agent.
In case you haven't caught the first few episodes, check out The High Stakes Fantasy Football Show on the Bettor Sports Network today. Yours truly and a rotating guest host chop it up each and every Wednesday from 10pm until midnight, taking you through all the issues high stakes players are facing, as well as your first look at the waiver wire results each season.

Tonight, I'm joined by Devin Knotts from Footballguys, and while you can watch us live on both YouTube and Twitter, I would STRONGLY encourage you to download the app so you can participate in the show and--most importantly--take advantage of all the great giveaways we've offered to viewers so far, including--but not limited to--signed jerseys from both retired and current NFL superstars.
Download the Bettor Sports Network Apps Below:
If you love our World Famous Playoff Challenge format, you will love this new contest that we call the FFPC Weekly Challenge that we just launched this week. There's no draft or salary cap: Just choose 10 or 12 players by Sunday's kickoff and watch them ride all the way through the weekend's games. But remember, you can only pick ONE player per NFL team!

The cost is $35 or $200 to enter, and you can win up to $10,000 in these 30- and 150-team contests. Play the classic format with kickers and defenses or the slim format that does not have them. You may enter up to three times in each 30-team contest or five times in each 150-team contest. Here's what's available this week:

LEAGUE
OPENINGS
ENTRY
PRIZES
RDS
DEADLINE
$35 Challenge #48773
16 of 30
$35
$910
12
Sunday 1p E
$35 Challenge Slim #48774
5 of 30
$35
$910
10
Sunday 1p E
$35 Challenge #48777
137 of 150
$35
$4,600
12
Sunday 1p E
$35 Challenge Slim #48778
130 of 150
$35
$4,600
10
Sunday 1p E
$200 Challenge Slim #48776
26 of 30
$200
$5,200
10
Sunday 1p E
$200 Challenge #48775
29 of 30
$200
$5,200
12
Sunday 1p E
$200 Challenge Slim #48780
150 of 150
$200
$26,350
10
Sunday 1p E
$200 Challenge #48779
150 of 150
$200
$26,350
12
Sunday 1p E

In case you have any questions or want to check something at a moment's notice, I am including this section of the email every week. While you are checking out all things FFPC for the 2022 season, consider this your guide:
(AP Photo: Nick Wass)
Thanks to huge games from Waddle, Jalen Hurts (37.35), Cooper Kupp (32.8), Aaron Jones (32) and Rashod Bateman (20.8), Chad Schroeder's Cocktails & Dreams is out to the early lead in the $3,000-entry Varsity #1 league. He currently leads the second-place OverClutchedOGs run by Theo Gremminger, Andrew Schellenberg and Dan Williamson 362.6-313.6.

And in the Varsity #2 league, the Fantasy Assassins (run by Brad Kruse) got a great score from Tyreek Hill (42) to get out in front of Albert Chapman's Geckos. After two weeks of play, Kruse leads second-place Chapman 310.85-307.25.

Finally, in Varsity #3, John Pierce's Fat Frankie Inc utilized the big scores of Hill, Hurts and Kupp to tally 317.1 points on the season. Schroeder's Cocktails & Dreams is in second place, fewer than nine points from taking the lead himself.

Varsity #1 and #2 drafts were held at Planet Hollywood in Las Vegas during the FFPC Live Events, while Varsity #3 was held online just before the live events commenced in Las Vegas. The winners of each of these total points leagues will pocket separate $20,000 first-place prizes for their efforts.
Thanks for reading, everyone! Don't forget to join the just-launched FFPC Weekly Challenge! See you on The High Stakes Fantasy Football Show on the Bettor Sports Network with Devin Knotts tonight!


Sincerely,

Eric Balkman
The Fantasy Football Players Championship
www.myFFPC.com