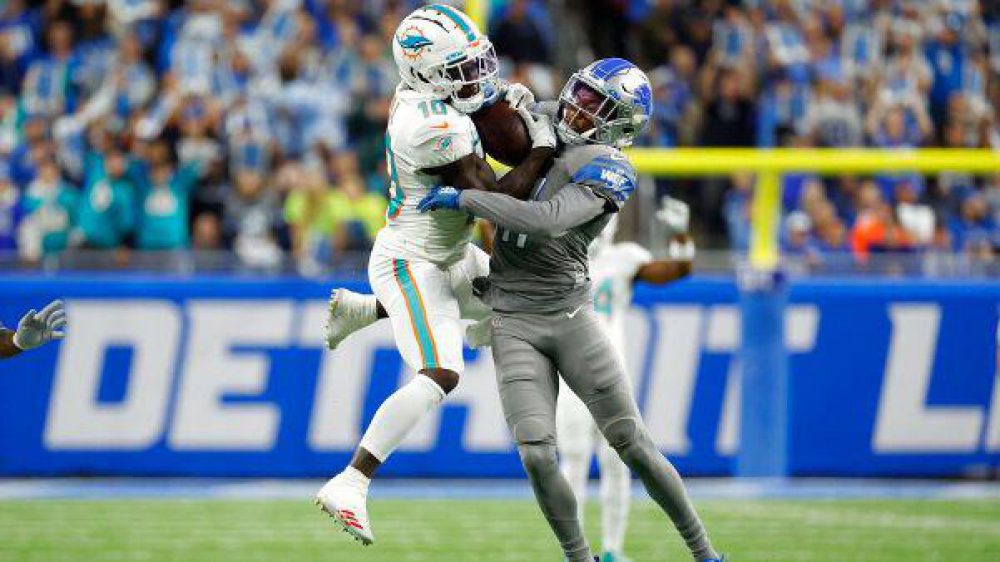 (Photo: AL.com)
For the third straight week in the 2022 FFPC Main Event, Jeff Antley's JMA 33 is in first place overall, thanks in part to big Week 8 scores from Tyreek Hill (31.5), Nick Chubb (25.4), Cooper Kupp (22.9), Josh Allen(21.8) and Rhamondre Stevenson (21.3). Antley is now ahead of Chad Schroeder's Cocktails & Dreams by 16.25 points.

Brad Levine's BG vaulted into third this past weekend with Danny Mueller and Jay Reid's Lombardi Time remaining in fourth place for the second week in a row. Rounding out this week's top five is Alex Elkins and Gardner Parker's Dingers, which is within 40 points of the overall lead.

For a look at the top 20 teams in the Main Event, check out the list below:
JMA 33 PAE33 1325.9
Cocktails & Dreams Chadsch23 1309.65
BG BradInTheGreenZone 1307.25
Lombardi Time (J) DannyMueller 1291.85
Dingers FGar 1290.15
RumHorse II robabb4 1287.4
Asian Merchants albcool 1287.2
Scared Money Elcero 1287
#D'Naughty - Main JohnnyD32 1285.85
Bionic Bob bobBio 1282.5
Hey Mr. Kraft, WATSONder My Towel? IntotheROAR 1281.45
To the Cloud TNTS 1279.05
Fairways & Greens Main III Mcdavid97 1278
Amish Rake Fight X9 GiuseppeLia 1275.6
Victory (ME #1) Ralph Barba 1275.35
Ezzell Brothers 2 Bill Ezzell 1273.95
Money 47 SuperDuper 1273.55
Malachi Brothers billnov 1269.75
MASTRODAMUS 2 MASTRODAMUS 1267.9
K2 Dkoehnema 1267.85
(Photo: USA Today)
For a third consecutive week in the 2022 Footballguys Players Championship, John Rahilly's Out of Position is in the overall lead because of his Week 8 161.9 score. Rahilly's tabulation was increased by A.J. Brown's 39.6, Jaylen Waddle's 30.6, Stefon Diggs' 22.8 and Stevenson.

Galvin Lux's Canton Bro's ascended into second place this week with Eddie Echeverria slipping one spot to third, 30.75 points behind Rahilly. Larry Wilkes saw his blah squad shoot up 30 spots into fourth while Bill Pidto moved his hey now entry into fifth.

Here is the list of the top-40 teams in the FPC after eight weeks of play:
Out of Position rahraw 1359.75
Canton Bro's Lux D 1343.25
Villains Eddieecheverria 1329
blah TheCiscoKid 1327.7
hey now UrbanM 1324.95
Big dik Daddy from the Natti MMATAMDREDEMPTION 1323.45
Derz6 DerzDarls 1323.05
theEllieLouCrew greggy 1318.3
rwsnyd2 rwsnyd2 1315.85
Cristiano Ronaldo ZP100 1313.4
Marty's Dance Quintet efeeneyx 1313
Jurv 7 Jurvillain 1310.95
Inferno Infernokoi 1310.9
Mike St. Mehrdadstlouis 1309.3
JUST JOSH'n RHAMONDRE ChrisLej 1305.45
skippy The Magnificent ChuckVai 1304.95
INVADER DevDonDynasty 1304.25
WaspGuy for Trump 2024 JT_AJ 1303.05
TJM3 InjuredReserves 1300.7
Two Derps Dgreco 1299.05
Eyetroll Eyetroll78 1297.5
Papa Dox 18 coreydox 1297.05
Space Cadets TomPfu 1295.85
Drinks on HighGarden sghammer17 1295.7
Zero Zero 1295.55
ATAC 6 ATAC1 1294.5
Serrano's got the discs TacosFTW 1294.2
Gulag's Finest GulagsFinest 1293.85
PPFB_Alpha MareonHym 1293.55
GREEKLIGHTS 3 AJK3521 1293.5
Foosball 21 Foosball 1293.25
Armstead ScottKei 1293.2
froo fighters frooness 1292.65
B&B III Blazers848 1290.3
TCP John Rozek 1290.1
Sniper sghammer17 1289.6
Dreaming of Sundays PrimetimeAndyDalton 1289.05
ChiTownTruEve ChiTownTru 1289
Smokin' Joes joevangogh 1288.9
Mira Chloe the Miracle Rlevy1991 1288.8
(Photo: Chron)
The FFPC's Terminator Tournament has reached its unofficial halfway point with Mike Tomaso's Straight Wood entry--his only FFPC league this year--beating out the other 383 teams at the moment with big-time Week 9 performances like Derrick Henry's 35.8, Tua Tagovailoa's 33, Tyler Conklin's 28.9, Nick Chubb's 25.4 and Jakobi Meyers' 21 leading him to a 209 weekend tally. Rime of the Ancient Mariner--managed by Kevin Ewing-- is in second place with Dan Kennedy's Happy Gilmore and Let's go Bears sitting in third and fourth place respectively.

Check out the top 10 teams in this contest at the list below:
Straight Wood MikeTom 1453.7
Rime of the Ancient Mariner flightoficarus 1447.7
Happy Gilmore Deeeks7 1440.25
Let's go Bears Deeeks7 1438.4
Naked Boot Legs T9 NBLSF 1421.8
EndTimes2 EndTimes 1418.5
Out of the Shadows ScottSta 1408.65
Naked Boot Legs T5 NBLSF 1404.2
Term1 RV16 1400.05
LET'S GO BRANDON BERGERS111 1399.7
Check out The High Stakes Fantasy Football Show on the Bettor Sports Network tonight at 10/9c. Yours truly and a rotating guest host chop it up each and every Wednesday until midnight, taking you through all the issues high stakes players are facing, as well as your first look at the waiver wire results each season.

Tonight, I'm joined by Darren Armani from Fantasy Mojo, and while you can watch us live on both YouTube, Twitter and Facebook, I would STRONGLY encourage you to download the app so you can participate in the show and--most importantly--take advantage of all the great giveaways we've offered to viewers so far, including--but not limited to--signed jerseys from both retired and current pro sports superstars.
Download the Bettor Sports Network Apps Below:
Don't miss out on winning this week in the FFPC Weekly Challenge, players! There's no draft or salary cap: Just choose 10 or 12 players by Sunday's kickoff and watch them ride all the way through the weekend's games. But remember, you can only pick ONE player per NFL team!

Want to get your 2023 fantasy season off to a great start? Then play the $200 FFPC Weekly Challenge (10 teams) in both classic and/or slim versions. These are 'winner-take-all' 10-team contests with the winner receiving a 2023 FFPC Main Event credit!

The cost is $35 or $200 to enter in these 30- and 100-team contests. Play the classic format with kickers and defenses or the slim format that does not have them. You may enter up to three times in each 30-team contest or five times in each 100-team contest. Here's what's available this week:
LEAGUE
OPENINGS
ENTRY
PRIZES
RDS
DEADLINE
Weekly Challenge #48858
20 of 30
$35
$910
12
Sunday 1:00pm ET
Weekly Challenge Slim #48859
13 of 30
$35
$910
10
Sunday 1:00pm ET
Weekly Challenge Slim #48860
78 of 100
$35
$3,035
10
Sunday 1:00pm ET
Weekly Challenge Slim #48861
9 of 10
$200
$2,000
10
Sunday 1:00pm ET
(Photo: Daily Snark)
Week 9 is not going to be kind to anyone. You won't have the ability to play any of Jerry Jones' Cowboys, nor any Browns, Broncos, Giants, Steelers or 49ers. Get them out of your lineups for Week 9, players. Remember, you'll have the waiver wire run tonight and Sunday morning to fix those lineup holes. Good luck!
In case you have any questions or want to check something at a moment's notice, I am including this section of the email every week. While you are checking out all things FFPC for the 2022 season, consider this your guide:
As a reminder, even if injuries or other issues derailed your 2022 season, make sure you are still setting your lineups! Please don't anger the fantasy gods, and keep karma on your side for 2023 by being competitive this weekend and for the rest of the season! 🙂
Thanks for reading, everyone! Don't forget to join the Week 9 FFPC Weekly Challenge now!

See you on The High Stakes Fantasy Football Show on the Bettor Sports Network with Fantasy Mojo's Darren Armani tonight!


Sincerely,

Eric Balkman
The Fantasy Football Players Championship
www.myFFPC.com