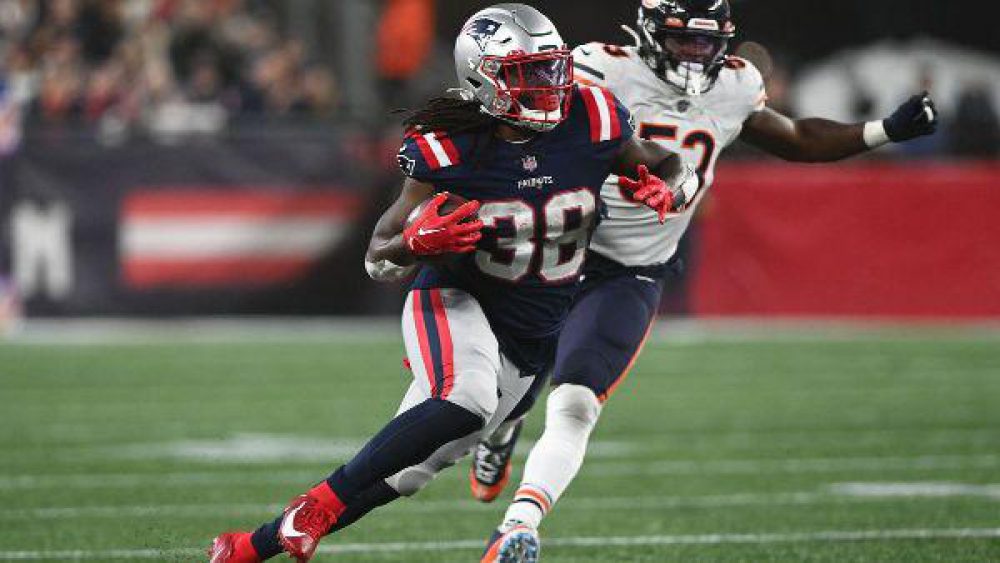 (Photo: Pats Pulpit)
For the second straight week in the 2022 FFPC Main Event, Jeff Antley's JMA 33 is in first place overall, thanks in part to a solid Monday night performance from Rhamondre Stevenson (23.8). Antey is now ahead of Shelly Fossum's Naked Boot Legs by 10.35 points.

Alex Elkins and Gardner Parker's Dingers moved up four spots into third this past weekend with Danny Mueller and Jay Reid's Lombardi Time ascending 11 spots into fourth place. Rounding out this week's top five is Phil Squatrito, who is within 20 points of the overall lead.

For a look at the top 20 teams in the Main Event, check out the list below:
JMA 33 PAE33 1161
Naked Boot Legs 2 NBLSF 1150.65
Dingers FGar 1150.05
Lombardi Time (J) DannyMueller 1143.75
Hey Mr. Kraft, WATSONder My Towel? IntotheROAR 1143.55
Scared Money Elcero 1138.05
Malachi Brothers billnov 1131.55
My Giraffe Is Better Than Yours StevenRiz 1131.35
Victory (ME #1) Ralph Barba 1129.25
M10.1 RV16 1127.4
#D'Naughty - Main JohnnyD32 1122.9
Asian Merchants albcool 1122
Sam h Shalem93 1121.3
Fairways & Greens Main III Mcdavid97 1119.65
Mucho Estupido LeeHer 1118.85
Fantasy Mainiacs R3 rogergif 1117.3
Amish Rake Fight X9 GiuseppeLia 1116.75
¡LeedsCarajo!M2 LeedsCarajo 1115.05
Lions djwingsfan00 1112.95
T2-Main tuff44 1110.25
(Photo: Fox 5 Vegas)
For a second consecutive week in the 2022 Footballguys Players Championship, John Rahilly's Out of Position's Week 7 151.25 score kept him in the overall lead heading into Week 8. Rahilly's tally was increased by Josh Jacobs' 36.5, Stevenson and Justin Herbert's 23.05.

Eddie Echeverria vaulted up seven spots into second, 23.35 points behind Rahilly. Mo Farunia and Nick Vagi--who appeared live on The High Stakes Fantasy Football Hour last Friday night--fell one spot to third with their Gulag's Finest squad, their first and only high stakes entry in their careers. John Terry's squad shot up four spots into fourth place while Eddie Vedder--run by Scott London--completes this week's top five teams.

Here is the list of the top-40 teams in the FPC after seven weeks of play:
Out of Position rahraw 1197.85
Villains Eddieecheverria 1174.5
Gulag's Finest GulagsFinest 1173
WaspGuy for Trump 2024 JT_AJ 1167.75
Eddie Vedder KingJeremy 1165.1
Jurv 7 Jurvillain 1163.25
rwsnyd2 rwsnyd2 1162.65
JUST JOSH'n RHAMONDRE ChrisLej 1162.45
Time to Shine again LanceShu 1160.85
Marty's Dance Quintet efeeneyx 1159.65
Big dik Daddy from the Natti MMATAMDREDEMPTION 1158.45
Rallycap 1 Nick Chianese 1156.4
TheAftermath TheAftermath 1154.75
Foosball 21 Foosball 1154.55
Zero Zero 1154.45
INVADER DevDonDynasty 1154.4
DR WHOa UrbanM 1153.45
froo fighters frooness 1152.25
Derz6 DerzDarls 1147.85
skippy The Magnificent ChuckVai 1147.55
Kjc2 Sollions 1146.05
Sniper sghammer17 1143.95
Already Drunk wghammock 1143.65
Wiley Tigers GregoryPig 1143.35
Eyetroll Eyetroll78 1140.8
Target Opportunities RockMachine 1140.15
Throwbacks 15 KevinPro 1138.95
B Town shelbjstew 1138.8
Nation of Domination zoaliz7 1138.2
Backyard Brawlers B MIchaelGit 1135.55
TCP John Rozek 1133.95
Medallion Hunter II ChrisHarx 1133.3
Mike St. Mehrdadstlouis 1133.25
blah TheCiscoKid 1132
36 AaronW34 1131.75
O Negative jerwersdl32 1131.2
Hairball Hairball15 1130.85
StopDropAndRoll JLaps 1130.05
F3 Ranch Hands MikeFor 1129.35
Sushi Burrito kickinbass 1129.15
(Photo: San Diego Tribune)
In the Big Payback League #1 after seven weeks of play, Danny Mueller and Jay Reid's Lombardi Time is leading play with 19 victory points. In Week 7, Mueller's squad was led by Patrick Mahomes (32.15) and remains a single victory point over both Patrick Daly's Wall Street Warrior and Charlie George's Dream_Chasers.

Over in the Big Payback #2, Albert Chapman's Geckos is leading the other 11 teams with 24 victory points. Mahomes and Tyler Boyd's 29.5 were the stars for the Geckos in Week 7, as the squad is four VPs up on Chad Schroeder's Cocktails & Dreams, which finds itself in second place in this competition as well.

Looking at Big Payback #3, we see Biplab Mandal and John Terry have managed their entry to the top with 19 victory points, one VP ahead of both Michael Zucca's Mongooses and Michael Bronte's NEW SHERIFF. In this tightly packed league, four tams are within three victory points of taking charge of the standings.

Finally, in Big Payback #4, Bill and Don Ezzell's Mr. Bill leads all other squads with 24 victory points going into Week 8. They are ahead of both Schroeder's team and ABA LLC, collectively managed by Andrew and Arya Gharibian and Brandon Aminpour. The Ezzells were led by George Kittle (24.8) this past week.

The Big Payback leagues were held at Planet Hollywood at the 2021 FFPC Live Events in September. The champions in these leagues will pocket $25,000 at the end of the year, with $15,000 going to second and $5,000 to third after the top two regular season teams are awarded $5,000 for their efforts. Good luck to all the players the rest of the way!
Check out The High Stakes Fantasy Football Show on the Bettor Sports Network tonight at 10/9c. Yours truly and a rotating guest host chop it up each and every Wednesday from 10pm until midnight, taking you through all the issues high stakes players are facing, as well as your first look at the waiver wire results each season.

Tonight, I'm joined by Adam Krautwurst from The Draft Sharks Deep End Fantasy Football Podcast, and while you can watch us live on both YouTube, Twitter and Facebook, I would STRONGLY encourage you to download the app so you can participate in the show and--most importantly--take advantage of all the great giveaways we've offered to viewers so far, including--but not limited to--signed jerseys from both retired and current pro sports superstars.
Download the Bettor Sports Network Apps Below:
Don't miss out on winning this week in the FFPC Weekly Challenge, players! There's no draft or salary cap: Just choose 10 or 12 players by Sunday's kickoff and watch them ride all the way through the weekend's games. But remember, you can only pick ONE player per NFL team!

Want to get your 2023 fantasy season off to a great start? Then play the $200 FFPC Weekly Challenge (10 teams) in both classic and/or slim versions. These are 'winner-take-all' 10-team contests with the winner receiving a 2023 FFPC Main Event credit!

The cost is $35 or $200 to enter in these 30- and 100-team contests. Play the classic format with kickers and defenses or the slim format that does not have them. You may enter up to three times in each 30-team contest or five times in each 100-team contest. Here's what's available this week:
| LEAGUE | OPENINGS | ENTRY | PRIZES | RDS | DEADLINE | |
| --- | --- | --- | --- | --- | --- | --- |
| Weekly Challenge #48844 | 14 of 30 | $35 | $910 | 12 | Sunday 1:00pm ET | |
| Weekly Challenge Slim #48845 | 7 of 30 | $35 | $910 | 10 | Sunday 1:00pm ET | |
| Weekly Challenge Slim #48846 | 79 of 100 | $35 | $3,035 | 10 | Sunday 1:00pm ET | |
| Weekly Challenge Slim #48848 | 8 of 10 | $200 | $2,000 | 10 | Sunday 1:00pm ET | |
(Photo: NFL)
Get those Chiefs and Chargers out of your lineups for Week 8, players. Remember, you'll have the waiver wire run tonight and Sunday morning to fix those lineup holes. Good luck!
You won't want to miss out on all of the 2022-23 FFPC Playoff Challenges arriving before you know it, players. We'll give you the skinny right here, so keep reading over the next few weeks!
As a reminder, even if injuries or other issues derailed your 2022 season, make sure you are still setting your lineups! Please don't anger the fantasy gods, and keep karma on your side for 2023 by being competitive this weekend and for the rest of the season! 🙂
In case you have any questions or want to check something at a moment's notice, I am including this section of the email every week. While you are checking out all things FFPC for the 2022 season, consider this your guide:
Thanks for reading, everyone! Don't forget to join the Week 8 FFPC Weekly Challenge now!

See you on The High Stakes Fantasy Football Show on the Bettor Sports Network with The Draft Sharks Deep End Fantasy Football Podcast's Adam Krautwurst and yours truly tonight!


Sincerely,

Eric Balkman
The Fantasy Football Players Championship
www.myFFPC.com