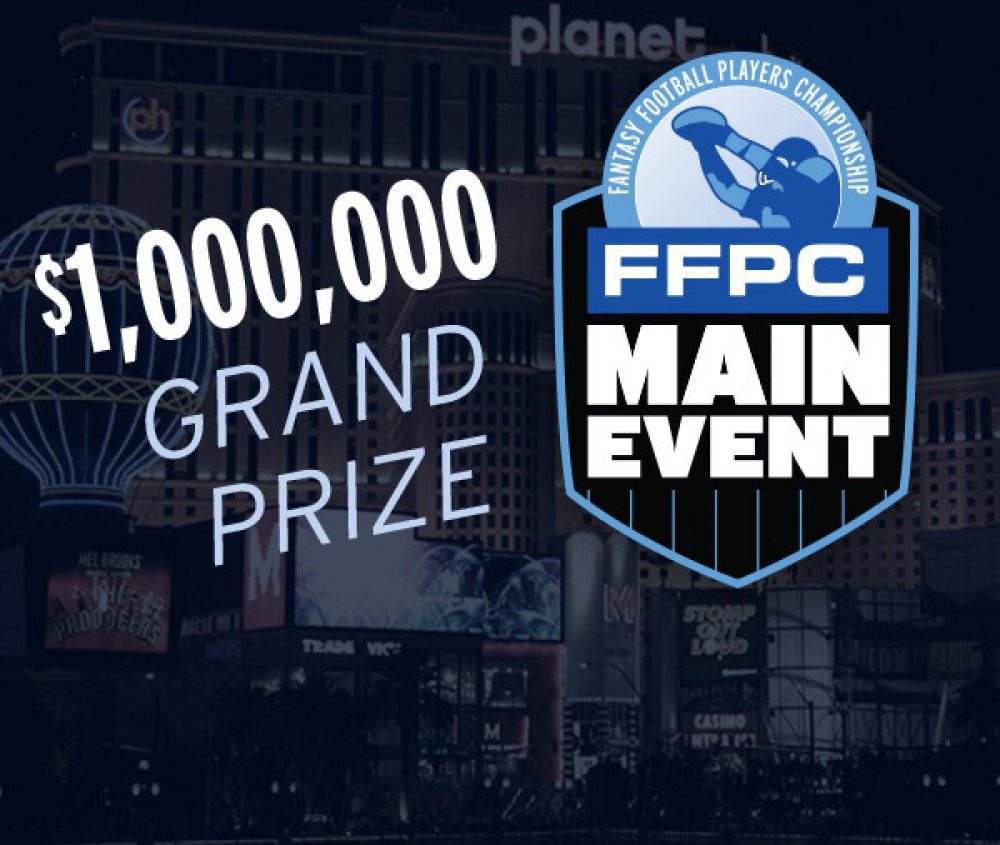 As announced, we're giving away a million bucks in the 2022 FFPC Main Event, players, so you should be taking every opportunity to maximize your teams' performance. And I'm here today to remind you of a big chance to do so:

The 2022 Early Draft Slot Announcement: All teams which are fully paid by MONDAY will be eligible to receive their FFPC Main Event draft positions on Monday, August 1st (slow drafts receive draft positions as soon as draft is full).

You can also add more teams and save $400 off each additional one. Multiple team discount pricing is $1,600 for Online and $1,725 for Live in-person drafts. Multiple team discount will be auto-applied on the payment screen for eligible owners. Simply click on JOIN button on the registration page to receive the discounted pricing.
Here is a quick overview of this year's Main Event:
$1,000,000 grand prize
$5.91 Million total prize pool
$12,000 league prizes
Championship round payouts down to 150th place
A hard cap of 4,200 total entries
The FFPC is a licensed game operator
122 draft times to choose from
Here are the slow drafts that are filling currently:

LEAGUE
OPENINGS
ENTRY
PRIZES
DRAFT
Main Event - 2hr Slow #43318
9 of 12
$2,000
$5,918,000
Starts When Full
Main Event - 6hr Slow #43419
5 of 12
$2,000
$5,918,000
Starts When Full

And if you're drafting live in Las Vegas, we once again have the services of our wonderful FFPC Live Event group host, Greg Sidoris who will help you with your stay and any other Vegas-related needs. Please contact Greg at (216) 299-5390. You can also email him at Greg@CasinoConnectionUSA.com.

Here's a comparison of what you'd pay without our group discount:
With FFPC
Group Discount
Without FFPC
Group Discount
Tuesday
$79
$132-190
Wednesday
$79
$132-190
Thursday
$79
$132-190
Friday
$179
$244-286
Saturday
Resort Fee
$179
$25
$244-286
$37
Thanks for reading, players! And while you're registering to get your early draft slot, why not enter the drawing for the Weekday Giveaway by entering some drafts in the 2022 Footballguys Players Championship? Three free Footballguys teams will be up for grabs--make sure one of them is yours!

See you in the draft rooms tonight, everyone!


Sincerely,

Eric Balkman
The Fantasy Football Players Championship
www.myFFPC.com