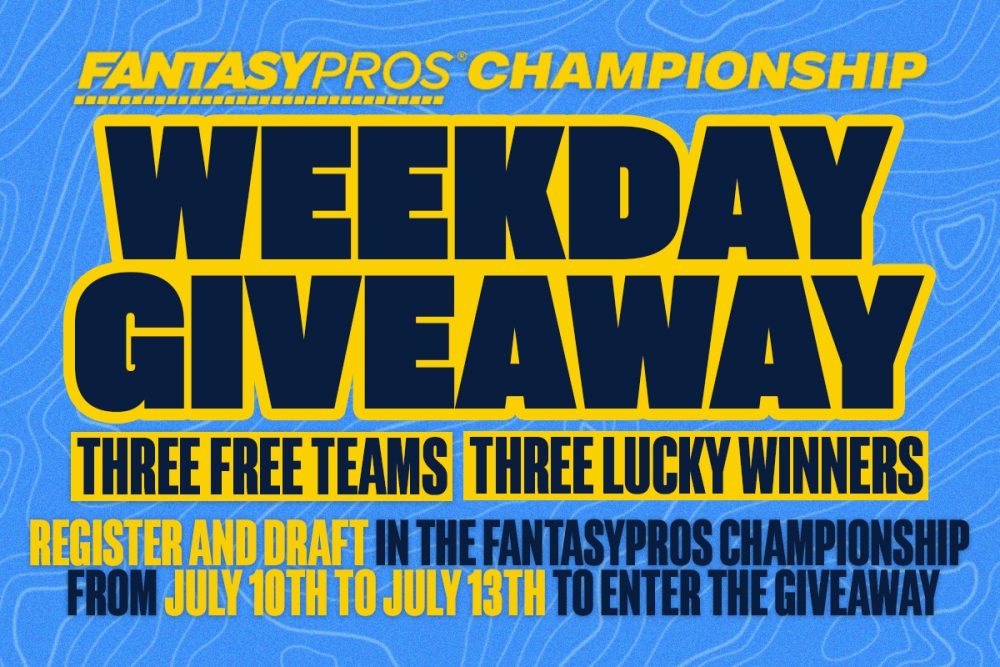 The 2023 FantasyPros Players Championship is starting to run hot, but we still want to make it even more worth your while to draft during the week. So we are relaunching this promo to give away three FREE 2023 FantasyPros teams to you starting NOW:

Who Is Eligible: Anyone who registers and drafts a team in the FantasyPros Players Championship from TODAY, Monday, June 26th through Thursday, June 29th. (Teams bought today prior to this announcement are included. Slow drafts must start prior to June 29th to be eligible.)

Prizes: Three winners will be randomly selected and announced Friday, June 30th. Each winner will receive (1) FREE FantasyPros Championship credit valued at $350. Winners will be contacted by email.

If that's not enough of an incentive for you, remember that for the first time ever, we will be awarding a $1,000,000 Grand Prize. Take your shot at the most lucrative grand prize in FantasyPros Championship history today. Here are the details:
Slow and live drafts are going now and run through September 10th
$6,046,750 prize pool (Over $1,600,000 more than in 2022)
$1,000,000 grand prize (Doubled from 2022)
$200,000 runner-up prize ($50,000 more than in 2022)
Contest will pay down to 1,000th place
Here are the drafts we have for you today:

LEAGUE
OPENINGS
ENTRY
PRIZES
DRAFT
TIMER
FantasyPros #57441
9 of 12
$350
$6,046,750
Starts When Full
6 hrs
FantasyPros #57442
9 of 12

$350

$6,046,750

Starts When Full

2 hrs

FantasyPros #53911
11 of 12
$350
$6,046,750
7:00pm ET
60 sec
FantasyPros #53912
11 of 12
$350
$6,046,750
8:30pm ET
60 sec
FantasyPros #53913
12 of 12
$350
$6,046,750
10:00pm ET
60 sec
FantasyPros #53689
12 of 12
$350
$6,046,750
11:55pm ET
60 sec
Thanks for reading, everyone! See you in the draft rooms tonight!
Sincerely,

Eric Balkman
The Fantasy Football Players Championship
www.myFFPC.com