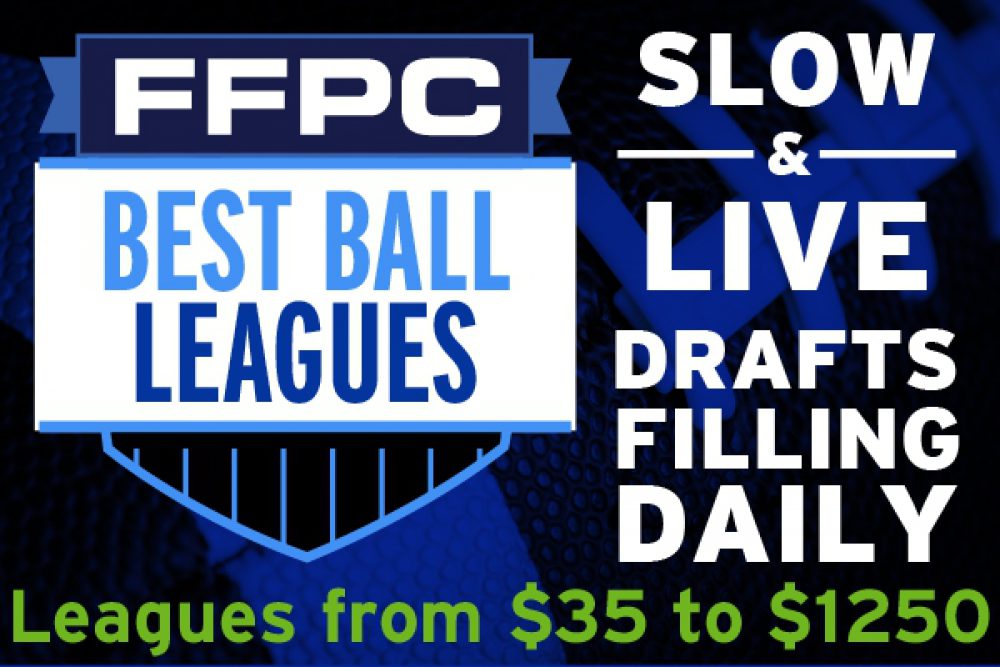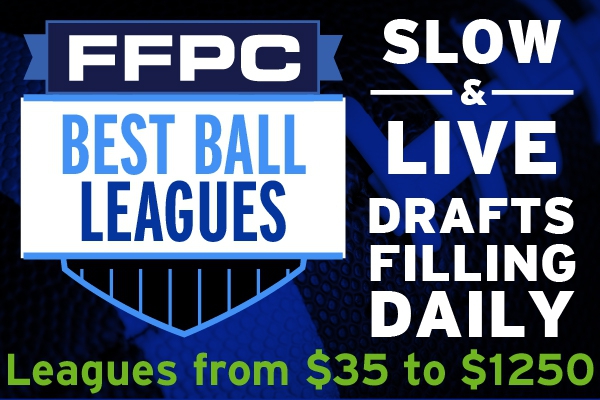 Within the last week, we opened the first 2021 leagues of the year! Redraft Best Ball slow draft leagues at entry fees of $35, $77 and $250 are now open for entry. And don't forget that the 2021 rookie class is included in the draft pool as well.

Slow drafts are filling and launching as soon as they are full, so you can be drafting in minutes. Drafts with two-hour and six-hour clocks are available. And be sure to download the FFPC iOS and Android apps for a more streamlined draft experience. The links are below:
Drafts have already begun, so any of you that love early drafting can jump in now and draft your first 2021 Best Ball team today!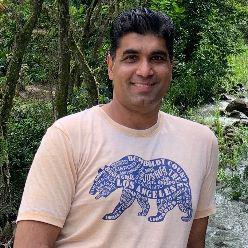 The 2020-21 World Famous Playoff Challenge only has three games left before it crowns its newest $500,000 champion. In the driver's seat for that grand prize right now is Zak Lakhani's ZZZZ entry, holding a 0.35-point lead over Steve Ranaghan's ooofseven squad. Lakahni was led by Travis Kelce (28.9), Stefon Diggs (24.6) and Davante Adams (21.6) in the Divisional Round as his team goes hard after the half-million-dollar purse.

Sitting in third place is Timothy Earls, just 3.4 points off the pace and holding a 1.55-point lead over fourth-place Dustin Coleman's DCandBO. Rounding out the current top-five teams in this contest is the PJK team owned by Matt Kareis.

For a look at the top-20 teams in the Playoff Challenge after the Divisional Playoff weekend, check out the list below:
ZZZZ Zak L 344.65
ooofseven StephenRan 344.3
Fantasy Honks tearls 341.25
DCandBO DIRT_8 339.7
PJK MajorK 339.25
Paul3 JN3 339.1
SCREWED AND CHOPPED 1 TREW 337.4
Crash 2 crowmagnon 336.05
Trump is God 7 Nevadaman 335.6
Team Hairy Asses ivantrbl 335.4
Death Inc ksweat1965 335.3
Clementitos Clementitos 334.65
RB10 TomYat 333.45
Against the WALL drew4782 332.6
Kill 'em all PeterTho 332.4
ShapSimon1 shaps44 331.25
Homies1 Markowat 330.2
Victor ScottKei 330
Fourthdown4 TimothyWal 329.9
The Crushers 11 Nevadaman 329.6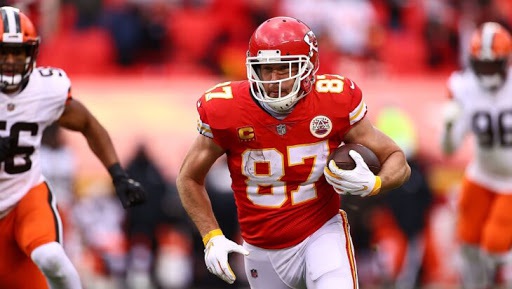 In addition to our World Famous FFPC Playoff Challenge, we also featured the return of the 2020-21 Footballguys Playoff Challenge as well. And you can't get any closer of a matchup than a tie atop the leader board between Eddie Brothers' MoEd and Jeff Oliva's BrokeStoner22 entries. Thanks to big performances from Kelce and Adams this past weekend, they are sharing the driver's seat in the chase for $100,000.

Not to be outdone, Adam Murphy has his roster lurking in third place, less than two points behind the co-leaders. Plus, Steve Wells and Tony Cosentino have their entries in a strong position to strike, barely placing down in fourth and fifth respectively as we get ready for Conference Championship Weekend.

For a look at the top-40 teams in the Footballguys Playoff Challenge after the Divisional Playoff weekend, check out the list below:
BrokeStoner22 BrokeStoner22 338.1
MoEd Eddieb 338.1
Turtle23 Turtle23 336.4
Trump is God 7 Nevadaman 335.6
init2winit TonyCOS 335.4
Playoff Bound Champions TakeTheThrone 335.2
CPTspot.com - Biscuits'n'Brady HeavyChevyJF 335
ajsouth 2nd Ajsouth2 334.4
timgod99 timgod99 333.5
ZZZZZ niko79 333.2
Buddyboy18 Joeman 332.8
midwinter midwinter 331.9
TB 7 LarryWei 331.6
seanr8#4 seanr8 331.55
ZaoDiMonster ZaoDi 330.9
ATXHils 1 ATXHils 330.8
Lupeeeeeeee dizzzzzzzzy 330.4
WORKnGRIND WORKnGRIND 330.3
Victor ScottKei 330
Fedora 2 Tonybones1959 329.9
The Crushers 11 Nevadaman 329.6
Jonkarella13 BDB 329.4
Air Raid resourceone 329.4
NFC2 Marblememo 329.4
Anti-Dentites l0ngnecks 329.2
pants east JamestGiants 329.2
Team Pape jpape22 329.2
Trust the Process fletcher2001 328.8
BroskiDuder3 broskiduder 328.5
J Luke Ribz 327.35
Hammer16 Hammer8888 327.3
RF8 RiotClub 327.2
Mlinkage Mlinkage 327.1
Boston Market Carvers BMC 327
The Gamblers 2 Nevadaman 326.4
Hulking Out3 donkurj 326.3
Trump is God 8 Nevadaman 326
GoPackGoGo Gatorintally 326
Fantasy Team5 DOtt 326
One Tough Cookie 8 RottenApple 325.95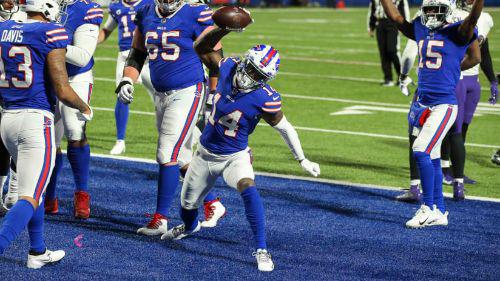 The 2020-21 FFPC Playoff Challenge #2 is off and running with another tie at the very top of the chase for $50,000 with a tightly bunched leaderboard after one week of action. JR Covelle and Christopher Weigert are knotted at 159.05 points apiece with Ryan Maynard in sole possession of third place at 158.9 points. Covelle and Weigert not only had Kelce and Adams crush it for them, but Stefon Diggs' 24.6 and Tom Brady's 24.15 also helped their causes as well.

Then, you'll notice Jason Auguste placing fourth right now ahead of another tie on the leader board. This one is between Guy Nicio and Joe O'Connell, who are fewer than five points out of the overall lead with just three games to go.

For a look at the top-20 teams in the Playoff Challenge #2 heading into the conference championships, check out the list below:
The Holy Shits JrBeef14 159.05
CockBurn WLFNFL 159.05
New Canaan Stumblers RyanMay 158.9
WonAndRedone JasonAug 155.75
joconne2 joconne2 155.35
Tax Guy xtrmguy1 155.35
Modest Expectations #5 Modest Expectations 155.15
Fasoolya odabashian 155.15
FFPC DR 6 DRAFTKING 154.45
Marky Mark 1 Donkerkong 154.45
Trent's Army BERGERS111 154.4
BK Forever Sportsrocker22 154.05
Dead On Arrival nwalker14 154.05
RB6 TomYat 154.05
ALL IN JD ALLINJD 154.05
TheillmessiahP2-3 Theillmessiah 153.95
Google Me Dawg kwyte 153.35
Buddyboyxi Joeman 153.35
DOUBLE TROUBLE LEGIONCOMMANDER 153.35
Dick Olsen PCD Dick Olsen 153.35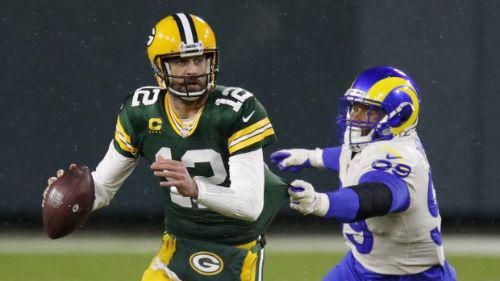 The second annual 2020-21 Footballguys Playoff Challenge #2 is off and running with TImothy Wash's Fourthdown franchise leading all other teams in the race for a $10,000 grand prize. While Kelce and Diggs were huge for Walsh, Aaron Rodgers (28.5) and Leonard Fournette (21.7) were difference-makers as half of the challenge's games are now complete.

In a three-way tie for second place are Matthew Roberts, John Rogers and Michael Yaghi, just 3.9 points behind Walsh. That trio is barely ahead (0.55 points to be exact) of a seven-way tie for fifth, which will make for a very entertaining last three games of the NFL season.

For a look at the top-40 teams in the Footballguys Playoff Challenge #2 after the Divisional Playoff weekend, here is the list (a bit longer due to ties):
Fourthdown3 TimothyWal 163.5
JR's Geezers dicedr 159.6
Liquid Kitty myaghi 159.6
GDODAWUND zag 159.6
GrayBaller JGray 159.05
vcstaff 1 vcstaff 159.05
RoJo#5 rosco2341 159.05
MrsEsterhouse LlamaYoMama 159.05
Wu Tang Day Care (For the Children) odabashian 159.05
Steve 12 steve91872 159.05
Amesbury Giants 5 Giants 4 geopou 159.05
fignewton sazarama 158.65
50T Irishkev 158.65
AOK 5 Aok25 158.65
Oglesby1 Oglesby1 157.8
Still-Golden-004 Goldenboy23 155.35
Cookie Crumbs Dhem 155.15
SeanDon&GMac SReardon0828 155.15
Broadway Motown Broadway34 155.15
The Champs John Rozek 154.45
SWB Mila 154.4
Ducks Dynasty 8 35 DDuck 154.05
Door Stealers jeffstrempel 154.05
Go Beavs! GoBeavs 154.05
BrokeFarmer PolkHigh33 154.05
BogeyWogeyBlues bogeywogeyblue 154.05
TB FTW DOUBLETEAM LEGIONCOMMANDER 153.35
Bingolongxx dmanjr 153.35
smileforthekamara pmaranian 153.35
GronkeyPunch SaquonDeezNutz 153.35
17t Irishkev 153.35
To Bill Brasky RyanHem 153.35
Sharon Tate's Star KenGeo 153.35
Emily Bak510 153.35
Jaugernaut3 Skolvikes 153.35
Moff6 adammoffitt 152.95
First Timer 2nd season gspot1 152.95
Buckets JollyGreen 152.95
McWinner coachmc26 152.95
No Chance In Heck Josh Martin 152.95
IGLD nngold 152.95
LMY ON THE FLY joseph503 152.95
Essen group 2 DRich 152.95
DaniGreg3 danigreg 152.95
Rampage Div j0ser33 152.95
Leftybenny JMP42 152.95
9T Irishkev 152.95
Butter Remy 2 chadBut 152.95
Live Strong A & A DaveBib 152.95
RJK69 RJK 152.95
Gatorbait 01 YongueGuy 152.95
Mikeuwl3 Mikeuwl 152.95
In It To Win It tth10 152.95
Lexjessjen Gneumann 152.95
Indigo ScottKei 152.95
Kingfish rombeiro@icloud.com 152.95
JinXed tjinxy13 152.95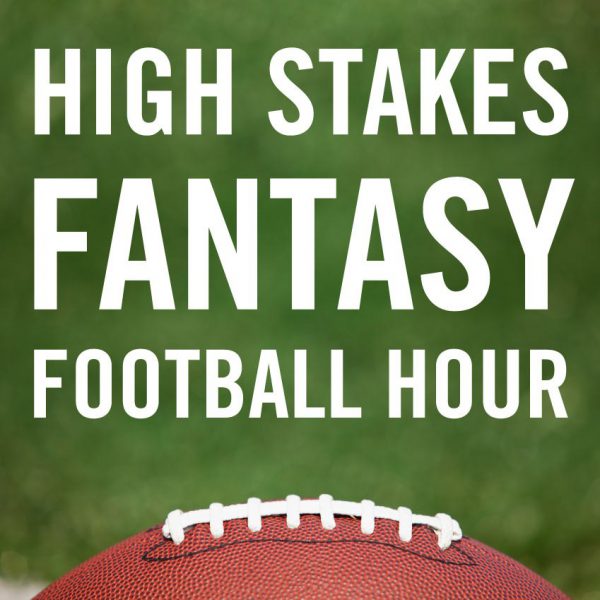 On Friday, yours truly and Ferrell Elliott speak with the $500,000 co-champion in the 2020 Fantasy Football Players Championship (FFPC) Main Event Jerry Hooton who took down the grand prize along with this nephew Philip. We'll break down the draft, the free agency bids and the lineup decisions that won them a half-million dollars, and we'll get into some 2021 FFPC Best Ball Drafts analysis as the Hootons were also the runners-up in this year's Terminator tournament after winning the whole thing in 2018. Plus, Balky and Ferrell tell you how you can get involved with 2021 FFPC Dynasty league orphan teams and answer your calls, tweets, emails and more all on The High Stakes Fantasy Football Hour!

The High Stakes Fantasy Football Hour normally airs Friday nights at 10/9c, and the next episode can be heard here. You can hang out with the high stakes players in the show's chat room if you want to listen live. You can also access full on-demand streaming available for listening anytime via a variety of apps including the HSFF Hour website, Apple Podcasts, Spotify, Google Podcasts, Amazon Alexa, Stitcher Radio, TuneIn Radio, Spreaker, Podchaser, Audioburst, JioSaavn, Gaana, Breaker, Castbox, Overcast, PodBean, Pocket Casts, Radio Public, Podcast Addict and Anchor on your iPhone or Android device as well.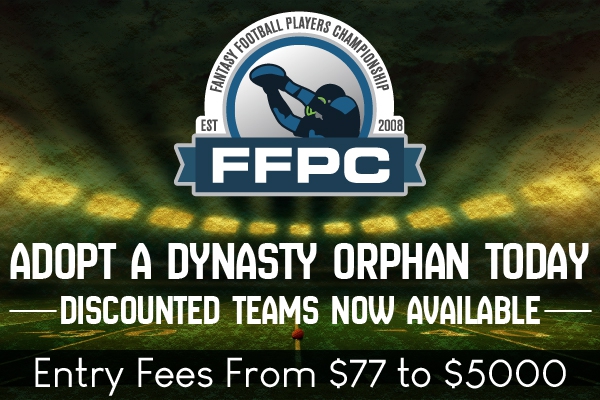 Check it out, players--we've some great deals on orphans as numerous teams have already been posted right here. If you're looking for an example of the teams available, here is one below:

$1250 Dynasty #7

QB: T. Brady (TB), K. Cousins (MIN), J. Burrow (CIN)

RB: M. Sanders (PHI), R. Jones (TB), P. Lindsay (DEN), J. McKinnon (SF), K. Vaughn (TB), T. Johnson (NYJ)

WR: J. Jefferson (MIN), M. Brown (BAL), J. Crowder (NYJ), D. Mooney (CHI), B. Perriman (NYJ), T. Boyd (CIN), N. Harry (NE), M. Pittman (IND), J. Hurd (SF)

TE: D. Schultz (DAL), D. Njoku (CLE)

PK: S. Gostkowski (TEN)

DF: WAS

PICKS: 1.03, 3.02, 3.03, 4.03, 5.03, 6.03, 7.03

Simply click on the purchase button next to this team or the team you want to take over and start playing dynasty fantasy football at the FFPC today!


Only three games remain in the 2020-2021 season, players! Enjoy both conference championships this Sunday, and I'll see you in the chat room Friday night. In the meantime, don't be shy about obtaining a couple of orphan dynasty teams right here!


Sincerely,

Eric Balkman
The Fantasy Football Players Championship
www.myFFPC.com