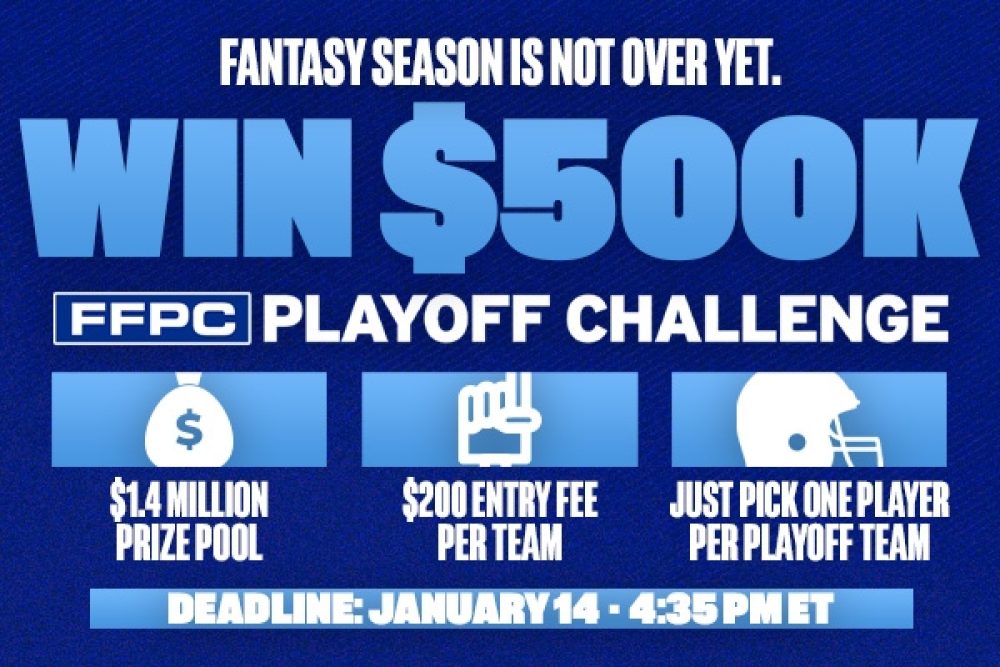 If you haven't joined this competition yet, this is your last chance to do so. The 2022-23 Footballguys Playoff Challenge is sold out, so make sure that you join the 2022-23 World Famous FFPC Playoff Challenge now and start building your lineups before it's too late! It's the last big contest we have until we turn the page to the 2023 season.
The Challenge will have 12 starting roster spots rather than the 10 starting roster spots in a typical FFPC starting lineup. The two added starting roster spots will both be FLEX spots (Flex can be RB, WR or TE). With fourteen total playoff teams and 12 starting roster spots, each entrant will need to fade two teams, which has always been the case for the FFPC Playoff Challenge.
The main details of the Challenge are listed below:
Entry fee: $200 per team
Contest capped at a maximum of 7,800 entries.
$500,000 Grand Prize
$1,400,250 in guaranteed prizes paying down to 900th place
Contest runs from the start of the NFL playoffs through the Super Bowl.
Each team consists of 12 players in an FFPC starting roster format (plus two additional flexes).
Each team chooses from 14 playoff teams but only ONE per team.
All rosters will be locked by kickoff of the first NFL playoff game at 4:30pm ET THIS AFTERNOON.
No roster adjustments will be allowed even for games starting later.
For more details, see the full rules and payout structure on the contest page linked right here.
Thanks for reading, everyone! Now's your LAST OPPORTUNITY to join the 2022-23 World Famous FFPC Playoff Challenge! Get your squads entered, and enjoy the games this afternoon!


Sincerely,

Eric Balkman
The Fantasy Football Players Championship
www.myFFPC.com