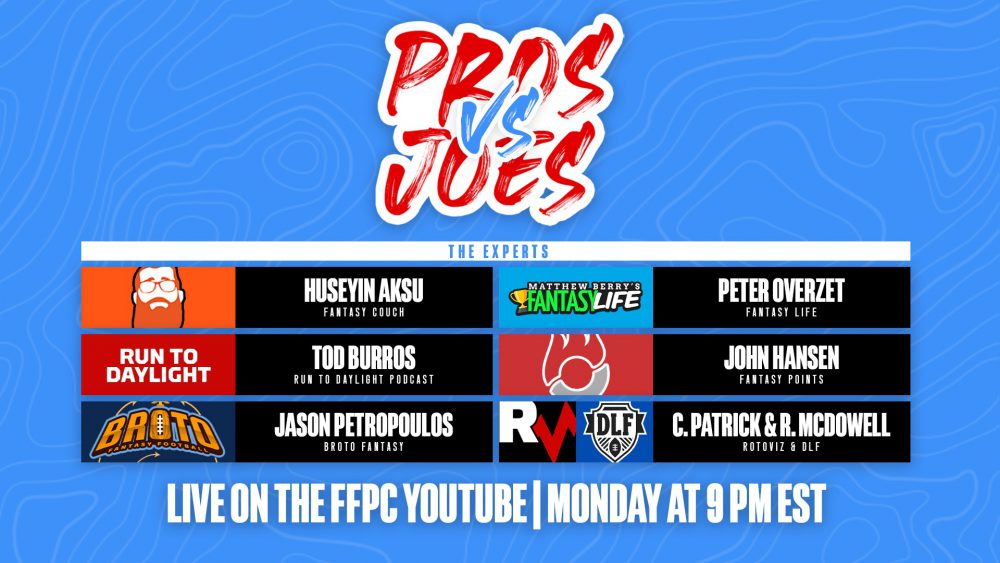 At 9/8c tonight, 2022 FFPC Pros vs. Joes Challenge resumes with its second of six live drafts for your viewing pleasure, players. Each of the seven league (including the Pros Vs. Joes slow draft) winners will receive a free entry into the 2023 FFPC Main Event, which has a value of $1,900, and it resumes tonight at 9:00 p.m. ET.

We are showcasing the Pros vs Joes Challenge throughout the fantasy community in an effort to bring maximum exposure not just to the FFPC, but to each of the fantasy sites that many of you players follow in your league preparation and management year after year.

The entire high stakes fantasy football community will be watching these drafts live on The FFPC's YouTube channel. In addition, all six of the live Pros vs. Joes drafts will be covered LIVE on The High Stakes Fantasy Football Hour podcast with yours truly and KFFSC commissioner Ferrell Elliott. Tune in to watch the pick-by-pick action plus interviews from the Pros and the Joes live as they draft their squads.

Here is the draft order for tonight's Get Him a Body Bag League #2:
PRO - Huseyin Aksu - Fantasy Couch
JOE - Roy Paranzuela & Cory Hanstein
PRO - Tod Burros - Run To Daylight
JOE - Michael Abt
PRO - Jason Petropoulos - Broto Fantasy
JOE - Michael Zucca
PRO - Peter Overzet - Fantasy Life
JOE - Julio Fuentes
PRO - John Hansen - Fantasy Points
JOE - Joshua & Laura Durm
PRO - Curtis Patrick - RotoViz & Ryan McDowell - Dynasty League Football
JOE - Brian Harris
Here is the remaining schedule for the 2022 Pros Vs. Joes Drafts:
League #2: Get Him a Body Bag - Tonight 9p ET
League #3: Crane Kick - Tomorrow 10p ET
League #4: Finish Him! - Sunday, July 31st 8p ET
League #5: You're Dead Meat - Monday, August 1st, 9p ET
League #6: No Mercy - Tuesday, August 2nd 10p ET
The High Stakes Fantasy Football Hour normally airs live on the FFPC's YouTube channel, Twitter and Facebook on Friday nights at 10/9c. You can hang out with the high stakes players in the show's chat room if you want to watch live. You can also access full, on-demand streaming available for listening anytime via a variety of apps, streaming services, podcast networks and web sites including (but not limited to) the High Stakes Fantasy Football Hour website, Apple Podcasts, Spotify, Amazon Music, Audible, iHeartRadio, Google Podcasts, Amazon Alexa, Stitcher Radio, TuneIn Radio, Spreaker, Deezer, Vurbl, Podchaser, Audioburst, Blog Talk Radio, JioSaavn, Gaana, Breaker, Castbox, Overcast, PodBean, Pocket Casts, Radio Public, Podcast Addict and Anchor on your iPhone or Android device as well.
Since you're trying to win $1,000,000 in the 2022 FFPC Main Event, you want to take advantage of every single competitive edge you can. And here is a massive opportunity as you prep for your ascent to glory:
Early Draft Slot Announcement:

All teams which are fully paid by
MIDNIGHT PT TONIGHT
will be eligible to receive their FFPC Main Event draft positions on Monday, August 1st (slow drafts receive draft positions as soon as draft is full).
You can also add more teams and save $400 off each additional one. Multiple team discount pricing is $1,600 for Online and $1,725 for Live in-person drafts. Multiple team discount will be auto-applied on the payment screen for eligible owners. Simply click on JOIN button on the registration page to receive the discounted pricing.
Here is a quick overview of this year's Main Event:
$1,000,000 grand prize
$5.91 Million total prize pool
$12,000 league prizes
Championship round payouts down to 150th place
A hard cap of 4,200 total entries
The FFPC is a licensed game operator
122 draft times to choose from
Here's what Main Event slow drafts are filling currently:

In addition, we once again have the services of our wonderful FFPC Live Event group host, Greg Sidoris who will help you with your stay and any other Vegas-related needs. Please contact Greg at (216) 299-5390. You can also email him at Greg@CasinoConnectionUSA.com.

Here's a comparison of what you'd pay without our group discount:
With FFPC
Group Discount
Without FFPC
Group Discount
Tuesday
$79
$132-190
Wednesday
$79
$132-190
Thursday
$79
$132-190
Friday
$179
$244-286
Saturday
Resort Fee
$179
$25
$244-286
$37
The 2022 Footballguys Players Championship continues with multiple drafts going off daily, players. As a reminder, for the second straight year in the Footballguys Players Championship, we will be awarding two separate six-figure prizes. Take your shot at the most lucrative grand prize in Footballguys history today, as the winner will take home a record $500,000 for his or her efforts, and the runner-up will pocket a cool $150,000 as well. Here are the details:
Slow and live drafts run through September 11th
$4,390,000 prize pool ($600,000 more than in 2021)
$500,000 grand prize
$150,000 runner-up prize ($50,000 more than in 2021)
Contest will pay down to 1,000th place (150 more places than in 2021)
Here's what we have available in the FPC today, players:

LEAGUE
OPENINGS
ENTRY
PRIZES
DRAFT
TIMER
Footballguys #43707
11 of 12
$350
$4,395,750
Starts When Full
2 hrs
Footballguys #43762

4 of 12

$350

$4,395,750

Starts When Full

6 hrs

Footballguys #36811
11 of 12
$350
$4,395,750
TONIGHT 7:00pm ET
60 sec
Footballguys #36812
12 of 12
$350
$4,395,750
TONIGHT 8:30pm ET
60 sec
Footballguys #36813
12 of 12
$350
$4,395,750
TONIGHT 10:00pm ET
60 sec
Footballguys #36882
12 of 12
$350
$4,395,750
TONIGHT 11:55pm ET
60 sec
Thanks for reading, players! Make sure you're making some time before MIDNIGHT PT TONIGHT to register all your squads for the 2022 FFPC Main Event so you can get your draft slots on August 1st and plot your journey to a $1,000,000 grand prize.

Playing in the 2022 Footballguys Players Championship while you watch some live draft coverage makes for a great Monday, everyone. Enjoy staking your claim to a $500,000 grand prize!

I'll see you with Ferrell Elliott for Pros Vs. Joes coverage live on YouTube, Twitter and Facebook tonight!


Sincerely,

Eric Balkman
The Fantasy Football Players Championship
www.myFFPC.com