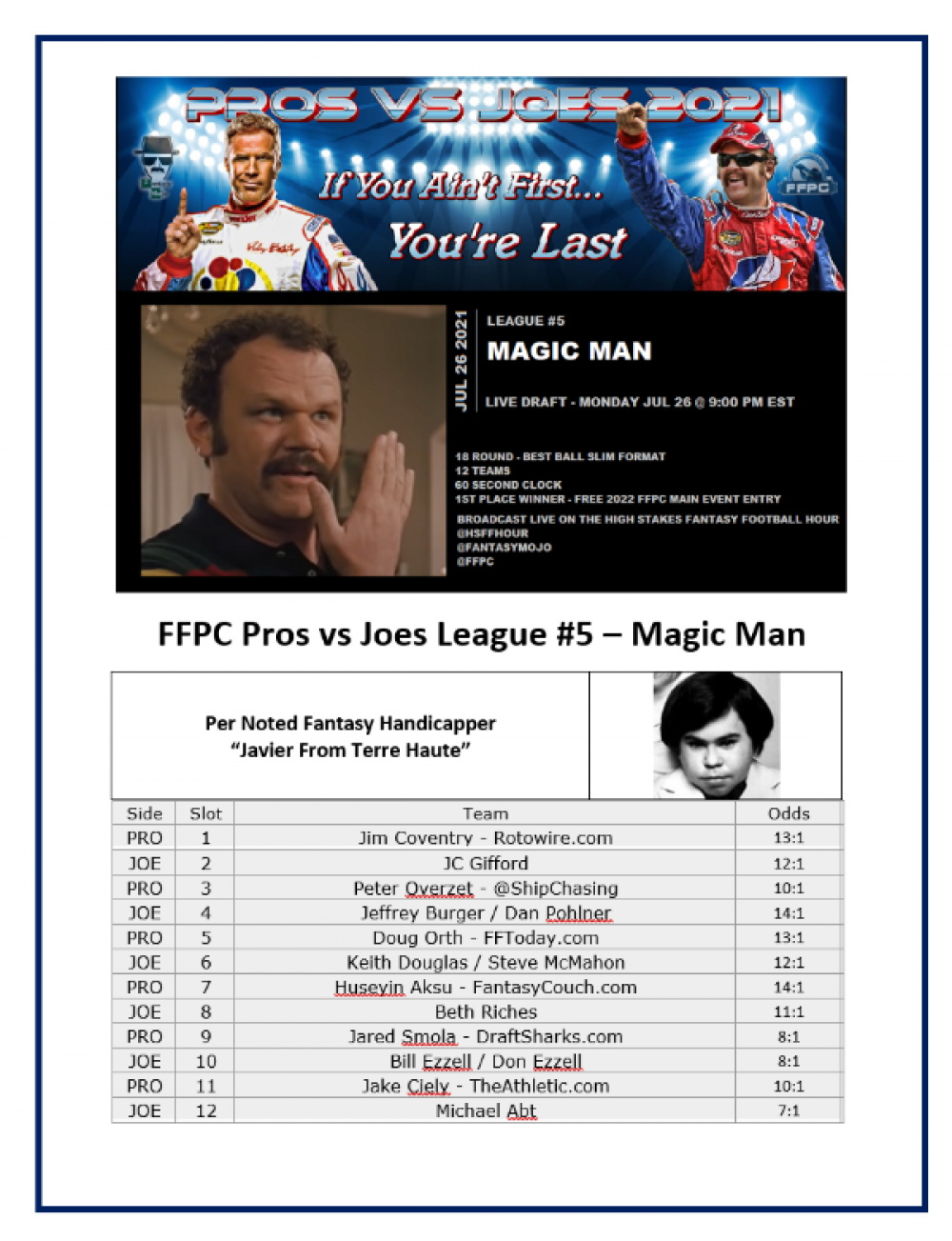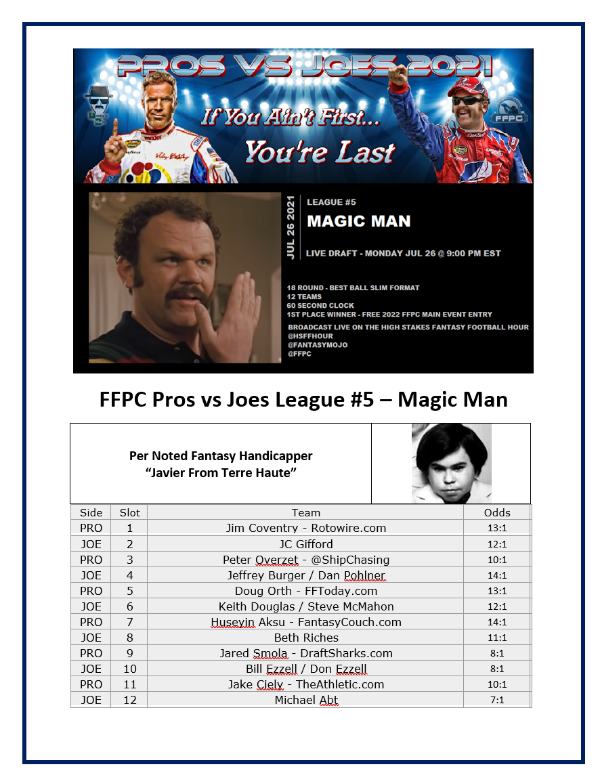 The fifth of six live drafts in the 2021 FFPC Pros vs. Joes Challenge will be held tonight as we have reached the penultimate night of drafting. Each of the seven (one slow draft) league winners will receive a free entry into the 2022 FFPC Main Event, which has a value of $1,900, and the action resumes tonight at 9:00 p.m. ET.

We will be showcasing the Pros vs Joes Challenge throughout the fantasy community in an effort to bring maximum exposure not just to the FFPC, but to each of the fantasy sites that many of you players follow in your league preparation and management year after year.

The entire high stakes fantasy football community will be watching these drafts live on The High Stakes Fantasy Football Hour's YouTube channel. In addition, all six of the Pros vs. Joes drafts will be covered LIVE on The High Stakes Fantasy Football Hour podcast with yours truly and Ferrell Elliott. Tune in to hear the pick-by-pick action plus interviews from the Pros and the Joes live as they draft their squads.

Here is the draft order for tonight's Magic Man League #5
PRO - 1 - Jim Coventry - Rotowire
JOE - 2 - JC Gifford
PRO - 3 - Peter Overzet - Ship Chasing
JOE - 4 - Jeffrey Burger & Dan Pohlner
PRO - 5 - Doug Orth - Fantasy Football Today
JOE - 6 - Keith Douglas & Steve McMahon
PRO - 7 - Huseyin Aksu - Fantasy Couch
JOE - 8 - Beth Riches
PRO - 9 - Jared Smola Draft Sharks
JOE - 10 - Bill & Don Ezzell
PRO - 11 - Jake Ciely - The Athletic
JOE - 12 - Michael Abt

Here is the remaining schedule for the 2021 Pros Vs. Joes Drafts:
League #5: Magic Man - TONIGHT 9p ET
League #6: Winners Get To Do What They Want - Tomorrow 10p ET
The High Stakes Fantasy Football Hour normally airs each and every Friday night at 10/9c, and the next episode can be heard here. You can always hang out with the high stakes players in the show's chat room if you want to listen to the program live, but access to full on-demand streaming is also available for listening anytime via a variety of apps, streaming services and websites including the HSFF Hour website, Apple Podcasts, Spotify, iHeartRadio, Amazon Music, Audible, Google Podcasts, Amazon Alexa, Stitcher Radio, TuneIn Radio, Spreaker, Deezer, Vurbl, Podchaser, Audioburst, JioSaavn, Gaana, Breaker, Castbox, Overcast, PodBean, Pocket Casts, Radio Public, Podcast Addict and Anchor on your iPhone or Android device as well.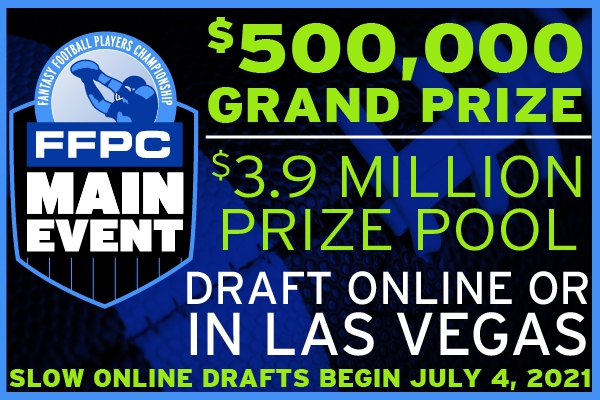 We are only a handful of hours away from your last chance to get involved in one of our biggest announcements of the season we have each and every year, players. And here's how you can gain your edge in the chase for a half-million bucks:
Early Draft Slot Announcement:

All teams that are fully paid by
TONIGHT AT MIDNIGHT PT
are eligible for the Early Draft Slot Announcement and get their FFPC Main Event draft positions by Sunday.
Also, if you haven't already registered your Main Event teams yet, do so now! Remember that you are getting off $400 off the regular price for each additional team you register after your first one. Simply click on JOIN button on the registration page to receive the discounted pricing.
Here is a quick overview of this year's Main Event:
$500,000 grand prize
$3.9 Million total prize pool
$11,800 league prizes
Championship round payouts down to 125th place
A hard cap of 3,000 total entries
The FFPC is a licensed game operator
77 draft times to choose from
2- & 4-hour slow drafts underway now
Remember that we got great news for all FFPC players heading out to Vegas for our live event in September, everyone. Las Vegas is expected to be fully re-opened, and we expect COVID-19 restrictions to be a thing of the past in time for our live events in September. So if you're thinking about coming out this year, think no more and book those flights!

In addition, we once again have the services of our wonderful FFPC Live Event group host, Greg Sidoris who will help you with your stay and any other Vegas-related needs. Please contact Greg at (216) 299-5390. You can also email him at CasinoConnectionUSA@gmail.com.
Here's a comparison of what you'd pay without our group code:
With FFPC
Group Discount
Without FFPC
Group Discount
Tuesday
$79
$132-190
Wednesday
$79
$132-190
Thursday
$79
$132-190
Friday
$179
$244-286
Saturday
Resort Fee
$179
$25
$244-286
$37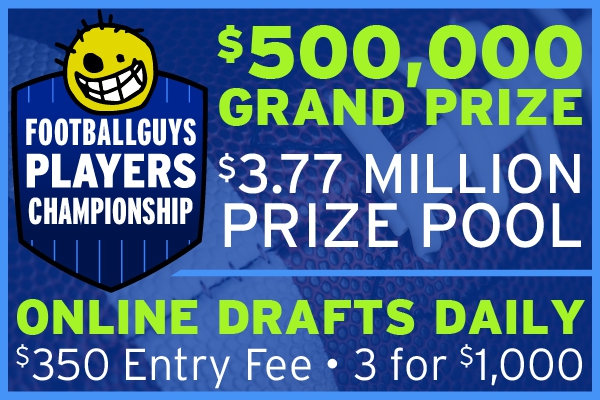 Don't forget that when you register for a three pack of Footballguys drafts this season, you'll get $50 taken off the price of the third team, players! And every three-pack you buy, you'll get that discount as well

As a reminder, the 2021 Footballguys Players Championship is going strong as we head to the end of July, players, so hop on into a draft or two today! Remember that for the first time in the contest's history, we will be awarding two separate six-figure prizes. Take your shot at the most lucrative grand prize in Footballguys history today, as the winner of the 2021 Footballguys Players Championship will take home a record $500,000 for his or her efforts, and the runner-up will pocket a cool $100,000 as well. The 2021 Footballguys Players Championship is waiting for your teams, players! Here are the details:
Drafts ARE UNDERWAY and run through September 11th
$3,700,000 prize pool
$500,000 grand prize
$100,000 runner-up prize
Contest will pay down to 850th place
Check out today's drafts for the 2021 FPC below:

LEAGUE
OPENINGS
ENTRY
PRIZES
DRAFT
TIMER
Footballguys #32655
12 of 12
$350
$3,770,000
Starts When Full
2 hrs
Footballguys #32695

12 of 12

$350

$3,770,000

Starts When Full

6 hrs

Footballguys #27370
11 of 12
$350
$3,770,000
7:00pm ET
60 sec
Footballguys #27307
9 of 12
$350
$3,770,000
8:30pm ET
60 sec
Footballguys #30753
12 of 12
$350
$3,770,000
10:00pm ET
60 sec
Footballguys #27206
12 of 12
$350
$3,770,000
11:55pm ET
60 sec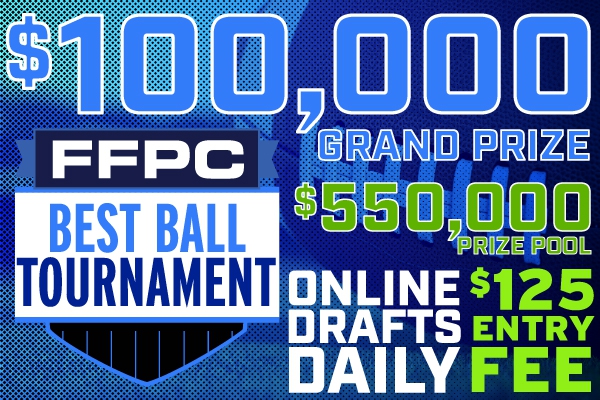 Our inaugural FFPC Best Ball Tournament has drafts going off daily, players! This tournament follows our best ball slim rules (no kickers or defenses) with an 18-round draft, 13-week regular season and single-week elimination playoffs from weeks 14-17 before a champion is crowned at the end of week 17!

Drafts are available daily in a Sit & Go draft format (30-second clock), Slow drafts (2- & 6-hour clock) and scheduled live drafts (60-second clock). Here are some more details on the inaugural tournament:
$100,000 Grand Prize
$550,000 Total Prize Pool
$125 Entry
A hard cap of 4,608 teams
Here's the schedule we have today for the Best Ball Tournament:

LEAGUE
OPENINGS
ENTRY
PRIZES
DRAFT
TIMER
TYPE
RDS
BB Tourney #32516

12 of 12

$125

$550,000

Starts When Full

30 sec

BBS

18

BB Tourney #32660
4 of 12
$125
$550,000
Starts When Full
2 hrs
BBS
18
BB Tourney #32671

11 of 12

$125

$550,000

Starts When Full

6 hrs

BBS

18

BB Tourney #32561
10 of 12
$125
$550,000
6:00pm ET
60 sec
BBS
18
BB Tourney #32568
12 of 12
$125
$550,000
8:00pm ET
60 sec
BBS
18
BB Tourney #32575
12 of 12
$125
$550,000
11:00pm ET
60 sec
BBS
18
Don't miss out on getting your Main Event early draft slots in the next 14 hours, everyone! Now go ahead and crush some drafts in both he 2021 Footballguys Players Championship and the FFPC's inaugural Best Ball Tournament. I'll see you in the chat room for Pros Vs. Joes #5 tonight!


Sincerely,

Eric Balkman
The Fantasy Football Players Championship
www.myFFPC.com