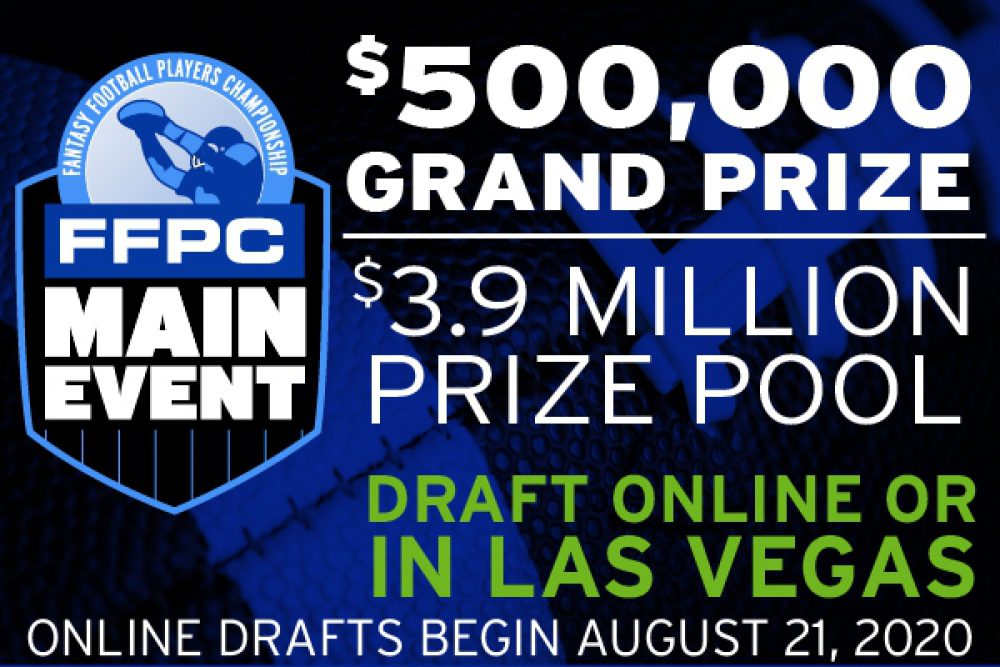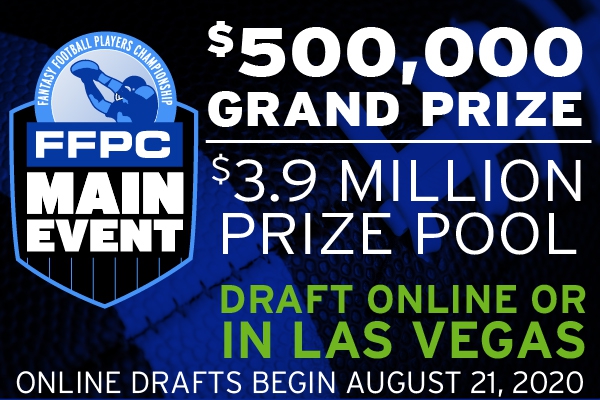 What are you waiting for, players? Join the Main Event now! As a reminder, this year's champ is bringing in a record $500,000 for his or her efforts, and the runner-up will be grabbing a cool $100,000 as well! Register for the 2020 FFPC Main Event now right here! Here are the details:
75 live draft dates/times (Up from 59 last year)
$3,900,000 prize pool (Up $800,000 from last year)
After grabbing your first team, each additional team is $1500 online, $1625 live--a savings of $400 per each additional team.
Here's the upcoming Main Event draft schedule for the next day along with the live Main Event drafts:

LEAGUE
OPENINGS
ENTRY
DRAFT
Main Event ONLINE #38
2 of 12
$1,900
TODAYT 10:00a ET
Main Event ONLINE #40
3 of 12
$1,900
TODAY 4:00p ET
Main Event ONLINE #41
6 of 12
$2,025
TONIGHT 7:00p ET
Main Event ONLINE #42
7 of 12
$2,025
TONIGHT 10:00p ET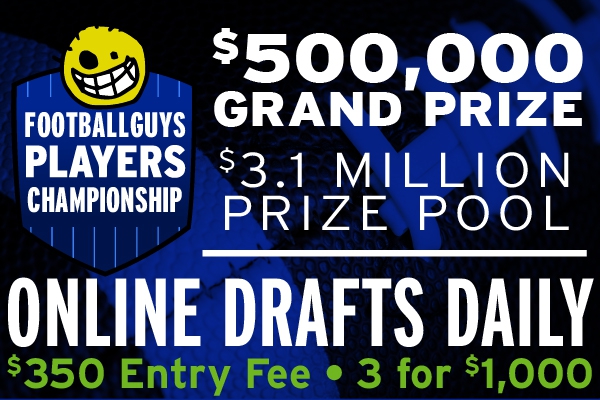 The 2020 Footballguys Players Championship continues to fill up faster than normal, players--don't miss out! We have drafts launching as late as a 12:30 am contest tonight.) This competition features a guaranteed prize pool with a $500,000 grand prize and over $3,000,000 million total prize pool. That's right--we've doubled the grand prize to $500,000! The 2020 FPC contest is capped at 10,800 teams. All prizes are fully guaranteed. And remember our 2020 Draft-A-Thon benefiting Harbor House Domestic Awareness continues today.
Here is everything to know about this year's competition:
Drafts going off daily
$3,100,000 prize pool (Up $800,000 from last year)
Teams are $350 each (or a three-pack of teams for $1000)
Remember, you now have the opportunity to draft to win $500,000 every day from now until the start of the NFL season.

Another new feature we just rolled out is that switching or leaving drafts both in the FPC and the rest of our FFPC drafts just became a whole lot more user-friendly. If you need to bounce out of a league, you won't need to send an email to us anymore. All you have to do is click on the "EXIT LEAGUE" button on the league homepage. You then will remove yourself instantly as long as it is not less than 15 minutes before the start of your draft and fewer than 10 teams are registered.

We have numerous leagues filling up every day, so if you want to join, check out the schedule posted here, including afternoon drafts today:
Thanks for reading, everyone! Jump in the upcoming Footballguys Players Championship drafts we have going on today and the rest of the week. Also, make sure you're getting your Main Event teams now before it's too late! Only two spots left for the draft starting in a half hour!
Sincerely,

Eric Balkman
The Fantasy Football Players Championship
www.myFFPC.com