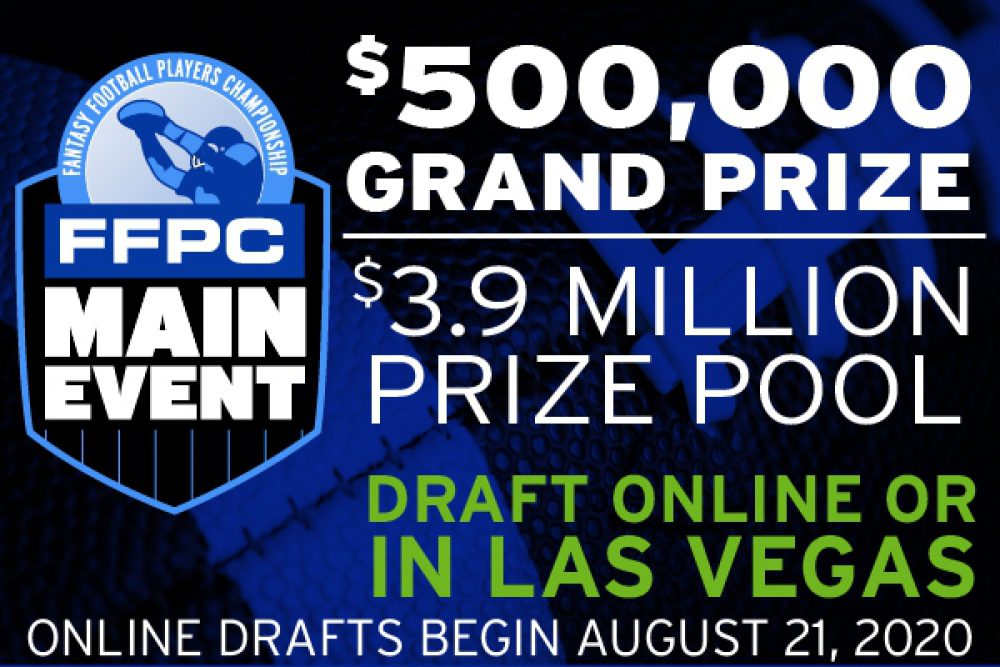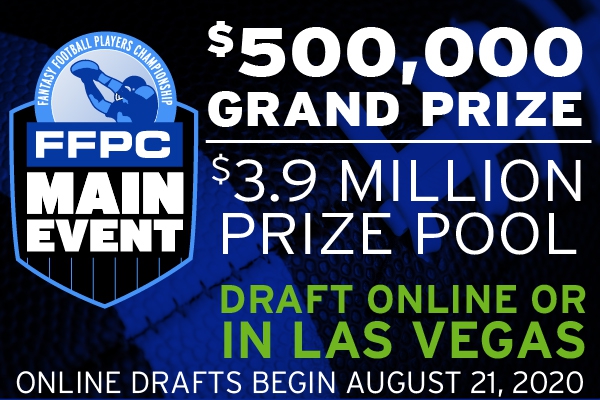 Did you get all the drafts in you wanted this season? Do you feel like you're still missing one (or two)? Then hop in the Main Event today, players! As a reminder, this year's FFPC Main Event champ is bringing in a record $500,000 for his or her efforts, and the runner-up will be grabbing a cool $100,000 as well! Register for the 2020 FFPC Main Event now right here! Here are the details:
75 live draft dates/times (Up from 59 last year)
$3,900,000 prize pool (Up $800,000 from last year)
After grabbing your first team, each additional team is $1500 online, $1625 live--a savings of $400 per each additional team.
We are only filling drafts as needed at this point. Don't delay any longer or you may miss your chance!
IMPORTANT: Draft times can and will close at any time.
Here's the the remaining Main Event draft schedule for the season:

LEAGUE
OPENINGS
ENTRY
DRAFT
Main Event ONLINE #65
10 of 12
$1,900
TODAY 1:00pm ET
Main Event ONLINE #66
4 of 12
$1,900
TODAY 4:00pm ET
Main Event ONLINE #67
5 of 12
$1,900
TONIGHT 7:00pm ET
Main Event ONLINE #68
10 of 12
$1,900
TONIGHT 10:00pm ET
Main Event ONLINE #68B
6 of 12
$1,900
TONIGHT 11:30pm ET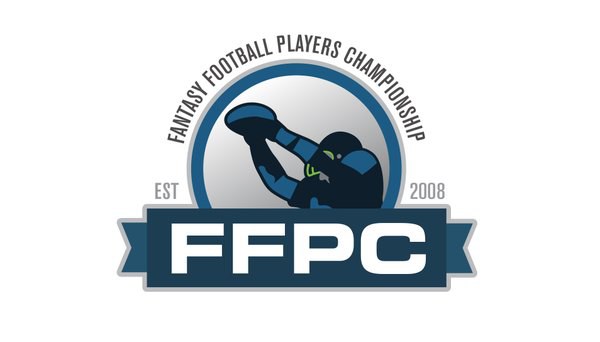 The 2020 Footballguys Players Championship may have sold out this week, but that doesn't mean your drafting has to stop!

If you're looking to join a few more leagues before tomorrow, keep in mind we have plenty of cash league options available in best ball, classic, VP, Superflex, Terminator, and more formats going off all day today. Plus our 2020 dynasty start-ups close for the year today as well.


Enjoy the last few leagues of the season, players, in today's FINAL day of drafting action. Good luck getting your guys, and have a blast drafting in the Main Event drafts today in Vegas! Enjoy Week 1, everyone. And thank you so much for all of your support of the FFPC this drafting season!
Sincerely,

Eric Balkman
The Fantasy Football Players Championship
www.myFFPC.com