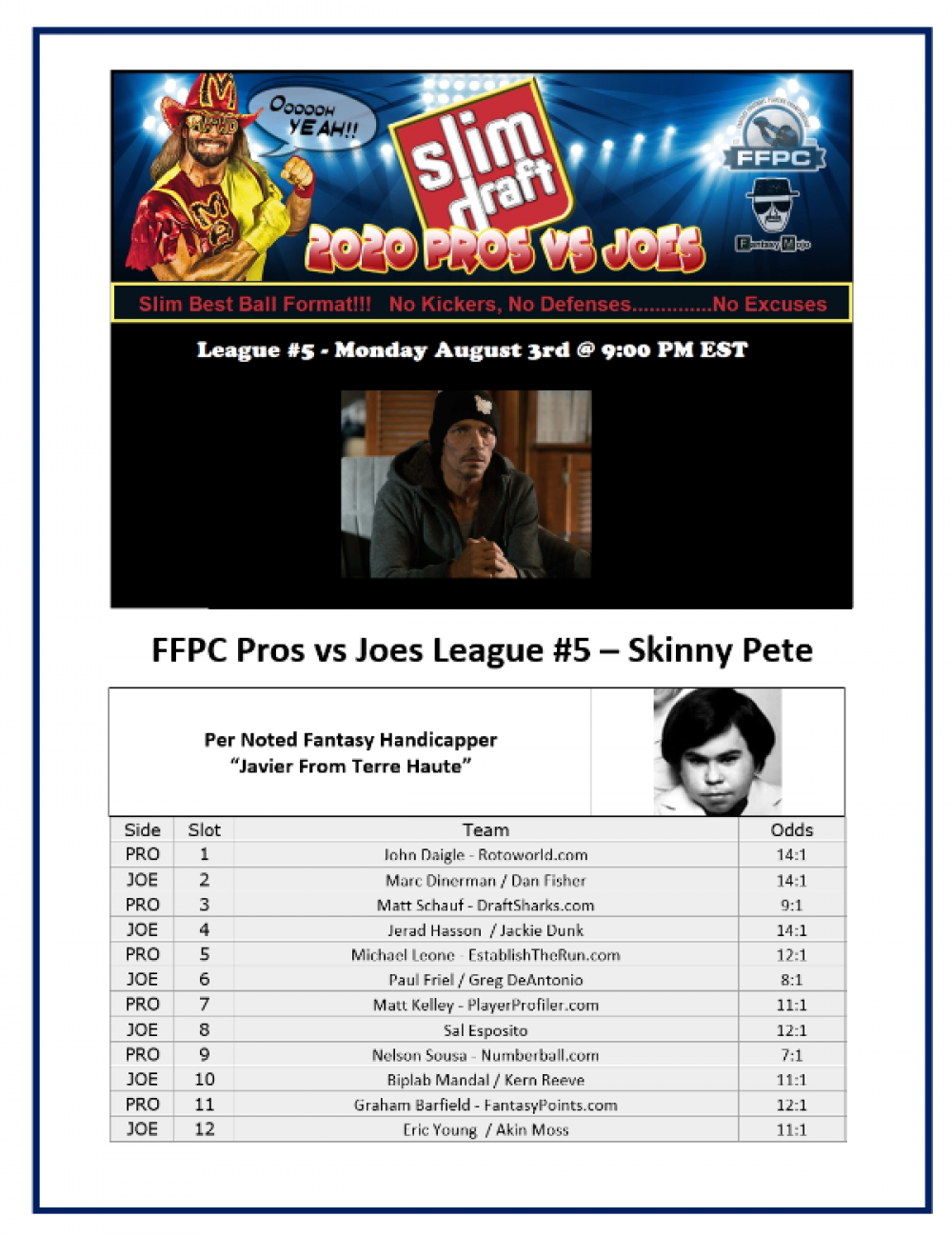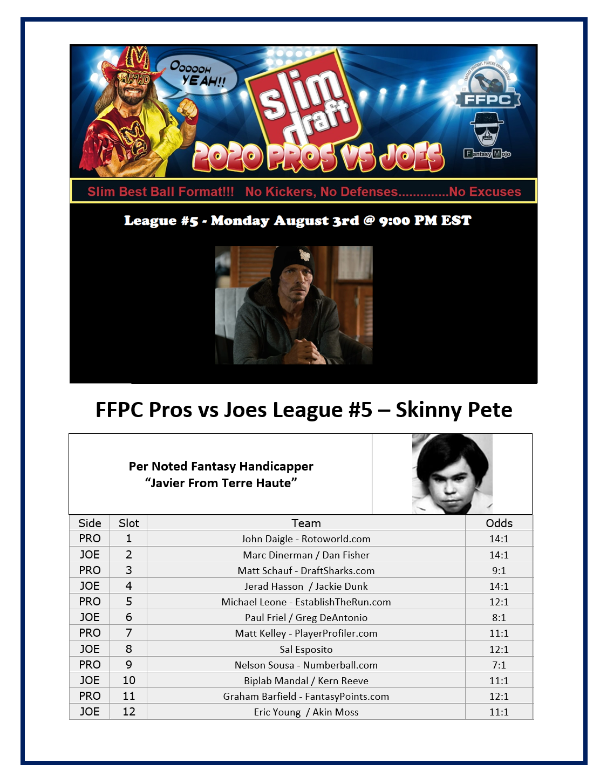 We have reached the penultimate night in the 2020 FFPC Pros vs. Joes Challenge! As a reminder, each of the six league winners will receive a free entry into the 2021 FFPC Main Event, which has a value of $1,900, and it all continues tonight at 9:00 p.m. ET.

We will be showcasing the Pros vs Joes Challenge throughout the fantasy community in an effort to bring maximum exposure not just to the FFPC, but to each of the fantasy sites that many of you players follow in your league preparation and management year after year.

The entire high stakes fantasy football community will be watching these drafts live on The High Stakes Fantasy Football Hour's YouTube channel. In addition, all six of the Pros vs. Joes drafts will be covered LIVE on The High Stakes Fantasy Football Hour podcast with David A. Gerczak and me. Tune in to hear the pick-by-pick action plus interviews from the Pros and the Joes live as they draft their squads.

Here is the draft order for tonight's Skinny Pete League #5:
PRO - 1 - John Daigle - Rotoworld
JOE - 2 - Marc Dinerman & Dan Fisher
PRO - 3 - Matt Schauf - Draft Sharks
JOE - 4 - Jerad Hasson & Jackie Dunk
PRO - 5 - Michael Leone - Establish the Run
JOE - 6 - Paul Friel & Greg DeAntonio
PRO - 7 - Matt Kelley - Player Profiler
JOE - 8 - Sal Esposito
PRO - 9 - Nelson Sousa - Numberball
JOE - 10 - Biplab Mandal & Kern Reeve
PRO - 11 - Graham Barfield - Fantasy Points
JOE - 12 - Eric Young & Akin Moss

Here is the remaining schedule for the 2020 Pros Vs. Joes Drafts:
League #6: Macho Man - TOMORROW 10p ET
The High Stakes Fantasy Football Hour normally airs Friday nights at 10/9c, and the next episode can be heard here. You can hang out with the high stakes players in the show's chat room if you want to listen live. You can also access full on-demand streaming available for listening anytime via a variety of apps including the HSFF Hour website, Apple Podcasts, Spotify, Google Podcasts, Amazon Alexa, Stitcher Radio, TuneIn Radio, Spreaker, Podchaser, Audioburst, Breaker, Castbox, Overcast, PodBean, Pocket Casts, Radio Public, Podcast Addict and Anchor on your iPhone or Android device as well.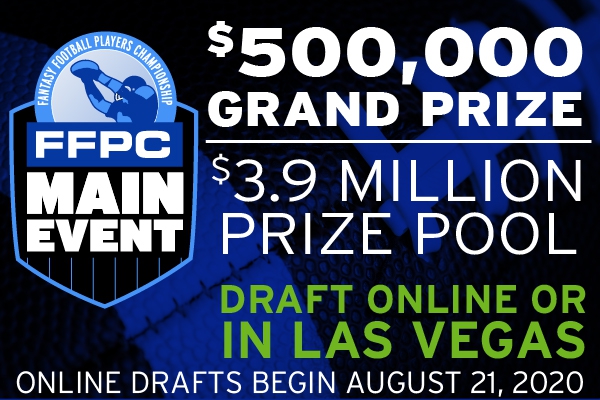 Don't forget, players, that we are hooking you up on your additional Main Event teams. If you already have one, you'll save $400 off each additional team in this year's competition. Plus, you can also start plotting your way to fantasy glory:

Early Draft Slot Announcement #2:
All teams which are fully paid by Monday, August 17th at Midnight PT
will receive their FFPC Main Event draft positions
on Wednesday, August 19th.

As a reminder, this year's champ is bringing in a record $500,000 for his or her efforts, and the runner-up will be grabbing a cool $100,000 as well! Register for the 2020 FFPC Main Event now right here! Here are the details:
75 live draft dates/times (Up from 59 last year)
$3,900,000 prize pool (Up $800,000 from last year)
After grabbing your first team, each additional team is $1500 online, $1625 live--a savings of $400 per each additional team.
Also, for the first time, you won't need to wait until late August to scratch that Main Event itch. We're happy to be offering 2020 FFPC Main Event drafts with two- and six-hour clocks right now. Register right here, and slow Main Event leagues will start drafting as soon as they fill. That means you won't have to block off two hours of time to dedicate purely to drafting. You can pop in and out and make your picks at your convenience. Here's what we have available below:

LEAGUE
OPENINGS
ENTRY
DRAFT
Main Event ONLINE - 2hr Slow #25049
8 of 12
$1,900
Starts When Full
Main Event ONLINE - 6hr Slow #25076
6 of 12
$1,900
Starts When Full
The FFPC live events are also scheduled to take place from September 10th-12th. So get your teams, book your flights, call your travel agent and take advantage of these awesome FFPC group rates we have for you.
Here's a comparison of what you'd pay without our group code (which are reduced from 2019 rates):
With FFPC
Group Discount
Without FFPC
Group Discount
Tuesday
$69
$132-190
Wednesday
$69
$132-190
Thursday
$69
$132-190
Friday
$159
$244-286
Saturday
$159
$244-286
IMPORTANT BOOKING INFORMATION: Please click the link below to book your stay this year at Planet Hollywood below:
In addition, we once again have the services of our wonderful FFPC Live Event group host, Greg Sidoris who will help you with your stay and any other Vegas-related needs. Please contact Greg at (216) 299-5390. You can also email him at CasinoConnectionUSA@gmail.com.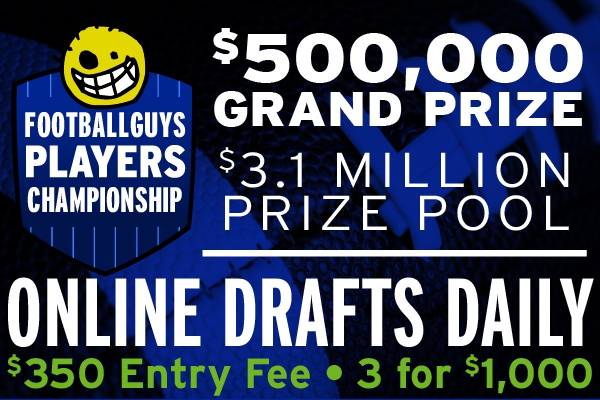 The 2020 Footballguys Players Championship is filling up fast, players--don't miss out! This competition features a guaranteed prize pool with a $500,000 grand prize and over $3,000,000 million total prize pool. That's right--we've doubled the grand prize to $500,000! The 2020 FPC contest is capped at 10,800 teams. All prizes are fully guaranteed.
Here are all the details on this year's competition:
Drafts going off daily
$3,100,000 prize pool (Up $800,000 from last year)
Teams are $350 each (or a three-pack of teams for $1000)
Remember, you now have the opportunity to draft to win $500,000 every day from now until the start of the NFL season.
Another new feature we just rolled out this week is that switching or leaving drafts both in the FPC and the rest of our FFPC drafts just became a whole lot more user-friendly. If you need to bounce out of a league, you won't need to send an email to us anymore. All you have to do is click on the "EXIT LEAGUE" button on the league homepage. You then will remove yourself instantly as long as it is not less than 15 minutes before the start of your draft and fewer than 10 teams are registered.

We already have numerous leagues filled, so if you want to join, check out the schedule posted here, including afternoon drafts today:

LEAGUE
OPENINGS
ENTRY
DRAFT
TIMER
Footballguys #25140
10 of 12
$350
Starts When Full
6 hrs
Footballguys #25112

11 of 12

$350

Starts When Full

2 hrs

Footballguys #19352
10 of 12
$350
TODAY 1:00pm ET
60 sec
Footballguys #19353
11 of 12
$350
TODAY 4:00pm ET
60 sec
Footballguys #19354
11 of 12
$350
TONIGHT 7:00pm ET
60 sec
Footballguys #19296
10 of 12
$350
TONIGHT 8:00pm ET
60 sec
Footballguys #19297
12 of 12
$350
TONIGHT 9:00pm ET
60 sec
Footballguys #19298
12 of 12
$350
TONIGHT 10:00pm ET
60 sec
Footballguys #19299
12 of 12
$350
TONIGHT 11:00pm ET
60 sec
Footballguys #18893
12 of 12
$350
TONIGHT 11:55pm ET
60 sec
Don't forget to save some cash on those Main Event teams, players! Thanks for reading, and I'll see you in the chat room for the draft tonight!

Sincerely,

Eric Balkman
The Fantasy Football Players Championship
www.myFFPC.com